There's something comforting about being given a set plan to follow—you just show up and do what someone else tells you to do. How simple!
But things are often not that simple (think: Ikea furniture assembly instructions).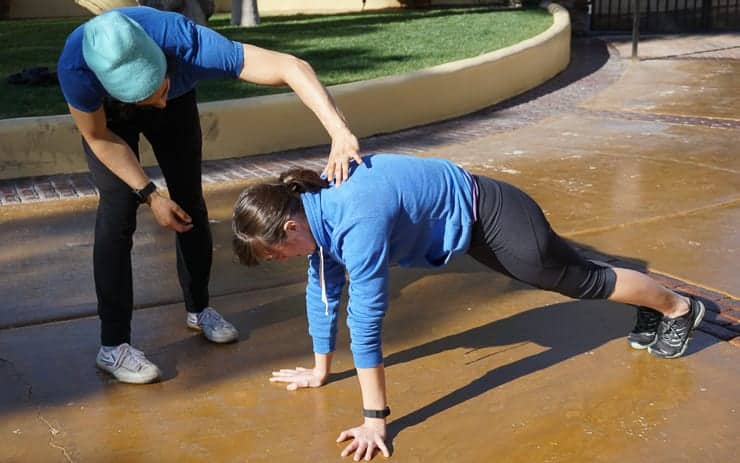 When it comes to set training programs, things can become a lot more complicated because your body has its own needs and quirks, and a set training program can't possibly account for all of those.
Obviously, we're big fans of having a structured training program to follow (that's what pays our bills!). But we're also big fans of adapting those programs to your own needs. When we get questions from clients who are struggling with a particular exercise or with certain aspects of a program, our most common piece of advice is to adapt the program.
What does that mean? Well, in this article we'll give you some guidelines to help you make adjustments to whatever training program you might be following.
When Should You Adapt a Training Program?
Often, if you're following a well designed program (and I hope you are!), you might feel like you have no "right" to change what's been laid out by the pros. They put a lot of thought into which exercises to include, volume recommendations, and how to structure each session—why mess with a good thing?
And a lot can be said for committing to something, showing up, and following the plan. So, how do you know when it's appropriate to make adjustments?
The first thing to realize is that
any
set training program—even the most sophisticated—is designed for the "average" person expected to go through such a program. But that average doesn't
really
exist. Every person comes into the training program with a unique combination of background, injuries, aches and pains, mobility limitations, coordination issues, and so on.
What that means is that most people are going to need to be ready to make modifications to whatever training program they're following. You can't expect a set training program to meet all of your needs, but if it's well designed, it should leave room for modifications.
So let's take a look at how to make adjustments.
3 Ways to Adapt a Fitness Program
There are probably infinite ways to make adjustments to your training program, but we'll focus on just a few of the most important categories of adaptation.
Before we get into those, though, it's essential to understand the principle of autoregulation and how it can impact your training. With autoregulation, each training session begins with an honest assessment of your performance level on a particular day, so that you can make adjustments as needed.
Sometimes that will mean doing less work on a particular day if you're not performing at your best, and on other days, it may mean doing more than you thought you'd be able to.
As long as autoregulation is guiding your training, so that you are ready to make adjustments as needed on each day of training, having the following adaptations at your disposal will help you get the most out of your training program, allowing you to personalize it to your own needs.
1. Volume Adjustments
Doing more or less volume than is prescribed in your training program is probably the simplest adjustment you can make. And that can mean doing more or less on a particular day, but it can also mean adjusting the workload across the program.
For instance, if your current program follows a high rep scheme, and you're just not able to keep up properly, you can cut the reps down to your comfort level.
Ryan's favorite piece of advice is:
"Do one perfect rep. Then do another."
You can apply that to any exercise you're doing in any program. Sometimes, that will mean meeting the recommended reps in your training program, sometimes it will mean doing a little (or a lot) less, and sometimes it will mean exceeding the recommended reps.
Being ready to make those adjustments as needed will make a big difference in how your body responds to the workload.
2. Adapting Exercises
This one seems to be the hardest for a lot of people to wrap their heads around. If an exercise is shown in a certain way in your training program, you may feel like you have to do it exactly that way, even if you have certain mobility or strength limitations (or anything else) that prevent you from doing the exercise as shown.
I've got news for you: You don't have to do that!
A training program is really a guide, and you're going to have to find what works for you. Forcing your body to do something it's not ready for is a recipe for injury, so make whatever adjustments you need to.
In our programs, we always show ways to adjust exercises that we know can be problematic for some people (and our support team is available to help if you have questions on how to modify a particular exercise). And really, any good training program should provide options for what to do if a certain progression doesn't work for you.
If you don't have a lot of experience with training, though, you might not know how to modify exercises effectively. In that case, do some research, ask for help from the company whose program you're using, and you can always reach out to our support team for help too.
As an example, though, if your program calls for full push-ups as part of your routine, but you don't have the strength or mobility to do those well yet, you can replace them with:
Kneeling push-ups
Inclined push-ups
Push-up negatives
Most exercises can be broken down into smaller pieces, and you can make modifications however you need to.
3. Changing Program Structure
There may be days when you're either crunched for time, or you realize that it's going to be a bad day performance-wise. When even adjusting volume is not going to do the trick, there are still adjustments you can make.
One of our favorite recommendations is to skip the part of the session most people think of as the "workout," and just focus on your warm-up; maybe throw in some stretching. A lot of people gloss over those parts of a training session, but you can get a lot from focusing on getting a little movement, without any other goals.
A lot of our clients will replace their regular training session with some of the movements we teach in Elements, as needed. Having a back-up plan for what to do when you can't do your planned session is a good way to set yourself up for success.
Learning to adapt your program structure is a way to ensure you continue to push yourself without compromising your commitment to getting in some regular movement.
Your Training Program Should Fit Your Needs
Unless you're working with a personal trainer who's building a program just for you, you're going to have to be ready to make adjustments to whatever pre-set training program you're using.
That doesn't mean throwing out the whole program (what would the point of a program be in that case?), but it means being flexible in how you approach the program, recognizing that it can't possibly meet every need of every person using it, especially when you consider day-to-day variations.
In fact starting with Elements will ensure that any changes you make are built on solid ground.
Build a Consistent Training Habit With a Foundation in the Basics
With Elements, you'll build a foundation of strength, flexibility, and control over 8 weeks, setting yourself up for a successful lifetime of staying fit and active.