Alissa Had a Goal for 14 Years
Alissa's been a fitness competitor for 14 years, but that's not all:
She's a wife and mom to two boys, the older of whom has autism.
In her "spare" time, she runs an online coaching business, and does a fair amount of freelance fitness writing.
In 2017, she won a national level fitness competition, after 14 years of working toward that goal.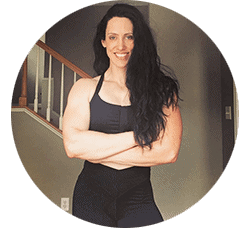 How Alissa Finally Won a National Competition
Alissa used our Parallettes programs to hone her skills and put together a winning routine.
Alissa had very little instruction for her routines, so she had to figure things out on her own.
P1 and P2 helped her learn essential skills for her sport, and gain the control to put those skills into a fluid routine.
She credits what she learned from GMB with finally getting her national win.
All Alissa Carpio wanted was to win a national level competition, but after 14 years as a fitness competitor, she was starting to believe it might never happen for her.
At 38, with two kids to take care of, a training business to run, and a whole host of other responsibilities, working toward a goal like this would probably be the furthest thing from most people's minds. But that didn't stop Alissa. She was in it to win it.
Her win hinged on getting her routine as smooth, controlled, and fluid as possible. But there was no instruction out there for her sport, so she was on her own.
Alissa struggled for years to gain the skills she needed until finally, she found our parallettes courses. She used Parallettes One (P1) and Parallettes Two (P2) to take her skills to the next level. And it worked.
We have retired Parallettes One and Parallettes Two, but you can still learn a lot from Alissa's story! And if you want to build the kind of strength and control she learned with P1 and P2, check out our Integral Strength program.
"This past July, I reached a decade-long goal of winning the national championship and qualifying to compete as a professional athlete! I have the honor of holding the title 2017 NPC National Fitness Overall Champion and new IFBB Professional Fitness athlete, which allows me to compete with the world's best. You guys are responsible for all of the progress I've made in the past 4 years, including my National victory this July!"
I don't think we can take all the credit 😉 But let's take a look at how our parallettes programs helped Alissa reach her goal.
"I never thought I'd be able to do a handstand"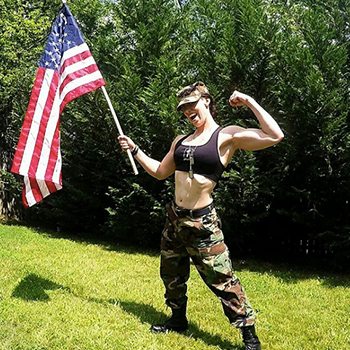 Alissa's story begins in South Korea, where she was stationed while serving in the U.S. Army. A fellow soldier needed a workout partner, and before long, Alissa was hooked on bodybuilding.
But as she immersed herself in bodybuilding, what really caught her fancy were the acrobatic routines she saw female fitness competitors doing in the muscle mags. "They were doing toe-touches, handstands, all of kinds of different things," Alissa said. "I was like, 'This is like a performance. What is this?'"
After her tour of duty, "in about 2003, was when I decided I actually wanted to train for a fitness competition."
The problem? She couldn't even do a handstand.
She did the best she could for nearly 10 years (with some time off to have her two sons and to care for her son with autism), but there's no real instruction in Alissa's sport. She was putting together routines from YouTube videos, with no guidance on how to improve her technique and coordination.
And she could only get so far that way.
"My sport is based in bodybuilding; however, what defines my division is that we also perform a 2-minute routine choreographed to music. Much of my routine is focused on hand balance, but back in 2014, I never thought I'd have the strength and control to perform a handstand."
So how did she make that shift to being able to perform a 2-minute routine that involves a whole lot of hand balancing?
Enter the parallettes.
"P1 was a wake up call"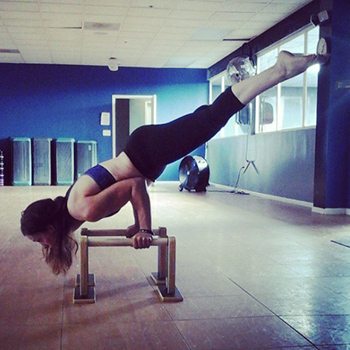 Alissa first found GMB through our free handstand tutorial, and she made a lot of progress through that, but P1 is how she really learned to start putting all the pieces together for a more advanced choreographed routine.
It wasn't easy, though.
After so many years of serious strength training, she was surprised by how difficult the program was. "When I first went through P1, it was a wake up call, because it exposed a lot of my weak areas," Alissa told us. "I'm pretty sure that my weakest area would probably be bent arm strength. My straight arm strength is probably a lot better."
But as she worked through the program, she found things starting to click.
She said, "I think what excited me the most about it was, it filled all the gaps in my mind regarding like, how to strengthen and condition your entire body to smoothly move through all those elements and kind of create a flow."
And as she started putting those pieces together, she set her sights on winning a national competition, and she was ready to do whatever it took to get there.
"I was training to win"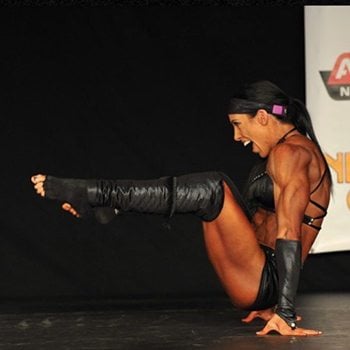 So here's where things got a lot more serious. Alissa knew she'd really have to step up her game to get the trophy she'd worked so hard for.
"When you're getting judged on these things, it's kind of the whole package of your entire performance. Of course, it's the strength, the flexibility, the entertainment factor, how smooth your transition elements, and your dances. It's kind of the entire take away that somebody feels or experiences when they're watching you perform, that makes it a good routine."
Knowing all that, Alissa knew she'd have to really work hard to make her performance stand out.
"I knew that I needed to add more advanced elements into my routine and performance," Alissa said. And her #1 goal: The handstand lower to a lever.
She worked at that skill "for months, doing that same combo, thousands and thousands of times. It [was] so frustrating," Alissa remembers. "When you finally get it, it's a lot more about the whole journey of all this. Achieving it for yourself. The competition is a nice outlet for that, and you want to be able to showcase your best view of at that event obviously."
But even with all that work, Alissa wasn't convinced she was going to actually achieve her goal.
"It's like a weird dichotomy," she said. "You train as if you're the winner, but then you really don't believe that you are going to get it. Even after it was announced, I was pretty shocked and people were telling me, all day up to the moment that, they knew I was going to win. I was just like, 'Wow, I'm not convinced about that.'"
When she finally won, she said "it was just like a flood of emotions, culminating over the last 14 years of everything."
So How Did Parallattes Help Alissa Finally Win?
Parallettes One is a 12-week program that systematically builds pressing and inverted skills, like Bent Arm Stands, L-Sits, Shoulder Stands, Levers, and more. And Parallettes Two is an intermediate-level strength program for developing straight-arm strength and increasing control in inverted positions.
For Alissa, the parts that helped her the most were addressing the weak parts of her foundation, and then linking all those skills together.
She started out quite strong, but by "exposing her weaknesses" and improving her strength and control in those movements, P1 and P2 helped Alissa take her performance to the next level.
As she said, "I just felt like my body was working more in unison."
And that's a big part of what we emphasize in P1. We break skills down into bite-size pieces so you can really hone those down, and then we start putting the pieces back together so that your body is working as a unit. And by the end of the program, you'll be doing some pretty cool things.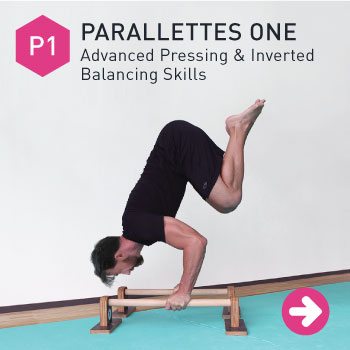 "My very first GMB program was the free handstand tutorial, but after I saw how logically the programs were laid out and I began making progress, I was hooked on the GMB way. I purchased the Parallettes One and Parallettes Two programs and completed them several times through. I now have a very controlled handstand that I can endure for about 30 seconds, and the ability to play around with dynamic movements while in the handstand."
Alissa had big goals with the parallettes, and she walked away with the trophy she'd been dreaming about for 14 years.
So what's next for Alissa? The sky's the limit.
You're probably not a fitness competitor (most of us aren't), but here's what you can learn from Alissa's story: If you want a body that works as a unit, with a balance of strength, fluidity, and control, the parallettes are a great tool to help you on your journey.
Use Skill-Based Training to Build Practical Strength
Integral Strength is a skill-based strength program that helps you build practical skills and strength that carry over into your beloved daily activities.