No pull-up bar? No panic.
We like to talk about physical autonomy a lot here at GMB, and a big part of that is learning how to adjust to the circumstances.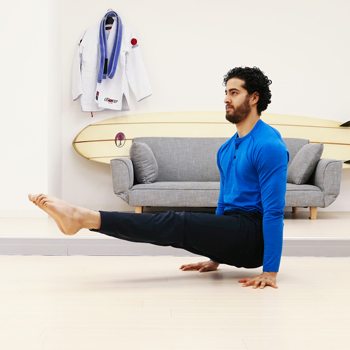 Whether you are stuck at home without the equipment you use normally, you're injured, or you're on the road, building strength, flexibility and control is still possible. In fact, trying a few different exercises might actually help you find the range of motion and control you need for the skills you're working toward.
In this episode, Ryan and Andy chat about:
5 movements you can do anywhere with minimal or no equipment
how to get your back strong and functional in all different ranges and planes of motion
why to not just mimic what you're used to doing
No equipment doesn't mean no options, so here's some options that will actually help you.
Vote on show topics, ask questions, and be part of the GMB community.
Some of the resources mentioned:
Transcript of Building Back Strength When Pull-Ups Aren't an Option
Andy: All right. Welcome to the Grated Moth Bubble Podcast.
Ryan: That sounds amazing.
Andy: I don't even know what that would look like.
Ryan: It's just that image. Like it. So how's your back man? How's your back? Is it strong?
Andy: My back is currently bent, because-
Ryan: Bent.
Andy: … I'm kicking back on the sofa with my feet up on the coffee table and my professional podcasting gear perched on my lap.
Back Health and Pulling Exercises
Ryan: Bringing that up because everybody needs and hopefully wants a stronger back. It's pretty important, have a strong back. But if there's some reason that maybe your back is injured, maybe you just needed it to get even stronger, or possibly you want to focus on pulling exercises, but you can't. Right now maybe you can't do chin-ups or things like that. Well, we're gonna talk about how you can improve that back strength.
Ryan: Great example here is, one of our lead trainers, his name is Jeff, he wasn't able to actually do any pulling exercises because he was injured. He was in pain a lot. After working through some of that pain, he was able to move beyond it. And once he got the okay to get back into doing pulling exercises, instead of just focusing on those pulling exercise, he instead focused on some exercises that helped him to get back to that point. And that's what we're going to talk about today.
Ryan: The movements that we're going to be talking about today aren't just about pulling stuff. They're movements that are going to help you to look at why back health is so important, and what you need to be focusing on instead of possibly pulling exercises.
Ryan: First thing that we are going to talk about is look at that back health and what's important for pulling exercises. And it's going to surprise you to hear that we're not actually encouraging you to just focus on pulling exercises per se. Looking at for example, some questions that we gave. People are always wondering, okay, listen, I want to improve my pull-ups. I want to improve my chin ups, these pulling exercises. And you do need to take a sit back and say, okay, is it even good for you to be focusing on the pulling exercises right now if you don't have the ability to do this?
Ryan: And so what I'm talking about is, let's say that you're at home and you feel that you need to be working on your chin ups or something like that, but you don't have access to a chin up bar. So what can you do? Should you just take the sheets from your bed, drape them over your doorframe, shut your door and focus on your reverse rows? Should you be focusing on your chin ups doing it that way?
Ryan: You could. And actually you see a lot of people doing that, Instagram and there's tutorials on how you can do that. My thing though is really, is that safe and is that something that you really need to be focusing on right now? There's some alternatives and some things that you can be focusing on that are going to help to strengthen your shoulders, your back, your lower back, your core, that's actually going to be supplemental on help for when you have the ability to get back to your gym or go outside and use a pull-up bar that's going to allow you to perform and focus on these pulls safely in a manner that's going to be good for you.
Ryan: This comes back to cycling and looking at where you are in your current practice. We've got some other podcasts where we talked about that, so I'd listen to that. But again, today I really want to focus on looking at some exercises that Jeff used, our lead trainer Jeff used, that can help you to work on improving your strength and your back and your shoulders and your core that's going to carry over for your pulling exercises.
Other Ways to Look at and Increase Back Strength
Andy: There's a lot of things that are at play here. Back health obviously is complex, because you have your spine and you have your shoulders and your hips and you have a lot of things coming together. Strength is very important and pulling is definitely a key movement pattern for a lot of different sports. But it is not the only way to get strong. If you are not a rower, and if you are not a climber, literal pulling is maybe not the only thing you need to be focused on.
Andy: Pulling is an obvious thing because when you think of strength training, most of that uses a bar or a dumbbell. A short bar or a long bar. So pulling is one of the things that happens to be easy and obvious, but it's not the only way to strengthen your back, and it's not the only way that you can do these things.
Andy: So if you have things like, not just lack of a pull-up bar, but, you might have a hand injury where you can't hold onto something. You might have any number of things that are preventing you from doing the things that are obvious. So there are not obvious ways to train your back, and a lot of different things besides just pulling.
Andy: So pulling strength, you're using your arms and your shoulders as well. There's nothing wrong with that. It's not bad, but it's not only just your back. So understand that some of the things that we share today, they won't be giving you accessory bicep training for example maybe. But, there's different elements of back strength. So there's pulling in terms of actually extending the back, pulling the shoulders from the lats, and there's also back stability, back flexibility, being able to hold a position, endurance. A lot of postural issues are related to the endurance or being able to hold positions longer.
Andy: So really talking about exercises that will improve all of these things as well as just your ability to lift heavy objects from the floor.
Ryan: That's a good point here too. Again, looking at these in different ranges of motion. We're not just talking about the chin up. Like you just mentioned, being able to lift heavy objects off of the ground, of being able to pull in horizontal planes, and so different angles, different ranges of motion. This is what really what we're looking at. And, the movements that I'm going to suggest for you today, again, it's pretty difficult to talk about these during the podcast. So that's why we will have a supplemental video to go along with this. It's going to have some other movements in there and I'm going to break down the key points and the details for each of those as well.
Ryan: So as you're listening to this, just take that into consideration that you don't necessarily need to understand these movements 100%. We're just going to touch on them briefly and then you can go ahead and watch that video later to get all the details, and then add these movements into your practice session, if they work for you where you are within your particular cycle of training.
Andy: Yes. And so, this topic, almost everything we discuss, we've brought up in our GMB podcast Facebook group beforehand, and we've got some questions that we're going to address in this. And so one of them is, and this is when you ask about back exercises, this is the most obvious things, what are some horizontal and vertical pull exercises you can do at home with body weight and no equipment? And I've got to say that is a tall damn order. Body weight, no equipment, and it has to be vertical pulling or horizontal pulling.
Andy: Well, let me ask you this. If there's no equipment, what are you pulling? That's the problem. Because when we start thinking literally about things and we think that back exercise equals pulling exercise, well then we're kind of stuck.
Ryan: To go a little further with that too, great, I understand why you might want to do that, but let's actually go a little bit deeper and just say, okay, you can't just, so therefore, what can you do instead of that?
Ryan: Not replacing it necessarily, but instead looking at, right now I can't do pulls. That's fine. So what are some other things that I can focus on? And so another example, and this is what I tell people a lot is let's say you're injured and I'm going to give a different example. Let's say that you really love doing for example, single leg pistols. Well, pistols are single leg, but anyway you love doing pistol squats. Well, you banged up your ankle, you broke your ankle., so therefore now you can't do pistol squats. So what are you going to do? Are you going to try and figure out a different way to squat? No. You're going to work around that injury and focus on other things.
Ryan: That's what I'm getting at with this. And so, yes, do understand that having a horizontal and vertical pull without equipment sounds great, if you're able to do that. But instead of looking at it that way, what are some things you can do that are going to help with that pulling in any range of motion once you're able to get back to be able to do that, pulling using a bar, using the rings, using TRX or whatever it is, a barbell or something.
Andy: You can do isometrics, or you can pretend to pull the air, or you can pull a band or something. There's a lot of things you can do, but all of these things are … What you're doing is you're just doing a pale imitation of actual pulling exercise. And so, this is the thing is, instead of just trying to imitate the exercises that you know are good with exercises that are bad, maybe do other good exercises that are a little different. And that's our philosophy on a lot of things.
Andy: Another question was, let's just go right to that. What are some accessory exercises to help with pull-ups? Well, again, maybe pull-ups are your goal. Maybe pull-ups are just one way to get to your real goal. Now, if you just want to do pull-ups, actually all of the things that we're going to describe from here, those are all things that would qualify as accessory exercises for pull-ups if you really want to look at them that way. But the other thing is maybe let's look at things beyond doing pull-ups that are beneficial for you.
Importance of Black Flexibility and Control
Andy: Another question that we had here is what are some ways to achieve a better inverted position in BJJ? I think my mid upper back is limiting me, but I don't really know where to start.
Ryan: That's good. A little bit different. A lot of it different than the stuff we're going to be talking about today. But just in a nutshell, if you are having trouble, you need to do inverted positions, I really recommend that you focus on the plow position. Is one position that's going to be very good for you. This is something we've got tutorials on. On YouTube, we've actually got a thing on there as well. But being comfortable, being in that particular position but then also focus on your breathing. So that's a huge thing. So being in that particular position and being able to breathe comfortably is going to be a big one for that. We're not going to go too much into that.
Andy: The reason that I wanted to bring that one up is because it speaks to the fact that, well this is an actual application-
Ryan: Yes, that's true.
Andy: … That it's not necessarily all just pulling strength in terms of what you need from your back. Flexibility and the ability to be in control and to have the back strength to be stable while you're in these inverted positions, these come from different things rather than only just doing chin-ups and pull-ups. That's why you need different movements and why the things that we're going to talk about now are great supplements, great complements. And also for short durations can be completely fine to give you all the back work you need without having to necessarily be pretending to do pull-ups.
Ryan: Absolutely.
Back Exercises for ROM, Control, and Strength
Andy: But let's get into some of the exercises.
Ryan: So interestingly enough, these are also exercises that my daughter has been doing recently too. She right now it hasn't been able to go to her swim practice. She typically goes every single day, and right now she's having to take a break. And so rather than just try and pretend that she's swimming or whatever, instead, what we're doing is we're looking at some places that she actually needed some work on. And in particular it was not necessarily the strength portion, but we're actually looking at the range of motion and actually having better control of what's going on throughout her body in relation to not a single part, but how those parts work together. And looking at these movements in terms of pulling, getting stronger, improving your range of motion and control, that's really what we're after and why I suggest these movements.
Ryan: It's not that I'm trying to necessarily just look at one part of the body, but instead, how do we need to strengthen the entire body to work together to have better control in order to get better at whatever we're doing? We're looking at improving a particular skill, not just get stronger. It's that skill. And so that's what we're looking at.
Ryan: So by going through these movements, looking at strengthening the lower back while you're doing it, this is also gonna help improve the hips to some extent in terms of strength. But it's especially going to be looking at the shoulder blades and how the shoulder blades, the shoulders will interact with the back and the core working together to be able to accomplish a particular task. In other words, skill.
Ryan: So again, this is what we're kind of looking at when we're going through these things. They're not just exercises, we're trying to be very aware of what's going on in our body. We're going slow with these movements. This is very important in this case. And so going back to the question as far as inverted position for BJJ, and I mentioned, being comfortable in that position, being able to breathe, what we're going to be talking about today is the exact same thing. So that is a good lead in Andy so that you're-
Andy: You're welcome.
Ryan: Thank you. I'll pay you later. But to start off, some of these movements are going to seem extremely simple and I'm going to say great, good. They should be. And again, the purpose is because what you want to be able to do is go slowly, bringing awareness to the body in order to see if whether or not you do have that strength, you do have that range of motion and you do have that control. And if not, therefore, spend more time in these positions, going in and out of the positions and get better at doing them. And this is how you're going to be able … Say again. And so this is actually going to help you for when you get back to the bar. And I'm talking the bar bell, deadlifts, I'm talking chin-ups, I'm talking pull-ups.
Ryan: By having a better awareness of what's going on with the shoulder blades, the shoulder retraction, protraction, in different positions in terms of what's going on with your lower body. Are you activating your core? How are your hips coming into play when you're doing this, is going to give you that feedback for the skill of performing pull-ups, chin ups, deadlifts, and whatever. That's going to allow you to then further improve that skill and get stronger down the road.
Andy: Right. I just want to say, when we talk about these exercises, if there's anyone listening that thinks, that's too simple or that's boring or that's not a very sexy exercise, you need to really stop for a second and think what you're comparing to. Because we're contrasting these with pull-ups. Pull-ups are dead ass simple and boring and unsexy. Deadlift, pick thing up off the floor. That is not a complex or really very interesting thing. But yes, there's a lot to it. So the things that we're talking about here, if you think that these seem boring or simple, then well, yeah, all good exercises are boring and simple. You're welcome.
Andy: Done with that.
Ryan: That's really good. Thank you for saying that. And that's just the thing. I like what you said too. These exercises are boring. Chin-ups are boring, pull-ups are boring, deadlifts can be boring. But the thing is that there's so many little things in there. As long as you take a step back and you're actually open to being aware of what's going on in your body, and not just a part of the body. That's why it drives me crazy when a person says, "Well, what muscle does this work?" Multiple. The thing is because the body works together in order to perform a certain task. And that's what we're after when we're doing this.
Prone Swimmers
Ryan: So let's get into these movements. Now you might call these a different name. I don't really give a crap what you call them. I'm just going to explain them, and then . . . So the first thing is, I call these the prone swimmers. This is something really where, again, it just looks silly. But the thing is, is when you do this for the first time, you're just going to be, holy crap, my lower back is firing like crazy. Then also, oh my gosh, I don't have the range of motion on my shoulders that I really thought I had.
Ryan: All you're going to do is lie face down on the ground and then pull your feet and your head off the ground slightly and you're looking at the ground. This starting position is something that we have in GMB that we like a lot. Obviously a lot people can just say it's a lower back exercise. Okay, great. Whatever it is, okay? But the thing is, is we're looking at the core. And remember the core isn't just the abs. The core is your entire girdle, if you will, that involves the hip flexors, it involves the lower back, it involves the abs, everything in here. By simply doing that movement, you're already focusing on strengthening the lower back.
Ryan: Now, thing with this though is, you're going to have your arms out in front of you. They're going to be on the floor with your fingers on the floor. This position the only thing that's touching the ground the entire time will be your fingers. And so all you're going to do is you're just going to take your arms straight out to the side, slowly taking them down towards your legs. Think of making a snow angel, if you will. But you're facing the ground.
Ryan: Once you get there, all you're going to do is bend your arms and you're going to try and bring your fingers all the way up your back. So if you can get this image of where you're swinging your arms out to the side slowly and continuing the motion, letting your arms bend and go up as high as it can up your back. This is really where you're going to figure out if you have the range of motion in your shoulders, you have that flexibility, if you will, to be able to perform the task. Continue going up your back as far as possible. And then once you go as high as you can, hold it for a couple seconds and then finish the movement by simply bringing your fingers back towards your hips, your lower back, straightening your arms, and then bringing your arms again above your head so that your fingers are on the mat or on the floor as you're doing this movement.
Ryan: Now, again, I'm sitting here explaining this, it might not make sense to you. We're going to have a video for you to be able to do it. But what's going on here? I've already kind of covered that. And that is, you're looking at engaging the core, but especially the lower back. You're focusing on control in motion while performing this task. It's also going to help with coordination. And so in this position, focusing on your breath, making sure that you're not holding your breath, but then also looking at that range of motion by pulling your arms up toward your shoulder blades in the back.
Ryan: It's tough. This is something I've been doing with my daughter as well. I got to be honest, this is something that I haven't done in a very, very, very long time. And when I did, I was "Oh God, this sucks." And I'm not just talking about my range of motion sucks. I meant I don't like this movement and I only did it once and I was like ugh. So what I did was decided, all right, we're going to do this for a minute and that's what we did. And doing it very slow, you might only actually do a few repetitions but that's plenty. And it really, really gives you great feedback in terms of, are my shoulders at the point where I need the flexibility in this position? And typically most people aren't. So that's why I really like this movement.
Andy: I was just thinking, I've never actually done this now that you mention it. And, I'm realizing that I probably should have been because just imagining with your description, how bad I will be at this movement. I may actually try it. If the description wasn't very easy to follow, we'll have the video. It's basically, you're lying down on the floor with face down, and you're lifting your hands and feet off the floor and you're basically moving your arms around.
Ryan: That's it. I'll cover this in the video, but if this something that you just want to try it right now, the main thing is your toes and your nose should just be slightly off the ground. You're not making a big arch with your back or anything like that. So that's it.
Ryan: And literally, the only thing that's touching the ground will be your fingers when you perform this.
Andy: You don't need to crank your back or anything to do this.
Ryan: Yeah.
Andy: Let's move on.
Plank Hollow Body
Ryan: So moving on here, the other one is something that if you 've followed GMB for quite a while, you've seen this before. It's the plank hollow body. And what you're going to be doing is you're going to be shrugging in and out of this hollow body position. And so basically, think of it this way. You're going to start off in the top position of a pushup. That's it. And so your feet are together, your toes are on the ground, and your back is flat. Now without letting your hips raise at all, so you're going to squeeze your butt, you're going to squeeze your lower body, it's going to keep your hips from really raising. What you're going to do is push down hard into the ground and try to push your shoulder blades up towards the ceiling. So you're going to have this slight round in your back. Your upper back is going to be slightly rounded without your hips raising in the air.
Ryan: I love it when I post a picture of myself doing this and all the yoga instructors tell me that I'm doing the plank incorrectly. It's hilarious. Basically, you're going to be in this hollow body position, while keeping your hips from moving, you're then going to drop your chest towards the ground, pulling your shoulder blades together. Now while you're doing this, your arms are completely locked out. So really the only thing that you want to be thinking about is taking your chest to the floor and then taking your upper back to the ceiling and going in and out of this position. So squeeze in the shoulder blades together, and then pushing the shoulder blades apart as much as possible.
Andy: So it's really just a retraction and protraction of the shoulder without really moving any other joints.
Ryan: That's it.
Andy: So activates a lot of different muscles in the back and core in different ways from probably many other movements.
Ryan: Absolutely. And the thing here is, it's similar to what we were just talking about, but just simply in the sense that we're bringing awareness to being able to perform this task without moving another part of the body. So in the very first exercise that I mentioned, we're only moving our arms, whereas this now, we're bringing focus to the shoulder blades. And so yes, in the first movement it did focus on the shoulder blades, but the actual movement was simply by using the arms. By moving the arms, we forced the shoulder blades to move, but in this case we're locking out the arms and then bringing deeper awareness just to the shoulder blades and seeing how our mobility is in this particular movement.
Ryan: Now, with that being said, by the way, when you're doing these movements, something that's really going to help is to take video of yourself. Because a lot of times when you're doing something, you might think that you're doing something, but when you go and review the video, you'll notice that you might have not been doing it the way you thought. And so by bringing that mind body connection together by using video, it's really going to help by doing that.
Ryan: So the plank hollow body shrug should make a lot of sense. Again, one minute is going to be like so long doing this correctly, doing it slowly, focus on the breath. It's killer. Okay.
Spine Butterfly Shrugs
Ryan: So that's the second movement that we've got. So we're going to go ahead and go onto the next one. The next one is going to be a little difficult to explain. I'm going to try and make it easy. Basically, you're going to be lying face up on the ground, and so I suggest just having your legs straight and your heels are going to be on the ground. Your arms are going to be out to the side, so think of crucifix position. Your legs are out in front, squeeze together, your arms are out to the side. Now, you're squeezing your entire lower body and you're driving your heels into the floor as you pull your elbows underneath you.
Ryan: Again, this is kind of difficult to describe here on a podcast, but don't let your elbows fall down towards your hips. You want to try and think of pulling your elbows together underneath you while your torso raises slightly above the ground. I like to call the spine butterfly shrugs. And so think of it this way. Imagine that you're on a bench and you're doing the bench press. And you let the bar come down to your chest. Now what's happened is that your elbows are obviously going to be lower than your chest because you're up on a bench, but your elbows are not going to be down by your hips. You're keeping your elbows relatively high because you've got your hands in front of you about chest level.
Ryan: That's the position that you want to be in on the floor. But of course you're not going to have a bench or anything on top of you. So you're not using any equipment, but you're actively pulling your elbows back behind you. And by doing that, it's raising your chest up off of the ground while your legs are still on the ground. So you're going to be going in and out of that position.
Ryan: Now, it might be a little uncomfortable doing this on the floor. If you're on a hardwood floor, it might hurt your elbows a little bit. But try and use a mat or something. This is killer. I've got to tell you that this particular position is truly, truly going to help you for when you get back to doing any sort of horizontal pulls. Pull-ups, vertical pull as well. This is killer.
Ryan: Do this right and you're going to not only improve scapular strength, but you're also going to be improving your range of motion, which is also going to carry over for certain things. Let's say for example that you can do a chin up, you can do a pull-up, but you want to work on your muscle ups on the bar. This is going to help you to be able to improve your range of motion to get to the point where you're going to have that range of motion to get up over the bar. So this, crazy, crazy, I actually don't like doing this because like a minute is almost too much.
Andy: It sucks.
Ryan: It sucks. It really sucks. It's great movement. My daughter really has found that this has been wonderful too, because as far as opening up the chest as well. And so this actually works as a good a chest opener. Okay.
Andy: This is definitely one that if you are really, really interested in pulling and if you're trying to get, like you said, bar muscle ups, this is really that part of the movement where most people, their strength leaves them. And why is that? The reason is that they're no longer able to recruit the forearm and bicep muscles anymore.
Ryan: That's right.
Andy: That's out of the game. So all this lets you do is use what's left. It only lets you use your shoulders. And so this is the part that most people lack [crosstalk 00:29:35] movements. So it's a great exercise to get that.
Ryan: So another example I just thought in case any of you have done this before, but is using face pulls. If you do have access to gym equipment where you can actually take a rope or something and you hold on and you pull that rope towards your face, face-pulls, that's similar to the recruitment. That's similar to the actual movement. But we're doing it while in a spine of face up position on the floor.
Table Rows
Ryan: So the next one actually, we are looking at equipment. But we're throwing this in here just to give an example. For those of you who actually want to take those previous three movements that you're working on, and then bring better awareness to your pulls. And you can do this at home if you have a table.
Ryan: Now, with that being said, I do want to make sure that you can use a table that's solid and is not going to tip over when you do it. I have to say this because, well, basically, just don't be silly.
Ryan: Simple table rows, not too much to talk about. There's two ways you can do it. You can just do it where your feet are under the table. That's going to be a pull, a table pull, so that your hands are going to be-
Andy: Close to a pull-up position.
Ryan: Yah, pull-up position. I was trying to think of an easy way to say it. The other way to do it is simply where your head is under the table, and your hands are going to be in a chin-up position. So same deal though, and the focus is simply going to be on actually doing that similar movement that you did, the spine butterfly shrugs, and you're just going to perform that on the table and that becomes the table row. Whatever. We'll have that video in there. Now the next thing.
Andy: Just before you go onto the next thing, I do also just want to say, when we mention these things that are substitutions, it ends up being like a turtles all the way down kind of thing where you'll be like, "Well, I can't go to the gym and I don't have a chin up bar so I can't do that, so I have to do something else." So we'll say, "We'll do table rows and you'll be like "Well, but I don't have a table." "Okay, well then, put a broom handle over two chairs." "Well, my chairs will tip over." The thing is, there are some people that, the problem is it doesn't matter what you tell them. It's, "Well I have the wrong chairs. If I had chairs like you, maybe I'd be able to do it. You don't have chairs like I have, my chairs will tip over. There's no way I can do that."
Andy: Look, if this is you, you should have stopped listening 30 minutes ago. Why are you even here?
Ryan: That's so good. I'm going to throw in there too. So this is funny because so many people, there's like, "I can't do rows," and I'm "Hey great. I totally feel for you. And the reason why is, I cannot do rows at my house either. I live in Japan, we don't have a table that would allow me to do rows. We don't have chairs that would allow me to do rows. So you know what, I don't do them at home period." So, Hey, there you go.
Andy: And it's fine. I know that it can be hard and maybe you don't have a pull-up bar and right now Amazon isn't shipping pull-up bars. Too bad. So it's fine though. The thing is if that is your excuse that you can't do things, then you'll always find more excuses. And that's okay, but what's more important is not that you have a certain number of pulling exercises per pushing exercise. What's more important is that you are doing something. And eventually, you need to find the thing where you can't weasel out of it.
Ryan: That's right.
Andy: You need to find somewhere that you're just going to do something. Don't send us the emails and saying I couldn't do any of those exercises because I don't have the right table. Sorry. Only one of these requires anything. All the other things you can do. Do the things you can do. And with that let's get to the L-sit.
L-Sit
Ryan: Next one up is the L-sit. Now this actually might surprise some people. This is a great antagonistic exercise. I don't even want to say exercise, like movement. And again, the thing is though, it's so applicable because we're still focusing on the scaps. We're looking at a shoulder health, we're looking at core activation in relation to what's going on within the rest of the body. That's why this is a beautiful exercise. You can do it anywhere and you don't even need to be able to do the full L-sit. In fact, I'm going to ask you not even to try and do a full L-sit when you do this.
Ryan: What this particular variation of here is, you don't even need to have hands on a block, you don't need to elevate yourself or anything like that. Just sit on the ground. You're going to place your hands on the ground beside you, so that your hips are in between your hands and your fingers are facing outwards. So they're facing to the side. Your fingers are not facing forward. They're not facing to the back. They're right next to your hips facing outward.
Ryan: Now, from here, you're simply going to rotate your arms so that your elbow pits are facing forward. And from this position, with your butt on the ground, you're going to take your shoulders and you're going to rotate them back and push down into the floor. And so just by doing this, and if you can't get the image that I'm after, simply lock out your arms and bring your chest up while keeping your hips in between your hands. And just doing that, you're going to get this motion. So basically what you're trying to do is pull everything down while pulling your chest up. So there's two motions here. There's always going to be a push and a pull that's happening at any motion. In this particular instance, you're pulling the chest up as you're pushing the shoulders down.
Ryan: So this is looking at the scapular range of motion in a different range of motion. And so whereas the other three movements besides the table rows, put those aside, we're looking at different movements within there, different planes of motion as well as different positions. This is the final position that's going to allow you to hit all ranges of motion and get in that deeper strength, awareness, control that is going to help you not just for pulling exercises, but when you get back to doing any other pushing exercises as well.
Ryan: And so I think that this is a pretty complete range of motions that you can use to help you strengthen your back strength. Because again, it's not just looking at the backs, looking at how the core is working in relation to the scaps, the shoulder blades and everything else. And I'm just also excited that I need to calm down here. But anyway …
Andy: I think that's great. Instead of just trying to get a horizontal and a vertical pull or get pulling or whatever, what we've really done here is we've given you a range of exercises or a selection of exercises that is activating and coordinating your back muscles in different ranges. You've got your arms to the side, you've got your arms above you, you've got your arms pointed down and moving in different ranges while you're doing this.
Andy: This is what back strength is really all about. It's not just being able to do pull-ups. And pull-ups are great, I love pull-ups, even though they're not really exciting. But the point is that this is the key. Is being able to have your back strong and functional in all of these different ranges rather than just trying to mimic the exercise that you can't do.
Backwards Bear Walk
Ryan: Absolutely. Let's throw in a bonus exercise. The backwards bear walk. I'm going to throw that in there too simply because doing all these other exercises, we might as well look at actually pushing down into the ground and away from the ground while in an inverted position. This is going to further help with scapular strength. The other cool thing about this is also going to give you a good stretch in the hamstrings, which, having done all of these movements for your back is also going to help to kind of loosen you up a bit and further improve your range of motion for that. So there's a bonus exercise for you, the backwards bear.
Andy: Cool. All right. So, just kind of going over the key points from what we've talked about today. Just remember that no equipment doesn't mean no options. You don't need to try to replace weight training with a poor facsimile of weight training. What you're really trying to do isn't pull-ups or deadlifts. What you're really trying to do is get strong and have your back and shoulder musculature be able to move and apply force or resist force in different ranges.
Andy: And so that's what the goal should be. Don't try to replace one thing with something else that looks very much like it. That's taking things too literally. But these examples will be really helpful for you. Check the video if you want to try these, and please try all of them because you'll see that they are complimentary and work together. It's not just something where you're replacing one thing with another. You've got a selection of things that work together to give you a result here.
Andy: So just to cap things off I think that a lot of people get hung up on esoteric tactics and marginal hacks and things like, if only I knew the exact brand of almond butter that Olympic swimmers prefer, then I would also be able to, I don't know where that logic goes. It goes nowhere.
Ryan: I like it. Keep going with it.
Andy: Spoiler alert, 99% of all health hacks are completely useless to everyone. It turns out that some of the most valuable secrets are the ones that are hidden in plain sight. So today we want to share with you one secret technique that is so obvious, you will probably not think twice about it, but we urge you to try it and do it often.
Ryan: All right, you guys ready for this? Every single morning, do a kneeling lunge on both sides.
Ryan: Your right leg, your left leg, and just do it maybe a minute. That's it. The one thing though is you've got to make sure that when you're doing it is that you squeeze your butt. That's where the magic is. Always squeeze the butt.
Andy: Squeeze the butt. Squeeze your butt or someone else's while you're doing kneeling lunges every morning. This will give you 80% of the hip mobility exercises you need in life.
Ryan: That's true.
Andy: All right. That's it.
Ryan: Thanks for listening. Bye-bye.
Be sure to catch the next episode by subscribing to the GMB Show:
The Future is in YOUR Hands!
Left to our own devices, we'd soon be churning out episodes on the sorry state of Mexican cuisine in Osaka. Answer these questions and tell us what you want to hear:
';