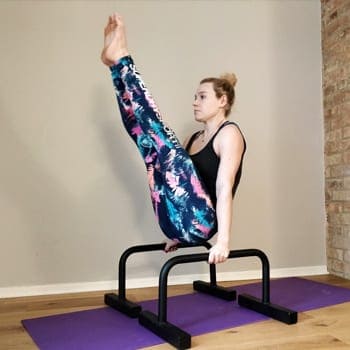 Fancy bodyweight skills are completely unnecessary for normal life. You never hear, "We have a bit of a situation, is there anyone on board who can do a handstand push-up?"
But that doesn't mean they're not useful. Because if you're the sort of person who's drawn to challenging skills, they can be super motivating. And working up to them will help make your body more capable in all sorts of very practical ways.
Still, though, actually getting big skills can feel impossible even if you train consistently.
In this episode GMB Head Coach Ryan Hurst and Lead Trainer Rose Calucchia tell you how to overcome the most common challenges in pursuit of big skills—including the fear of focusing too much on one thing, and how to shift your mindset so that small gains add up to big wins.
Click here to see all our podcast episodes.
Resources mentioned
Transcript of What It Really Takes to Nail Those Big Skills
Ryan: Yo, yo, yo, what up everybody? Welcome to the Giraffes Making Bubbles podcast. Today's special guest, Rose, is with me. Rose, if you don't know about Rose then you're not living, a lead trainer here in GMB, as well as just super awesome. Rose, how's it going?
Rose: I'm good. How are you?
Ryan: I'm always good. I'm feeling good. Let's see, what funny story can we tell about Rose here?
Rose: You have so many, Ryan.
Ryan: So many. So we could talk about our video shoot in Atlanta, because that was so much fun, you and shorty shorts Chris, and that was a long shoot. That was like five days for you guys, shooting. Is that right?
Rose: Yep.
Ryan: So I ended up doing eight days of shooting. But you guys, I'll tell you what, tough stuff. You'll be seeing those videos pretty soon, everybody, of Rose strutting her stuff and showing everyone how it's done. Today, though, we are actually going to be talking about what it really takes to nail those big skills, and the reason I brought up the Atlanta shoot is because that's why we have Rose. I'm actually, I can't do anything anymore. I'm old and physically incapable of doing anything, so I actually use Rose and Chris to demonstrate everything. That's right, Rose, right?
Rose: Not at all, Ryan. Not at all. You still show us all up.
Ryan: Yeah. With my beard skills. The thing is, and I do have those beard skills. Rose has a really hard time growing a beard. I don't know what it is.
Rose: I keep trying. I'm trying to catch up to you.
Ryan: It's tough. It's tough. We're going to be talking about what it takes to nail those big skills. And so this is actually a topic that Rose came up with, and I think it's great, and what we're going to do today is go through what that means, as well get a little bit of a different perspective. And so usually it's just Andy and I, or Jarlo and Andy or I, and with Rose being on here, it's going to be great, because you can also get from the female side of things, but not just in terms of Rose yourself, right? But you're actually going to be talking a little bit about your clients and working with people in person and some of the differences between the men and the women, which I think is really great. It's going to be refreshing, so that people just don't have to hear me just jabber away the entire time.
So some of the things we'll be talking about in looking at progressions, variations and how they make a big difference, fear of letting go of other types of training while you're working towards particular skills, as well as consistency and changing your mindset. So to kind of start things off, I already hinted at it that we're going to ask you, I'll be asking you to talk a little bit about your experience with some of your clients and things like that. And so we can just kind of delve into it right now and have you discuss looking at particular skills, and of course here in GMB, our focus is mainly on skill work and focusing on the practice side of that. So when you're working with clients and things, what are some things that you see that people have a hard time with? Like, whether that be letting go of their other training in order to focus on a single goal, or even just some differences that you might see, like stubbornness in men versus women, or I don't even know. Learn me good.
Rose: Well, I've been doing personal training and group training for over 10 years now. Wow. It's been a while. And obviously I have experience personally with some of these topics that you're bringing up. I came to GMB because I was looking for some answers with my own training that I wasn't finding in a lot of other modalities out there, and having done a lot of training my whole life and still not being able to get some of the skills that I really had wanted or I'd been working on for a long time, GMB kind of filled in those holes for me and taught me how to train in a way that I could reach those goals. And it was really eye-opening and empowering for me to feel like, oh, there aren't skills that aren't attainable for me. I can get any skill that I want to get, now that I have this framework and a pathway to get there. And so really working to applying that with clients, as well, has become an important part of my work.
Ryan: Can I interrupt just quickly? I want to mention something. And so this is, I think we need to let everyone know here that you didn't just come into GMB and just get those skills. I mean, you're a very good example of, I remember when you were going through the apprenticeship as a trainer, you actually, you were injured, you got injured, you couldn't do it. You actually had to step away, and then you came back later and it was really, let's be honest, frustrating for you, because you were like, why can't I do this? And I remember you're one of the hardest workers that we've had go through the apprenticeship. For one, you went through it twice. But the other thing, too, is you weren't able to just literally jump in there and get these skills. So you had to figure out how to be able to do this. So that's also why I think this is a great chance for everyone here listening to learn from you, because again, you aren't the kind of person who was just able to just get these skills, because you said you now know that you can get any skill, but you also come from the side of empathy of a person knowing that it's difficult to get those skills. So anyway, go ahead and talk [crosstalk 00:05:49].
Rose: For sure, for sure. Yeah, I was super injured. When I did the apprenticeship the second time, I couldn't even do a plank really. I couldn't a pushup, I couldn't stand on my hands at all. I was really coming back from square one and kind of rebuilt myself going through the apprenticeship. So yeah, I can completely empathize. I can empathize with being injured and starting from square one, and just being like, this shit is hard, and I can empathize with being like I feel like I should be strong enough and capable enough to do these things. Why can't I do them? I still can't do this thing that I've been wanting to do. So I kind of get it from both those sides.
And then working with clients, I see it, especially with some of my female clients, they'll see things that I'm doing that are posted online or whatever and they're like, I could never do that. I would love to be able to do one pull-up or one full pushup, but I don't really think I'd be able to do it. And it's that mindset that GMB has taught me how to kind of come in and not just with the method and how I talk, the philosophy, but with actual skill progressions and variations that help people get those skills. So that's a big one. A big thing is mindset. So coming in right away and saying, I'm never going to be able to do that, it's probably going to not help you get whatever skill you're trying to get. So unless you have some medical condition that is going to prevent you from moving forward with either strength training or flexibility work, it's possible. Anything is possible with the right training program, and that to me has always been really empowering and why GMB has, you know, you guys can't get rid of me. Sorry. You're stuck with me.
Ryan: We tried. I mean, I've tried to get rid of you for so long. I'll tell you what, a thorn in my side. Of course I'm kidding, everybody. Let's go a little bit deeper into this. This is awesome. And so I want to talk a little bit about like, you know, even in your clients or even in people listening, and what you brought up is this mindset. So the mindset, I mean Rose, you know me, I mean this is a huge part of everything I do for years and the way I look at things. But a lot of people don't necessarily see us focusing directly in terms of writing articles on here's the mindset you need. I mean, it's in there, right? But the thing is is if we're looking at fear, and fear of letting go of certain things that we're doing, and moving forward, what are some of the things that we can look at? And especially, let's talk a little bit, have you talk a little bit about that fear of letting go of other training, and in order to focus on getting a particular skill. Yeah, so bring it back to that. Because we see this so much. It's I want to get this particular skill, but I still want to focus on the other hundred things that I'm doing right now. I'm going to lose my gains, right? So talk a little bit about that.
Rose: Right, yeah. I feel like mindset is woven into so many of the things we write, but you're right, it's not a direct topic that we hit on, like put it out there real directly. But yeah, the fear around … So I have a lot of feelings about the fear and the fitness industry, because it's real. It's imposed on us by marketing and advertising and all that. It's imposed to us by teachers and trainers and a fear of getting fat, a fear of being out of shape, a fear of you're going to get in shape and then you might lose it if you don't keep doing all these things that we're telling you to do. So that just gets me really worked up, because it's like, then that's not fun for anybody. None of this is going to be fun, and we're not going to stay doing it and have good associations with fitness.
But it is real. All of us have it to some degree. I feel like I see it, hear it in my clients. I help out at GMB. So I hear it with our clients, I hear it with the apprentices going through our apprenticeship program, from a lot of women I hear, I can't stop doing cardio because I'll gain weight. I'm happy to do strength training, as well, but I can't stop the cardio. From men, it's I can't stop lifting. If I stop lifting, I'm going to lose those gains. And I even hear the cardio piece from guys, too. I had one client of mine years ago who had a lot of hip mobility problems and a lot of back pain having to do with hip mobility, and what does he do four days a week? He's on the treadmill or the elliptical or the stair climber, just hammering it out over and over again. And he was afraid of gaining weight, so he didn't want to stop doing those things.
So we have a lot of fear around dropping the things that we think we should be doing, the things that we think are working for us, and that makes it really hard when we have skill goals or things that we really want to achieve. Say you want to get your first pullup or you want to whatever, bench X amount of weight. If you're spreading yourself out through all these different things, and you're like I have to keep doing these other things, it's going to be really hard to get those skills and those goals. I mean, I had it with the apprenticeship when I went through the apprenticeship the first time before I got injured. I was doing lots of other kind of training, and going through the apprenticeship, you have to put everything on hold because it's a very demanding program, and I was like, oh what's going to happen when I go back to this training later?
So the fear was definitely there. However, I was pleasantly surprised that by doing the apprenticeship program, when I went back to all those skills later, they were all still there, and in fact much better. I got certain skills that I never even worked on after going through the apprenticeship program. I couldn't do a pistol squat at all before going through the apprenticeship program. And we don't train those in the apprenticeship program, yet I could do them afterwards. So I know we talk about trusting the process a lot at GMB, and I'm sure we're going to touch on that today, but if there are certain goals that you have or certain skills that you really want to achieve, it takes a dedicated time commitment to get those things, and dedicated training. I'm not saying you're going to be at the gym for five hours a day or anything like that. I'm just saying it takes a little bit of consistency pretty regularly, and it's really hard to do that when you spread yourself out amongst all these different things.
Like, if you're trying to hit your weight training three days a week and you're trying to get your cardio in three days a week and you want to get some flexibility work here and there, and you also really want to train your handstand, it's going to be hard to get your handstand with all that going on. So I think it's really important to figure out what you really want, what are your fitness goals, whether that be anything from handstanding, to weightlifting, but figure out your why. We talk about that at GMB a lot. Like, why do you want to get these specific skills or goals, and really focus on that and see what you can accommodate in your schedule to make that happen and make that the focus, and at least try to make that the focus for four to six weeks and see what happens.
Ryan: Yeah, perfect.
Rose: It's not forever.
Ryan: You know, Andy and I, we've talked about looking at cycling. I'm not talking about bicycles, I'm talking about like looking at your life, looking at for example, a year, and looking at blocking off certain periods of time in which you're going to focus on one or two particular things, and exactly what you're talking about right there. I think also something that we see a lot, a person has said, okay, yes, I want to get a particular skill. And we might say, all right, it doesn't mean that you're not going to do other stuff. It's just the other stuff goes into maintenance mode and you're not spending the bulk of your time doing that. And what happens is in the very beginning, you see a person start to focus on that skill, and the first week is cool, and the second week they're still doing it, and the third week they start to get a little anxious, and they're just like, yeah, I really, I think I should kind of add something in, and then they start, like, the gains that they were getting from focusing on that particular skill starts to wane, because they've actually added other stuff in.
And then they start to doubt themselves even more, start to change the program again, instead of like what you said and trusting in the process, and just really understanding that it does take an amount of letting go, and the trust in that process is simply giving it time in order for that thing to work. And what you just said is that consistency, and I want to reiterate this point, too, that you said, that consistency doesn't just mean doing it three, four, five hours a day. It's simply just continuing to continue with that goal. And we both know it takes more volume in order to get a particular skill. So basically if you want to get a skill, you need to do more of it, more quality time with that skill. It doesn't mean doing a gazillion repetitions in one setting. No, again, we're talking about over time.
And so I think really, coming back to your two main points there, basically understanding that you do need to trust in the process. You also need to understand what that process is, because some of us out there honestly, who don't have a coach and who don't necessarily have a solid progression along with variations to follow, we'll get lost, and as well then just sticking with it and being consistent with the process, which kind of leads into our word from our sponsor. And so Rose, do you want to run with that, from our sponsor? I'm putting Rose on the spot. We don't have sponsors. You all are crazy thinking if we got sponsored. We're GMB, we sponsor ourself. If you are interested in this stuff that we do, check out gmb.io. Once again, that is .io, and if you're listening to this, you probably already know where that is.
If this is one of your first time, if this is your first time ever listening to me babble away on the podcast, then the first thing I'd like for you to do is, again, check out the homepage, but also go check out our YouTube channel. We've got tons of videos. As a matter of fact, right now I am working on putting out a video every single week and actually some upcoming videos, just to let you know, I've recently been shooting my entire workout session. So you can actually go through my practice session with me, starting from the warmup all the way to the very end of the program, and my feelings for that, to show you a glimpse into what and how I train. It will also be helping you out to give you some ideas for a template of how you can actually incorporate that into your own training.
The reason I bring that up is because what we're talking about right now is working towards skill and that will give you a good example of how I practice these skills and stay consistent with that. So let's move into some more topics here. So let's talk about the mindset. Let's go a little bit deeper into the mindset of actually that skill work that I just mentioned, and practicing things, and kind of what it takes in order to set herself up for success, if you will, not just physically but also mentally. So I'd like to hear your thoughts on that.
Rose: Yeah. Well I spoke a little bit earlier about mindset, and you know, really nothing is off limits, so keeping an open mind in that way, but also being realistic when you make your training plan or as you're going through your training. Sometimes people will be working on their handstand consistently for four to eight weeks, and they're like, oh man, I'm still not balancing, like what's happening. I can't stay up at all. And it's like…
Ryan: I tried this two times. I can't get it. I'm going to send an email to GMB and ask them why their programs suck and I can't do this after watching their video once. Oh my God.
Rose: No, I mean some of these skills take time, and it can take a really long time and that doesn't mean they're not possible. It just means that we have to practice some patience. Again, trust in the process, and really focus on what gains you are seeing, because I have a feeling that if you evaluate your handstand, if you've been working on it consistently for four to eight weeks, if you look back at some videos maybe that you shot in the beginning, you're going to notice some significant improvement in that four to eight weeks. It might not be the end goal that you set out with, but there is going to be progress, there is going to be change, there is going to be improvement, and really shifting your attention to be able to focus on those smaller gains are what keeps you motivated to keep going for that end goal. That might take you longer, that might take several months, that you might have to let it go for a little while and come back to it to get it, you know, to work on that again.
So it's not that you can't get there, you can, but to really focus in on those little things, is something that was profoundly impactful for me in my training with GMB, and that I tried to, you know, I work with a group of teenage girls, they're 16 to 17, and I've been working with them since they were 10 and 11, so they got a lot of skills really, really fast, like insanely fast. And now sometimes I will give them a new skill, and if they can't get it in like five or six tries, they're like, can we work on something else? And I'm like, oh my gosh. They like epitomize not having a beginner's mindset at all. So yeah, it's just a lot of things don't come real fast, but they come with a little bit of consistency and dedication, and you have to find those ways to enjoy that process, and part of that is to be able to see those gains and celebrate those small victories every step of the way.
Ryan: Let's talk a little bit again about, actually make this a bit more applicable to what's going on right now with you. So I'm going to put you on the spot and ask you about a particular thing that you're working on right now or something maybe you have been working on recently, and how you kind of went about getting that skill and more along the lines of like the mindset of it, because I know what you're working on, but I mean, tell everybody here some of the things that you're working on and some of the, I don't want to say hardships, but basically, as you said, this shit is tough. And so some of the things that you go through and how you deal with that and kind of take us through the process, if you will.
Rose: Sure. Geez, I mean, can we pick anything? That's like my whole journey. I mean, any skill, I mean, I feel like it's been like, ah, even when I was rebuilding my handstand in the apprenticeship, it was like torture.
Ryan: Well, let's talk about something, actually, let's move away from the handstand. I'd like to move away from the handstand, and I'd actually like to take this in a kind of a different route, if you will, something that most people might not even be thinking about right now. And that is flexibility. And you know, a lot of times when we look at these big skills, a lot of people will be thinking handstands, guys, you know, the one-armed chin up or you know, whatever. But let's look at actually flexibility. This is your specialty of sorts, I know, and so that's also kind of why I chose this, but I'd like you to tell us a little bit about in terms of your flexibility, and yeah, run with it.
Rose: Okay. Well, first of all, I'm not really that inherently flexible at all. In fact, when I was in my early twenties, I couldn't touch my toes like at all. So every ounce of flexibility that I have, I have worked very hard for. I'm not one of those women that it comes naturally for at all, and the reason why I feel like I sort of have specialized in flexibility is not because I'm super flexible, it's because I just want to know so much about it, because it's something that is a pretty foreign feeling to me, to be flexible. And GMB has helped me improve my flexibility quite a bit, between our elements program and the focus flexibility program. Those really helped me out considerably in a way that I didn't strain anything, that I didn't tear anything, and made a lot of my bigger skills better, because my joints were just a lot more freer in their movement.
But that's something, I mean, talk about having trust in the process and have faith that things are going to shift. Flexibility can be really hard to stay motivated with, because you might not see changes real fast. You might feel some changes within a couple of weeks, but people will come in being like, I want to do the splits. But they can't touch their toes. So that's going to be a bit of a journey to get to a split. So again, finding ways to stay motivated with it is really important. Finding those ways to see your small improvements is really important. And also being, I feel like in your body and feeling the changes, like, okay, so maybe you don't have the splits yet, but what can you do now that feels better than it did when you started? Those moments are really important. They are for me. I'll notice certain things with either my handstand, or I do aerial training, I'll notice like, wow, that used to really bug my shoulder or that used to bug my neck, and it doesn't at all anymore.
Ryan: And that's because you train like your flexibility at least 45 to an hour a day, right?
Rose: Two hours a day. I usually stretch for two hours a day. No, man, if I spend 20 minutes on it, that's a long time.
Ryan: Yeah. It reminds me of [inaudible 00:25:20], but it reminds me of, like with Chris, for those of you who don't know, I mentioned him earlier, but he's another lead trainer here at GMB, and he used to travel with me whenever I'd go overseas to teach, and he would fricking drive me crazy because literally, and this stopped after the first time he traveled, because I basically told him if he kept doing it then he's never going to travel with me again. Anytime we would stop, let's say that we were in the airport and we would sit down, he would start to stretch, and then we would be on the fricking airplane and he would be stretching in his seat, and then like all this stuff, and okay, great, I understand stretching, good, and all that stuff. But the thing is, I think, especially in your case, another thing that I've noticed is that you're not actually doing more flexibility.
And like you said before, and again, sorry to hijack the thread, but something I've really seen not just with you but also with Chris now is the image of flexibility that people have equates to sitting down and stretching, instead of moving and being aware of working towards greater range of motion while in movement and using that in order to help down the line. And so this comes back to what you said is actually just being aware of it and realizing that it's not that maybe that stretch has gotten so much better. It's the fact that you feel better elsewhere, and then obviously that's helped. And so like your pancake, I think it was your pancake, was it your pancake? What was it? There was a stretch when you were going through the apprenticeship. I can't remember what it was. And you're just like, I hate this.
Rose: Probably. I usually hate pancake stretches, whether it's half pancake or full pancake. I mean, I've got to tell you I'm not, I don't love stretching. I mean, it feels good and you know, now that I'm a little bit older, it's more of a priority for me, but I will say it's not my favorite thing to do. It never has been. And yeah, there are certain positions that I'm just like, you know, they're not my jam, but they're important. So I do them.
Ryan: But what I'm interested in hearing is actually like, you don't want to do them, okay, I get that. So like one, how do you do them? How do you keep yourself motivated, if you will, in order to do that?
Rose: Because I see how my body moves better when I do. There are just certain movements that I just feel freer doing when I include flexibility in my training, that if I don't, I just, my joints just feel not as good. It doesn't mean that I won't do the stuff. It just means that I feel better when I'm doing it. And you know, especially as we move into winter months here in the U.S., like I can't really afford to not feel good because it's just too cold, and I don't want to get injured. I don't want to pull something.
Ryan: Well, it comes back to what you said earlier about the why. I mean, that's obviously your why, and in your case I think it's really interesting and I think if a lot of us actually take a step back and really think about what our why is, a lot of people assume that it would be like, because I want to get splits, because I want to get the handstand, because I want to get this, when in essence really it's simply about wanting to just feel better whenever they're doing something else. And that can be your why. And I think it's a great way, and I think that mindset also helps in terms of also letting go of things and not making it about a single thing, but making it about more of a variety of things and how you feel with that outcome. Maybe, I mean that's another way to look at it, but that's what I'm hearing.
Rose: Yeah, no, it's true. And with flexibility, it's really interesting for people to talk about their why, because people just usually either say like, I think I'm supposed to, or you know, I don't know that many people who can tell me why they need a full split. Like really, why do you actually need it?
Ryan: I don't know too many people who actually need, it, you know what I mean?
Rose: That's what I mean. I mean, what is that going to help with? Is that really going to help with the things you need? Is that even going to translate into what you need it for? Probably not, which I don't want to steal anybody's thunder, if you want to train in splits, train in splits.
Ryan: Yeah. I say this all the time, too, if we're talking about splits. I'll be like [inaudible 00:30:14] don't even need it. Anyway, sorry, we could talk about this forever. But yeah, go ahead.
Rose: No, that's all I was going to say is that most people will lose motivation for flexibility and mobility work if they don't have a serious motivating factor. Unless you want to do something like our elements program, and I'm not doing this as a plug, don't worry, but I'm just saying, elements is not just a stretching program. You're moving, but you're gaining flexibility while you're doing it. So I don't know too many people who are just going to have that motivation to stretch regularly without a super important why, or they see it as impacting their training in some sort of positive way.
Ryan: Well, this is cool. I mean, this is another great example and I'm not even talking about elements, I'm just talking about bringing it back to having good progressions and variations and trusting in that process. And it's like anything. You know I love being in the outdoors and map work and orientation and stuff, and it's one of those things where okay, you start at point A and you want to get to point B, there's many different routes you can take, but the easiest route is a straight shot. And if you have that laid out and mapped out and know exactly where you need to go and how you can go to get there, it's great. I'm not saying, though, that there is a single way and the way that we teach it is the way. That's why we have progressions and variations. I've talked about this in other podcasts, what the difference is, and progressions to me are simply a way that lays things out for you to get started, and once you get at a certain point, then you can use different variations of movements to help you get to that end goal.
Each person's going to be different. Just look up podcast progressions and the variations will come up. But again, I think mentally too, that will allow us to stay in that, for better or worse way [inaudible 00:32:15] proper mindset in order to allow us to put in the consistency and keep up with the effort needed working towards our goals. And so the interesting thing, you know, with you, I think this is also something very, very important to say, is that when you're going through the apprenticeship, when you continue to work on your programs, you've got a community, you've got a group of people that are helping you. Likewise, I'm the same way, you help me. And so it's that accountability, as well. I think that's also important to think about when you're going through things. So anything else to add to that?
Rose: For sure. No, I mean, if you don't, if your background isn't in training, it can be really hard to come up with your own program and your own workout. Fortunately, at GMB we have a ton of resources on this stuff.
Ryan: You're plugging it, I love it.
Rose: You know what? Also, I answer emails for GMB so I know what you all ask. I know what you're asking. So we have a ton of free guides that are helpful, and the way that we program can actually be applied to any other training that you might be doing. So whether that's lifting or climbing or anything else, our method can pretty much be applied to anything. And that's what's always really worked for me, is the way that we kind of break things down and focus on skills and then move into conditioning and other things. But having somebody else, or having a community of people to train with, to exercise with, is super important. It's super important. And I, like you, Ryan, I know you train a lot by yourself, and I've spent a lot of time training by myself, and most recently I actually started going back to some group classes, because I was like I need to hang out with some people.
Ryan: Yeah, I hear you.
Rose: I need to talk to people, and encourage other people, and be encouraged by other people. And yeah, just enjoy being in a community of people doing movement stuff together is way more motivating than doing it by yourself. So the more friends you can make, the more people you say hi to at the gym, the more you just chat with people there, it makes a world of difference. When I can walk into a space and say hi to people and chat in between sets and stuff, such a big difference.
Ryan: It keeps you going, right?
Rose: Totally.
Ryan: Yeah. Well, let's wrap this up a little bit. We talked about some really good stuff, and I really appreciate having you on here. We'll have you on again. And so a couple of things we talked about, you know, that fear of letting go, of thinking that you're going to lose your gains when you're working on practicing a skill. That's a tough thing, and it's not a matter of never going back to that particular movement. It's about looking at cycles and making sure that you're not trying to do too much and you are able to focus on that main thing that you're doing, as well, being consistent with that skill work. We mentioned, you mentioned, volume helps. Practice it more, being aware, and as well, changing your mindset to make yourself present in what's going on in the moment. Also smoke … Smoking. Focusing on don't smoke, don't smoke. Focusing on the small gains and those wins, on the small wins, and they actually add up to big gains. I think that's really a big thing.
And as well, community, talk about that and just understanding that shit is tough. It is tough. Do the little things and focus on the little things, and just be consistent with it and step on the mat. Just do the work, and find a community, if you need people to help with that. And cool, find like-minded individuals where you can share the journey and appreciate each other's wins. Just to finish this off, bonus tip, Rose.
Rose: Bonus tip, okay. So if there's something that you really want to learn how to do, there's a specific skill that you want to get, you want to get a pull-up, you want to get a one-arm chin up, you want to get a handstand, my bonus tip for you is to practice that skill at whatever progression or variation is right for you at the beginning of your workout. So before you do your regular workout, whatever it is, whether it's you're going for a run, you're lifting weights, you're taking a CrossFit class, whatever it is, spend 10 minutes working on that one skill that you want to get, and it will come a lot quicker, because hopefully you'll be spending at least a couple of days a week for 10 minutes doing that.
Ryan: Awesome. I love it. Thanks for being on here. Thanks for listening everybody, and remember, Giraffes Make Bubbles. Bye-bye.
Rose: Bye.
Be sure to catch the next episode by subscribing to the GMB Show:
The Future is in YOUR Hands!
Left to our own devices, we'd soon be churning out episodes on the sorry state of Mexican cuisine in Osaka. Answer these questions and tell us what you want to hear:
';