Everyone's got an opinion on what constitutes "proper body mechanics."
Any time a video of someone squatting or doing a push-up gets published (on our channels, or any other fitness company's), it seems like everyone on the internet suddenly has advanced training in kinesiology.
"Bending the knees in front of the toes can cause injuries."
"That push-up form is jamming the shoulder joint and will result in shoulder sprain."
And my favorite: "My knees exploded just watching this!"
(Yes, those are all real comments we've gotten on our Facebook page).
But many of the ideas out there about proper body mechanics are simply popular myths. Unfortunately, these myths are often perpetuated by people who may be generally knowledgeable, but mistaken about specific ideas.
Let's begin by defining the components of good body mechanics.
The first element of good body mechanics relates to injury prevention, and implies that there is a proper way to do a particular movement that results in less chance of injury. The second element is that there is a way to do a particular movement that optimally produces force, speed, or conserves energy for the goals of the activity.
With this in mind, let's dig into the myths and realities of proper body mechanics so you're armed with the information you need.
One of the best ways to learn proper body mechanics for your own body is by going back to basic movement patterns, with a focus on mindful movement. Our free Strength and Mobility Kickstart will introduce you to this way of moving, so you can begin to learn the body mechanics that are best for you.
The Fitness Industry's Flawed Approach to Mechanics: Myths and Their Origins
Squats should always be feet-forward. Or always with feet slightly turned out. Or really, always anything.
This is a quick way to spot a possible myth. (We have our own thoughts on squats, but that doesn't mean we think our way is the only correct way–far from it).
As a rule, it's good to be suspicious of virtually all broad and universal statements. Here are a few that we'll look at a little more closely:
Push-ups are done with hands to the side of your shoulders and elbows flared out.
You need arch support for your feet
.
Squats are bad for your knees
.
Let's examine where these come from and why they are myths.
Myth: Push-Ups Should be Done with Hands Up and Elbows Out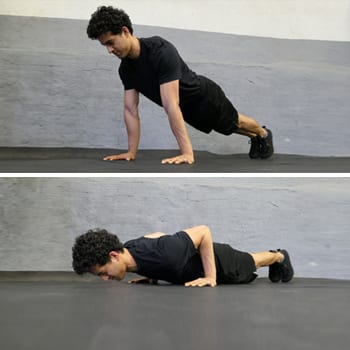 The Guinness book of world records judges a successful push-up to be with arms out to the side, elbows bending to 90-degrees. (The record, for anyone counting, is 2,682 using this form.) This is also the classic push-up form used in the US military.
But it can also strain your shoulders if you have some tightness there and in your chest.
And even if your flexibility is fine, the "bottom" position of this style of push-up can be problematic on your shoulder joints, especially when you fatigue and your control is not as great.
We teach the push-up with the elbows in because, based on what we've seen, this works best for the goals we promote here at GMB. It makes the movement safer and more efficient for most people. The risk factor is low and the payoff is high.
But the "arms out" form is not necessarily "wrong"–it just depends on what you're trying to accomplish.
Are you training for the world record? Do you have a drill sergeant screaming at you? Want bigger pectorals? The "arms out" form may be appropriate for those goals, while not appropriate for others. Sometimes you have to train for specific goals and do what you need to do.
Just know that you can also train the push-up with your hands in a lower position and your elbows close to your body. Or you can do explosive push-ups, one-armed push-ups, archer push-ups, and more. There is no one specific form to follow.
Myth: You Need Arch Support for Your Feet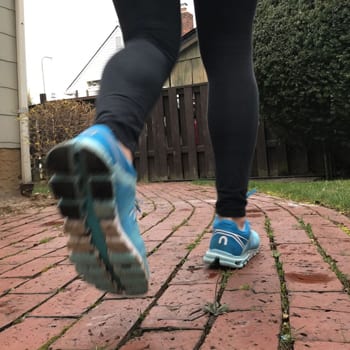 This is a myth that likely exists because of corporations trying to sell you special shoes or insoles. There's a lot of money to be made there.
But it depends. (Universal statements are problematic, so I'm going to avoid making them myself too).
Many people have been helped by having foam or semi-rigid lift/padding underneath the arches of their feet. I've recommended orthotics for a lot of patients over the years as well, especially for people who need to be on their feet all day and had consistent and significant pain. An arch support can be a great option to relieve strain.
So, like in all complicated topics, there's nuance here. To say "no one needs arch supports at any time" is the same as saying "everyone needs arch supports all the time." They are both incorrect statements.
Let's think a bit about why arch supports can help, or hinder, you. Lots of people are walking/running/jumping around with "flat feet" without a problem. I'm one of them. Yet there are others with the same foot structure that have issues. Why is that?
It's relatively complicated with lots of contributing factors, with one being the varying levels of strength and flexibility/mobility that people have in their feet/ankles, knees, hips, and spine.
Our bodies are not just a collection of parts operating independently. We don't have "bad feet" (or bad anything) that exist apart from the rest of the body. In this specific case of our foot arches, our bodies can compensate for this successfully with stronger and more mobile areas above, such as our knees, hips, and spine.
But, as you can guess, if these areas also have issues, then therein lies the problem.
So the long-term solution is to work on your strength, flexibility, and motor control throughout that chain, from your feet, to your knees, to your hips, to your back.
Which brings us to one of the most common myths:
Myth: Squats are Bad for Your Knees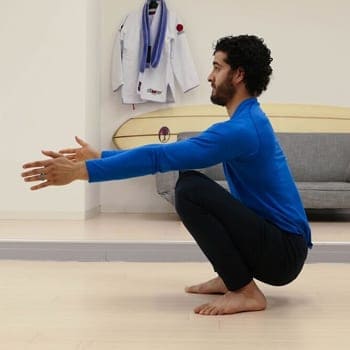 As always, it depends. If you have ligament or other damage in your knees that makes them unstable or painful, then you'll need to approach weighted knee bends with caution.
But as a universal statement, this doesn't make any sense. This is a stubbornly persistent myth with little basis.
Think of knee problems during squatting as being somewhat akin to elbow issues with throwing a ball or playing racquet sports. Would you say that throwing a ball or playing tennis is bad for your elbows? The issue is not the movement itself, but with how you're doing it. Your muscles and joints may not be conditioned well enough for the speed and forces you are applying to them during those activities.
So in the case of your knees bothering you when you squat, it may be that your calves, quadriceps, hamstrings, glutes, hip rotators, etc, aren't working as well as they need to and your knee is bearing the brunt of the forces.
This doesn't mean that squats as a whole are bad, but rather, that your strength, flexibility and mechanics could use some work. No need to throw the baby out with the bathwater.
Trying to figure out good form entirely on your own is tricky, though. Especially if you've been avoiding an exercise because of pain. (Or worse, practicing an exercise regularly despite the pain.)
Now that you've got a good idea of what a mechanics myth looks like, let's talk about good mechanics.
So What Does Constitute Proper Body Mechanics?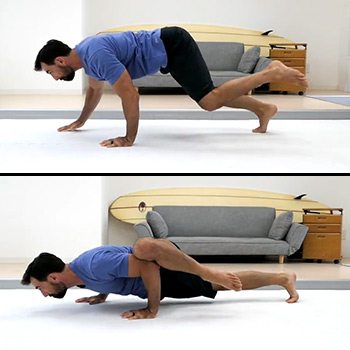 Of course, that's not to say "poor" body mechanics don't exist. If that were true, no one would ever get hurt when doing exercises. Obviously, that's not the case.
Good body mechanics are the mechanics that are the most efficient and least likely to lead to injury for a given individual. There are some basic rules, of course, as we all have similar musculoskeletal systems. But there are also individual differences based on limb length, previous injuries, and any number of other factors.
Which is why "it depends" is a common response of ours when we're asked for absolutes.
We teach exercises–particularly skill-based exercises–with specific technique recommendations for a reason. And it's not because our way is the only way–that's far from true–but because our combined decades of experience working with tens of thousands of clients, along with my 20 years as a physical therapist, have taught us what works well for most people.
But by no means are these techniques the only way, or even necessarily the right way for you as an individual. Rather, they are a starting point from which to explore and build.
In other words, your mileage may vary. Try not to think of descriptions of body mechanics as dogma, but rather as helpful guidance.
One of the best ways to learn proper body mechanics for your own body is by going back to basic movement patterns, with a focus on mindful movement. Our free Strength and Mobility Kickstart will introduce you to this way of moving, so you can begin to learn the body mechanics that are best for you.
Okay, Just Tell Me What I Need to Do!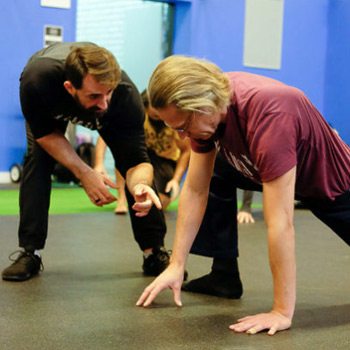 I know all of this can seem overly complicated. It's much easier to have a straight, universal answer. But that doesn't exist.
And, really, this is something that's good to work at if you're interested in progress. You have to put some thought into it, tailoring your body mechanics to your needs and goals. We may not be able to give you an across-the-board answer for body mechanics in all situations, but we can give you a solid framework with which to start.
If you can, find a coach
This is by far the best option, especially if, like most people, you do not have a background in anatomy, physiology, and kinesiology.
It should be somebody knowledgeable, whom you trust, and who makes you feel safe and supported, encourages your questions and curiosity, and guides you well. Observe how they move and ask yourself, "do I want to move like that?"
Of course, this is a big topic, but it's our first big piece of advice to improve your form. Check here to see if there's a GMB trainer in your area.
If that's not possible…
You may not be able to find the right coach, or it may not be feasible for other reasons right now. That's okay–it will just take a bit more introspection and work on educating yourself.
Start by asking yourself these questions:
Do you have a good sense of your objective with a particular exercise/movement/stretch? Does the form you are using match that objective?
Does the movement feel safe and pain-free while you're performing it? Or do you feel scared, unsteady, anxious? 

Do you experience pain immediately following the movement or in the days following?

Ideally, you would never move into pain.
Most, if not all, movement should be trained at a level that challenges the body and mind sufficiently to induce positive change, without reaching into pain. Pain is there for a reason, and pushing back against it can tend to make the brain less likely to lay down positive neural pathways, associating the movement with fear instead.
To put it more simply: your body mechanics are trending positively if your movement leads you closer to your goals and does not cause or increase pain.
We did a podcast on this topic a while back that I recommend checking out.
Examine Risk with a Critical Eye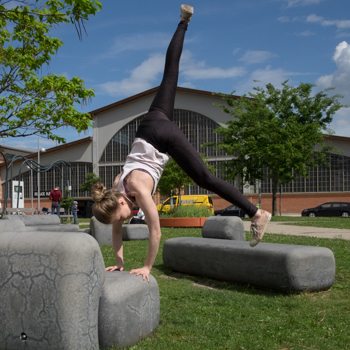 Certain forms of training have developed a bad rap as being too risky. We don't really buy that.
Yes, there is some risk inherent in training, but most of that can be mitigated by focusing on the basics and learning to approach your training with a mindful awareness of your movement. This will help you to make steady progress and avoid injuries.
Focusing on the basics is very nearly the complete instruction manual of good body mechanics.
Suffice it to say that good body mechanics are not universal–not even consistent within one person's life and body. Examine anything you hear, test it out under controlled and mindful conditions, and decide for yourself.
One of the best ways to learn proper body mechanics for your own body is by going back to basic movement patterns, with a focus on mindful movement. Our introductory program, Elements, is a good place to start, and a good place to come back to periodically to retrain your body mechanics.
Learn Proper Body Mechanics
Elements will help build a foundation of strength, flexibility, and control, and will help you learn the body mechanics that are best for you.
Got something to say? Join the discussion over on Facebook.