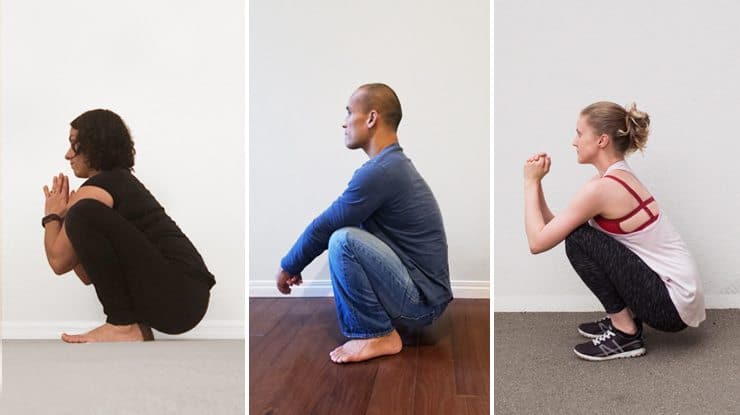 We all have different body types, and for most of us, that doesn't really impact our performance with particular fitness programs. After all, fitness programs, including our own, are made for the average person.
But what if your body type falls outside that "average" range?
What if you're very tall or very overweight? Are there certain adjustments you'll have to make?
Here's a snippet of what Ryan had to say on the matter:
Our programs are designed for the average person. You'll have to make adjustments if you don't fall under that category.
In this episode, Ryan and Andy discuss what to adjust, or at least be aware of, if you do have a "challenging" body type. They also discuss the concept of emulating children's movements and activities – and why that's really not a great idea.
(03:42) Remember that kids can do a lot of things that we can't do because their bodies are totally different.
(04:44) Being fearless is not the same as having body control or awareness.
(07:34) Body type does matter, but how much? And when?
(10:50) Gymnasts with different specialties have different body types – for a reason.
(20:47) You don't need to be perfect before you can start a program. Everyone is somewhat off the dead center of average.
(24:46) It's not about how long it takes you to get something. (See our recent video on how long it takes to get a handstand.)
Andy: All right. Breaker, breaker, one-niner on the interweb. Get your ears on for the GMB Fitness Skills Show. Over the next 20 to 30 minutes plus or minus, we're going to be talking about all kinds of good stuff, how to live a good life, how to train well and how to be a better person. So let's get started.
My name is Andy. Here with me Ryan Hurst, our program director, head coach, all-around cool guy. You ready to get started?
Ryan: Oh, yeah. I'm ready to do this. What's up man? How are you feeling today? I'm digging the wood background today. It's a little bit different.
Andy: It's a little natural. Actually I'm starting MovNat.
Ryan: Sweet! Good.
Andy: From now on. From now on, I'm just doing MovNat and so I have a wooden background in honor of my decision to follow MovNat from now on.
Ryan: Cool. Be sure to tell Vic hello for me.
Andy: I think Vic's background is bamboo.
Ryan: Yeah, I think it is. I haven't talked to Vic in a while. I need to get a hold of him. So anyway …
Andy: Yeah.
Ryan: What's going on man? What are we talking – well, I know what we're talking about today but …
Andy: Yeah, all right. Well, if you're so smart, why don't you tell everyone what we're talking about today?
Ryan: So actually we got – let's do some questions. We haven't done any questions for a while. So let's do some questions. So my question for you is, "How is Momoko doing?"
Andy: Momoko is awesome. So my daughter is a little bit more than a year and a half old now. She is walking. She is running.
Ryan: She's doing MovNat.
Andy: She's doing MovNat with me. When she sees me climbing trees barefoot, she kind of follows and she climbs bushes though because they're more her size and you got to scale. You got to scale.
Ryan: You do. You do.
[Music]
Andy: It's actually kind of interesting that you mentioned that because we were talking not too long ago. Jarlo and I were talking about how in the fitness community lately and especially in the movement community, people like to talk about idealizing children's movement, right? It's actually kind of a naturalistic fallacy, this thing that – this whole original body awareness kind of thing that people like to talk about and honestly, I think a lot of it is total BS.
I have a daughter and she does a lot of things and it's really interesting to watch her and I love learning from that. But I don't think that it's really – that me mimicking her movement is something that I'm going to learn a lot from.
I already can crawl and roll and all that stuff. Children are great because they have a blank slate in a lot of ways and they can learn and be curious and experiment but that doesn't necessarily mean that they're wise or they're smart or that they're doing things in a way that we should emulate. Children's bodies are totally different from adult bodies. Look at the head proportion for one thing. The balance is completely different.
The joints are not fully formed yet. They have much greater range of motion and elasticity in all of their joints. They can do a lot of things that we can't do and so I think it's great to want to play with your kids and bring them into your practice but I don't know if we should be glamorizing the idea that children are somehow – they come pre-perfect or something like that.
Ryan: I agree with you. I see. I know what you're saying and I totally agree. Yeah. They're still just learning. I mean they don't know anything. Literally they don't know anything so they just have to try everything out. So …
Andy: I think a lot of coaches train adults and then they see kids and they think, "Well, if only my adults could move the way these kids move, they will be great," but you and I both trained a lot of children.
Ryan: Yeah.
Andy: I can tell you for a fact and I know you would say the same thing. Children do not how to do very much if you don't show them.
Ryan: That's exactly right.
Andy: They have no fear. They can jump in and try things but that's not the same as having body control or awareness or stability.
Ryan: Awareness to be able to do it, yeah.
Andy: Yeah, awareness is really a key because they will just jump and flail into the wall but that doesn't mean that they know how to control themselves when they do that.
Ryan: They are built for that too. That's why they – the way they're proportioned. So it's for protecting themselves. So I mean my son and he has had some falls where I'm just like I would have been in traction.
Andy: Your son has a very thick skull.
Ryan: I mean crazy. I wasn't aware that a human's neck could go in that direction. But yeah, no – that's a good thing because that's how they're built because it's to help them survive to become an adult.
Andy: Yeah. In like New Age stuff they will say, "Oh, listen to the wisdom of the children. They know so much." No, they don't. No, they don't.
They ask why and that's a good thing. Adults should ask why more often I think. We can learn to retain our curiosity but that doesn't mean we should throw out all of our experience and all of the things that we've learned either.
I think it's the same thing for movement and for fitness and for that kind of thing too. We have to practice. Nobody is born as some kind of movement savant, nobody.
Some people have a genetic predisposition to be able to be stronger, to develop muscular skill. Some people grow up in an environment where they're encouraged to be aware of their movements more. But that's totally different from saying that we should just go back to nature.
Going to nature is great. Nature is a whole different thing, but nature is good. But we shouldn't just go back to nature. We should practice things that we know have value.
Ryan: I agree. I agree.
Andy: So that's how Momoko is doing.
Ryan: Good.
Andy: Your question.
Ryan: Besides being a famous [0:06:38] [Indiscernible] model.
[Music]
Andy: All right. So let's talk about – the main thing we want to talk about today though is this – we get a lot of questions from people who ask us, "Hey, I'm really tall. I'm like six foot five. Is it still possible for me to learn how to do ring training?" or "I've got about 35 pounds I need to lose. Where should I start?"
A lot of this depends on goals but what it comes down to is people have different body types and some goals are more appropriate to certain body types. Some exercises are more appropriate and yeah, there's a lot there.
Body type is something that is – it matters. You can't ignore it. So let's talk a little bit about what body types are maybe predisposed to certain types of movements first and then we will talk about if you are trying to change your body type, if you're trying to lose weight or if you're really skinny and you're trying to put on some muscle or something like that. We will talk about that I think maybe in the next episode. But let's talk about how body type affects exercise selection and that kind of thing first. What have you got?
[Music]
Ryan: Well, if we just look at the bodyweight training, put like the weight training and Olympic lifting, those kinds of things to the side for a sec, if we just look at bodyweight training and we look at a person who's extremely tall, they're obviously going to have some challenges to simply the way they're built. They're very long.
Chances are very lean which is not a bad thing at all of course, but when they want to perform something, let's say for example the front lever on the rings, they're obviously the body with their long limbs. It's going to take a very long or I should say longer time to get things.
A good example actually is an acquaintance of mine named Sean Smith. Right now he's located – I think he's in Saudi Arabia. He just moved to Saudi Arabia but extremely tall. I mean the dude, very, very tall.
He works his butt off and he has got these skills. He's working on his planche and he's doing this thing. He's talented because he spent so much time learning what he has had to do and make changes to match his body.
For everything that we're talking about today, that's all what it comes down to is making sure that you understand what you need to do in order to match your body, the things or change, make changes to accommodate your body.
Andy: So before you go on, I just want to sort of reiterate that no matter what your body type, but especially if you have a challenging body type, being aware and doing practice, right? Practicing and being aware of how it affects you, right?
Ryan: Right.
Andy: Those are keys.
Ryan: Yes.
Andy: OK, keep going.
Ryan: Yeah. To go a little further with that, the thing is, you might see a person and see them be able to perform something and you're just like oh, that is the coolest thing I've ever seen. I want to be able to do that tomorrow.
You have to take into consideration their body type and also their background. We're not going to talk too much about their background, just looking at their body type. But this plays a huge part in it. Now, we have the very, very tall person and then we have let's say a shorter person.
[Music]
Ryan: And I want to talk about gymnasts a little bit. We're not gymnasts but gymnasts, I think this is something that a lot of people misunderstand about gymnastics. You see a gymnast and you might see a person who's very, very muscular, very lean and see them doing all these cool stuff.
The thing is though, not all gymnasts are built that way. So if we look at an all-around gymnast, they're not going to be these huge, huge muscular kinds of guys. The way that they're built is to be able to perform everything. Then you have the ring guys. The ring guys are jacked. I mean they're just – little legs, but they're just jacked.
Then you have the pommel horse guys. Now the pommel horse guys, really some of the specialists in the pommel horse, very, very interesting. Extremely skinny, tall compared to the gymnast, for a gymnast. They have long legs. The reason why, it looks very beautiful when they're performing their movements on the pommel horse and gives them the length and the movements just look better.
So even within gymnastics, you have these different body types. I'm just talking about the guys of course. But each of those gymnasts also, they're built that way. So they have to focus on what they can do with the body that they have.
So leaning back and looking at all of us, what can we do? Just like what Andy said, we can be aware of our body and then we can practice. So you can – I want to say this but I hate it when sometimes people say that you can do anything you put your mind to.
Yeah, you can. You just have to understand that it might take a lot longer than some other people. Sean is a good example. He's great. He's very, very good at what he does but I'm pretty sure that it has taken him a little longer than most people to get to where he wanted to be because he's so tall. Iron Cross is another example, these long arms. The leverage is just crazy for that.
[Music]
Ryan: Another example that we could talk about is if you're overweight. Now, if you are very overweight, I mean we're talking obese. OK? The first order of priority is getting to a weight that is safe to allow you to start training. So yes, you might want to start working on let's say the parallettes or the rings or even tumbling.
But if you're carrying that extra weight, it's going to put so much load on your joints that you're going to end up hurting yourself. That's just how it is.
So what you will have to do is first figure out a way to lose weight. Get to a weight that is going to be safe so that you can start training.
Pardon me as I clear my throat. So there's many different ways you can do that. We're not going to go into that because it's not what we're really about. But you need to find a way to get to a safe starting point.
Let's just talk about safety. Keep talking about safety. It doesn't matter really your body type. No matter where you're coming in from, if you're small, chunky, maybe you're tall, very lean, it doesn't matter. You've got to figure out how you can start safely.
So there are different things that you need to take into consideration. When we put out a program, I'm sorry, but I'm not thinking, "OK, how can I program this for someone who's overweight? How can I program this for someone who is seven feet tall?"
No, I'm really just thinking about the average person who's coming in and has the OK from their doc, doesn't have a health issue. So that they can start working on this kind of stuff.
Andy: Yeah. Given that somebody is healthy and has a good base, an average program is actually good. You don't need a custom-tailored program if you have an average body. It's unnecessary. But if you do have a disadvantage of some sort, then you just need to figure out what part to change.
Ryan: That's right.
Andy: You also don't necessarily need to totally custom program them either but you need to one, most importantly, prioritize fixing or if it's not fixable, improving that aspect that's a challenge for you. Then you will be able to just follow a regular program that works for most people. Yeah.
[Music]
Ryan: This is what's actually good about our Alpha Posse is because we have a lot of different bodies, a lot of different body types. We're able to just say, "Hey listen, let's change this just a little bit." Just like you said, Andy, usually it's not, "Oh, we're going to completely redo this program." No, it's usually just tweaking one, maybe two things. We find that that makes a huge difference.
So the thing though, we can't stress this enough is understanding your body and this is tough for people. Stepping back and really taking a look at yourself and saying, "I am this," and the thing is, that's a good thing. When you know really who you are, or where your body is, then you can start working on the things that you need to do in order to get you where you want to go.
That can be tough. This can be a very big ego thing. I mean people stepping back and saying, "I'm the same way. I have to understand. I'm a skinny dude. I'm not like a huge kind of guy." I understand that and if you're comfortable in your skin and understand what's going on and maybe some of the limitations that you have, then you can start working on getting better no matter where you are.
Andy: Yeah. That goes for just about anything though too, right? I mean why is it so hard for people to swallow with their bodies? Let's say if you want to go to Istanbul. Well, you got to understand first that it's Constantinople.
Ryan: That's right.
Andy: And let's say you want to go to Istanbul and I also hand you a map and I say, "This is a map of Istanbul. Go for it!"
Ryan: Yeah.
Andy: You still aren't going to be able to get there unless you know where you are on that map. OK? That's a kind of cheesy example but it's just true of any …
Ryan: It's true. Yeah.
Andy: Knowing the end point and seeing a map of the lay of the land and how things work together is not enough to get you there unless you are very sure where you're at. If you think you can just like go straight and turn left, but what if you're coming from the other direction? You have to turn right. It's a totally different thing.
[Music]
Andy: You have to know where you are. You have to be honest with yourself and a lot of times if you're really honest with yourself, you will find you have advantages you didn't even recognize either.
Ryan: Yes.
Andy: Which is great. People who are overweight, you know what? Carrying around a lot of extra weight makes you pretty strong especially in the lower legs, right?
Ryan: Yeah.
Andy: So they actually end up when they start to strip off some of the fat with a pretty good advantage of being able to – when they do lose weight, they find that their energy goes through the roof. They find that they have a lot more endurance, a lot more strength than they thought they did because they're just not carrying as much.
I'm not saying that it's a good thing to be fat. But it's something that you – until you really look at where you're at, you don't know what advantages or disadvantages you have. So you really need to make sure that you take that into account.
If you do just have an average body and an average build, well then know that and know based on that, that you can basically just follow a program to the letter and you don't need to worry about customizing, which saves you a ton of time and energy right there. So know where you're at.
Ryan: That's a good point because a lot of wasted time is trying to think how we can take a program and customize it to ourselves. No, no, no, let me tell you what. The world – as far as me, I know if someone creates a program for me and just tells me, "OK, this is all you have to do today," and if I just do it, I'm like, "Thank you."
Andy: Yeah, right.
Ryan: So yeah, I can understand how people would want to customize their program and I think that's great but just like Andy said, if you're coming into this and you have that average – you're within that average there, stick with the program and really just focus on doing just that. You will see good results. Now if you're the kind of person who's like my friend Sean as I mentioned who's like 10 feet tall, there's some things that you're going to have to change.
But again it doesn't have to be dramatic. It's usually only just one or two things. Likewise, if you're overweight, hey, let's work on getting you to a point where you can start to safely work on this program and there's nothing wrong with that. I mean that's a good thing because again the last thing we want is for someone to come into a program and say, "Oh man, I hurt my wrists so bad. I don't know what the deal is," and then later, we find out well, you're 60, 70 pounds overweight. That probably has a big thing to do with it. So those little things like that, stepping back, looking to see where you are and …
Andy: Yeah, it's not to say that you need to be perfect before you can start a program. Everybody is not average. Everybody is somewhat off of the dead center. There's no such thing as an average person. But by mathematical tautology, 70 percent of everyone falls within what we would consider average.
Ryan: Average, right.
Andy: Seventy percent, right? So that's what average means. You can't escape the math. So if you do have a disadvantage you need to work through, it doesn't mean that you can't start until you're perfect. It just means that you need to make enough headway on it or heal enough, lose enough weight, whatever.
Make enough time in your schedule. You don't need to make a full hour a day for it. Make 10 minutes a day for it and start. Get where you have enough to start with. Get where you have something and then you can start. As you start, then you build momentum and everything.
[Music]
Andy: So with that, let's get some specific examples of – I think one of the big ones that we really get is people who are tall like Sean. We said you need to practice a lot and be aware of how things are affecting you. But what are some of the things especially for tall people? Because we have a lot of people that email us and ask us on Facebook too.
Can I do handstands? Can I learn to do a planche? Can I do levers? What are some specific things that for somebody who has that tall lanky build which seems to be very common? What would you say that they need to adjust on the standard training template?
Ryan: I would say for one that think of going slower than prescribed. The reason for that is the stress on your joints is going to be great than another person.
So if you're – let's say for example even just in the handstand, I mean that's a lot of distance between your hand and your toes and there's a lot of stuff going in there.
So I would suggest taking extra time and I'm not just talking daily. I'm talking like in the long term process of taking extra time to make sure that you're slowly and gradually building up the strength, the joint strength necessary to help you be able to perform that and especially if you're working on things on the rings or on the floor like the planche.
I mean for everyone, that puts a lot of strain and load on the body and so being in that particular instance where you're very long and you're going to have more of a challenge, then just give yourself a lot longer time to perform it so that you do have the proper recovery, so that you are getting the proper – so you are taking the proper steps necessary to strengthen the joints. That's what I would say would be the biggest one.
Andy: Yeah, I think that's huge especially if you've got a really slight build. Your connective tissue is also going to be thinner and less strong than somebody who has a thicker build. So you're going to have to take even longer to do that and you can tell at the very beginning progressions of any of these movements that you're already going to be having to take more recovery time. So for something like the planche, plan to add months.
Ryan: Exactly. Some people it's like, "Ah! I don't want to do that." But you know what? The cool thing is if a really tall dude can do the planche, I mean to me, that's some incredible stuff. To me, I mean it's just like wow.
[Music]
Andy: The thing is it's – and we come back to this again and again with other things too. It's not about how long it takes you to get something. You recently put up a video about how long does it take to get a handstand and a few people commented. You didn't say how long it takes!
Ryan: That is the point of it.
Andy: If you actually watch the video, you actually – you understand that there is no amount of time it takes. For everyone, it takes the amount of time it takes. Maybe you're a lanky person and it takes you more time. But you know what? If somebody is overweight or something, then it takes them more time too. They have to lose weight and they have to prepare and have to get to where they can do it.
If somebody is just busy, it takes them a long time too because they can't afford as much time to training. So don't let it discourage you. Well, I'm tall. So it's going to take me more time. So I'm just going to stick to weight lifting. Because you know what? Weight lifting is going to – you work hard too, man.
Ryan: Have fun with your squats. Yeah.
Andy: Yeah, that's the thing. So wherever you are, it's just going to take you the amount of time it takes and that's directly in proportion to – for one thing, the way you approach your practice. For another thing, how well you recover from practice and a lot of that, you cannot change. It's metabolic processes that cannot be changed with any degree of certainty. I mean they do change as you age and other things but you can't consciously say, "I want to increase my recovery speed."
It's very, very hard to do. So it's going to take you the amount of time it takes you. Don't worry about it. Just practice and be aware of how that practice is impacting you. As you practice, dude, you know what? If it takes you four years to get to planche, it doesn't mean that years one, two and three suck.
If you're working towards something like the planche, it's not just like well, in my fourth year suddenly I became Superman. No. Years one, two and three, you're also – you're training. You're getting strong. You're getting your – it's not that you get no benefit until suddenly you have the planche.
You're getting benefits all along. So don't think that oh, it takes too long. It's not worth it. It's totally worth it. Everyday you practice is worth it. So yeah, your body type affects things but don't let it discourage you.
Ryan: That's good.
Andy: My body type is weak. It doesn't get in my way man.
Ryan: That's right. That's for sure. All right. We talked about some good stuff today. Just people say – but you got to be comfortable in your own skin. It's tough. To be honest, mostly here, we're bombarded by images of people that we should look like. Screw that. OK? Just be yourself. Understand that you're fine and …
Andy: People are going to judge you too.
Ryan: Yeah.
Andy: People are going to judge you and there ain't shit you can do about it.
Ryan: That's right, yeah.
Andy: But not let it bother you. That's the only thing you can do.
Ryan: Let it go.
Andy: Yeah.
Ryan: And we're going to let this show go. Next time, we will be – let's talk about training for body composition, something that we don't really talk about too much here in GMB. But I think that would be a good topic for next time. So look forward to it. Let's talk about that next time.
Andy: All right. Thank you.
Ryan: Bye.
[End of transcript]
Be sure to catch the next episode by subscribing to the GMB Show:
The Future is in YOUR Hands!
Left to our own devices, we'd soon be churning out episodes on the sorry state of Mexican cuisine in Osaka. Answer these questions and tell us what you want to hear:
';