The Works: Curriculum & Coaching$495
$830 - Save $335
This special bundle includes lifetime access to all our core programs - Elements, Mobility, Integral Strength, Vitamin, and Mobius - plus the add-on Recovery, Resilience, and Respiration modules.
You also get a full year of membership in our Alpha Posse community, where you'll receive guidance from our coaches to help design your routine and keep you moving forward. No sneaky auto-renewals - this is not a subscription.
Note: We stand behind our programs with a 14-day return window, but since this bundle includes a coaching component and individual onboarding from our team, all refunds will be minus a $50 surcharge.
65,320 You're joining 94,374 clients using GMB programs to get stronger and more agile than ever.
---
---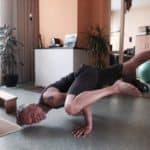 Wim Dictus
Musician
I feel Integral Strength can help me to achieve MY BIG DREAM: do a free handstand starting from the ground.