Integral Strength ($35 x 3 Payments)$35
Build dynamic, practical strength for any skill or activity. Get ready for 8 weeks of progressive bodyweight training that makes you better at just about everything.
Your card will be charged three payments of $35; one now, one in 30 days, and one in 60 days.
You're joining 62,770 clients using Integral Strength!
---
---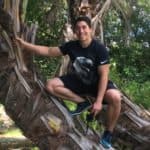 Christian Ampania
Sacramento, CA, United States
I'm AMAZED at how much my active mobility has improved in just 3 weeks of Elements.