Get Moving Bundle$295
All our programs for movement skill - the best deal for getting started with GMB. You're getting hooked up with lifetime access to Elements, Mobility, Vitamin, and Mobius, and we'll keep you in the loop with all future updates.
64,289 You're joining 94,374 clients using GMB programs to get stronger and more agile than ever.
---
---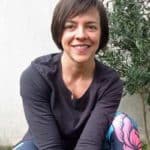 Amanda Chung Fat
Paris, France
I felt myself getting stronger. My back pain started to go away. My squat got better. The flexibility was coming without me really having to work on it directly. It's magic.