While we've written about how there is no singular program to address every aspect of moving well, we know the following to be absolutely certain: You need strength, balance, body control, mobility and flexibility, no matter what your favorite form of training is.
Despite what you may have read on the internet about certain programs being perfect, there are always plenty of gaps to be filled.
But if you've ever wondered how you can use our programs alongside what you're currently doing, we're breaking down some of the most popular forms of training and how to pair your favorite form of movement with the right GMB program.
Some of the most popular forms of training are:
Weight training, bodybuilding, strength training
Running (long distance, sprinting, all forms, sports: basketball, soccer)
Cycling (long distance, sprinting, casual riding)
Martial arts (various forms such as Brazilian Jiu Jitsu, Tae Kwon Do, etc.), climbing, dancing, and acrobatics
If you're doing any of these, here are our recommendations on how to enhance them.
Weight Training + Increased Mobility And Control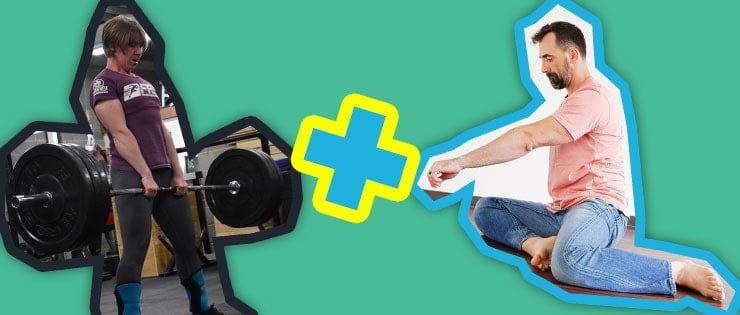 For many on their journey of more strength and increased muscle mass through regular weight training, there are almost always two types issues that come up:
Lack of mobility and flexibility, which limits range of motion
Rigid movement patterns that are par for the course when working with heavy loads
Given that increasing flexibility will ultimately help you reach more full ranges of motion, we like to pair strength training with our mobility program.
And given that weight training forces your body to into rigid planes of motion, like squats, presses, and deadlifts, getting your body to move in various planes is always a good idea to improve spatial awareness and body control.
For that, we recommend Mobius. Mobius can be used as a nice warm-up, or something you do on the days you don't lift to improve your ability to control your body weight on command.
Another program that is a great addition to strength training is Elements, which will improve your overall strength for squats, pulls, and presses using your own body weight, which gives you more control when pushing heavy, loaded movements.
Look at the upper body strength GMB Trainer, Ariel Ron has as he does the a variation of the Monkey from our Elements program:
Improve Your Strength Training With Targeted Body Weight Work
With Elements, you'll build a foundation of strength, flexibility, and control over 8 weeks, setting yourself up for a successful lifetime of staying fit and active.
Running, Running Sports + Increased Flexibility And Control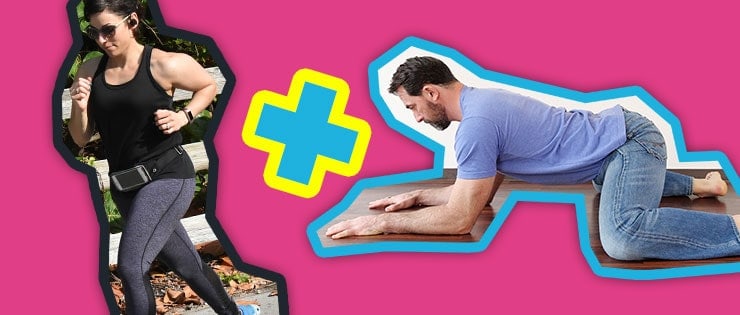 If you're and avid runner, or playing sports that has you running a lot, you're in what we call the 'midrange,' which means you're not putting your legs through a full range of motion.
And if you don't balance this out with some movements that employ the full range of motion, you are prone to losing mobility and flexibility, which can cause problems down the line.
Some of those problems being:
Risk of injury
Pains and aches
Lack of power output
For runners, and those who play basketball, soccer and other sports, we like to emphasize building full body strength, and flexibility-focused training.
Since running is a midrange activity, we recommend our mobility program because it will help you increase your range of motion and flexibility, which will go a long way in helping preserve your joints and avoid injuries.
We also think strength training should be a part of every runner's exercise routine, so doing Elements 2-3 days per week is ideal for building strength in the legs and upper body.
But one of the main ways to move your body through a full range of motion and in multiple planes is to use our program, Mobius.

Enhance Your Agility and Build Athleticism
Mobius is an 8-week guided program in physical re-education. You'll develop the kind of dynamic agility that leads to confident grace in virtually any athletic environment.
Cycling + Increased Strength And Mobility
Much like running, cycling puts you in a midrange motion for the majority of your workout. Your legs pump up and down over and over without exceeding that range of motion until you get off your bike and stand up.
Similar to running, cyclists will also benefit from more strength, flexibility, and moving the body in various planes outside of the repeated cycling motion. Integral Strength is a great way to build strength throughout the entire body and Mobius is helpful for moving your body in different directions that break the monotony of pedaling for hours on end.
And working on your strength and mobility will have a positive effect on your performance and how your body feels throughout the day.
Use Skill-Based Training to Build Practical Strength
Integral Strength is a skill-based strength program that helps you build practical skills and strength that carry over into your beloved daily activities.
Martial Arts, Dancing, Climbing + More Strength And Flexibility
We know there are many different forms of martial arts, so we can't vouch for every single one and their unique needs, but in general, all martial artists can and will benefit from improving full body strength. Andy, Jarlo, and Ryan all practice different forms of martial arts, and they created all the GMB programs as a result of what they learned respectively on their individual movement paths.
If you're practicing martial arts that emphasize kicks, like Muay Thai, or Tae Kwon Do, you'll benefit greatly from Mobius because it will increase your agility and overall control, so you have full command of your body whenever you need it.
Sarah Reppert, GMB Trainer has great command of her body. See how she demonstrates her mobility and control here:
But if you're doing a grappling martial art, like Brazilian Jiu Jitsu or wrestling, you'll get a lot out of increasing your flexibility and mobility, which will free you up to twist and turn into any position you want.
With dancing, acrobatics, and climbing, you'll also benefit from more overall body strength and flexibility. Much like martial arts, you want more freedom, strength, and control. We recommend pairing this type of training with Elements or Mobility.
Build Flexibility That Actually Helps You Move
GMB Mobility is a guided program that improves your total body mobility. You'll resolve restrictions so you can finally move and perform your best.
Remember, our programs can be done solo, or alongside what you're currently doing to unlock better movement and more mobility. Plus, they'll help you feel better during your daily activities. We have plenty of case studies and over 70,000 clients, so we know you'll find something here that will work for you. 😄