Everyone knows that consistency is the key to success–practice makes perfect!–but everyone struggles with staying consistent.
There's a good reason most gyms are packed on January 1st of each year, but are empty come February. It's not because people are "lazy" or "don't want it badly enough." Anyone who's tried to build a new habit knows it's deeper than that.
This article is not about just exercising consistently for the sake of checking off a box on a form at the doctor's office. Rather, it's about the results that are possible in your daily life from a consistent practice of a training methodology that helps you get better at the things you love.
Below, I'll share how you can make your own practice consistent and effective for your life.
The inspiration for this article came from a podcast I did with our good friend, JC Deen, who's a fitness coach and fat loss expert. Click here to listen to that episode.
Why Is This So Hard?
Creating new habits (or breaking old ones) is extremely difficult–ironically–because we are creatures of habit. We get used to doing things a certain way, and changing that in any way is a tall order.
In the interview I linked to above, JC said, "Inertia is one of the biggest detriments of any massive change because it's so hard to change directions in general and it's so hard to create new habits and make things different. It's easy to get back to where you were without even realizing it."
Couple our innate resistance to change with common mistakes we all make, such as having unrealistic expectations, and you've got a really tough situation on your hands.
Knowing the challenges, however, makes it possible to make modifications to help yourself succeed at your goal.
So, let's take a look at some ways you can set yourself up for success.
5 Strategies to Help You Exercise Consistently
You have a life and responsibilities and things that matter to you. So, there's a good chance that consistent exercise is not your primary goal. Rather, it's a means to an end.
In other words, the whole point of exercising consistently is so that you'll be able to do the things you love with greater ease and less frustration. The strategies below will help you create a consistent exercise habit, with the end-goal of making you better at the things you want to be better at.
1. Fight Inertia by Changing Your "Set Point"
There's a concept in the fat loss world called the set point theory, which states that every person has a "set point"–or a relatively small range–of bodyfat that they'll stay in without extreme measures. You probably know what your range is because you tend to come back there when you're not trying to diet down or put on muscle.
The same concept can be applied to our workout habits, and set points can actually work in your favor.
You see, inertia can work in both directions. It can keep you static since it's harder to get yourself going. But the other part of inertia is "an object in motion tends to stay in motion."
Once you get yourself moving and string together two weeks, then three weeks, then four weeks, and so on, you gather momentum. Pretty soon, your training routine becomes normal, and before you know it, you've created a new set point for yourself.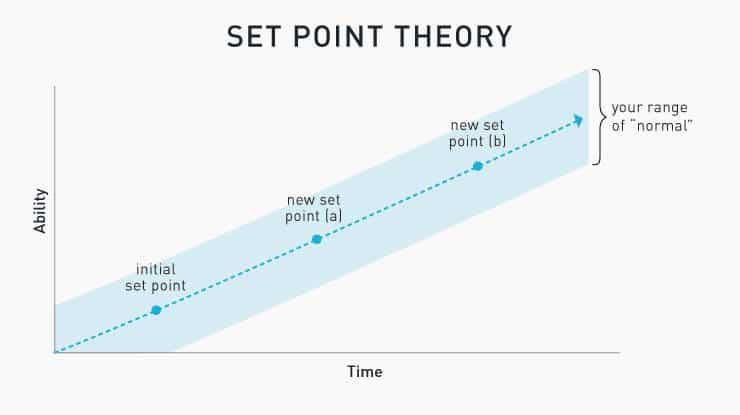 In the image above you can see how this works:
Let's say you can't do a single pull-up yet. That's your initial set point.
You have to put in a lot of consistent effort to work your way to one pull-up, but once you can do one pull-up, that's your new set point (a). It takes a lot less effort to maintain the ability to do one pull-up than it did to get that first pull-up.
You'll then put in consistent practice of multiple sets of one pull-up until you can start stringing together sets of multiple pull-ups. Once you can do two or more pull-ups in a row, you've reached your next set point (b). Again, you'll know you've hit that set point when maintaining what you just worked so hard to attain takes much less effort than it did to get there.
Whenever you start feeling that inertia holding you back, remember that each step forward helps move your set point.
This is exactly how our client, Brad, was able to stick with our rings program for 8 straight months of practice.
2. Stop Comparing Yourself to Impossible Standards
Unless you've spent your whole life practicing a competitive sport, it's simply unreasonable to compare yourself to a professional athlete.
The people you see on magazine covers literally get paid to look like that. It's their job.
The before and after photos you see on workout infomercials are just as unrealistic. The people you see with those fantastic results are, as JC put it, "the survivors of the program." You're not seeing the 90% of people who ran into common roadblocks and had to stop.
This is a much more realistic week of training for most people with lives and responsibilities: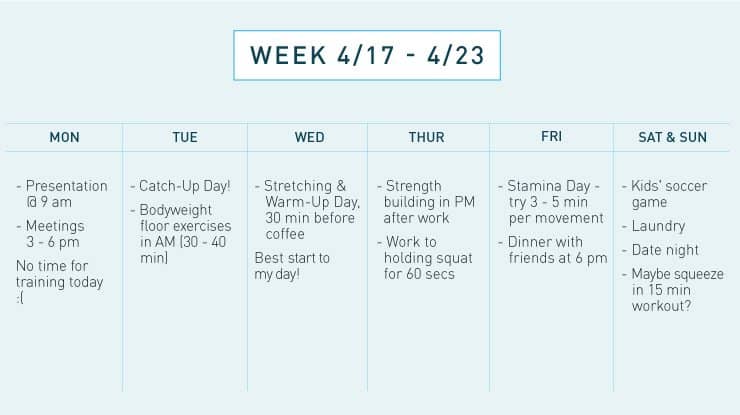 In those before and after pictures, you're not seeing the guy whose kid got the flu 3 weeks into the program. Nobody advertises the story of clients who had to stop because they just didn't have the time or energy to stick with it. You only see the successes, and this survivorship bias sets an unfair standard if you compare yourself against other people's results.
Since you're probably not an outlier, it's important that you follow a program that adapts to your situation.
3. Understand and Accept Where You're At
Self-knowledge is a major key to developing true physical autonomy, which is why the GMB Method begins with assessment.
But even day-to-day, your ability to perform your best might change. A poor night's sleep, stressful day at work, favorite pair of shorts still in the hamper–these are all pretty common occurrences. A perfect training session feels awesome, and stringing a bunch of those together leads to great progress for sure, but sometimes "good enough" is all you'll get.
That's why it's so important to evaluate where you are each day so you can modify your practice accordingly.
We teach this self-evaluation system in many of our programs: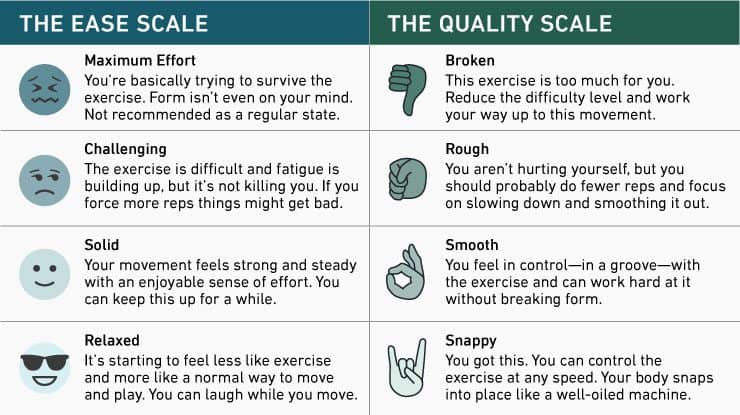 You can use this scale as a check-in to see how each set is going. If you're having a bad day where your quality and ease measurements aren't where you want them to be, then don't push yourself any further.
Your program should be flexible enough that you can show up and do your warm-up or some basic stretches even when you can't do the full program that day.
And conversely, if you're having a great day, you can push yourself a bit more than usual.
For a brilliant example of how self-knowledge and evaluation come together, see how Dana used GMB in her fight against Multiple Sclerosis.
4. Use Objective Measures of Progress
Measuring can be intimidating if you're just getting started, but it's also the only real way to see how far you've come.
What happens when you don't have objective measures to look at is that you become completely reliant on your subjective feelings. If you're feeling like you're not making good progress, you'll feel less inclined to stick with the program.
Using objective measures will help you make progress and keep you motivated to keep going.
Plus, if these measures aren't moving in the direction you want them to, you can evaluate your program to see what needs to be tweaked, rather than just giving up if things start to feel tough.
Here are a couple of examples of how we use measurements at GMB:
Integral Strength starts with seeing where you are in your strength and ability to perform the "goal movement" of the program and uses the self-evaluation described above to measure quality and ease with each movement. This helps tailor the exercise progressions to each person's particular level and needs.
Elements from the first session and onwards, has you emphasize the quality and ease of your movement rather than how much you can do. So rather than get caught up in the volume of exercise and "pushing through it", your objective measurements are now related to how well you can do the key points of the movement form, and your progress is how much more smoothly you can do that as well.
The specific measurements don't matter much, but learning to measure your progress objectively helps build the momentum you need to stay consistent.
5. Reframe Your Expectations and Celebrate Small Wins
Everybody has at least one big failure in their past, and it's especially common when it comes to our fitness goals. Your prior experiences can make you pessimistic about starting up again.
But avoid the trap of using past missteps as motivation to "be better this time." (Remember what we said about impossible standards?)
Instead of aiming for perfection, celebrate small wins.
Artur focused on minor successes on our Parallettes One program, and it helped him "stick to the program from the start to the finish," which he'd never done with any program before.
What's the Magic Sauce? Trusting the Program
…as long as that program matches your life and your goals.
Exercising consistently is largely about setting yourself up for success using the strategies I just described–that's true.
But a necessary aspect of consistent exercise that's woven through each of the above strategies is following a program that is adjustable to your current situation and forgiving when you can't follow it perfectly.
A program that fits that description is one that should be trusted because you know it will account for the realities of your life.
We designed our Elements program to hit the most important physical attributes for building a strong training foundation, while being adjustable and adaptable to whatever level you're on.
Beginners and experienced athletes alike have found ways to modify Elements to their particular needs.
Build a Consistent Training Habit With a Foundation in the Basics
With Elements, you'll build a foundation of strength, flexibility, and control over 8 weeks, setting yourself up for a successful lifetime of staying fit and active.