This is gonna be the most annoying discussion of core exercises ever.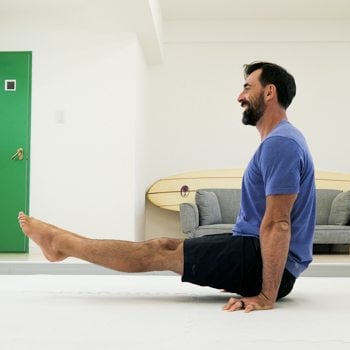 A few things we're not gonna tell you:
how many crunches you should be able to do
how long to hold the hollow body or what the next progression is
how many abs Ryan has
What we will teach you in this episode is a thousand times more useful.
If you wanna learn why almost zero training systems feature tons of direct core work, listen up. We'll cover everything you need to know to really master core strength for practical movement and health.
Resources Mentioned:
Transcript for "Training Skills for Core Strength and Control"
Andy: All right. All right. Welcome to the Gilded Monkey Balls Podcast. Today, we're going to talk about the core.
Ryan: The core.
Andy: The core, the core of it all.
Ryan: The core, the core. Yeah, so this is a big one, right? I mean a lot of people ask about the abs. How often to train them, should you even be training them? Do we train them?
Andy: Right. Because you look at the videos that we have and you might think, "Oh, I don't see any core exercises." And I mean, depending on where you're looking, of course. And I think this is true of a lot of very solid exercise systems, is that you look at the exercises that they focus on and you'll notice there's not a lot of direct core work, which is in distinction to the popularized idea that you need to have a lot of core work, and very specific core work. People think, "Oh, you've got to have crunches. You got to have sit ups. You got to have planks." And you have to have all these things because the core is important. But you look at most exercise systems and there's very little direct core work, and there's probably good reasons for that.
Ryan: Well, yeah. And you know, especially with us, we're not flaunting around with our shirts off. And so, while it's not about the abs, and I say abs, of course, core isn't simply abs. That's what we'll kind of touch on today. But in terms of that, it's not looking at that six pack, if you will.
Ryan: And we all know here, we all, if you listen to GMB, understand that we're practical, we understand that people want to look good naked. That's great. Focus on your nutrition. That's really what you need to do for abs. What we're going to be doing, though, is take a-
Andy: And just to interrupt, if you want to look good naked, it's really important that you dim the lights. I mean, also, shadow is important. Also, you need to be working on your facial expressions, too, because if you've got a goofy ass look on your face, it doesn't matter how many abs you have, you're not going to look good naked. You're going to look awkward.
Ryan: That's right. That's right.
Andy: So I just wanted to throw that out there. If you want to look good naked, like there's a lot more to it than just your abs.
Ryan: That's right.
Andy: Also, a little manscaping right here can go a long way.
Ryan: Manscaping and a little bit of coconut oil goes along the way there.
Andy: Yeah.
Ryan: Moving forward. So yeah, we're going to be talking, actually, today about looking at skills in terms of core, because we feel that, yes, the core, you do need to strengthen. There's a way to strengthen, but like anything, it is a skill that you do need to work on, looking at that specific skill work in terms of that, we'll be looking at that.
Ryan: How to do it. Sorry, the whole coconut oil and the manscaping just kind of threw me there for a second. So, I need to get back on track here.
Andy: Sorry to distract you.
Ryan: Yeah. I just got these images in my mind. I'm trying to get them out of my mind. So, we're going to be talking about when to specifically train a core, how much core training you need, and we'll give you some examples of what we're talking about when we're talking about core training. So anyway, let's get on with it.
Core Basics: Core Basics, Why Reps and Ab Visibility Don't Matter
Andy: Let's get into it. Let's get into the basics of where the core fits into what everyone needs in terms of overall physical autonomy, general health and fitness. What are the things we need to be focused on? Because we do know that people have this idea about the six pack and abs being visible. I want to make it really clear at the start, for one thing, that visibility of abdominal muscles is more about body fat percentage than it is about strength or fitness or anything. Now, granted, low body fat percentage does tend to go hand in hand with good general fitness, unless you're malnourished.
Ryan: Or do a lot of cocaine.
Andy: Right. So, as an example, we've had this quarantine situation going on and my wife and daughter were out of town, staying in the country for a while. I was living by myself for almost two months. During that time, my diet consisted mostly of steak and kimchi because I love steak and kimchi. It's easy to make and I bought tons of it.
Andy: So, what happened is I probably dropped about 5-8% of body fat, just from a few weeks of eating, well, let's be honest, no rice. I usually eat a lot of rice. I ate no rice for several weeks. And suddenly, I could see my ads a lot more than I have in forever. Does that mean I got stronger? Does that mean I got more fit? Not even remotely. I did less exercise during this time than typical because my gym is closed and I have not been practicing my martial art.
Andy: So, this is really important to understand, is that visibility of abs is not an indicator of anything but the amount of body fat on you. So, what we need to be looking at instead is how the abdominal and back core musculature contributes to function, how it contributes to health, and what it lets you do, and what kinds of things you need to be actually looking for instead of just, "Yo, I got an ab."
Ryan: I got an ab. One. No, that's really good. And I think that one thing, especially when we look at skill work, is that, when we're focusing on skills, whether it be the planche, whether it just be locomotion, our program elements, which is the entry level place for us. So, we're actually working on the abs. We're working the entire core.
Ryan: And so we need to understand that sometimes we don't necessarily need to do direct core work because you're actually doing and working the core more than you possibly think. Just because you're not doing a crunch or something like that doesn't mean that your core is not getting stronger, as long as you're focusing on these skills. And that's really kind of where we want to take this conversation today.
Ryan: And so, like anything though, when we're looking at the core, we need to focus on the three main areas. Do we need more strength, do we need better flexibility or do we need control? And the control thing is something, of course, that most people don't think about. It's mainly just that strength. How strong is my core?
Ryan: But control within the entire structure of the core. When we're looking at the front, the side, the back, this is also very important and this directly translates into your ability to be able to comfortably and smoothly perform skills. And so that's what we're talking about when we're talking about the core in terms of how do we train it here in GMB.
Ryan: And again, it's not just about doing a bunch of crunches or things. It's actually looking at particular skills and seeing if we have the necessary core strength, flexibility, and control to be able to continue working on those particular skills. So, those skills could be anything from the hand stand, again the front levers, the back leavers. We got chin-ups. By the way, I consider the chin up an amazing core exercise when done properly. So, this is where it comes down to, and that is awareness when performing these skills, looking at that strength, flexibility, and control.
Andy: And you will also hear people talk about core stability a lot. And this is really a good example of something where you would assume that this mostly is a matter of strength, and strength is very important to that. But it's also very much a matter of control, your body knowing how to tense and release the right places to adapt to stress coming at it.
Andy: And also a matter of flexibility. We don't think of flexibility in the core as being very important a lot of times, but we all know about, if you have tight hips, it can cause back problems, especially your psoas muscles, your deep core muscles can be very, very tight from prolonged sitting and just bad movement habits. So, tightness here can cause a lot of problems and a lot of stress on your spinal alignment, your musculature and all kinds of things. So, control and flexibility, underrated here but very, very important. And that's why we want to be focusing on skill development instead of just tensing and holding things for a very long period of time.
Ryan: Right? And a great example, getting back to the stability side of things and looking at actually having the proper strength, flexibility and control, is looking at a front scale. And actually going from a front scale to a back scale, the amount of, not just strength, but again, that stability within the core, being able to balance yourself while actively raising a leg, which recruits the hip flexors, and then moving to the back, which is then recruiting lumbar all the way throughout the back.
Ryan: So, there's a lot of core work going on in there, as well as that stability. And you do need to have proper flexibility to be able to perform that. So that's a great example of something that kind of hits everything that people might not think about in terms of core work, if you will.
Ryan: There are times though, of course, when we do need to look at direct core work and those things, coming back to the examples I gave before, even though you're working on the handstand, working on the front lever, working on the chin up, yes, you're working on the core, but sometimes the core could be what's holding you back. Therefore, that's when the direct core work comes into play.
Ryan: We'll talk a little bit later about actually what you can do for that. But the thing is, by taking a step back and looking at those particular movements and where you're weak within the core, again, whether it's strength, flexibility, or control, and spending time directly working on that component of the core, when you go back and perform that skill, it's going to be better overall.
Ryan: And so that's where, in GMB, at least, we would be looking at direct core work and where it would absolutely benefit you to spend some time, couple of times a week, working on that. So, with that being said, too, because we're looking at always sophisticating a particular movement. We're not looking at performing a simple movement thousands of times. We're looking at actually taking a skill, getting really good at that skill and then moving on to either variation or progression of that skill.
Ryan: That in itself, of course, is going to be working on the core. But again, something that could be holding you back is that particular core strength, flexibility, or control. Therefore, by going to working on the core, you're able to actually get stronger, improve your flexibility, improve your control so that you're going to be able to move towards that variation or progression depending on what you're going for. So, again, comes back down to that sophistication of movements rather than performing a high number of repetitions of an easier movement, like the crunch or something like that.
Andy: Yeah, absolutely. Lots of people ask us how many reps of whatever I need to do. Since we show the more core looking movements that we do teach, if you look on our YouTube channel, you'll see that we have tutorials for the hollow body hold, for the L sit, for the planks and things like that. And you'll see that there's many, many comments asking how long. How long do I need to hold this for? And the answer is always: almost as long as you can. And then you stop and you rest and you do it again. We don't care. We care that you're improving, but what's the logical chain that would lead you to thinking that a 60 second hold matters more than anything else.
Ryan: You really need to hit on this because this is something that we truly believe, that no, the times, to be perfectly honest, don't matter. It's just like what Andy said, hold it for, not just necessarily as long as you can, but getting close to that and then getting in more volume of that. And so just basically getting better at whatever that is.
Ryan: And so, when a person says you have to be able to hold this for 60 seconds before you move on to a variation or a progression, I call bullshit. I am so sorry to interrupt you, but this is, I think, extremely important for us to know and understand. That it's not just the core work that we're talking about. This is for any skill out there. It can be straight arm strength regarding the planche. It could be if you're looking at chin ups or anything like that. It's looking at, "Okay, do you own this particular movement in terms of have full control and feeling very good with that movement?" It shouldn't matter how long the time is. So, please continue.
Andy: That was really all I wanted to say. People always ask about time. The thing is, it's not about the time. It's just being able to do it well, being able to do it with control. And then, like Ryan mentioned earlier, then moving to a more challenging variation most of the time. So, you want to spend time getting with these holds, lengthening them to the point that you are challenging yourself. But you don't want to really spend time doing them with bad form.
Andy: So, it's better to just go as long as you can. You don't even need to count. Just go. I think Muhammad Ali said, a great thing about he only started counting when it got hard.
Ryan: Exactly. Yeah, I like that.
Andy: You don't need a timer. Like if you're doing a hollow body hold, do the variation that's right for you. Bend your knees to start. Please bend your knees to start and do the variations right for you. Hold it until it starts to burn a little bit, keep breathing, hold it for a few seconds more, then relax. Then when you are rested, do another set of it. That's about it. You don't need a timer for a lot of this stuff.
Ryan: No. No you don't. I mean, that's really good that you brought that up. And I mean, when we are talking about sophistication, too, an example that we can maybe talk about there is we do show the hollow body holds, and people are like, "Well, how do I make these harder? Should I hold weights or something?"
Ryan: Well, sophisticate it in terms of looking at moving beyond that movement. Just because you can now hold that a hollow body hold on the ground in that full position for 60 seconds doesn't mean that you should hold it for two minutes. Sophisticate that sucker. That could be then moving to a bar and you're on a bar holding that hollow body hold. And then you can start working on knee raises, single leg knee raises to toe touches on the bar. Then you can start working on pole to inverted hangs, that actually move into working on front lever pulls.
Ryan: And so it's a continuation of these things. Flexibility we could be looking at, for example. If you're just stretching your hip flexors. You're working on the core then because that's all related. So, then, what can you move beyond that?
Ryan: We'll start working on bridges. You're now opening up the hips further. You're now looking at moving up into the front chain of the body, as well as strengthening the rear chain in the lumbar.
Ryan: Control? Swipes. Any twisting motion that you can get better at, you're going to be improving the core. And so, this is really what we're after, is sophistication of movements in order to be able to do the things in our life better with control and safely, whatever that might be. So, not simply being able to do a thousand crunches. Okay? I'll move beyond that. That just does not interest me at all, looking at doing tons and tons and tons of, of numbers of crunches or things like that.
Andy: Yeah. And just, one more thing on the hollow body because I answer YouTube comments on that video every single day. And so I have to say this. We hear a lot of people that want to know what's the next progression after the hollow hold. I can hold it for two minutes, but my back comes off the ground.
Andy: Well, congratulations. You need to go back to the beginning. You're not doing the hollow hold. You're doing some kind of leg raise. If your back is off the ground, even a little bit, even just barely, if your back is off the ground, you're not doing a hollow hold. Bend your damn knees back up. That's your next progression, is go back to the beginning.
Ryan: It's like pushups. "Hey, I can do a hundred pushups." "How many of those are really perfect pushups?" "Well, once I started hitting the 20, they start looking like crap." "Great. You're doing 80 crappy pushups. Congratulations."
Andy: You, you should feel really good about that.
Ryan: So, yeah. So, before we move on, by the way, if you do have any questions about what we're doing here, you want to be more involved and ask your question, then please join our Facebook group or the Alpha Posse. We do take all the questions and read all the questions that we have on Facebook that we get from everybody, and then we organize the show into that. So even though it feels like we're all over the place, we actually do have an outline and we do want to cover all of your questions. So please.
Andy: I mean, aside from the times we are just making it up as we go along.
Ryan: Yeah. Which mostly…
Andy: Sorry.
Ryan: But we do a good job of that.
Andy: Well, actually almost never.
Ryan: We do actually have an outline. And so what I'm saying is that we do answer the questions. We want to make sure that we cover these in a way that's not only going to answer your questions, that we can be a little bit entertaining as well, because we know we're full of shit, but we appreciate you listening.
Core Work is A Skill, How to Assess and Address
Ryan: So, moving on. Core training, again, for us, is a skill. And so now the big question is how should we really train it? You get the questions, should I do it every single day? High or low reps, upper lower abs split. That's my favorite question, by the way. Everyone wants to know that. And so, the easiest answer would be to buy one of those electronic ab machine things and just hook yourself up and you're good to go. You're done. You're done. That's it.
Ryan: And of course I'm joking around. Show abs, in terms of getting these abs that pop and things like that. Remember it's a matter of nutrition, but the thing is, working on skills and getting really good and sophisticating new skills, as I mentioned earlier, are what's going to help to really improve the core.
Ryan: Yes, you can look at direct ab work in terms of weighted crunches or things like that. That's really going to make your abs pop, but let's take a step back and really focus on looking at creating a core that's going to help us to be able to do the stuff that we want to do better. Move beyond simply looking at just the core as abs and doing crunches. Look at the skills that you want to be able to do. That's really the biggest thing.
Ryan: And as we talk about all the time, assess where you're at. Really, really take a look at your particular skills that you're doing right now and assess the situation. Do you have the proper core strength? Is your flexibility within your trunk holding you back?
Ryan: And for example, I gave the swipe as an example. This is a twisting move in the air. If your core is not strong enough, if you don't have that flexibility, and if you don't have that control, you could possibly injure yourself, tweak your back or something like that. And so this is right —
Andy: Rotation. Rotation is so underrated. And this is where you hear people that are very strong and they throw their back out helping a buddy move a sofa. It's that twist that always gets people. You're bracing and you twist, and suddenly something's not where it's supposed to be. The rotational strength is very, very important. This is why we included so much of that in our Mobius program, for example. And mobility, too. We have rotational movements. And these are so underrated. Please, please, whatever you're doing, figure this in. And it doesn't have to be direct rotational core work. Just have rotational movements that you practice. Please.
Ryan: Yeah. And a lot of people the mistake in thinking that their core is not strong enough when sometimes it's a matter of flexibility, the lack of flexibility. So, really please take a look at that. And so, sometimes a core work can simply be the matter of sitting down and stretching and doing a twist and holding it. There's so many different ways to do this. These are the things that we cover in our Mobility program.
Ryan: So, really take a look at all aspects of movement, not just a single plane of movement, because in life, we move in multiple planes. We're twisting, we're standing and bending over, and there's all different things. And so, this is where we really need to assess what's going on also within our core and look at that strength, flexibility, and mobility.
Ryan: A couple examples are, if you're working on the handstand, or let me back up a minute. Once we assess the situation and we address the issue, and, "Okay, I do need to strengthen my core for the handstand." Or, "I do need to improve my twisting flexibility for X," then how can you actually go about improving it? What are the specific exercises?
Ryan: Well, sometimes it's simply just a matter of bringing awareness to the core. One great example would be The Monkey. And a lot of people don't really think about this, but when you're performing The Monkey, a lot of people just hop into the movement. So you're in a squat position, your hands are on the ground and you're traveling laterally. And so when you move, a lot of people tend to hop. Well, what if you were just to slow that down?
Ryan: So, you lower the arms and you try to pull your legs as slowly as you can across. What's happening? Wow. Serious core engagement. And bringing awareness to that, you might find, "Wow, I wasn't really actively using my core like I should have before." Well, congratulations. You're now addressing issues and applying what you need in order to strengthen that core. At the same time, work on that flexibility because you're traversing to the side, there's a slight twist in there. The control portion of it is being able to slow down and properly use the core the way it was meant to be used.
Ryan: And so this is how you can do for any movement. The chin up is a great example as well. Instead of just trying to focus on just getting your chin up over the bar, instead, jump up, start from the top, and then bring awareness to the core. Are you squeezing and locking everything down, squeezing your butt, squeezing your legs together. Little things like that are going to bring more awareness of what's going on and strengthen the core like we're talking about.
Andy: Yeah. And this stuff seems really subtle. So, if what Ryan's saying feels like, "Oh, I don't know how to do that. I'm just trying to get to five pull-ups." That's cool. This is subtle. It's very challenging. And what we want you to get out of this is that, yes, we can give you a list of exercises and tell you to do this X times, and that will get you so far, and that's fine. But what's really, really important is that you start to learn the subtleties.
Andy: The subtleties are what distinguishes a person who does exercise from a person who is good at their bodies. Okay? And the subtleties are the things where you do need to just spend some time holding that chin up position at the top of the bar. It doesn't matter how many you can do. Hold that position and really pay attention to your core. Feel. Can you tighten your butt up? Can you squeeze your legs together? Can you feel the right position and spend time with that?
Andy: That's what we always talk about. We talk about play and exploring, and people think that we mean just prance around on the floor like a jackass for 45 minutes. And that's not what it's about at all. Granted, Ryan looks like jackass in half the videos.
Ryan: Yeah. That's my thing.
Andy: The point is that you're spending time being aware of what's going on and paying attention. Spend time in these positions, spend time being aware of where your body is at, how it feels when you're contracting your core muscles and your butt muscles and your lats, and holding everything in that top position of the chin up.
Andy: Spend the time in that. It is subtle. You have to develop the awareness of this, but that subtle awareness that you develop is what's going to have you be in control of your body in every situation. That's what's going to have you, when you step off a curb, or when the shopping cart is about to run you over something. You just react spontaneously and you're fine because you know how your body works.
Andy: These subtleties are what makes somebody a real athlete of life, so to speak. These are the subtleties of body awareness and movement that are what we really want. Being able to hold a hollow body position for 60 versus 65 seconds means jack shit. But being able to know where your body is in space and know that you can do pretty much whatever you want with it and know that you'll be okay, no matter what happens. That's the reason why we train.
Andy: So all of these subtle things, this is exploration. This is play. It may not feel like you're like laughing like some kind of goofy kid when you're trying to hold the top of a chin up for a long time and really tense the shit out of your body. It doesn't feel like play. But that is playing with a position, that is playing with a movement and really learning all the ins and outs of how it works and how you can make it work for you. So digression kind of, sort of, but this is important.
Ryan: And to bring it back again, this is simply working on the skill. It's not that we're doing core work, L work. No, we're working on the skill, but we are aware of what's going on. We're bringing the focus to certain places within our body in order to gain a better understanding. Therefore, we get better at the skill. Therefore, we strengthen areas. We get better flexibility, better control. So, this is simply a matter of practice and play. And that's what we're after here in GMB.
Ryan: So, simply working on the progressions, variations can be good enough. And yeah, if you do it well, spend the necessary and diligent time on these things, you're going to get stronger in your whole body. So, looking at this, we're looking at physical autonomy, and so this is why I kind of recommend lower reps. And again, the reason for the lower reps isn't that I'm saying, "Okay, for core work, you should only do reps."
Ryan: No, remember we're looking at skill work. So, if we're looking at specific skill and you want to target the core that day, I wouldn't say, "Well, in order to target the core today for your chin ups, I need you to do at least 20 chin ups in a row." That would be silly. Okay? No, in this case, we're wanting to build really strong cores, so we're simply focused on a particular skill during the push portion of your workout, you're going to be doing a particular movement at a lower variation, a lower progression of that particular movement, so you're actually going to get in more, not just work on that skill, but core work when you bring awareness there.
Ryan: The thing about this, though, is that you don't necessarily need to do high reps. Now, a silly example and a very extreme example is, on my 40th birthday when I did 40 back flips. Now, in that case, of course, back flips and especially done for a lot of repetitions, you obviously have to have a very high level of skill for the controls that you're not going to be getting hurt.
Ryan: Now, I got to tell you, my core. That was, I want to say the best core work, but I don't even want to say that because it was the worst core workout because the next couple of days I was dying, like literally dying. But that's a great-
Andy: High rep back flips suck. I'll just throw that out there for anyone who's curious.
Ryan: You've done these, too, so you know what I'm saying. But the thing is, this is also a great example of looking at a high level skill, if you will. If we want to say a back flip is a high level skill, and it being core specific. This is huge.
Ryan: This is a great example of where you have got to have everything working together in order to accomplish that skill. And so core work, when someone is like, "What's the best core exercise?" And I'm like, "Do a back flip." Being able to do a back flip.
Ryan: But again, that's just an extreme example. I don't suggest anyone do 40 reps of that. It's really a matter of looking, again, at the skill, being able to have control over that, necessarily flexibility, working on your strength and being aware. And so if you're ever looking at, "Well, what's the next level of whatever ab workout I'm doing right now?" Well, it's the next sophistication, next level of that particular skill. Get a lot better at doing that, and you're going to be improving your core.
Ryan: Let's wrap this up. It's getting kind of long. I'm thinking that you're probably doing enough core work. If you're focused on your sessions that you're doing, let's say if you're working on Elements and maybe you're coming into GMB as a beginner and you're only working on Elements. Well, great. That's good enough because that's good for your level.
Ryan: That's the other thing to take into consideration is what level are you coming in with this? And so, by simply working on these particular programs or a particular movement, your core training is based around particular skills that you're doing so that your core is probably getting strong enough. You're improving your flexibility and your control.
Ryan: If you do need more, it's about assessing what's going on, take a look at what you do need for the core and then just simply bringing awareness to the core, as we mentioned, whether it be chin-ups or any other movement. Last thing, don't do 40 back flips in a row because it'll suck, all right?
Andy: Absolutely.
Ryan: Secret technique, man. What's the secret technique? Something.
Andy: Well, yeah, there's lots of things that people get hung up on, but most of the really important answers in life are hidden in plain sight. So, our secret teaching for this episode is just one simple thing. Pick one stretch. I know a lot of people are going to listen to this and be like, "You know, it would be even better if I picked three."
Andy: No, shut your damn mouth. One stretch. Pick one and just do it for one minute before you go to sleep. That's it. Then do the same thing tomorrow night, too. One. Any stretch, any one stretch that is a thing you need to work on. Don't pick two. Don't think it'll be better if I do that because what's going to happen is you're not going to do it. Just pick one thing. Super simple.
Ryan: Cool. All right. Thanks for listening everybody. Bye.
Andy: Bye.
Be sure to catch the next episode by subscribing to the GMB Show:
The Future is in YOUR Hands!
Left to our own devices, we'd soon be churning out episodes on the sorry state of Mexican cuisine in Osaka. Answer these questions and tell us what you want to hear:
';