We are living through unprecedented times.
Whether it's a nice fancy "executive" style facility, a "globo gym" that's cheap but has decent squat racks and enough space to move around in, or a place that you not only workout in but also has a great community, if your area is like most around the world right now, your gym has closed indefinitely.
And it sucks, it really does.
There's a reason you joined your gym in the first place. If you wanted to do the majority of your workouts at home, you'd have done that already. We get it, in fact even though we teach people how to train without necessarily needing a gym, we (company founders, most of our GMB Trainers) teach and train out of fitness facilities, clinics, and martial arts gyms. Because for a lot of us gyms provide many benefits in our lives.
The Positives of Gym Training (let's not pretend you won't miss it)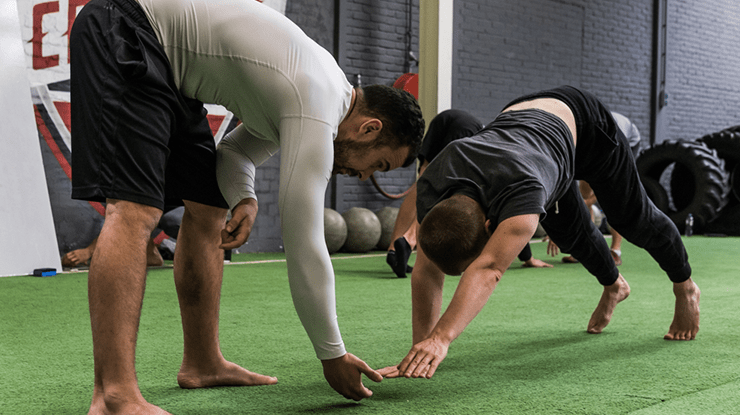 💪 Get our free 20-Minute Bodyweight Reboot routine to start getting strong and agile right now.
Social Interaction with People Who Share Your Goals
There's lots of people and articles that will tell you, BE FOCUSED! THE GYM ISN'T FOR VISITING WITH YOUR FRIENDS.
Well actually it can be like that and you can still make progress. Even if you are serious about your training, that doesn't mean you should ignore everyone around you. And you likely don't.
If you're a regular, chances are you've gotten to know the other regulars. And that's a good thing. Being a part of a good gym community not only makes you more likely to be regular in your workouts, it's also in itself good for your health.
Access to Equipment and Facilities
If you want to get as strong as possible, you'll need enough resistance training to make that happen.
And unless you have the resources and space for several hundred pounds of weights and bars and racks at home, you'll need a gym. The same goes for if you know you need a variety of machines and other equipment to be motivated and consistent in your training. There's nothing wrong with that, it's just something you know about yourself.
Consistency is key, so you need to do the things that will make that happen.
A Routine with External Accountability
It's your routine, a place you go to get your fitnessing on. Just like you go to work, you go the gym.
Years ago before I had my sweet garage gym, I'd go to a gym right after finishing work. I'd have my gym bag in the car ready to go straight from the clinic. And I did this because I knew that if I went home first, it'd be so easy to find an excuse not to go once I was home. So I removed that obstacle by heading right over. And once that routine was established, it became something I just did without even thinking about.
Consistent good habits create progress.
You probably see the theme here, yes great gyms have good equipment, classes, and other nice amenities, but those all are just contributors to the main thing. A gym you enjoy going to because of all the things above help you to make your training a consistent habit. You like the place, you keep going, you keep training. And that's one of the keys to good physical fitness and health.
We're not here to convince you to give that all up, it's just that right now you don't really have a choice.
But we hope that social distancing/quarantine/lockdown is not going to be a forever thing and that we can all get back to the routines that we've done and really enjoy. If, for you, that means going to your gym, we want that to happen.
In the meantime though, the choice doesn't have to be not going to the gym and sitting on your couch depressed. Let's find things that you can do at home, and who knows? You might find you like it more than you thought, and even when you get back to your regular life, you might keep some of the things you learn here and mix it into the way you want to live your life.
Besides cutting down on the monthly fees, there's a few benefits to working out at home that you might not have considered.
The Positives of Home Training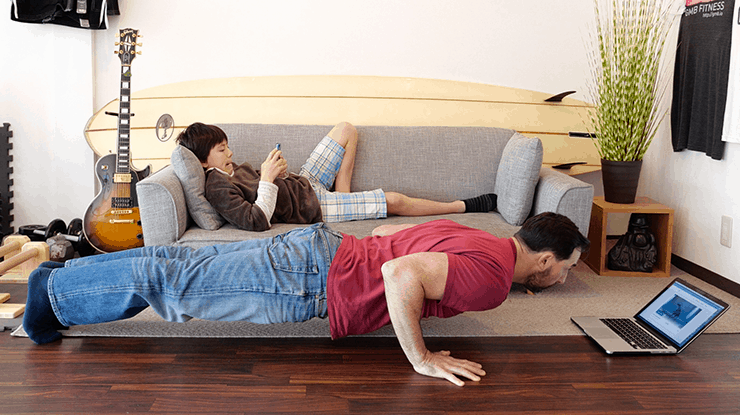 You Can Really Focus on You
Even if you are doing well with your concentration and focus when training in a public gym, the distractions there are simply so much more than when you are able to train at home. The visual distractions of people milling around you, the normal sounds of the gym along with loud music, yelling, you might think you are tuning them out and likely you've done well in ignoring them. But they are still there, and I bet you really notice how much it all was when you are home and it's much quieter both audibly and visually.
This allows you to more fully experience some very significant things:
Your breath: Is it deep and even? Or shallow and ragged? You may have noticed those things before, but they are even more apparent now. And you may even discover you are holding your breath and didn't even know it.
Your bodily sensations: What are you feeling within every repetition? Are there shifts in what you are feeling at certain times and portions of the training? This can give you a lot of great feedback into how you are responding to your workout and how to adjust to get the best out of your training.
This Is Your Chance To Try Something Weird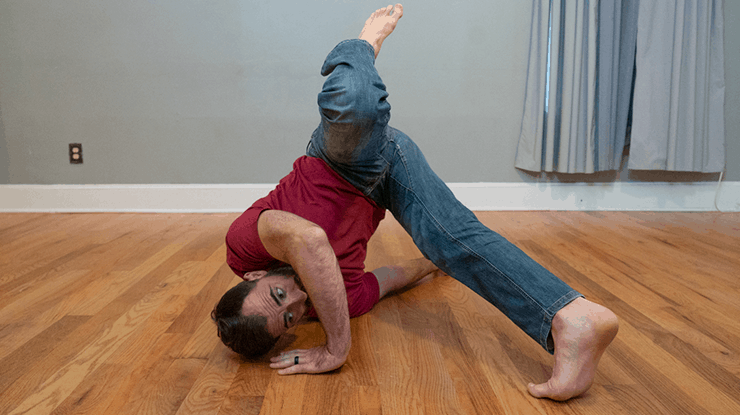 Also, no matter how secure you are about yourself, the thing about being in a public setting is that you are in public!
Let's be honest, in your clicking and swiping, you've probably seen videos and thought "I wanna try that!" And if you're browsing our site, there's a 100% chance you have, and you probably haven't done it at the gym yet.
Worried about looking strange? This is your chance to let your freak flag fly. Train/move/shimmy like no one is watching! Well maybe your pets and kids, but they think you are strange anyway.
Novelty has very real benefit as a training stimulus. Even if you keep a similar routine, using different equipment (or none), and adding some novel movements changes how your body responds and adapts. And, very likely, when you are able to go back to the gym, you'll notice improvements even in exercises you are very familiar with.
Give something new a shot, you really don't have anything to lose and potentially a lot to gain.
Easier Setup For Trying New Things
Though everyone brings their phones into their gyms now (as evidenced by all the workout selfies/videos throughout social media land), it's still a relative pain to follow along with a new program or something you'd like to try. At home it's much easier, you can set up your laptop/tablet where you want and have at it. And also not be so worried someone's going to bump into it or drop a heavy weight and kill your phone.
Follow along with YouTube workouts or watch some new skill tutorials to learn something you've always wanted to.
** Sidenote: Ours are the best. (Objectively)
Tips for Effective Fitness at Home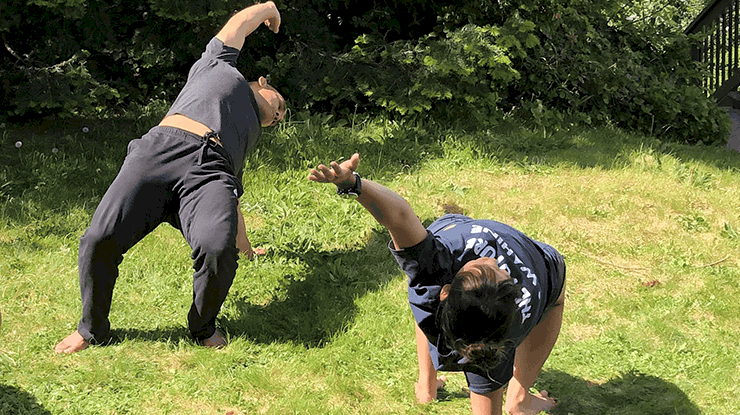 We started this article by discussing the positives of gym training and why you wanted and continued your training there. This helps you to recognize the aspects about your gym and going to it that you really like. Knowing why you went and what kept you consistent gives you the information to get your home training in sync with what makes you tick.
Create a Space For Your Ritual
As mentioned above, you've likely found value in the actual routine of going to the gym. The act of driving there, usually at the same time, to do your regular workouts around the same group of people, this is a ritual. And rituals are very important! They subconsciously prepare your body and mind for what's coming up. All aspects of it provide signals to your body well before you even start your first exercise. The ritual prepares you just as much as any physical warm-up.
Set aside a dedicated space for your training. I'm very #blessed to have a great garage gym setup, but even if you don't have that kind of space, you can and should create an area in your house (or yard) where you'll train. Make the space free of clutter and be consistent in what you see, and even what you hear. Whether you like total quiet, or a bit of background music, make it the same every time. The more consistent and regularized the better, this adds to the ritual and lets your body know that it's time to get it on.
Decide What You Want To Do
Your choice is either to try to emulate what you usually do in the gym, or to make it completely different. Just as we mentioned above this is a chance to do something you've never done before, and that's something we highly recommend. But if you're not ready to do that just yet, you don't have to commit to one or the other forever.
Make your choice and stick with it, because that's very important, but also make that commitment have a time limit. Do it for a short cycle of anywhere between 2 and 4 weeks. Then switch over to something else. We talk about the benefits of this here.
And that leads us to what exactly you can train in these cycles of training at home, as well as a variety of other things you can do to not only keep active but improve how you move.
Helpful Resources for Home Training
Specific Home Training
If you are at a loss in knowing even where to start, we've got a variety of workouts on our YouTube channel, and this one in particular gives you a great template where you can create your own workouts.
Improving Your Motor Skills Throughout the Day
NEPA (Non Exercise Physical Activities) and NEAT (Non Exercise Activity Thermogenesis) have been proven to be more beneficial to your health than standing desks or even half hour walks at lunch.
Fidgeting, standing up and down several times and walking around your house, those add up to a significant calorie expenditure when done consistently over weeks and months.
NEPA isn't going to shred your abs and build massive muscles. Better to look at it as additional chances to improve how you move, and building coordination/balance/control, which are the attributes that directly contribute to how well you move and how you feel when you move.
This is a lot to think about! And they're certainly not the only things you can do, but it's our best take on it from our experience with ourselves and the thousands of clients we've worked with over the years. Here's another great guide from our friend Steve Kamb at Nerd Fitness.
These are all the great things you can do to maintain and improve your fitness at home. But it can be even more important to know what you shouldn't be doing.
What Not To Do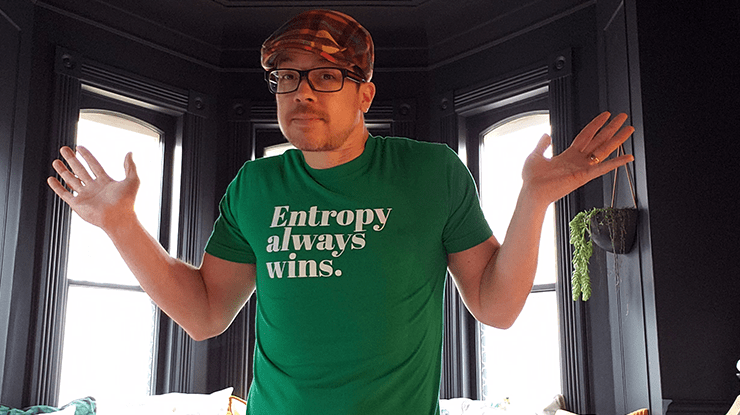 Don't be rigid in your thinking
We've talked a lot about the benefits of ritual and consistency, but that isn't the same as being closed minded and unbending in your mindset! Especially in these uncertain times, intractability in your thoughts and an inability to adjust to unforeseen circumstances is a recipe for anxiety and misery. Work on creating regularity, but be ready to roll with inevitable waves of surprise and change.
Don't think this will blow over quickly
We don't want to be the sounders of doom and woe, but this pandemic is already a massive disruption in our lives and will likely keep changing our sense of "normal life" for several months or more. For a no nonsense guide about the novel coronavirus situation, check out this article from Andy Morgan.
Don't say f#%k it and do nothing
While we can certainly understand the anxiety from such an unprecedented and uncertain situation such as this, giving up on your fitness (and anything really) is not a great coping strategy. And especially in a time like this, your health and mental well-being is vulnerable. Since you're reading fitness articles like this one, it's no surprise to you that exercise is crucial for your physical and mental health. We won't insult you by yelling WHAT'S YOUR EXCUSE?! and berating you if you don't feel like exercising. But you really will feel better, even if you just do a little bit.
Don't lose perspective
Platitudes like "this too shall pass" and "tough times never last, but tough people do" make me want to barf. But just as you shouldn't give up on the exercise habit that you cultivated for yourself, we should also work hard on not falling into despair. It's spurious to deny that we are entering some incredibly challenging times ahead, in all aspects of our lives. But what other choice do we have but to try as hard as we can to do what we love and take care of ourselves and our loved ones.
Helpful Resources
Please Stay Safe and Let Us Know if You Need Help
We've been around for ten years (which is about a billion Internet Years) for one reason: we take care of our people.
If you're looking for specific exercises or routines to help you with a certain goal, let us know. Need to find a trainer who can help you online? Just need some advice? That's cool.
We're all in this together. GMB is here to help.