Let's work together to rediscover what your body can do.
The Elements Sprint gives you instant momentum with 6 weeks of live sessions, personal feedback, and dedicated community working through our most recommended strength and mobility program.
🗓 October 22nd – December 2nd
😎 Expert Instruction & Feedback
🌎 Join from Anywhere
It's the next best thing to moving Ryan into your guest room… without all the dirty dishes. You'll build strength, agility, and confidence for all your physical goals.
Registration closed October 19th.
We suggest going ahead and getting started with Elements on your own, and we'll send you an invite next time we open up the Sprint.
👇 or scroll down for more details 👇
A couple of years ago, we tested offering two of our programs in a "live" structure. Here's what clients said about it.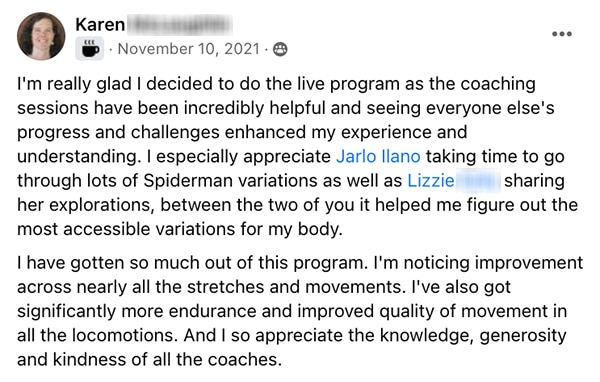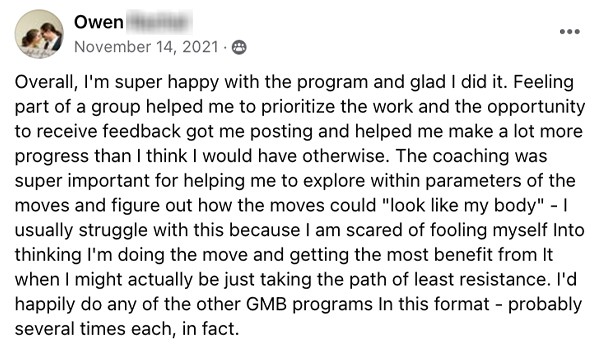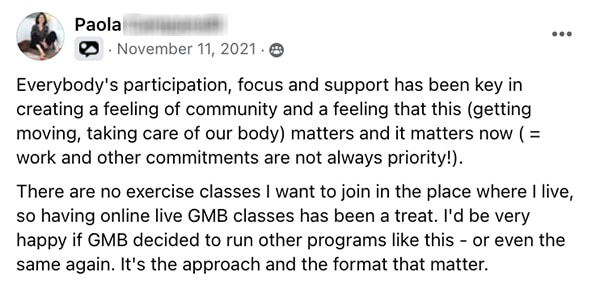 We spent most of 2022-23 rebuilding our private community from the ground, us, and were now able to offer an even better experience for group coaching sprints.
This time we're doing our Elements program.
Why Elements?
Same reason Serena Williams still practices her backhand and Messi still works on his first touch…
You never graduate from the basics.
Lots of gyms have leaderboards for things like heaviest squat or most pull-ups, but you never see one for foundational stuff like hip mobility or "most stable shoulders." Meanwhile most people there are tight, injured, or restricted in some way because they haven't built their base.
Elements is how we help you build your base so you can move and perform freely and with confidence.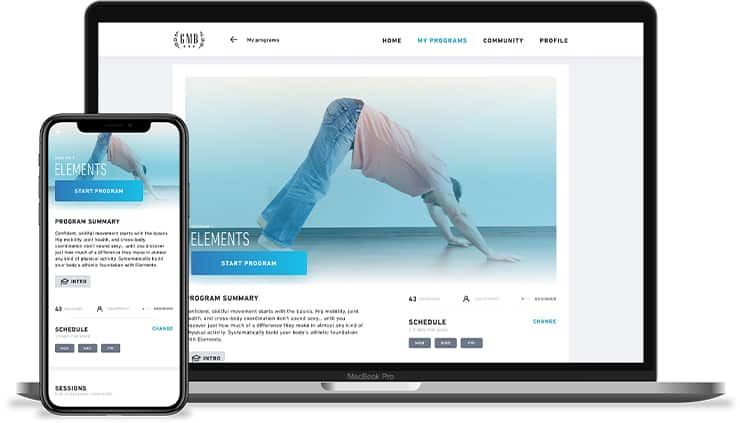 There's a whole page of details about Elements but here are the basics:
It guides you through building strength, flexibility, and motor control that form the foundation of any athletic movement.
You practice 4 core movement patterns that are accessible enough for beginners but scale to challenge even very strong and capable clients.
It teaches you how to zero in on exactly what's holding you back so you make efficient, meaningful progress.
It might not be the sexiest part of your training but Elements has helped over 70,396 clients move and perform better in everything from CrossFit and martial arts to surfing, hiking, soccer, and tennis.
Elements Live includes lifetime access to Elements. Plus our coaching team will personally guide you through getting the results you want.