After your first few months learning to walk, the only times most people think about their feet are when they're buying shoes or when they hurt themselves.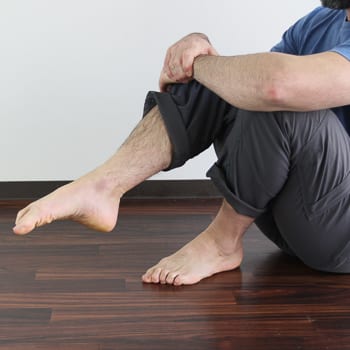 The feet and ankles are extremely complex structures – they have to be, because they're responsible for supporting your entire body weight while moving and adapting to changes of direction and different terrains. But in a complex system, there's a lot of things that can go wrong.
This episode includes:
a layperson's guide to some of the basic physiology of the feet and ankles
common injuries and what you can do to avoid them
tips for staying healthy and regaining healthy function after injury (or just years of neglect)
Vote on show topics, ask questions, and be part of the GMB community.
Some of the resources mentioned:
Transcript of Assessments and Exercises for Ankle and Foot Health
Jarlo: Hey everybody. Welcome to the GMB Fitness Podcast. My name is Jarlo Ilano, one of the co-founders of GMB Fitness. I'm here with my friend and GMB lead trainer, Rose Calucchia. Hello Rose, good morning.
Rose: Hello. Good morning
Jarlo: How are you?
Rose: I'm doing well. How are you?
Jarlo: I'm doing okay in this crazy unprecedented time. Well, as you know, this is the GMB Fitness Podcast. GMB stands for grandmas, mamas and bubbes. Grandmas, mamas and bubbes. Well, today we are going to talk… What are we talking about today, Rose?
Rose: We're talking about the feet and ankles.
Anatomy of the Feet and Ankles
Jarlo: Feet and ankles. So this is part of the series on body parts, shoulders, wrists, back, hips, and today's ankles and feet. So generally we start with a little bit of anatomy and physiology, not too much to make your eyes glaze over, but just enough to get you kind of thinking about what's going on with your feet and ankles, which is massive. This is something you could talk about for hours because it's relatively complex. It's more than just your foot moving up and down, side to side. You have the two shinbones, the fibula and tibia. Tibia is the big one on the inside, fibula's on the outside. And then they connect to a intermediary bone called the talus, and then into the heel and all of those small bones in your feet.
Jarlo: The reason it has to be like that, even though we're bearing weight through them, you're standing on it, you're running, you're doing all of these things, you still have to have some fine control there for uneven ground, all of these things. So it's not like, if you imagine like action figures and dolls, or it's just a stick joined to another stick. They have to have a… This is the thing is like, if your feet are so stiff or your ankles are so stiff, you notice it even just walking around, even though you think, oh, I'm just walking. So it's analogous to the wrist and hand. The small bones going from the shin into the feet are there to move correctly, and with variability no matter what ground you're on.
Jarlo: So we can talk a lot about it, but just with that in mind, so it's not this like a hinge that actually has to rotate and twist side to side. And with that you're going to see a lot of small ligaments, really thick ligaments, on the inside, outside of your ankle. Everyone's probably experienced rolling their ankle and spraining their ankle, and it's actually a wonder why we don't do it every day. It's just so robust. It's just so robust. So I think that's a good one. We can have some anatomy images and charts and all that stuff, but I think that's just a little too much.
Foot and Ankle Injuries
Rose: Yeah. Well, okay. So now that we know kind of what the ankle and foot are supposed to do, what are the things that you typically see that go wrong with ankles and feet? We all sprain them, like you said, or roll them. Why? Why does that happen? Jarlo, tell me why.
Jarlo: Well, the thing is too, is notice when you… I think we can all kind of look back and when we sprain ankles and do all this stuff, sometimes you would think, oh, we're running, we're doing sports, and yes, of course, that kind of stuff where it's fast and then you lose control and it's traumatic, someone hits you, that's obvious. But also think about the time when it wasn't that, you're just walking along. You're just walking along, and then you, say, either you step into a hole, or your trip on your own feet, or you trip on the stair. Those are the ones. Now, what are the time when it just really wipes you out versus you just stumble and you're like, "Oh crap." And then you stumble and you didn't do it. So for me, a lot of it is a quickness of awareness. And that really relates to, if you're going to talk about everyday thing, it's how tired you are. How fatigued you are in your body and in your mind. Because if you don't have that reaction time, and when I mean reaction time, I don't mean conscious. Because this happens too quick.
Rose: Reflex.
Jarlo: Yeah, it happens way too quick. And so talking about reflexes and all that, the speed of it really does matter, what your overall condition is. It's one of those things everyone was talking about sleep this last year, so like, oh the importance of sleep. Yeah, sleep is important. One of the things that they found is, a really high percentage of injuries happens with the less amount of sleep you get at night. I don't know off the top of my head, but it is around, if you're at five hours of sleep, you're 30, 40% more likely to get injured or something like that. And so that's part of it. And it's hard. Again, there's more nuance to it. Like, oh if you were faster, speedier. But that's the one thing. Because we have ligaments and tendons and all that stuff that is structural stability. But really, when you got all your body weight rolling over these small bones, again, it's a wonder, a wonder why we don't happen, happen more.
Rose: Yeah, that's true. And can you talk a little bit about the difference between repetitive use injuries and overuse injuries? Just so we're clear on the difference, when we're talking about specifics.
Jarlo: Yeah. Because that will help, because once we start talking about injuries and how to get past them, knowing those. So in terms of mechanisms of injury, an overuse injury is, in our definition, it's when you're not used to a certain thing. The classic example is, when people just start to exercise or start to play sports on the weekend when they don't do anything at all. And so you get up, you get on the field or you get into practice, and you feel all right and you're like, oh, I'm going to do it. But then like an hour later or a few hours later, the next morning, you're like, what the hell just happened? Your body just simply wasn't acclimated to it. So within the word overuse, you're not used to it.
Jarlo: And that's distinct from, say, repetitive strain where, say, you do a job or you do an activity that you've done for awhile, months or years, and you're fine, but then all of a sudden you start getting these little aches and pains or tendonitis, and it's because for whatever reason that activity became too much for you to recover from. It could be that you've just gotten older, gotten weaker, you haven't maintained your strength, maybe you were sick for a bit, maybe it just kind of ramped up a little bit and you thought you were getting used to it, but it's sort of like the activity goes up and you go up with it, but then that curve drops and you're just not ready. It's fairly complicated. But those are the big distinctions between overuse and repetitive strains. Overuse can happen immediately. Overuse is just like a day, an hour. Repetitive strain, it happens over time. Even if you are kind of used to the activity, but over time it just breaks you down.
Rose: So our typical ankle rolls or sprains, those are more overuse injuries?
Jarlo: They could come from that. So there's another, especially in ankles and feet, there's another reason for an injury and that's trauma. And that's what I mean, it's obvious. You got hit or you stepped into a hole and then you twisted it. That's not overuse. It could be that overuse led to that because you weren't strong enough, you weren't used to it. Maybe it would have been something that if you were lately running a lot, doing things that your body would have been a little bit more prepared for it, but there's only so much preparation you can have for trauma, for surprise. So yeah, that's a good one. So you got trauma, overuse, independent stress. And it's sort of a continuum there.
Course of Treatment
Rose: And with the rolling and the spraining with ankles, what's like a course of treatment look like for that? When do you need to go get imaging done versus when can you just self treat at home? Because it's a trauma that clearly happens a lot to a lot of people.
Jarlo: There's actually an algorithm for that or a rule set. It's the Ottawa rules. You can Google it, we'll put it in the show notes. And it's for determining whether someone should get an X-ray, or just go to the doctor. And so say you have a trauma, like you sprained your ankle. One of the rules is, can you walk on it a few feet without thinking you're dying? The other rule is, those little knobs on the side of your ankles, they're called malleoluses, outside, inside, external, internal, if they are tender to the touch, that's another indication that probably need an X-ray. So those two things there. It's sort of like what we always say, you will know, you'll know how bad is it. If it's unrelenting pain and you're like, what the hell? And it doesn't get better over the next few hours, or it swells up to the size of a cantaloupe, you should go see somebody. I mean, it seems common sense, but it's hard when you get injured, you're like, what the hell?
Jarlo: In terms of, so say you get it, you go and you get checked and then they give you a brace, they give you a boot. That's the normal thing. Because maybe you did get a little hairline fracture, or maybe it is just a pretty bad sprain, but it's not completely torn, that's all they're going to do. And then hopefully you go to physical therapy and work on stuff. But if you don't, there are stuff you can do at home if you don't have the resources or all of that stuff. So a typical thing for ankle sprain, an inversion, say the typical thing for rolling an ankle is when you roll onto the outside. When your toes go under you and then you sprain it that way. What you're looking there at is the ligament on the side, anterior talofib. It's a little bit to the side. And then that's the most commonly sprained ankle. But also you have to realize that there's nerves running through too, so you can have traction injuries at the nerve. And so one of the things we've seen in therapy over the last probably 15, 20 years, is the recurrent ankle sprain.
Rose: Right. Once you sprain it you're more likely to sprain it again.
Jarlo: Yeah, that's totally it. It's funny, but yeah, the most common way, not common, what's your highest prevalence of getting injured it is prior history of being injured, especially in the ankles. Because what you see there is a disruption in the proprioception. Your body awareness of where the joint is in space, along with, you can say you have ligament looseness or laxity because of that. That's true, but it's also just your body it's just confused. That's not a good word. Again, I hate saying… I'm trying to not use real technical terms, but your body's essentially confused at, this is not the way your ankle should be. And that's like when people say, "Oh, it feels wobbly, it feels shaky," and that's exactly what it is. It doesn't feel solid anymore.
Jarlo: And so you either have that or you have it where you feel like it's so stiff you can't do anything. And both of those are sort of the reaction of the trauma, because your body immediately it's going to swell up, your muscles are going to cramp and get weak, because they're trying to protect you from even moving it at all. It treats everything like you've broken it. So you get off of it. And so that leads to the nervous system like, oh, everything just shut off, just shut it off. And to shut off, it takes a long time. It takes a lot of effort to turn it back on and turn it back on correctly. To come and do those dials and do the levers to make sure everything is set the way it used to be.
Rose: Okay. So then I have a question based off of that. So say I sprained my ankle really badly, I go get imaging done, nothing's that dramatic, they put me in a brace or whatever. I have to do the icing it, stay off of it. Then once I get better and more imaging is done and I'm clear, if it still is hurting or it's still really stiff, then what do you do? What would be your prescribed course? And I'm thinking about our feet and ankle article and the routine. Talk about why movement, getting back to movement is so important.
Jarlo: That's a good one. So again, we'll put it in the show notes so you can just Google GMB feet, GMB ankle. And I put a routine in there, which is pretty extensive, it's actually one of the longer ones we have, because again, just like we said earlier, that's pretty complicated. It's fairly complicated. And so what I put in there, it's a range of motion things, you always go in as much pain free kind of thing, but you'll notice when you look through it is like all the combinations of movements. It's not just back and forth, but you're working in diagonals, you're working all that stuff. The primary thing for that, it fits into what I just said is, you're trying to retrain your brain and the nervous system to kind of realize where your foot is now.
Jarlo: And you're trying to convince it, oh, it's fine to move in these directions now, but also to remind it that it can. And along with that, that's sort of like the nervous system retraining, nervous system education thing. But along with that, is the actual structure of nerves and tendons and the joint and the muscles. You need to go through those ranges structurally. People don't really realize that the nerves themselves don't just carry pain and all that, but they have a structure. They have a sheath, the nerve moves within it. This reminds me of, I think it was a couple months ago or a few months ago, you had an email from someone with a… Was it after surgery or what was it? Do you remember what it was?
Rose: I don't right now.
Jarlo: It was, I think they might've broken a bone, one of the small bones in their feet.
Rose: Oh, yeah, yeah.
Jarlo: But it was over, not over, but it was healed. And they're like, "I still have trouble doing this, this," and the simplest thing was like, oh, go to this routine and work through it. And then you had mentioned a couple of weeks later, they said, "Oh man, it feels so much better." And it's just like, just move, just move. But you have to move in specific ways and in ways that will, it's simple, you say blood flow and joint nutrition and all that stuff. But really it's retraining your brain to understand what's really going on in your ankle and your foot.
Plantar Fasciitis
Rose: Okay. That's really helpful. And then let's talk about a different kind of injury that we hear a lot about. So we hear a lot about strains and sprains and rolling of ankles, but we also hear a lot about plantar fasciitis, is like another kind of injury that people come to us with, looking for some guidance around. So you've had plantar fasciitis.
Jarlo: Oh yeah.
Rose: So you can speak to how painful it can be, but can you talk a little bit about what it is and why it happens and how something like our foot and ankle routine can maybe help with that?
Jarlo: Yeah. So one of the things about plantar fasciitis is, it's sort of one of those blanket terms. Anytime people have pain in the sole or their feet, and even a doctor will say it's plantar fasciitis, but there's actually a big, what they call a differential diagnosis for heel and foot pain. It could be plantar fasciitis for one, it could be that you have a fat pad in the heel that can cause pain, you have a different nerve thing like Morton's neuroma, all of these types of things. But whenever someone says plantar fasciitis, it is a really specific thing. One of the plantar fascia in the arch, provide the rule of stability. One of the tests is to pull the big toe back, your big toe, then you lift up the toe, and then you can see how the fascia and the arch, again, I'm oversimplifying, but how that becomes caught, becomes tight and then you palpate through there.
Jarlo: That's one of the thing that's fairly complicated, but plantar fasciitis is something where theoretically it's the inflammation there that's just not going away. The typical presentation is, you wake up in the morning, and it's worse in the morning, you get up, you move around, and then it gets better throughout the day. So that's one thing. If you don't have that particular symptomology, probably not plantar fasciitis.
Rose: So worse in the morning.
Jarlo: Yeah, worse in the morning, but then you move around and it gets better. But then it repeats-
Rose: Right. The next morning it's back.
Jarlo: The next morning. So let's kind of circle back, I'll use my, not the last time, I've had it on and off, but one of the times where I had it doing really bad, it was for several months. And this goes back to overuse and repetitive strain is, when I had moved to a house that had all hard wood floors, hardwood and concrete. And I'm barefoot all the time, but I was used to carpet, and all that stuff. And so within, I want to say like within a month, I was like, what is going on? And I straight up had classic plantar fasciitis, classic, classic. And that's an example of kind of both overuse and repetitive.
Jarlo: It was overuse and then it became kind of repetitive strain because I wasn't used to it. And then it started hurting, and then it would get better, and then start hurting. And then I became like, I was on it too much that I wouldn't give my body time to recover. If I would have simply worn slippers or shoes, and we can talk a little bit about that later, It's like when you use support, when you use that kind of thing, there's lots of people who are like, "Oh, you should be barefoot all the time."
Rose: All the time.
Jarlo: All the time. Wow. Sure, it's good for you, but even in my case, I was barefoot my whole life.
Rose:The surface changed, totally an impact.
Jarlo: Exactly. Exactly. And so with that plantar fasciitis, there's all kinds of stuff that people say. All kinds of stuff. You rub it with a frozen bottle, you wear a night splint at night to stretch your calves out, I've done that too. You do all of these things. Unfortunately once it's kind of full blown, you have to do everything you can.
Rose: To get it to go down.
Jarlo: Yeah. Because you're on your feet all day. You are. And you have to be, you want to be, it would be worse if I just kind of, you're going to go around in a wheelchair because you have plantar fasciitis. That would cause other problems. So that's a hard one to bring up. It's like, oh, what did we do for plantar fasciitis? I could tell you all kinds of things. I'll tell you what we did in the clinic, what our standard thing was, was mobilize foot and ankle, get those joints moving as much you can, manipulate it and do all that stuff. Really work on the calf a lot, hard massage, hard massage so you can stretch it out. Because that's one of the main thing. If you can stretch out your calf and make sure your big toe extends, that's a lot of the mobility issues right there. Then make sure those small joints of the foot and ankle are moving. And in terms of exercise, it's posterior tibialis work. Posterior tibialis brings your foot in and up and there's stability there. You hammer those things, and it seems to help quite a bit.
Rose: So a lot of the things that you were just talking about with the calf and mobilizing the foot and extending through the toe, all of that's in our foot and ankle article. All those movements are in there. So if people are feeling that they could start by using our tutorial to see if that helps a little bit.
Jarlo: And also too, it's funny, but we also have people saying they feel better when they do the locomotion work that we-
Rose: I have that on my list of things to talk about. How does our locomotion work?
Jarlo: Because look at the bear. Look at the bear, the regular bear where a straight arm, straight leg, you're stretching your calf, you're making sure that the big toe moves through the motion. And actually as you go through it, you're getting some nerve mobilization, sciatic and sural and all that stuff. And so a lot of reasons why our locomotions that we teach and people feel like, oh wow, why do I feel so much better from doing these? And it's because they're so new to you. There's stuff you don't do. And they're very useful because it takes your body through these ranges that, one, you're not used to. And two, you have to do it. You should, it's just helps you so much. So that's probably the best kind of thing we can say for this without saying, "I have to have you come in and look at you."
Rose: So the routine that we have plus locomotion and our elements program are great for a lot of foot and ankle problems that people have.
Jarlo: Absolutely.
Barefoot vs. Shoes
Rose:Great. And then can you talk about a little bit about the whole barefoot versus not barefoot thing? Because that's a really big thing in the fitness industry right now, is barefoot training, and barefoot running, and being shoes off all the time in the house. Is that really good for us? And when do we want to put shoes on?
Jarlo: Right, right. Well, the thing I want to say about that, it's been how long? I remember talking about this for like 15 years now.
Rose: Yeah, it's been a while.
Jarlo: It's been a long time. Well, what I would say, the easiest thing to say is that, any extreme is bad. Because I remember talking to someone, I forget who it was, and we're talking about the use of orthotics. Orthotics are like arch supports, either you can have some really custom one when you go to the podiatrist or the doctor, or you just go to drug store and get some over the counter stuff. And this man was saying, "Oh, it's bad she never used it." It's like, let me see, I don't know. It's just a bandaid. This is the worst thing in the world, you need to exercise and do all these things. I'm like, "Yeah, of course. Why don't you use both? Why don't you use something that will help you feel better and take away some of the pain while you exercise, while you do all these things." So it's the either or extreme to me, that's just like whatever.
Jarlo: So barefoot all the time, you need to go and you need to run. And just the straw man of, oh, then you need the most supportive shoes with the most cushion you could ever have. It's all based on the individual. And really, it's not even the anatomy. There's some people with flat feet, straight up flat feet, they walk in the sand and it looks like flippers, and they don't have any pain. Straight up, no pain. And then you have people with beautiful arches just like, oh, look at that structure. And they have pain. There's so many things involved with why you're having pain or why your feet don't feel great. And a lot of it isn't due to your structure, it's not.
Jarlo: Because one of the things, if you were born like it, so you had flat feet when you were born, but you just accommodated and you adapted and you're active and you're doing things, most likely the problem that you're having aren't due to that. Maybe later on, maybe it'll create some trauma because you can't generate a lot of power when you're doing stuff, you sprain it, that type of thing. So like I said, I'm barefoot all the time. I wear slippers, I wear flip flops every… Oh, that's the whole thing, man. I wear my fricking flip flops and I'm in my jeans, I'm doing exercises, and invariably there's a comment like, oh, slippers are bad for you. Flip flops are bad for you.
Rose: Everybody says that. Flip flops are so bad.
Jarlo: Well, it's been like almost 46 years, my feet are fine. But you have plantar fasciitis, like, dude, shut up. Just shut up. I think it's what you've adapted to. And that's probably one of the reasons why there's so many success stories of people wearing shoes and doing all these things, and then they decided to try barefoot training and then all of a sudden, "Oh my feet feel so great." It's because you got all those shoes and you're supposed to do back and forth.
Rose: Your foot is supposed to move more.
Jarlo: Yeah. So I hate just saying, oh, this is my example, but yeah, I'm barefoot for most of my life and training every day. I train and do all this stuff. But when I run, I have really good cushion and supported shoes when I run. Because if I don't, I'll mess myself up. After five, six miles, and in a minimalist shoe. No, thank you man.
Rose: Yeah, I was going to say, every kind of shoe I have run in, I've run from literally barefoot to minimal sneakers, really supportive shoes. And I mean, I suppose if I trained it more I could, but five to six miles was my cap in a minimal shoe before I started to feel my knees or I started to feel my ankles or something.
Jarlo: And I think that's pretty common.
Rose: And that's on concrete, running on concrete.
Jarlo: That's right. Versus say, oh they're on grass, whatever. It's all context. So I'll always be aware of anyone that says, "oh barefoot all the time, you got to do this." Or the same thing like, "Oh you got to wear the best shoes you can and get these $500 orthotics and always wear a brace." That's a big clue as to like, wait a minute. What's your context? Where are you in your life? Where are you in your kind of fitness, in your condition? Because it could change from now, six months from now, a year from now, all of those things.
Jarlo: That's the thing when someone says, "Oh, it depends." Well yes, it depends, but then you have to know all of these things that go into the it depends part, because it's just as bad to say it depends. No. And a lot of times you can figure out yourself, you kind of do a lot of trial and error. Like you just said, you've tried barefoot, tried minimalists, do all these things, and you can figure that out for yourself. You can also get someone you trust whether it's a healthcare professional or a trainer, all that stuff. But really be aware when someone is so rigid in their thinking, Jesus Christ. Because odds are they don't do that for themselves. Really, come on now.
Rose: And also it's not in terms of black or white. You can't just flip and do the other and expect it to always just be okay. You kind of need to let your body acclimate. If you wear really supportive shoes all the time and then you want to start going barefoot in your house, you might not be able to do it all the time in the beginning.
Jarlo: Right. That's the overuse thing where it goes both ways. Yeah, absolutely.
Ankle Mobility and the Squat
Rose: So with ankles and feet, we of course have talked about the squat because a lot of people start off with using our programs and they try out locomotion for the first time, especially our monkey or our frogger, or we drop down into a deep squat with our heels down. And a lot of people can't keep their heels down. Will you talk a little bit about the relationship of the squat and ankle mobility, and how our locomotion programs work on that?
Jarlo: Sure. One of the things, so I think we talked a little bit about this before when we talked about the hips and the hip podcast, depends on whether you have weight on your back or on your body or you're unweighted, so body weight squat. And so for locomotion, mostly, unless you're wearing like a vest, you're going to be unweighted. The structure of your body for the squat, if you have long femurs, short femurs, your upper thigh, if you have a long torso or a short torso. So this is a good one, if you go and again, our squad article, GMB squat, we have a really good picture of me and a couple other people with totally different proportions. Again, I'm here, so I'll use myself as an example.
Jarlo: I have really long torso, short legs, and my flexibility is good. So I can have my chest totally straight up and down, squat all the way down, and my ankles are actually not that, well, they're flexible, but they don't need to be that flexible, because the leverages I have.
Rose: And I'm the opposite of you.
Jarlo: Right, right. So my short legs, my long torso, my front squat and my back squat like in with barbell, I can make it look the same. I can make it look the same. But you have someone that has longer legs, like you, maybe a little bit the portion of their torso, and they'll have to bend forward at their waist to get that deep squat, or their ankles have to be super, super flexible.
Rose: Right. Which mine aren't.
Jarlo: Right. And so that's what it is. It's like a lot of times when people say, "Oh my ankles aren't flexible enough for me to squat," is probably because your leverage is up higher, we require you to have more. Because if you look at it, and we've done this in the clinic and different things, their ankle flexibility is actually not that bad. It's not bad. Maybe they need a little bit more to get what they want, but then you're like, why? Why? Why? It's because of all the other stuff. And so in the case of body weight squats and locomotions, you just sort of have to acknowledge that and then notice that maybe you will have to lean forward or hip hinge a little bit more.
Rose: Or your back will be more rounded.
Jarlo: Maybe your back will have to be more rounded or your knees will have to kind of travel past a bit. So this is kind of the thinking we have to have beyond just like, oh, it's my ankles. And yes, you could work a lot on your ankles. And in this case, it's working on your ankles in the bent knee position. So just a little quick thing, two calf muscles, the gastrocs and soleus. The gastroc crosses the knee and the ankle, so you stretch that out when your knee's straightened out, when you're extended. The soleus is when only crosses the foot and ankle, doesn't cross the knee. So you're going to stretch that out more when your knees are bent. And then of course you have ankle joint itself and all that, but really working a lot on the bottom of the squat.
Jarlo: And actually you don't have to have your heels down. You don't. You can totally have your heels lifted up. That'll help. It'll help you to spend more time in that position than it has, after awhile your heels will come down in the bear, monkey, frogger or other locomotion and stuff like that. So yes, you should definitely work on your ankle flexibility, but I think for a lot of people you have to realize there's only so much you can do because your body type might be a… And I hate to say because it's not limiting, but it's just going to… Your expectations of how long it'll take for you to to be comfortable with it and also your expectations, sometimes you're just not going to look like someone else like you really want to.
Rose: Right. Like my squat will never look like yours, ever.
Jarlo: Right.
Rose: I mean, there was a time, for anybody listening who doesn't have their squat with their heels down, there was a time not too long ago where I could not have my heels down in the squat. It took me a long time of working a lot on my squat to be able to do everything with my heels down and not feel terrible.
Jarlo: Right. And I think that's empowering too. So you don't have to take this as like, oh my structure will never let this happen. It's more like, well, if you want to get as far as you can, it's going to take effort and time and you need a little bit of patience with it. So I think you can make this an empowering thing versus, ah, fuck it, I'm never going to look like that, so I'll just never do it. That's wrong. That's the wrong way to think about it.
How Locomotion Helps Foot Health
Rose: So there's some of us who have tighter ankles and feet, we're a little bit more structurally solid in that way. And there are people who are more flexible, who have a tendency to roll their ankles more and all that. Can you talk a little bit about why locomotion can help both types out. Why locomotion helps build strength and stability, but it can also build flexibility and increased range of motion doing the same movements.
Jarlo: Right. I think it goes back to what we talked about earlier is, because for a lot of people, locomotion are very new. It's a very new stimulus. And so there's one thing, any kind of new stimulus sort of perks your brain up, perk the nervous system like, oh, what's going on here? And so it's sort of an equalizer in that respect. So say if you're a little loose or wobbly, or if you need a little bit more flexibility, it sort of evens you out. Does that make sense?
Rose:Mm-hmm (affirmative).
Jarlo: It's just a new thing versus like, this exercise is straight for hypermobility, or this exercise is straight up for strength. It's everything. It's everything if it's a new thing for you and if you're trying to move with control, if you're trying to do good form, if you're trying to explore your movement within those sort of foundational patterns. And so that's one, I think, it's just sort of an equalizer if you're here and if you're here. So that brings you back to the middle. It's a regression to the mean type of thing. Now, specifically for, say, you're tighter, and let's just use the bear because that's a good one for the ankle. Sometimes you'll be on your toes through the movement, but sometime during certain portions of the movement, it's less of a stretch so that you'll be flatter.
Jarlo: And so it takes you through the ranges over time, within the repetition, within the performance, but also does it in a way that's kind of unpredictable for your body, anytime you have to turn or move around. And that's a really good thing for improving stiffness, is because, again, these new sensations, your body has kind of keep guessing on it a little bit and you're spending more time than you otherwise would if you were just kind of sitting into a stretch, you're trying to stretch your calf out on the stairs. Are you going to do that for five minutes?
Rose: No.
Jarlo: Probably not. But it's much easier to do these locomotion for five minutes. Not all in a row, but over time cumulative. And the same thing if you're feeling sort of wobbly or you sprain your ankles, these new inputs and working with control. So that's what I think it is.
Rose: So if people have stuff with their feet and ankles going on, they can definitely check out our free article, which has a great routine. It also includes those calf stretches that you were talking about, both straight knee and bent knee.
Jarlo: Yeah, pretty comprehensive.
Rose: And if people want something more structured, they should check out our elements program to help with both and either stability or flexibility.
Jarlo: Absolutely.
Rose: And they can always write to us, because you might get me responding to you.
Jarlo: Right. And so this is what we've tried to provide for people. It's like, yes, we have our programs and yeah, we want you to use our programs and get them and benefit from them. That's why we sell them. But we also have these articles and this podcast and our support staff, our wonderful support staff, which has trainers and coaches like Rose and others, and also people that are just very familiar with our programs and all of that. So we're just trying to help as much as we can. And so we have a lot of different avenues to do that.
Rose: Yeah, for sure. So if any questions come up, please feel free to email us at howdy@gmb.io.
Jarlo: Right. And then make sure just address it to Rose, so she'll answer all of your hundreds of questions.
Rose: And when I don't know them, I go bother Jarlo and ask him.
Jarlo: Yeah. Just text me, text me at 11:00 PM at night. Well, I hope that was helpful to everybody. So we have show notes on all of these things, but just like Rose said, if you have any questions, just email us or Facebook comment or whatever you want. So thanks so much.
Rose: Thank you.
Be sure to catch the next episode by subscribing to the GMB Show:
The Future is in YOUR Hands!
Left to our own devices, we'd soon be churning out episodes on the sorry state of Mexican cuisine in Osaka. Answer these questions and tell us what you want to hear:
';