Hip problems are one of the most common causes of injuries and pain in other parts of the body, and most people never even realize that they have an issue.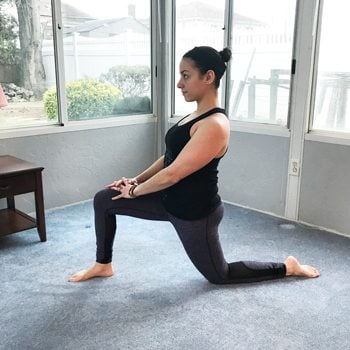 The truth is almost everybody has some form of hip dysfunction, and in this episode Jarlo and Rose go over basic hip anatomy and physiology, common issues and injuries, and how to get back to moving and grooving in the best way.
You'll learn specific problems you can avoid with the right exercise and routines (which we'll teach you). You'll also come away with a better understanding of how to even know when things are working as they should and what to do when you notice pains and restrictions cropping up.
If you're gonna bother having hips, you should learn how to use them properly. This episode is your instruction manual.
If you were to only do two hip stretches, do these
Differences between men and women
Squats, loaded and unloaded
Muscle vs. Joint issues
Vote on show topics, ask questions, and be part of the GMB community.
Some of the resources mentioned:
Transcript of Instruction Manual for Your Hips: Physiology and Injury
Jarlo: Okay. Hey everybody, this is Jarlo Ilano and my friend and Lead Trainer here for GMB fitness Rose Calucchia. Am I saying that correctly?
Rose: No, you always say it wrong.
Jarlo: It is collu-shia, which is wrong because you're supposed to be Italian and it's supposed to be collu-kia.
Rose: I know. I know. You think this.
Jarlo: It's true though. It's true though.
Okay, so this is GMB fitness Girthy Mellifluous Bouillabaise. That is Girthy Mellifluous Bouillabaise Fitness. Then we're going to talk about hips today. A little bit about physiology, but a lot about management of some hip issues and injuries and things like that. I mean, we can't overstate how many emails and comments and all of these things about people with their hip problems because it's very common. And, this is part of a series. We're going to do a bunch of these different body areas. Hips, shoulders, back, but ankle. So, but this one's on the hips. So, let's start a little bit about, I don't want to give too much anatomy, you know, too much physiology, but it's good to kind of know, have a starting point.
Maybe a little bit. Some of it might be common knowledge to some of you listening and some of it might be new. But when I talked to my patients about this, I've talked to my patients about this, you know, for years, the, the whole ball and socket thing is a good thing to start with. So the ball and socket.
It is, you have your hip, your femur, it's your leg on top of your legs, big ball, and the socket or your, your pelvic bones, right? And depending on your physiology and whether you're a male or a female and then even within within the sexes, there's different variations. The socket can be shallow or deep. But in general it is pretty deep and is much different than the shoulder, which is very shallow.
So you get the ball and socket and that determines how much range of motion you have, actually. Yeah, you have, we had a guest podcast with a hip FAI guys, the FAI fix guys. And so if you haven't seen that, go and check that out because that one was devoted specifically for this acetabular impingement, you know, if that ball and socket fits a little bit differently for some people.
And then they have like pretty significant problems, meaning that they'll have to do some really specific things and be really aware of it. But for the majority of people, that's not the case. All of your joint physiology is probably pretty good, and most of the issues are going to be cause of your muscular tension, your muscular flexibility.
But anyway, the hip is a major load bearing. It just makes sense, right? For walking or running or squatting or carrying, so that it's a very big joint. It's huge. And it's meant for stability. It's meant for carrying loads. And so that's why a lot of the main problems that people have is in the flexibility, the mobility of it.
And that's further compounded by the whole thing of like, we sit every day. Right? We're sitting in our desks, we're sitting in our cars. and even if we do get up and walk around and move, walking is what a lot of people like to call a mid-range activity. Walking does not stretch you out. You know, you're not challenged in your mobility by walking around.
Walking is great, but you're simply not going to the end ranges of your hip range of motion. And if we don't do that, then, it's the whole use it or lose it thing. Okay. So, going back a little bit more into hip physiology, flexion is bringing your knee up to your chest, right extension and bring your knee back behind you.
Of course, we have way more flexion right? The front, the fact that you can bring your knee up to your chest, hopefully, then extension. and also. Flexion is you're sitting down, right? You're curled up, you're on the couch in the car. So we're flexed most of the day. Extension is, you know, when you are running going upstairs, that back leg goes into extension.
You know, that's the area where most people are lacking. That's why everyone's like gotta stretch your hip flexors out. Right? And got to stretch the front of your hips. Got to do all that. And it's true. It's true.
Rose: I know. I was just going to say, could you talk a little bit more about that? Since you know, we are a very sedentary culture. We sit a lot and is this what's causing so much of our pain, pain, low back, et cetera?
Jarlo: I think it's a real complex thing. and again, we did a little podcast on this, you and me Rose, a few weeks ago, and also we have our pain article. It's really complex.
It would be too easy and specious for me to say, yeah, or we're all, we get all pain now because we're so sedentary. It's part of it. It's part of it. It's not all of it. Because, even if you were to take a poll of everyone, right? You got a thousand people and then say, those thousand people are all desk workers, right?
They're all normal jobs that they're, they're not very active for whatever reason. You know, you're not going to have 100% of them say they're in pain. You're just not. You're just not. And you'd do the same thing with all active people too. Right? It might be more, it might be less. Right? But it is contributory.
Because, for joint nutrition, for overall health, for all of these things, it is much better to be moving and exercise than it has to be sedentary. I mean, that's just common sense there too. But it does contribute and it probably contributes to the most when your normal everyday life is not moving around and you decide to go do stuff, that's when things happen and for sure I can say, yeah, that's probably going to be a major contributor of pain stuff.
Rose: So you're saying like mostly sedentary and then we go and we ask our bodies to do things that we don't normally do.
Jarlo: Totally, totally. And so that's why we always say you know, you gotta ramp it up slow, right?
Even if you feel good because your body is not used to it, like objectively straight up, not used to it. Right? Even if you did stuff before, because it's this whole physiology thing. We go path of least resistance, right? Bones. Bones develop when you have load and all of that, but if you take away the load, of course they're going to a decrease in density, decrease in, in all of that because you just don't need it anymore.
Our bodies don't really like to waste energy, right? Our main thing is keep ourselves alive and maintaining the energy that we have. Right. You lose weight when you don't eat enough and you do too much. You gain weight when you eat too much and you don't do, it's the same thing, right? Our body's trying to maintain equilibrium.
So, another thing about the mobility, so the extension, but also rotation, right? When your hip rotation is turning your foot and your knee in and out. Right? External is going outwards, internals going inwards. Those are also very commonly restricted because of the way we are. We don't really go into those motions unless like you're a plumber or you're, you know, or you are an athlete or that's what you want to do everyday kind of thing.
So if you were going to, if I was going to choose two things. That if I had to guess how that will make, someone comes up to me, I'm like, I'm going to guess, play the odds, is they probably need more hip extension and they probably need more hip rotation. That's just a really quick and easy guests.
Rose: Okay, so let's say we have people who are listening who do experience some hip pain. Is there a way that you can tell them to check or assess if they have, if they need more extension, or if they need more rotation? Is there a way that they can do that at home?
Jarlo: Oh yeah. A lot of times when you ask them that, you say, okay, they come to you, you have hip pain. Then you ask them where. Where and like what activities they do. And it'll just be apparent that way. Like, Oh, when I crossed my legs, right. Or when I go upstairs, you know, that kind of thing. They'll, they'll just tell you.
Rose: Okay, so wait a second, hang on. If they say, when I cross my legs, I feel pain. That means they don't have rotation.
Jarlo: Correct. So yeah, that's the one. Okay. So yeah, let's go back. I'm kind of assuming things. It's easy for me, man.
Rose: Let's break it down.
Jarlo: So, yeah, so crossing your legs, sitting on the floor is another one, right? So when you're sitting on the floor, unless you have your legs straight out in front of you with your knees locked, you're unlikely you're, trying to sit cross legged or, or you can't do that at all. That type of thing.
Walking upstairs means extension of the back leg, you know, walking uphill, or even, things like crouching down. Right. Trying to get something from underneath a kitchen sink cabinet, that type of stuff. Right? So that's a big thing. And like therapy and other rehab. We take a history and the more histories, you know, patient histories, more things where you have people talk to you, like that patterns just arise. That's part of the whole thing.
Mmm. But if you're looking for like specific tests and things, there's like a billion. There's like literally dozens.
Rose: But I mean, just something simple like trying to sit down on the floor and cross your legs and see these can get closer to the ground, or if they're way up high, that probably means you need some hip rotation.
Jarlo: Right and so, you know, in our program that focus flexibility program, that was one of the things I wanted to give people is we have a series of what we call Basic Assessment Positions. Right? And so sitting, long sit. One of them this long sitting, which is you're on the ground, you're sitting on your butt and your legs are out in front.
Right. Can you keep your hips, can you keep your chest up tall? Are your legs straight? You know, if not, you probably have some tight hamstrings. Tight back. Right? The other one is sitting cross legged. Right? That's one. The other one, another one is lying on flat on your back and one leg is straight and the other one is bent across your knee, right?
So that you can see that's rotation, right? And then all of these like squatting, and we can talk more about that, but these positions, and that's why we, why I like these is because these positions are fairly normal, right? And you can tell right away, you're like, Oh, wow, I can't do that.
Right. So that's probably better for the majority of people listening and actually for everyone. Even like if you are a more well versed in anatomy and physiology, I like thinking, can you get into and out of different positions, right? Different fundamental positions. If you can't, then there's likely a problem. Right? And it's likely a contributor to your discomfort, your pain, but also your performance.
So in terms of talking about that, yes, pain is super important and probably the reason why you're going in to see somebody or, or asking somebody about and stuff, but it's more directly related to how you do things or your inability to do things. And so when we when we look at that, that's how you manage and treat the problem.
Otherwise, you just, I hate to say it, but say you go to a doctor and they're not really real versed in orthopedics and all that stuff though, he's like, okay, take some Advil, or I can give you a shot or don't do anything. Just rest it. Those are all pain mitigation strategies.
Rose: Just managing pain.
Jarlo: Which is fine, especially in the first couple of days, but that's not gonna solve your issue.
Rose: So what does solve the issue? I know that's a very general question because everybody has different things, but in general, what is some advice you could give for people who are experiencing some kind of hip pain?
Jarlo: Right. So the, I think we can go back to what you said, like the tests and things is you would first find out the positions that you can't do, and you probably already know that. It's like, Oh, when I squat down, right? Or when I reach back behind me or I do all these things. That's the first thing. And then the next is trying to figure out, and you don't have to do this yourself. We have, there's lots of resources with us, with other people is, breaking down those positions and, and working those.
You know what I mean? Like trying to not, you don't just stick yourself in a squat and it hurts and you just stick there for 30 minutes until it doesn't hurt. What I'm saying is there are specific exercises and good movement things that you can do that directly correlate to those positions, right?
For example, we were talking about this earlier. If you knew nothing about a person. And you, they say, Oh, I have some issues with my hips, and you couldn't go wrong. It would be a really good bet to go, okay, you need to do the kneeling lunge stretch, right. To stretch out your hip flexors, work on your hip extension. And this modified pigeon that we do, which is some people call it 99. Oh yeah. But basically it's getting your, your hip is flexed and rotated outward. Right on one side and rotated inward on the other. And that works on your hip rotators. Like if you were just to do those two things and do them, you know, gradually with a control in and out, you know, and our method or whatever method you want, you would probably solve about 80% of the problems.
Right. And that's, that's just. Yeah. It's nonspecific. It's really general, but it's also, you can't, you really can't go wrong. It won't hurt. Right. So that's, you know, if someone's going to come in with like a really vague thing like that, and that's why how we can answer emails and comments and things.
Right. With the caveat of, well, you really should get checked out because, you know, we're just kind of shooting in the dark here, but this is after years and years of experience and looking at patients and why we advocate this. Right, right. So a little bit more specifically is you find those positions, you, either get information from a good trainer, a good therapist, good physician on how to work on it, and then you gradually work on it.
Right? And not just those things, but you try to incorporate those with good movement throughout the day. Right? You should walk, you should do your activities. All of those things. Improve circulation, improve your mood, which is huge. Yep. Yes. Massive part of pain management is improving your mood, but all of these things work together.
Rose: So just to recap a little bit. If someone, is either just feeling tight in their hips or they have a little bit of pain, two stretches that they should just go ahead and start incorporating into their routine are: kneeling lunge stretch and this modified pigeon stretch and those are both in our hip mobility sequence, right?
Jarlo: Yeah. So if you go and you Google GMB Hip Mobility, our famous one we did years ago and it's super popular and it's super popular for a reason. Right?
Rose: It helps.
Jarlo: It was, yeah, it helps. And it was, again, so the hardest part of all of this, you know, with doing GMB and, it's actually me in particular as a therapist, and I know it's complicated.
I've seen it. I know there's nuance. I know there's all kinds of things that should be individualized for a person, but how am I going to do that in one video? One article, right? You can't, but I can play the odds. I used to say that all the time. I'm playing the odds here and then we can modify it from there.
One of the things, you know, this is a little bit into my history. One of my first internship was at an army medical hospital. And in the army, and, I don't know, people are listening. If they're in the military, you know, you take your chart with you. You're a patient, you go into medical records and you take your chart with you when you go to the doctor, to the therapist or whatever.
And so when they see you, they fill it out and they give it right back to you. Right. That's different than civilian stuff. So, and back then, I'm not sure how it is now. We had 20 and 30 minute like sessions. So I could be seeing like 10, 12 you know, 16 people a day. So you just get fast, you get fast.
So a lot of us stuff was quick and dirty, you know, could have been a little better. But you're, you're playing the odds here, right? And then hopefully you see him again and you can whittle it down. So that was part of my training and I was able to do it well. So that's the same kind of attitude I'm bringing to do this information that we're trying to help people with.
It's like, hang on, I'll play the odds, you know, mostly it'll help. Yeah, it will. It will. But then you need follow up, so you need follow up either with someone you trust, you know, health care provider or are you just a contact us again and that's what we do. You know, Rose is in Support and we have coaches on staff, and then they help people like that.
Actually I'm continually surprised a bit how helpful we can be. No. If you would have told me 20 years ago, Oh, you can do this through email and do it. I'm like, you can't, but you can.
Rose: You can, a lot.
Jarlo: And you know, right now we're recording this in the time of Corona virus and you know. As it's probably gonna last a little bit longer, but you're, you're going to see that people won't be able to go to the doctor or gyms or anything. So we're going to have to help as much as we can here. So it's a little bit of a tangent.
Rose: But it's true. I mean, right now, if I had my clients, if they're emailing me saying I have pain, I would say, wait it out for right now. Like, here's some stuff you can try. Please don't go to the doctor at the moment because especially here in California.
Jarlo: Oh man. Yeah, and I'm up here in Washington. Same thing. We're in the hotspots. Yeah. It's a crazy time to be alive.
Rose: It is, but okay, so circling back a little bit. I really like your explanation of how, how the hip mobility sequences kind of, Mmm. Come to be that how you've worked with so many people over so many years and you've seen what works for the most people.
And that's what you've made for GMB, which is awesome. So can you talk a little bit now about like the differences between like men and women, because I know that women sometimes have different kinds of hip pain than men and you know, sport versus not activity-driven pain like, can we talk about the differences a little bit?
Jarlo: Yeah, so we can go for the men and women thing, and again, this is in general with pelvic morphology and all that, and there are a lot of variations. Variations even intersect. Like you can have the whole thing, Oh, women have wider hips. Men are narrower. And that's true. But you can also have a man that has wide hips compared to a man who has very narrow hips.
You can have a woman that has very narrow hips, even compared to a man, right? But in general, there's the wide hip structure for women and the narrow hip structure for men. So you see that kind of, when they talk about body types, right? You know, Pear, Apple, all that stuff, right? For the women with a wider hips, you're lying on your side, right?
And then you have your back is going to curve more, right? Or you're walking and you're, you have wide hips, most likely you have a, that Q angle of where your knees are, right?
Rose: So meaning?
Jarlo: So when people say, Oh, they're knock-kneed or their knees are in valgum, right. Or, or it seems like their knees always turn in when they walk.
In women, it's generally because you're structured as maybe you have wide hips, you know, your knees are like this and they kind of come in.
Rose: Like a V almost, from your hips to your feet.
Jarlo: Yeah. Right. Or yeah, the inverted triangle, that kind of thing. So that in itself, and this is also something that, you know, the FAI guys talk about a little bit, like what's your structure? And so that can lead to kind of specific things in women versus men.
Not just the bone structure itself. Cause you can always, Oh yeah, your bones are like this. But the way your bones are actually determine where your strength, your muscular strength there, where are your muscular flexibility is.
And so that's another thing too, for men versus women. The generality is that women are generally a little bit more flexible than men. This could be due to hormones, estrogen versus testosterone, all that stuff. And again, someone can throw back to you and go, man, I know I'm a woman, but I am tighter than this guy next to me.
Right? But in general, right. And so if you look at that, and then you also, and this is a terrible one. But it's also true, women in general tend to be weaker than men. And again, there's so many examples where that's not the case individually, right? So if you look at that, men with a narrow hip structure are generally stronger, but tighter, not as flexible. Then you have women with a wider hip structure. Generally more flexible, generally the less strong. So right there you have those issues, right, and then you can just bet on bet on that. So there's that one.
Also in terms of the activities that men versus women like to do, again, you can say all of these kinds of things, right?
Soccer versus football or the basketball, blah, blah, blah. But it's true. In general, men like to contact contact sports. They're generally in more dangerous sports, you know, whether it's a BMX racing, hockey. So yeah, see, this is why I have trouble saying this, cause I know specifically women that do those things.
Rose: As you're talking, I'm like I know a woman who does that. I know women who do that.
Jarlo: And that's the thing. It's so hard to talk in generalities, but that's what it is. You can always have examples of whatever, and then you know it's, you know, the women like the yoga, but it's true though. I mean, you're just gonna, you just do the odds, and that's what it is.
And so those types of things all have an interplay into, you know, what types of hip pain and hip issues a man versus a woman has. Oh, again, it's all in context.
Rose: Okay, so let's steer in a different direction then. Will you talk about repetitive strain versus over-use injuries?
Jarlo: Oh yeah, that's a good one. So for the hips, again, we can go back to most of the time we're sitting around, you know, unless you are in a labor intensive job, which isn't good or bad, right? Then you are going to be in position most of the day which is flexed, you know, probably no rotation, all of those things. And then suddenly you decide to get back into running or suddenly decide, Oh, I'm going to go and do this, this a rec soccer league.
Maybe you've done it before or maybe you haven't, but you want to do it. So you go from your job, you go to a field, you warm up a little bit. It's your first day, and you go do something and you feel all right, until two hours later you hip is like, what the hell did I just do?
That's overuse. Overuse, meaning your body's just not used to it and it could be one event. Right? And I think we've all experienced that. You know, we were like, Oh, I'll do that.
Rose: Too much.
Jarlo: Too much at once. That's the thing. Overuse is too much at once. Like if you were to gradually build up to it, you wouldn't have that problem.
Now repetitive strain is a little bit different in that, say you are used to doing something every day. Walking. Oh, here's one, right? If I were to, and this, this is a really common one for me. Go walk a golf course, right. Go play around the golf right. And this happens to me all the time.
Every time I do it, cause I, it's like I do it every two, four or five years. Right. And I walk along and it's not that walking is hard. It's not, it's not right. But doing that for 18 rounds going up and down Hills. Even if you're in the cart getting in and out of the car, cause you're still walking around. The next day, you know, the sides of my hip are sore.
That's what overuse. But say you play golf every day, like my dad, or he used to, right. And he's doing, he's used to it, but something happened and either he got sick or he wasn't eating as much or something like that. Something like that. So something that he was used to, but now suddenly your body's capacity for it diminishes.
Then you have some repetitive strain, right? That's probably an example for the hip. It's, it's easier to do like elbow and wrist things for like people that work on, you know, the carpal tunnel, that tennis elbow, all that stuff that's repetitive, that's repetitive strain over time.
Oh, I have a good one. I treated a man that was a horseshoer. Shoed horses. Strong, strong big forearms, everything. Super busy. I do all the tests and strong, but it's pain and he'd been doing it for years and years and years, and that's what it was. Suddenly he was getting a little older, right?
He has other things he was doing in his life. And that was it. He was like, I've had years of this and why, why now? I feel like I'm strong enough. I'm like, you are. You just can't, your body is just saying, stop it. Yeah. Right. You have to take a break and he couldn't because, I don't know, maybe listeners are horse people, but if you know horse people, if they like somebody.
Rose: They keep going back.
Jarlo: They keep going back, right? They're not going to go somewhere new with their horses. The horses are like family and they spent a lot of money on them. So these farriers, they're going to use the same guy, right?
Rose: It's also like massage therapists, right? Like they get repetitive use injuries a lot, but it's really hard for them to stop working because that's their work.
Jarlo: Right. So that's why it's notorious for having what the two, three, four year longevity. Yeah, so that's repetitive strain.
Rose: Okay, great. So let's talk a little bit about squatting then. Because squatting, it requires a huge amount of hip strength and hip flexibility. There's a lot of misinformation out there about how deep you can squat, what your form should be.
Should your feet be turned out? Should they be parallel? Let's talk about this for a second, because I feel like a lot of injuries happen during squatting. There's a lot of questions around it, and we have a lot of squatting in our programs.
Jarlo: I think the first place is to talk about the difference between loaded and unloaded. Loaded and unloaded, meaning, do you have a weight on your back or are you carrying around things?
Whether it's a barbell or rucking or all of these things. There is a threshold of weight. And I don't want to say whether it's body weight or percentage of body weight, it just exists. Once you have a certain amount of weight loaded on you, that your technique and how you move in regards to your hips and a lot of other things has changed. It has to, right?
And then body weight only. You can do well, there's a lot more room for error. And again, it depends. Are you underweight, overweight. Disregarding that, that's what it is. You can do a lot of things, just body weight squatting and lunging and all of that. Not to say you can not think about your form and all that, but you have a lot of more margin for error than if you're, you have weight on your back. So that's the first thing. I think both of us have experienced that too.
Rose: Yes. For sure,
Jarlo: Yeah, I like to squat a lot. Yeah. I like to squat a lot. Barbell front squats, back squats, all that stuff. And you know, I've gone in programs and what I usually do is, I cycle through. I do a couple of months a year around like, yeah, I'm going for it, right?
But before I used to do it like every day of the year. And then that's more likely to get these overuse injuries or kind of strain. So let's talk about that just really quick cause I know that most, some people, whoever's listening that might be a part of your routine. One of the things that people talk a lot about with the weighted squats is, Oh, cause your back, should your back round out?
Rose: Butt winking.
Jarlo: Butt winking. Or, what you mentioned earlier about my feet turned out, or straight ahead.
Rose: Should I get down to parallel with my legs?
Jarlo: Right. Well, let's go step by step. The foot turned out thing is because, in general the anatomy of the hip is that your feet are naturally turned out about, I don't know, I want to say anywhere from 10 to 25-30 degrees. It depends on you.
So one of the things is you stand tall. Your hip or your feet are about the width of your hips, and go ahead and point your toes straight ahead and then you can just go, is this comfortable? Right. For most people it's not. And it's more people's, not because of a lot of things either because, yeah, in general, we have a little bit, we should have a little bit of toes turned out for it to be considered neutral, like everything lined up. But you can put your feet straight ahead if you're flexible enough.
Rose: Like you can squat down with your feet really close together. Really low and keep your feet.
Jarlo: Right. And that doesn't mean my morphology is that, it's just I can do it. So this is an interesting thing too. Kelly Starrett talks about that. He likes, this might have changed, but I remember years ago he liked it straight ahead because he felt you could develop torque, you know, good strength through the hips that way.
Might have to ask him. So Kelly, if you're listening to this one, we'll ask you about it. But in general, a little bit of toe out is good. So you would go, and this is again, this can be both for body weight only and loaded. But definitely for loaded. You want to be thinking, have a little bit of toe out.
One of the things is go down, be standing, see what's comfortable with the toes in and toes out, and then also squat down as far as you can without weight and see where if that position is still good for you, then you can play with how wide apart they are and if you need to toe out even more. Cause that gets magnified and the more weight you put on it.
And people that that power will lift and weight lift know what I'm talking about here. Yeah. So there's that. Okay. Now, as far as how deep can you go, once your pelvis starts to round out, is it bad? Again, it depends on what you're used to. Like if you look at Olympic weightlifters, they do not give a shit.
They're going to do all the stuff they need to get under the bar and get it up and there. They're rounded out. Their ankles are caved in everything but they're used to it. Now is that optimal? Right? Optimal force generation? Probably not.
Rose: Probably not, but they're used to it. They've conditioned their body to do this.
Jarlo: But they're used to it and they've developed it. For us in general, or you know, the normal trainer, regular trainer, I don't think it's as much of an issue this, butt wink thing, unless you're squatting, like, you know, 500-600 pounds which likely or not.
But also it depends on what you're used to. You can't be throwing massive amounts of weight in there if your form isn't great. But, the butt wink thing. Yeah. Well, in general though, even with, again, this, look at all of these nuances here. If you have a lot of weight on your back, you don't need to squat all the way down, the whole ass to grass thing.
I can. But if you know you don't have that flexibility, it doesn't give you any benefit to go lower. It doesn't. Develop the flexibility, develop that first, and maybe you'll have to do that as a separate workout to actually get what you want out of it. But, you know, you have to reduce the weight or do all these things, but really you just have to go to parallel break, break parallel.
Rose: Yeah. I was just going to say, like you were saying, that you can do that. I have the flexibility to go down pretty low in my squat, but I just started lifting with the barbell recently. Again, I hadn't touched a lot of barbells in about four or five years, and I started back squatting again, and I, even though I can go down really low, when I was first starting again, if I would go down past a certain point, my hip would grab.
So I'd say a part of my adductor, a part of my hamstrings tighten really intensely. So even though I have that range of motion, I am not conditioned to do that.
Jarlo: And that's the overuse thing. You'll get it if you, if you keep going, you'll get it as long as you're being smart about it. So those two things are probably, the answer to those two things will probably take you and apply to a lot of other things through there.
Now, when we're talking about body weights, squats, and especially the way we do in our programs where it's not just you're just squatting like a thousand times in a row, but you're squatting into and out of different positions because we want to, we to, that's how you improve movement.
It's not that you repeat one thing, you know, two dozen times, and then do you do another thing two dozen times but you link them together, that's how you move better. Right? And so that takes into account a lot of a things where you won't get into the overuse issue because you're going to have variety in how you're moving.
Now, I'm not saying that means you can do these things for like hours at a time and not be sore. That's not true either, but it's more likely that you're going to give your joints and muscles a break in particular directions by changing over to another one. So you have that benefit as well as the benefit of actually improving how you move, which is in the transitions and then all of that.
Rose: So just like to give an example of this, this is, you mean like you're not just doing reps of squats, even just body weight squats. You're talking about like some of our locomotive patterns doing the Monkey or the Frogger, or maybe some of our transitional movements, like in our Vitamin program, our Mobius program where you're utilizing the squat, but it's not the activity.
Jarlo: Right, right. And so usually when we introduce people to what will be new movements in the program, whether it's a squat or a colt or, you know, a monkey or all that stuff. Yes, we do do a training session where you're just doing that one thing, but that's just to learn it right once and once you learn after a couple of times, you don't have to keep doing that.
You don't have to. You can introduce other things and that's what makes, that's what people are like, Oh, I like it. You have the variety. It's fun. Your playful movement. That's because we're not looking for maximal strength. We're not looking for maximal endurance. You know, those are totally different things than, in my opinion, knowing how to, learning and moving your body better.
And so that if we were going to say, well, what's GMB? Well, it's learning and knowing how to move your body better. It's not maximal. Strength is not maximum flexibility. Right, right. It's not maximum endurance. It's just enough so that you can do these things, these transitional movements, these playful locomotion, all of these things that, that help you move better, help you move better and and your normal activities and move better in, in all the sports and stuff you like to do.
Rose: And for some people who don't use those ranges of motion, very often, you are naturally going to develop more strength and flexibility just by the nature of doing them.
Jarlo: Right, absolutely. Absolutely. And that's what it is. But you can't say, Oh, you're going to be as strong as you possibly can doing our programs.
No, but it's also, we also say no, because that's not our intention. If you want to do that, you should be doing something else. You should be a powerlifting or weight lifting or whatever, but you can do our stuff too.
Rose: Right. I was just going to say, but use our stuff as cross training. Yeah, totally. All right, so I've got another couple things that come just from my role being on support and answering emails and, you know, fielding a lot of injury questions.
One thing that we get a lot of times is, say you're laying on your back and you're raising your leg up and down, just one of them, or making rotations with your leg. People get a popping noise. People are often really concerned about that and want to adjust that position. They often say it doesn't hurt, but it's just, you know, unnerving when you're joint adjusts like that.
Jarlo: Right. The not hurting part is key there. And so, okay here, I wrote an article about this. So you can Google it, GMB joint noises and snap crackle pop. This is interesting too, cause the first one, I don't even know why I wrote it for either, just for myself or for a friend in an email.
I think it was about 15, 16 years ago. I remember this distinctly because I was writing, my friend was over. She was like, Hey, what are you doing? I was like, Oh, yeah, I read this. And then, I think I was like 10 years ago, when we had a, or nine or whatever, we had GMB, I put out an article and it actually was one of the first ones out there that was actually, I felt was useful.
Either you have people going like, Oh, I won't give you arthritis. Or you had, Oh, this is, this is what popping means. But, anyway. That's one of the main, yeah, go ahead and look it up if you guys like, but one of the things that is a big deal is, is it painful or if it's not. If it's not painful, odds are it's fine.
If it is painful, then you might be looking at some, you know, joint damage, tissue damage, and definitely don't keep bumping yourself into that pain back and forth, back and forth. But there's all kinds of things that could have been, it could be, it could be just your normal kind of clicking and popping in the joint crepitus they call it, which is there's, you know, there's cartilage, just joint capsules and it makes all those noises.
Also, depending on your flexibility and all that stuff. It could be like, here in my elbow, I have the Omer nerve skip slips over. That's very common. And it changes, it changes on how big I am, right? Because, if I'm lifting, you know, I'm doing more weights and I'm eating more then my muscle changes.
Right? That kind of thing. That's something that you can't, that's the only thing you control. You can't stretch out of it. You can't do all that stuff in the hip in particular, there's the snapping hip thing, and the theory is that, that there's a hip tendon that goes back and forth. That's actually very common too.
I've seen it change with a stretching and strengthening exercise. Not to say that it will, but I have seen a change. Yeah. And that's another thing too, is like a lot of times when you, you start a program, ours or anything else, and you have some of this clicking and popping as you go through it. A lot of people say that goes away.
I've had that, and I've seen that even in patients, in the knees and the hips, they come to me and then we start doing stuff and then two or three weeks later, like, Oh, that, that thing is gone. Now, you know, whether it was their problem, or it was just kind of an ancillary thing. Sure. Yeah, the, I would go and read that article, but also just for right now, I'd be like, okay, if it's not painful, you're probably fine.
Just keep going through, be mindful of it and see what happens a few weeks later, especially when you first start something.
Rose: Great. I've got two more things for you. I know a little long on this, but, do you have advice for people who are super mobile in their hip and actually need stability and some of their pain comes from being too flexible.
Jarlo: Yeah, that's a good one too. You know, and this is again, mostly women, right? But also, so this is another thing too. We tend to go towards the things that we're really good at.
Rose: Yes, for sure.
Jarlo: If you're already flexible, then you probably like that. And then you go into things like the yoga or dance or these performance things.
And so in particular with mobility like that, that's the problem, you know? And I'm not saying, Oh, it's your fault, but that's what it is. And same thing if you were, it's the opposite thing, if you're strong. And you were like, yeah, that's like me and squatting. I just like doing it.
You're good at it and you get to want to get better. So that's one of the things too, the people that are hyper flexible. Joint instability and hypermobility, if you talk to a healthcare professional, is a very specific thing. Right? You have to, when you, when someone says you are hyper mobile and you have all these things, you fit the criteria you, they do on the tests on you.
So that is very different than say you are more flexible. Then you know, a few people next to you. You may or may or not be hyper mobile. So just to get that out of the way. But anyway, it usually comes down to that. You have to look at what you're doing regularly. And most likely the people that are more flexible or a hyper mobile, you know, they tend to be doing too much stretching already.
Rose: And a lot of times what I've seen with really flexible people that have sort of like hip pain is, is that it feels better from stretching. So they stretch more. But that's not ultimately solving their problem. It's making it a little worse.
Jarlo: Absolutely. And that's another thing too. And it's funny cause you know, I advocate stretching and we have all these programs and all that stuff, but it's not the answer to everything.
Stretching for me has always been to improve your range of motion for positions and activities you want to do that, but you got it right there, cause stretching does feel good. So on all of these things where they've done studies on stretching and all of these things, it actually doesn't prevent injury unless, unless you can't get into this position and say like in martial arts or rock climbing or whatever, then yeah, stretching is going to prevent injury.
Cause then you won't be over-stretching when you do that stuff. But in terms of like, does it help you if you stretched and do all these things or they help you not get injured when you're running, you know, doing sports? No, it doesn't. It doesn't, but it does feel good. It just, it does. It's part of the physiology of, of stretching, working on your tissues.
The endocrine, you know, endocannabinoid release. You know, the high you get from that, it feels good, but it's not necessarily what you should be doing, especially if you're a hyperflexible. Right, right. And also too, is, you can obviate some of that is if you stretch, but you also work on control in and out of that end range.
That's why we advocate, you know, the focus flexibility protocol where you're not just hanging out in the stretch, but then once you're, you know, you get into there, you're actively using your muscles to get into and out of it. So that's this sort of really specific strengthening. That helps. And most of the time when people are hyper flexible or hyper mobile or to the point where they get too much pain, it's just cause they're hanging out there.
Rose: Relaxed. Yeah. Great, that's super helpful. And then the last thing that I have for you, because it's another, it's another thing that we see. An email that comes in frequently is a lot of people that have lower back pain, see a lot of relief from doing hip mobility work. Why is that?
Jarlo: So, here's the thing that we mentioned earlier when we first started, the hip joint is supposed to be stable. Strong for lifting and carrying and all that. And the back. It's not that, like if you just look at the way the joints are, say, your hip for example, could say your hip, and this is all relative, your hip joint maybe as big as your fist, right?
And if your hip joint is as big as your fist relatively the small joints of your back and the spine, there's a lot of the joints in the spine, but they're as big as your knuckles. So right there you're seeing, you know, that this, the sheer size difference will kinda tell you, like how much strain they can put on there.
And so in general, we, when people have back pain is because they use their back too much. Either they overstretch it, and then, or they overstretch it and they're working on the joints that are too small, and then that's that repetitive and then overuse and they're weaker. And so when you do movements, when you should be using your hips for strength and movement, you know the whole hip hinge thing, right?
When you dead lift using your hips, not your back. So that was that one. Now also too, if your hips are tight. And you're trying to do certain movements, then that strain is going to be passed up to the back even more. So there's the strength thing, and then there's that flexibility thing where your hips, yeah, it should be strong. But if they're strong and mobile, they'll take so much strain off your back.
So just in general, again, there's lots of nuance to it, but that's, that's the case there. So yeah, we do see all the time, like people doing our hip mobility routine or doing our mobility work, FF and you know, the things and even locomotion. They're like, my hips feel better, stretched out, but then my back feels good. You see that all the time?
Rose: So our takeaways let's just summarize our very lengthy conversation today. We had planned this to be shorter, but
Jarlo: It's complicated.
Rose: It is complicated. The hips are really complicated, and a lot of people write to us about having issues with them. So in general, if you're having any kind of pain, definitely get it checked out by somebody, but also try our hip mobility sequence, nice and easy. Be gentle, add things and gradually see if it helps. And keep squatting. Also what we talked about a lot.
Jarlo: I think what a lot of it comes down to is gradually getting into something new. Right?
Rose: I mean, this is, we talk about this all the time. You and I, especially if you have injuries or you have pain, don't go crazy with whatever you're going to be trying to do to solve that problem.Be gradual, ease back into it. Don't go from zero to 100. Adjust based on how you feel.
Jarlo: Also, don't just stay at zero. Don't say, yeah, you're not gonna. Sorry. Yeah. That's the other extreme where you're like, Oh, I'll just try and rest it. Well, you know, after a few days, or even a week, unless again, unless you broke something or tore something or whatever, you know, you do need to be moving as soon as possible.
So again, this is nuance. There's a lot of this, a lot of stuff.
I think, I think that's good. We can talk about this a lot more. But again, we have a bunch of articles, you know, just Google, GMB, hips, we've got a lot of routines. If you want more issue than the pain, you know, look at the pain articles, also the joint noises, all that stuff. Or give us a shout. Drop a line [email protected] We'll be able to answer.
Rose: I'll probably be one of the people to answer you.
Jarlo: It'll probably will be Rose. We'll just forward everything to you.
Rose: Just write, Hey Rose, I need to talk about my hips.
Jarlo: All right, well thanks everybody for listening. Yeah, if you have any further questions, just let us know and we'll keep going. Thanks a lot. Thanks, Rose.
Be sure to catch the next episode by subscribing to the GMB Show:
The Future is in YOUR Hands!
Left to our own devices, we'd soon be churning out episodes on the sorry state of Mexican cuisine in Osaka. Answer these questions and tell us what you want to hear:
';