Ryan and Andy do some good-ol'-days-ing about their early years in Japan… BUT it's actually relevant. We promise!
Here's why: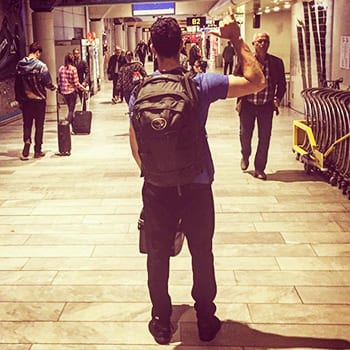 Moving to Japan to practice martial arts has had a huge impact on how we think about training, quality, and mastery.
Our experience as teachers is one of the most fundamental components of the GMB Method. Every seen one of our videos and thought "that's a good explanation?" Well, this is why.
Part of GMB is de-culturalizing movements that are most commonly seen in certain contexts and making them available to anyone.
We've got some good stories in this one – a couple of them are pretty embarrassing – and we also wax philosophical on what it all means.
Without Andy and Ryan both happening to live in Osaka circa 2008, there'd be no GMB, but at a much deeper level, without the experiences we talk about in this episode, we simply wouldn't have been capable of coming up with any of this.
Click here to see all our podcast episodes.
Resources mentioned
Transcript of How Living in Japan Shaped GMB's Method and Growth
Andy: Welcome to the Grab Me a Beer podcast today. Actually it should be bourbon. This episode is sponsored by I.W. Harper's 12 year.
Ryan: Nice.
Andy: Not actually sponsored. It's just what I happen to be drinking. And today we're going to be talking a little bit about, Ryan's and my experiences in Japan and how that is sort of fed into GMB and what we do and what we're about.
Ryan: Yeah. This could actually turn into about a week long podcast, but we're going to try and keep it short today. We've been in Japan for a while and, you sporadically off and on, me pretty much I can't escape. So, did some calculation the other day and I'm going on 25 years total in Japan, so over half of my lifetime I've been in Japan. And that's about all I got to say that.
Andy: Yeah. We'll get into the specifics of how and why you and I came here. But first, I also want to say that this could turn into both of us doing a lot of good old days in and, involuted stuff. But, I think that this is actually going to be really interesting to people that have followed our programs and people that appreciate the way that we teach and some of the things we focus on that are different from a lot of kind of fitness systems because being in Japan for both of us has very much tied to our martial arts background, which also Jarlo has a very long, history of martial arts. And that has made a huge impact on the way we teach and a lot of the decisions we've made about GMB. So, hopefully we'll maybe tell some funny stories. And also, some things that are useful to people too. We should say that yes we have been here for a long time. We're both married to Japanese women, have kids that are going to school in Japan. We speak Japanese. You a lot better than me, but we are still Americans. Whatever that means in this.
Ryan: Yeah, exactly. I will say my favorite que…well, not my favorite question when I always laugh about is when someone says, so when you going home anyway, I always thought that was funny. So-
Andy: Because you know what's home?
Ryan: Exactly. Right? I mean, my home is basically where my family is. So-
Andy: And you've lived here longer than you ever lived in the U S so-
Ryan: Exactly. So it cracks me up on like, yeah, I'm from Wichita, Kansas. And I love Wichita. I'm not going to be moving there anytime soon. Sorry, mom and dad. So, let's talk a little bit about your experience.
Andy: Okay.
Ryan: Like why the hell are you here man, why are you here?
Andy: I ask myself that very question every morning. So like most seven year olds in 1984, I watched the karate kid and absolutely had to start learning karate. So we found a dojo that was great with kids and it just so happen to be teaching, this are called title liked it, kept doing it. And then, in '93, when I was 16, I got the opportunity to compete in the world championships. So I came to Japan and man, that was just eye opening in every possible way. So came here, lost badly in all of the events in the tournament, but I made a lot of good friends and got the chance to come back a few times. So all through college anytime I could scrounge enough money, I would take a semester off and I would come to Japan for three months because that was the maximum tourist visa.
Andy: And what you realize when you do that is that man, it takes a long time to graduate college if you are traveling to foreign countries all the time. So I eventually realized that I liked it here and I wanted to stay longer. So I needed to get a job so I could stay longer. So I had to graduate so I could have a diploma so I could get a job teaching English. And I did that for a long time. And because of that, I live way out in the country way out like as far from the ocean as you can get in Japan. And I think that was one of the things that was like the best possible thing that could have happened to me is, I was in this town of like 4900 something people. And I learned a lot of self-reliance, spent a lot of time introspecting, found myself as it were, only then afterwards lose my mind and have to find it again many years later.
Andy: And if you ask my wife, it happens pretty much every week. But, that was really the first time I moved here and I continued to practice tae do, continued to learn Japanese. And at the end of that is when I met my future wife. So then came back and without getting into the whole story, basically just came back a few times, going back and forth and got married here. And then we moved to Osaka is of course when you and I started hanging out. And that is pretty much why GMB exists, because we randomly decided to move to Osaka.
Ryan: Yeah, that's kinda funny how things work out that way. Yeah?
Andy: Yeah.
Ryan: Oh, and you know, you moved to Hawaii, lived there, what, five years?
Andy: Eight.
Ryan: Eight fricking years. Holy crap.
Andy: I lived in Hawaii long enough to throw away all of my jackets and non flip flop shoes.
Ryan: Wow. And then recently moved back to-
Andy: Moved back to Tokyo.
Ryan: Yes. Which is very cool for us.
Andy: Yeah. So I mean I came here partly because of martial arts, but partly also because I just always had fun in Japan. With the aim specifically to study and practice.
Ryan: Yeah, I did. And so, I got interested in Aikido when I was in Witstly Kansas and went to Kent state university and my first year and that was the first time they ever offered Japanese. And I was like, wow, this is cool. My Japanese teacher took a liking to me and said, "Hey, you should do a home stay in Japan". And so I did a two month home stay in Takatsuki here in Osaka. And I studied Aikido for those two months and went back to Kent state and I was like, I want to be in Japan and I want to do martial art in Japan. And so I ended up, applying and getting, a foreign exchange scholarship of sorts.
Ryan: It was a very small college in the Northern part of Japan. And I got that up in the mountains and similar to you where you were out in the country. This is one of the best things that ever happened to me. You know, I remember the first week I always wanted to do Kendo. And I went to the Kendo wasn't even a dojo, I remember it was at that particular night, that night was at ticona gymnasium. And I walk in and, they're all doing Kendo. I get there late and they're all doing kendo. I was like, this is amazing. And a guy comes up to me and he said, Hey, just have a seat. And, the instructor, the head instructor will be with you and a little bit, and I was all excited and I was like, okay, this is a test.
Ryan: So I get to sit with my legs folded under and wait for him and everything. And some time passes, the instructor comes over, he's like, Hey man, what are you doing? He's like, just relax, just chill out. It's all good. And so, it was kind of my first, experience of realizing that the way that I thought things were actually not that way in Japan, at least not-
Andy: Right. So, this is actually a big thing I think we should mention like martial arts culture here is not what people think it is. Where I grew up, we stood in a straight line.
Ryan: Oh yeah, absolutely. It was the same in my Aikido place, you know? And it was like strict and it was that way. And I mean there of course you get that in Japan, I'm not saying you don't have that, but it's not quite the way that people think in the movies or whatnot, you know?
Andy: In Japan they typically have that in the university dojos.
Ryan: Absolutely.
Andy: In university classes there a lot of that, but-
Ryan: It's very strict that way but-
Andy: But to the adult its much more casual.
Ryan: Oh yeah. And you know the other thing too and is that whereas in the United States you've got instructors that open up their dojos and they're making money. In Japan, the top instructors, they have a day job and in the evening they teach judo or whatever martial arts they're doing. So very different. So you've got this group of very different guys and girls of course getting together. But again, they all have day jobs, unless they're a professional mixed martial artist or actually some of the Brazilian jujitsu schools, ex led schools now.
Ryan: But if you look at the typical Japanese judo, Kendo, aido, tae do, karate, anything. Now it's, going to be a martial arts complex. And the instructors pretty much doing it for free. But yeah, so an interesting thing though, Kindo was very gentlemanly in the sense that, I got the opportunity to train with the Japan self defence force and the police and that was very strict. But then I was also doing judo at the same time and I remember judo was so relaxed, it was completely like night and day. And the one thing that always cracked me up was that, we would just be killing it or they would be killing me basically on the mats. And then you take a break and all the instructors will go out and smoke a cigarette. Then they'd come back and come up on the mat.
Ryan: So I always thought that was pretty funny. Also drink like fish over here. Yeah, alcohol, right. You know that. And so that was another thing.
Andy: Case in point, last night I went and trained for two hours and then we went out for beers.
Ryan: That's how it is, man. Right?
Andy: Pretty much how it is.
Ryan: That's it. But after I graduated from college there and moved down to Osaka and I ended up working inside of a shrine. At that shrine had a martial arts complex and I worked there for eight years, where I got to work with all of the particular instructors there. So I did everything from karate to karate-
Andy: We are speaking English now, its all right.
Ryan: So everything from, like aikido that I told you I could use it to, whatnot. Here is the thing though is that I actually didn't continue to train judo there. The coolest thing is that I got to go train at the menato ku Keisatsu, which is basically the old sucker port judo, and so, I got to go train at the police team and they just kicked my ass. And then a couple of days a week I would go to Osaka castle and got to train there, which is the most phenomenal thing, white boy from Kansas walking up, and just this enormous castle. And I get to go to this-
Andy: Where are your samurai clothes in a Japanese castle?
Ryan: Its so funny. Right. You know, I got my pajamas on and it was cool, man. And I got to train with a lot of, high level people; they just kicked my ass literally like the entire time. I'll never claim that I was great at martial art, because there's just so many phenomenal people over here. But you and me both, we're very lucky because we had the opportunity to train with different people, different instructors, different styles.
Andy: Yeah. So, for me, that's like one of the most valuable things is, for us, since we didn't grow up here, we didn't start at our local dojo that was connected to our school or a university club and we didn't have those ties that we just kind of kept going with one group. We were here of our own volition and got the chance to move around. And because of that, have been able to practice with more people than most Japanese people ever get the chance to learn from other instructors.
Ryan: Absolutely.
Andy: Which has been really valuable.
Ryan: Another thing too is we actually took the time to learn the language and that was a huge thing. And by learning the language at least a relatively a high level of sorts, it opened up doors for us. A lot of people look at like, I'm just gonna learn this language and I want to master it. But I think you and I took a different view of that. Learning the language is simply a tool that was going to allow us to be able to do the other stuff we wanted to do. And that happened, right?
Andy: Yeah. So you mentioned earlier a home stay, and I think that this is really something that both of us were very lucky with, but today, I mean, partly it's internet and stuff like that. It's a lot easier to find hostels and hotels and there's Airbnb now. And so I think when a lot of people come to Japan as tourists, they know that they can find everything they need online. And they just do that stuff. And when we were coming here, when we were younger, we didn't have those options. But more than not having the options, we knew that we would need to do research and we would need to contact people.
Andy: And so we had to put in a lot of work early to find connections that would allow us to go different places. And the result was not just going to a lot of places, but that we both got the opportunity to spend time, very good long periods of time living in actual Japanese homes with families and getting immersed in the daily routines, which I think is hugely important. I mean, would you talk just a little bit about your home stay too and-
Ryan: Yeah, absolutely. So when I was-
Andy: I think that was just an amazing experience that most people-
Ryan: It was just absolutely crazy. And so, referring back to when I did a Kendo and sitting on the floor and the instructor came over, well, the head instructor, and I just clicked and just phenomenal guy who kisses sensei. And I ended up moving in and living with his family for some time. And that is really where I learned Japanese, like truly learn, I was studying in university and classes and whatever, but where I truly learned not just the language but the culture was by living with my instructor and his family. And that to me was enormous.
Ryan: And it was one of those things too where you just, can't go out and search for that. It just happens, right? And so you just simply have to prepare yourself and be open to doing things like that. And that's what it was. And so I remember I would be there and in the morning, you know, we'd get up and they would go off to work. I would go to my classes and then come back and immediately I would go to Kendo. And then like you mentioned, similar to you, it was like afterwards it was dinner and drinking copious amounts of alcohol. But that was the time that I really learned it. So I always had a notepad with me. And I was taking notes about the Japanese and there's things that I didn't know I would ask him. And that's really where I learned so much about Buddha so they actual the martial arts, the concepts, because I had this incredible instructor tip-
Andy: And you had the opportunity to stick with him.
Ryan: Yeah. Every single day.
Andy: Let the shields down.
Ryan: Exactly.
Andy: Pick his brain about anything you wanted to in the casual setting.
Ryan: And it was crazy. And that I think really was probably the most beneficial thing. And what really opened the doors for me for all of the martial art adventures that I've had in Japan, because hadn't not been for that. I wouldn't have worked at that shrine because I wouldn't have had that connection. And the language and the understanding of the Buddha and I wouldn't have become, the interpreter at that shrine for the other martial artists, the head instructors because I happen to have all of that knowledge and it wasn't me studying that knowledge. It was just by being there in jude. And that's the important thing and it comes back to everything we're doing also in GMV as well.
Ryan: It's just putting in the work, maybe not fully understanding exactly where you're going with it at that time, but letting it happen and being open to explore and see what happens. And then one day you wake up and you're like, Holy shit, I've got all this stuff now that not only I can do, but I kind of understand it and I got a better understanding of my body and what's going on. And I think that was a huge thing staying with me and so appreciative of that. As a matter of fact, I still in contact with just insane, right? Like, he's my Japanese father. And so we talk, he sends me a big, bottles of Sockeye and arise all the time and, you know, it's great. So-
Andy: That's super cool.
Ryan: Yeah.
Andy: So I think that's really important. I had similar experiences. I didn't study Japanese nearly as much as you, but because I was coming here with my martial arts connection and made friends and use those human to find my way rather than just trying to look it up on lonely planet or whatever. Whatever the kids use these days there was no Yelp or Apple maps. Right? So I would come over and I would get the chance to stay for like three weeks at some sensei's house and usually some very high ranking guy. So they were the ones that had been around a while and so I would; a lot of times I had never met these guys before, right? Open their homes and go and get to stay with them and practice. But it was exactly what you were saying is that chance to, ask questions and not just about martial arts but about anything and in a really casual setting and to learn to communicate with these people. I know we're not selling this very well to anybody that's listening to this. Coming to Japan and get drunk with old men. It's great.
Andy: That's not… but we learned a lot from that, which I think really translated into other things. And I think that excellent the thing that if there's a point of this, it's that, it's great that we have all these modern tools where you can come to Japan, you get off the plane at Narita, there's free wifi, you can connect your iPhone immediately. There's apps that will tell you exactly where to go. You can just come to Japan and just look at your iPhone for a week and your iPhone will tell you exactly what to do and you can keep your head down and occasionally raise it up to take a picture of a crazy Japanese sign or something like that's the way a lot of people seem to experience it now. And I think that they're missing a lot of what's actually good about Japan by not having a chance to interact with the people. And not just, for like five or six minutes, but for a few hours or a few days.
Andy: And I think also something to add there too is that component of going into kind of blind, if you will, and not really know on what the hell is gonna happen. Because that's some scary shit right there, you know? I mean, hell, you and I are just like, I remember when I told my parents, I'm like, I'm going to Japan. They're like, all right. And it was like, okay. And it's not like you said, nowadays, my parents now love Japan and everything you could ever want to know about Japan is online. But back then it was just kind of okay. And went over there and I had no idea really what was going to happen. And-
Ryan: Well, in '98 I would like once a week I would be able to get access to a computer to email my mom to say I was still alive.
Andy: Well shit, I was still using the phone because like where I was at the university, I was at the college they had computers but the internet shit because I'm like 72 years old. But anyway, yeah. I want to say though like kind of leading in now. So this is something and being able to have that connection with my instructor and you with the other instructors and doing this not in our native language also forced us to look beyond simply saying maybe what we want. We had to get creative. Yeah. We didn't have that level of vocabulary where we could effectively communicate what we wanted to at that particular time. So we were forced to use what we had in order to communicate what we wanted and what we trying to do. And I think thanks to that, it really changed the way that we thought about problem solving and communicating with other people. Not that we're like, I'm not like the best communicator in the world, but the thing is I'm pretty good at getting my point across when I need to. Whether that be in English or Japanese or whatever.
Andy: And this played I think a huge part in how we not only set up GMB or how we teach it, but how we actually kind of look at everything else in our life.
Ryan: Sure, I mean when you're communicating in your native language, you take a lot of things for granted. And one of the things that we've been able to do is not just learning to be creative and saying what we want to say, but we've also had to learn how to listen a lot more closely. To try to get the layers of meaning beyond the words too. Something that also I think has made a big impact on GMB. I don't know who's listening to this, if you've ever emailed GMB, you know that we have a really cool group of people that is answering our emails.
Ryan: Most of them are GMB trainers. All of them have spent so much time reading questions and people situations and really trying… and this is what I'm getting to is not just answering the question that people have, but really trying to get to what they're communicating behind that and listening, even though it's reading, but listening at a deeper level. And I think that this is something that we learned as teachers too, that why that is so important. And so, being able to be here and learn another language and learn to communicate in another language is probably sort of subtly influenced the way that we approach a lot of the ways that we interact with our clients here.
Andy: Absolutely.
Ryan: So, yeah, let's talk about, bringing it up to date some of the things. So that was when we were younger and now we're probably a lot less interesting because we're married, we have kids, we do GMB all day. We're not just playing Ninja all day like we used to.
Andy: True. Very true.
Ryan: So there's probably not as much to say about things that are uniquely Japan. And this is also an interesting thing is we've lived here so long that a lot of people are like, Oh, Japan, fascinating to me.And we're just like, yeah, I don't know. I don't see it because it's just normal to us now.
Andy: Yeah, it's the typical question. It's like, I really love getting messages from other people. And one of the most common questions I get is what's it like living in Japan? And just like what you said, it's kind of like a wig on house in the call he needs like anywhere else in the world except. Crazy ass TV programs. I guess she could set it up or anywhere.
Ryan: The TV is probably the most uniquely Japanese thing. Yeah.
Andy: It's, yeah, pretty wild.
Ryan: Yeah. But as far as where we are right now, it's like a lot of things change and not just getting married, but especially having kids. Changes a lot. And I think about this a lot where, I didn't think I was ever gonna get married and no kids, what are you talking about Judo, martial art. I'm going to be the best. That's where I was. And you know, back then I was fucking intense.
Andy: You were a little serious.
Ryan: No I'm like, this mirror. And thanks to my wife thanks to my kids I've chilled out a little bit. Just a little bit, but you-
Andy: Whatever deities happened to be up there for that.
Ryan: Yeah. Right. It was like, before you know me, it used to be like, how can I take this guy down while now it's more like, okay, someone comes in and the first thing I think is like, okay, how can I help this person? And I think, that's a pretty good shift but, looking at being married and having kids and you and I both are, Momoko your daughter, she speaks, English and Japanese, my kids pretend that they don't understand English, but-
Andy: They're so bad at pretending to, like I totally saw your head whip around, don't pretend like you don't know what I'm saying.
Ryan: But it goes back to that communication, you know? And it's really cool that, that we're able to have our kids too, to learn from as well. And so again, that transfers back to us being hopefully better teachers. And so, being able to communicate in a way where even though our kids ignoring us half the time, there's still learning a little bit from us. So that's a great thing.
Andy: And I don't think that's unique to Japan at all.
Ryan: Oh, absolutely not. Right.
Andy: So, yeah, let's talk about how some of this has influenced GMB because I think that's really interesting. You're telling me about your family and my family too. Obviously one thing that's really important to us is that our families can live where they want to live. Right. And so for us to be here, we're both US citizens, so we still have to have visas stay updated. You've been here for almost 25 years now and you still have to go every handful of years and get your things stamped and everything. It's just one of those things-
Ryan: Yeah. Interesting enough I'm not a permanent resident. A lot of people asked me about that too. I'm not, it's just in my world right now. It's just whatever. It makes no difference between me. I'm on a permanent resident visa or a spouse visa and you know something else too. I mean, and you mentioned the home thing – it really doesn't matter where we live in the world. It doesn't. Our home is where our family is. It just happens that we are currently in Japan. Yeah.
Andy: And this is one of the things that is why GMB is so focused on teaching online instead of setting up gyms or doing seminars, traveling around the world, teaching seminars, you know, we can travel if we want to, but we also us and Jarlo too. We have families that we want to spend our time with rather than being in a different country every couple of weeks.
Ryan: Absolutely, that's why I don't teach as many seminars anymore. That's exactly what it is. And I can be a better version of myself for more people by actually not traveling and doing seminars.
Andy: Yeah. And so that's allowed us to really focus on knowing that, okay, we're going to be focused on teaching online. So what does that mean and how can we do that better? I know anybody listening to this, you're going to this, you're not going to believe this, but back when we started GMB, putting video on the internet was not easy. It was not cheap. It was not easy at all. Now you just take something on your phone, you upload it to somewhere and everyone can watch it 10 seconds later. Back in the day, man we'd had to take these videos, we'd have to edit them down. We'd have to figure out, we have to compress the quality as low as possible because internet speeds were so low. Then we'd have to deal with the server. We'd have to find a player, host the player on the server, put that on a website, all this stuff.
Andy: A lot of the things that we do with our programs right now, there was no… well there was Netflix, but there was not Netflix as we know it now then. Right? YouTube was not as easy to use. There weren't as many options. And so a lot of the things we're doing were because we were trying to figure out how to be the best we could at teaching online. And there weren't a lot of people doing that at the time. So we had to really fly by the seat of our pants and just try to find ways to coach online. So, we came up with our method in large part because of the realities of not being in the same room with somebody and figuring out what's the most important thing this person needs to do. Do they need to do 10 reps of whatever or do they just really need to focus on keeping their back straight and do a few good reps, however many that number is.
Andy: So a lot of the idiosyncrasies of like GMB programming too come from the fact that we've always been focused on teaching in a situation where we're not in the same place. We have been focused on online teaching for this, so we're not trying to translate a seminar methods and take a seminar video and put it on the internet. And assume that's going to be good enough for somebody learning this by themselves at home. So that's one huge thing that, has been a part of us being in Japan and Jarloe being in Hawaii and Seattle and then me being in Hawaii and it's all being in different places.
Ryan: And the other thing, just looking at another way too is, that's also helped us to focus on the method. And so rather than just looking at specific movements and this is where I think, in the very beginning, I know in the very beginning it was us showing these movements like, that was the thing, and yes, we had the programming. Yes, we did it in a specific way. But really now it's more along the lines of, okay, the movements are there, but let's look at the actual method and our backgrounds in martial art also by being in Japan Jarlo's background of physical therapy led to the five 5Ps that we use for programming. And for any of you martial arts out there, you might look at the five Ps and go, wow, that feels very familiar. Well it should because really that's what you'll find pretty much in martial arts-
Andy: Just specify that it's prep, practice, play, push and ponder. So in Japanese martial arts especially, you always have a beginning and an ending. You always have an opening and a closing, different levels of formality, but you always start, you don't just kind of wander in and do things. Everyone starts together. So this and then you prepare, you might do some warming up exercises, we might do something else, but there's always an agreement of, we are preparing and we're not just warming up the body, but we're getting the mind ready. So in GMB, that's why we call it, prep instead of warm out because we don't want people just focused on the body part. It's how you're thinking about what you're trying to get out of this session. Right? And then-
Ryan: Can we go even a little deeper on that. Just have an example… I can say this for every single martial art, Japanese martial art that I've trained over here in Japan, it's always been where exactly what you say. There's a time. Okay. And everyone gets there early and they do a little bit of their own warming up then they have the big Tyco, the drum, they hit that drum. Everybody comes together and you sit and you meditate for just a little bit. Then you start warm up. You're prepping the mind and getting the mind and spirit ready to do the tasks. And so what you were going to say next? So practice. So yeah, go ahead. Yeah.
Andy: And so without specify going through each step here though, all of these things came from, your martial arts practice and also different influences as well. But I think that's really key. And the other thing is that when you're practicing a martial art, a lot of people now you ask them why, why are you training? And they're like, Oh, I want to be strong or I want to be harder to kill, or I want to have the endurance to do whatever. And those are all good things. But those are based on, getting an outcome. Getting an outcome that is, some part of your identity and what you are. But when you're practicing a martial art, usually you're just practicing.
Andy: The focus is on the actual practice being in that moment and just doing the best practice you can. You're not practicing a thousand kicks so that you can have the energy to do a thousand kicks because that doesn't mean Jack shit. Right. No martial artists thinks doing a thousand kicks is important, but every martial artist knows that doing a thousand kicks is important.
Ryan: Exactly. So it's that outcome versus the performance based and performance based is what we want.
Andy: And so we do all these things, in karate there's the kata and people's, Oh, condos. Just like a dance. It doesn't mean anything. Well, in a lot of respects, it might not. If your goal is to be the best fighter in a particular sport, that's not what kata is for, but the content gives you a chance to practice different forms and different movements, many times to the point where it's unconscious.
Andy: You don't have to think about them. It ingrains these movements and the sequences of movements into you and you just do them and the idea isn't to get a result from it. The idea is that by practicing you are making yourself better at practicing and you are making yourself better at being in that moment and doing those things. I think that that's a huge thing when we talk about, what we want for our clients in GMB, it's not so much that we want them to be able to, carry, carry 40 pounds up the Hill for 30 minutes or run five kilometers or whatever arbitrary metrics people have for fitness. We want them to be able to get down into the moment and experience what they're needing to experience, do what they want to be able to do and learn how to make their body follow along for the ride on whatever kind of physical task is happening.
Andy: And I know that sounds really vague, but the thing is the more you practice, the better you get at being able to use your body as it is. So yes, you do get stronger, you do build endurance, you do build flexibility, but at the same time, you're not just like building up a store of flexibility that you can spend somehow. You're learning how to control and use the flexibility that you have. And it's super important. And that kind of focus on practice is something that you don't really see in fitness too much.
Ryan: And like, that's why it's so important. Yeah. Sorry to interrupt, but just like, just like in martial art, it's not about throwing out, as many punches as you can. It's about the quality of each punch that you throw. It's the quality of each hold that you're performing in judo. It's the quality of that throw. It's, not just how much, it's how well, and that's why it's performance based and not just looking at outcome-based. Did you do a thousand throws today? Great. Okay. How many of those throws were quality throws? Well, I did about a hundred really, really good throws. Okay, great. The rest of them are shit. So you're practicing shitty throws. And so that's why similar to the martial art and what we're doing in GMB is we're focusing on the quality of each movement. I like to say, just show me one beautiful wrap and then do it again. And that's where this kind of comes from. And so with, Andy and me and Jarlo, that's ingrained in our minds from martial art, thanks to Martial arts.
Andy: So if you compete in a tournament in Japan, and let's say you win, so people will congratulate you and they'll say, good job, but no one will ever praise you for winning. No one ever say you're great because you won. But even if you lost, let's say you got one really beautiful point, people will come up to you and say, that was a beautiful throw.
Ryan: Exactly. That's huge.
Andy: That's what's valued in the martial art culture. A lot of it, especially Japanese. So that's one of the reasons for our focus on that. The other thing is basics, we talk about this all the time. The basics are not sexy, but they're basic for a reason, right? And you don't graduate from them. You never get to the point where you don't need to do the basics. You look at like Ryan, you were talking earlier about instructors that have been teaching for 30, 40 years, three to five times a week for free. Right? These guys have spend more time on the mat than like anybody.
Andy: And what do they do every time the same warm up they've done for 40 years. They
do the same, throws the same techniques, the same basics as everyone. They are not too advanced to learn from doing the same basics because they know they can do this basics more beautifully. Get better at them still and by practicing them, they're also teaching the people around them to value that practice.
Ryan: I want to tell a story real quick because this kind of mind map. So this, reminded me. So my instructor who kisses Sansei is, one of the highest ranking guys at the time when I was there. So I remember going to my very first, Kendo match and I was nervous as hell and I wasn't a black belt at the time, but I was against a third degree black belt. Okay. And the guy knew, I mean he just knew and he just crushed me. But, he did it in a way that didn't embarrass me. Right? Which was amazing. But the coolest thing that at the time I didn't quite understand until later was my instructor also competed. He was up against a guy and I remember they stood up and right when their swords touched right at that moment, my instructor put a sword down and he bowed and he walked off and everybody just started clapping. I was like, what the hell just happened?
Ryan: I had no idea. My instructor, when he later people were talking about it, was that my instructor realized that his opponent was at a place where he learned all he needed to know in terms of, he realized that this guy was at such a high level compared to himself, that just the basic position, the way he was standing, holding himself in place to sort it against my instructors, told him basically, you're done. And the thing was is it wasn't that my instructor gave up. It was the respect and thank you so much for even crossing swords with me. And he backed away compared to this guy who was up against this guy was well above me. He's third degree and I'm just like… wasn't working. So what I mean is that I'll never forget that. That was like at the time again, I had no idea what was going on. But later when I learned about that, I was just like, Holy shit.
Andy: But this is a thing not that, I don't want to go too much into this, but this is when people talk about the spirit of martial arts and stuff. Its not some mystical thing. But what's valued is not just being good or doing your best, but it's also being confident enough and having the grace and class as a member of society, as a human to respect the other person. And if somebody is like, trying to steal your wallet or something, I'm not saying that you should like kneel down and bow to them before you kick their ass or anything like that. But in general though, that's the thing. If there's any like the spirit of martial arts, you and your opponent both have the ability to take a life, let's say at the real warrior level. Right? And you have to respect that in the other person. And I think that's super cool and key and the thing that is really hard to grasp. So let's wrap things up.
Ryan: Yeah, let's wrap it up. Yeah. Good.
Andy: Key points here are that I think we both came here with like not a lot of expectations, not a lot of information, no apps telling us like what time to arrive at the place to get the best view but we were open to a lot of stuff and we put ourselves in situations where we got to learn from really, amazing people that we probably would not have met if it weren't for trying to make some human connections.
Ryan: Yeah, absolutely. And, actually being humble to be honest. I mean, going into things with an open mind and not coming to Japan going, "why the hell don't they do it this way," In America they do it this way. We put those to aside and all we were doing is trying to be in that moment trying to experience and learn, use it as a learning experience. And if you get stuck in thinking that things need to be a particular way, then you're stalling wherever it is you want to go or what you hope to be. So take some of those blinders off, be open to what's going on and also enjoy it. So-
Andy: Yeah. And also, in terms of just practicing GMB and kind of, the biggest takeaway from all this, I guess is the way we approach martial art isn't to… I mean, yes, you want to be able to win, but it's also that you're trying to achieve some degree of mastery. And this is a process and this is a thing that takes practice and it's really easy to have fitness goals that are, I want to lose x pounds or I want to run a marathon or whatever. And there's nothing wrong with those things. But in the meantime and beyond that too, what is the meaning of it?
Andy: And this is the thing that GMB is really founded on is that the practice towards trying to, develop some measure of mastery. That is something that's very important to us. And so being able to practice and focus in that moment on just getting a little bit better is one of the things that's still so core to the way we teach and what we hope for all of our people to experience. And that really comes from, martial arts and specifically a lot of Japanese martial art experience here.
Ryan: Yeah, that's really good.
Andy: Alright, bonus tip, Ryan.
Ryan: Bonus tip. So, earlier we talked about outcome based versus performance based and you just also mentioned the fact of like looking at that practice. So little tip for you, have something kind of a play around with if you will. So, think about three movements. Okay. That you do. Like let's say, for those of you listening, you know maybe you know about the bear elements. We have the bear, monkey and the Frog. You probably only played around with those movements, but I want to challenge you to think of it and do it this way. Keep yourself from performing movements that you've already tried before. So their transitions between the bear, the monkey and the frog. So don't do that. Force yourself to think of a different way to communicate those movements if you will.
Ryan: If you remember, I mentioned earlier that Andy and I had limited vocabulary when we first came to Japan. So we had to figure out a different way to say what we wanted to get across. So similarly, don't focus on that outcome so much as the performance. How well are you doing, saying, moving the way that you are and by focusing on the quality of what you're doing, then you'll be able to communicate what you want to do. And so again, look at the bear and monkey Frog or whatever, three movements that you want to string together, but think of a new way, a way that you might not have done before. Play around with that. That's your bonus tip and challenge of sorts for you today.
Andy: Cool. All right, well, thank you for listening, watching, being who you are.
Ryan: Yes.
Andy: Cheers!
Be sure to catch the next episode by subscribing to the GMB Show:
The Future is in YOUR Hands!
Left to our own devices, we'd soon be churning out episodes on the sorry state of Mexican cuisine in Osaka. Answer these questions and tell us what you want to hear:
';