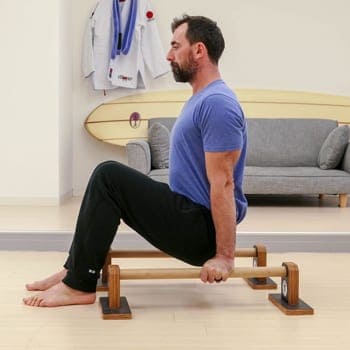 You may have noticed that we include L-sits in every single one of our core programs. You could say GMB and the L-sit have a long, dramatic love affair going on.
But if you've ever tried to do an L-sit, you know it's really freaking tough and you may not understand why we love it so damn much.
Well, the time has finally come for Ryan and Andy to profess their true feelings for the L-sit, and explain why it's so great.
So get'yer ears on and listen up, because this is one you won't want to miss!
(01:15) Ryan and Andy are excellent multitaskers.
(01:43) Newsflash: We are a real business!
(02:40) Okay, some clarification is in order: We are NOT a gym located in Honolulu. 
(04:25) How long has Ryan been coaching people?
(06:57) We include the L-sit in pretty much all of our programs, but we also have some excellent free information on the L-sit.
(07:49) What muscle does the L-sit work? 
(08:27) There is no one correct way to do anything. (See our recent podcast on this topic)
(11:40) What are the components of a really solid L-sit?
(14:50) The higher you can get in the L-sit, the easier it will be to transition to moves like the V-sit.
(16:57) "By focusing on these things within the L-sit, it's actually going to help you with everything else that you do because it's gonna teach that full body communication."
(22:27) What's the difference between doing an L-sit on the floor vs. the p-bars vs. the rings?
Be sure to catch the next episode by subscribing to the GMB Show:
The Future is in YOUR Hands!
Left to our own devices, we'd soon be churning out episodes on the sorry state of Mexican cuisine in Osaka. Answer these questions and tell us what you want to hear:
';