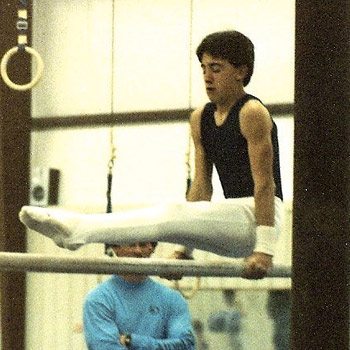 In this special episode, Ryan interviews Mark Folger, USA National Coach of the Year (2009), and Ryan's gymnastics coach from back in the day.
Mark has had a tremendous influence on Ryan's movement journey, and many of our approaches to skill building stem from what he taught Ryan early on. He has also coached top level gymnasts for many years, so his knowledge of best skill building practices can't be beat.
Here's a snippet of Mark's philosophy on skill building:
You don't have to be perfect at one level to move to the next, but you do need to have enough mastery that you're ready for the next level.
If you are looking to build incredible bodyweight skill, Mark Folger is the perfect person to learn from. He knows everything there is to know about attaining skills in a safe and effective manner.
Here's what we covered in this episode:
(00:45) When we're training skills, what kind of sets and reps should we focus on in order to progress
(01:47) Focus on mastery, not on the numbers.
(02:38) You need to be close to mastery of one skill to move on to the next progression.

Ryan: Hey. Welcome to another episode of the GMB Fitness Skills Show. Today, very special guest. My mentor, my good friend, my former gymnastics coach Mark Folger. Mark was a USA National Coach of the Year in 2009, has a huge gym here in Wichita, Kansas and we're going to be talking about a lot in the show today. Let's get started.

[Music]

Ryan: All right. So there are tons of questions that of course I want to ask Mark but today we're going to talk about something that a lot of you have asked me about and that is, "When we're training skills, what kind of sets and reps should we be focusing on in order to train or in order to progress with those skills?"

Well, I talk about this a lot as far as rather than focusing on the sets and reps, just keep doing the skill until you get it. You're using auto regulation. But today, because we're here with Mark, I want to have Mark explain a little bit about how he works skills with his girls' team.

Mark: Yeah, my thought on skills and reps and all those kinds of things is not so much quantity as much as quality. What I'm looking for is mastery of the skill and for one gymnast, that might take a lot of reps and for another gymnast, it may not take quite so many. So when it comes to determining reps, those kinds of things, what I'm looking for is mastery of the skill. I will determine reps based on what the girls need.

Now at some point, safety issues and consistency, you have to do a lot of reps obviously. But as the skills are mastered, we don't do quite as many reps. We try to move on to the next progression. So it's more about mastery than it is about how many numbers you've done.

Ryan: I think that's a really great point and something of course that we talk about all the time and that's thanks to you with your influence of teaching me. But sometimes it's – well, in fact all the time it's tough to tell a person exactly how many sets of reps they should be doing because it's all individual.

[Music]

Ryan: You also mentioned something else. You want to get into the next progression. So when do you know that a person is ready to get to another progression?

Mark: I've gone up and down on this. There was a time where I tried moving too fast and that doesn't work, because you're not quite ready for that next progression. There was a time where I waited too long and I expected too much mastery at one skill before I moved to the next. So it has got to be somewhere in between that you need to be close to mastery of one skill before you move to the next or you're just not going to be successful in the next skill. So to put a number on it, I would say 80 to 90 percent mastery. I don't know how you always measure that.

Ryan: Sure.

Mark: You can't always. It's very subjective but a coach can know. A coach gets to know. When you get close to mastering that skill, it's time to move to the next step. If there's anything wrong with the previous skill, you don't want to move to the next step because those errors are just going to be compounded when you move into more difficulty.

Ryan: So you got to have that foundation down right.

Mark: Got to have the foundation. You've got to build one step at a time. If you're building a house of bricks, you can't leave out a layer or you can't leave out a brick here or a brick there. Pretty soon the whole thing crumbles. So you have to keep building layer by layer and you don't have to be perfect at one level before you move to the next but you do need to have enough mastery that the next level is – you're ready to be there.

Ryan: I think that's the [0:03:29] [Indiscernible] that you don't have to be perfect at it and like you said, about 80 percent. Maybe if we want to throw a number which I don't really like to do but good is good enough for sometimes.

Mark: Right. It depends on what you're doing. For me, I'm coaching competitive gymnasts. They go to me. They're being judged. So closer to perfect is what we're looking for at least in the skills that we're competing.

If you're in it just for exercise or having fun, for the joy of balancing and doing gymnastics or just whatever, perfection isn't as important. What's important is you do the skill well enough that you can safely move to the next progression and do that with success. We're all more motivated when we do things successfully.

Ryan: Yeah.

Mark: If we move ahead too fast, then we start sort of beating our head against the wall. We never have success. Then it's no fun anymore.

[Music]

Ryan: So Mark, you mentioned success. Can we talk a little bit more about success and what is success and why is it important? You said it's important. But why?

Mark: It is important. I teach a class at Wichita State University here in motivation. It's graduate level class and the more I sort of delve into that – of course I've studied motivation my whole life dealing with kids mainly. The more I've come to realize that all these theories and all these things that you get from doing [0:04:54] [Inaudible] it all comes down to one thing, being successful. Success increases motivation and so as a coach, one of my catchphrases is I need to develop or create opportunities for my gymnast to be successful. That's what coaching is about. It has to do with setting goals in the right progressions. It has to do with all that kind of stuff. It has to do with feedback. I mean motivation is what it is.

Ryan: Sure.

Mark: It's communication. It's feedback. It's the whole nine yards. But for the most part, my job is to create opportunities for my kids to be successful and when they're successful at that level, I create the next opportunity and then the next opportunity. If I do that right, my kids will be continually motivated. They will be having fun. They will be loving the sport.

Ryan: Nice.

Mark: That's what it's all about.

Ryan: So rather than just throwing them into the deep end and say good luck, you set them up gradually and at the right progression for them to be able to be successful.

Mark: Exactly.

Ryan: Cool.

Mark: It has been done. If I had a gym with 2000 kids enrolled, I could throw them all in the deep end and I would come out the other side with 20 or 30 great gymnasts.

Ryan: Sure, sure, sure.

Mark: But what have I done for the other 1980 kids?

Ryan: That's so refreshing to hear that you're not just about just cranking people out.

Mark: The greatest successes we've had in this gym have nothing to do – well, a lot of times, they're the top level kids. But so many times, the memories that stick with me at the end of the season are the little guys, the girl that struggled getting that second back handspring, the girl that I thought would never get that second back handspring and one day I hear the team cheering and I look over at floor and there she is doing it, where in my mind I thought this girl may never get it.

Those are the real success stories, because that girl learned so much from that. She's not going to make the Olympics. She may not ever get to the highest level of our sport but she learned the process of success through learning that second back handspring. That will carry over with her.

Ryan: She enjoyed it.

Mark: Yeah, she learned it. This was hard but I did these steps and I made it. That carries over.

Ryan: Plus she had a good coach and that makes a big difference too, right?

[Music]

Ryan: OK. So this is why I'm doing what I'm doing today. If it weren't for Mark, I wouldn't be sitting here in front of the camera obviously with you. But coaching people and doing what I do. So that's a big part of it and I just remembered when I was young and we would come in every single day and train and then on the weekends, we would go to our gymnastics meets. I mean it was fun and a big reason why is because Mark would set us up for success and I remember that. I wasn't a great gymnast. I wasn't. That's perfectly fine but I just loved what I did and I stuck with it for many, many years. Yeah.

Mark: You did. That's the key. Whether you're a great gymnast or not, that's all relative. One great gymnast in a different setting is not so great. So that's all relative. The key is that you enjoyed it and you're still doing a lot of …

Ryan: I'm still doing it today.

Mark: You're helping other people benefit from it. So that's getting in deeper probably than you want to hear but my thought as a coach is that the things I teach my gymnasts and my staff should go through them to other people, so that my belief and my teachings go places I don't even know that they're going.

Ryan: Spreading the love basically.

Mark: Spreading that around. If something I do right goes through somebody from my staff and my team on to somebody else, great. That's kind of what I'm looking for.

Ryan: Even though everything you do is trademarked, and you will sue anybody who – I'm just kidding, I'm just kidding, I'm just kidding.

Mark: That's too much work.

Ryan: Yeah. All right. Well, thanks so much for doing this.

Mark: You're welcome.

Ryan: It's always such a pleasure to hang out.

Mark: I always like it when you drop by.

Ryan: It's so much fun. So Mark, actually, every time I come back to Wichita, I've always got to say hi and in fact, we still keep in touch quite a bit.

[Music]

Ryan: Mark has got a couple of books out, some kids, some children's books. You want to talk a little bit about that?

Mark: It's called The Coach Series but right now there are only two books in it but they're written for pre-teen, maybe to – well, probably mostly pre-teenage girls. They're just fictional stories. It's about – the first one is about a coach, kind of an older guy like me who sort of decides to semi-retire and he moves out by a lake and he comes across a bunch of kids in this small town that want to do gymnastics and have never had an opportunity. So he kind of helps them out with that and comes to find out one of these little girls is an excellent coach. So The Coach Series isn't about the old guy. It's about the little girl who is just a phenomenal gymnastics nut and turns into a coach at the age of 11 or 12, whatever.

Ryan: Cool.

Mark: Then the second book kind of continues with that and I've got a third one partly done. My other book is on the progressive motivation cycle which is what I teach in my class at school and that came from working with my staff, trying to develop a simple motivational model that they could use while they're in the gym.

You just kind of store it in the brain. It's so simple. It just goes in your mind. It really comes down to seven basic thoughts or basic terms that you can remember and it helps you continually motivate your kids to move forward. It helps you solve problems when there are issues with lack of motivation and it's so simple that the book is only 60 pages.

Ryan: I need that.

Mark: I don't know …

Ryan: I need that.

Mark: That's just an ebook and it's not a big one. But I wanted to put it out there so other people can use it and I lecture on that one quite a bit around the country and I get a lot of good response from people that are wanting that.

Ryan: We will go ahead and we're going to post the link to that. It's for sale, right?

Mark: They're all on Amazon.

Ryan: All on Amazon.com. So we will post a link where you can check all of those out. Mark has also got a blog. He hasn't updated in a while but that's OK.

Mark: Yeah, I need to do that.

Ryan: But hey listen, thank you again for letting me sit down and interview once again and after that –

Mark: You're always welcome.

Ryan: After this, I'm going to go play in the gym. So until next time, see you later.

[End of transcript]

Be sure to catch the next episode by subscribing to the GMB Show:

The Future is in YOUR Hands!

Left to our own devices, we'd soon be churning out episodes on the sorry state of Mexican cuisine in Osaka. Answer these questions and tell us what you want to hear:

';