Staying consistent with training is hard for most people. Between a job, a family, and other responsibilities, it can seem damn near impossible to not only fit in a workout, but to stay committed to getting stronger and building skills.
Mikey Killingback, one of our devoted Alpha Posse members, proves that it can be done.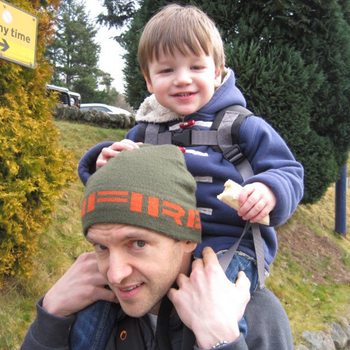 Despite a challenging job situation, he prioritizes his health so he can stay strong for his three young children.
I want to be able to keep up with [my kids] when they are older. (But, maybe it would be easier if I got the same 12 hours of sleep per night that they do!)
As you'll see below, Mikey's job situation makes his schedule a bit more challenging than most, but he doesn't let that get in his way. He knows his family depends on him, so he finds a way to make his health and strength a priority.
Plus, he has a lot of fun in the process!
Mikey's Challenge: Working Through Injuries (While on a Boat for a Month at a Time)
Yup, you read that correctly. Mikey works on a seabed survey boat for a month a time, taking him away from his family and plopping him in front of a computer for 12 hours a day during those periods.
At work, depending on the boat I am on, sometimes my workout options are quite restricted, mainly due to space constraints or risk of death (I'm being melodramatic there, much like my employers).

There is usually a gym on board, but even the thought of treadmills or stationary bikes makes me almost slip into a coma. Even when I don't have the option to use my rings or P-Barz though, I can usually manage some bodyweight exercises.
After sustaining an injury a number of years ago, Mikey tried working through it with other programs, but found the focus of those programs weren't what he needed.
One challenge I've had to deal with is an old injury – I have a dicky rib.

It popped out about about 8 years ago when it had a coming together with the rafters in my garage. Everything would have been fine if gravity hadn't joined the party, but, hey. It used to bother me a lot more, mainly because when I first got into bodyweight exercises I bought a couple of iffy courses.

They were quite popular, but that wasn't a reflection on their quality at all.

The instruction was poor and there was no mention of warm up/cool down or recovery at all. As I became wiser I realised this was a bad thing, and even realised some of the exercises weren't even doing me any good.

It doesn't bother me as much now, partly because I am much more aware of it, and partly because GMB has made me realise how important form is with their "Make it Pretty" mantra.
By changing his focus and paying closer attention to form and better body awareness, Mikey was able to move past a nagging injury and start building incredible strength.
The Results of Mikey's Focus on Building Strength and Body Awareness
Mikey's fitness journey started in a pretty typical manner, with various gym memberships, Men's Health subscriptions, and "the odd stupid piece of equipment from late night TV shopping.
But they were all really because I felt I should be doing something, and not because I wanted to do something. I didn't enjoy P.E. when I was at school, and certainly didn't enjoy being forced to play rugby, and I never did any martial arts or yoga.

I started looking for something that seemed more real to me, which led me to bodyweight exercises.

They appealed to me because using most of your muscles at once made more sense.

After finding GMB (and using their programs for a while), by late last Autumn I was stronger than I have ever been.
Mikey has worked through most of our programs by now, but going through Rings One and Rings Two sparked his love for the gymnastic rings.
Here's a video Mikey took after working with Rings One for just a couple months, demonstrated while at sea, no less:
One of the most common questions we hear is, "Where can I hang my rings?" Mikey's finding a place to hang his rings even on a ship shows his commitment to making things happen, and we hope it inspires you to be as creative as possible in getting your training done.
Mikey's Suggestions for Building Strength Regardless of Difficult Circumstances
Here's a few lessons that helped Mikey keep progressing:
1. Make sure you're enjoying the process
Since finding GMB my quest to find something better has ended. For the first time ever – fitness wise – I am completely happy with what I have, and that is for a number of reasons.

I wish I had realised years ago how important it was for me to do something I enjoy. I have never had as much fun working out as I have had following GMB programs. I love the progressions of the exercises. Adding extra skills is way more satisfying (and interesting) than just adding more weight to the same exercise.

The quality of the teaching is amazing. I have had face to face training that doesn't come up to the standard of GMB video instruction. And I love the teaching they devote to recovery too – like I already said, I think it is missing from some other similar programs.

Being in Alpha Posse is great too.
There's a lot to be said for approaching your training with a sense of humor. When your training is enjoyable, you're much more likely to stick with it – that just makes sense!
2. Find a strong support system
The level of support you get, the genuine sense of community, the camaraderie is… I don't know. Just saying it is great is doesn't do it justice!

Despite the fact I have never met any of the Posse members in person, I feel like we have become friends.

It's the same with the GMB crew as well, they all seem so genuine. To me, it is like everything they do as a company is primarily about helping people hit their fitness goals, rather than primarily being about making a buck.

In simple terms, they make me feel special.

And the cool skills I have learned from them make me feel special too. I love the fact that the gymnastics training isn't geared towards ultimate performance and competing. It changes your whole approach, and removes any pressure. Progress happens at whatever pace is right for you, and with maximum fun.
Wherever you are in your fitness journey, a strong support system can make all the difference in your progress.
3. Focus on what matters
There are never more than a couple of minutes go by in our house without somebody getting a laugh, and I love that.

Having young kids is some of the best comedy ever.

I love playing with them, I love their sense of wonder, and I love their energy.

As well as learning new GMB skills, I also love learning new things in general. I find the human brain fascinating, and get irked by people who think you can't learn new things as you get older. From my experience, some things are much easier to learn as you get older.

I love doing mechanical things for myself too. I recently spent 3 days replacing the brakes on my car, which started to feel like a pretty bad idea half way through. But the satisfaction I got, the money I saved (after all, I am Scottish), and the fact I knew it had been done properly made it all worthwhile in the end.
Whether or not you're a parent, we all have things that really matter to us, that motivate us to do the things we do. Focus on what matters to you, and use fitness as a way to be able to be better for what's most meaningful in your life.
Find What You Need to Do to Make Progress
It's very common to feel that that we are too busy to train. We all have hectic lives and time just seems to fly by.
But when you have people relying on you, like most of us do, being "too busy" can turn into an everyday thing and we'll never find the time to take care of ourselves. Difficult as it may be, we have to find a way to prioritize our health.
What you can learn from Mikey's story, though, is that, rather than focusing on his need to train and get stronger, he's embraced the enjoyment of the process. It's no longer just something he has to do to stay healthy, but something he wants to do.
Wherever you are in life, whatever your responsibilities are, what matters is finding enjoyable ways to stay healthy, so that you can keep doing it for the long run.
One of the biggest parts of Mikey's journey was training with the rings. The button below will give you all the details on our beginner rings training program, to set you up for long term training success.
Got a question or comment in this post?