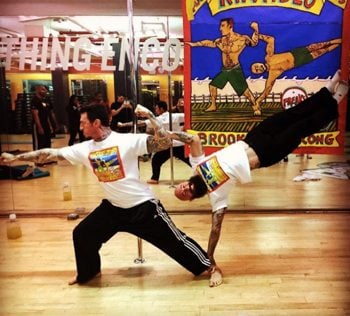 Danny Kavadlo is a force to be reckoned with in the bodyweight fitness industry. He and his brother Al run the Progressive Calisthenics Certification, and have both published several top selling books.
Just a few weeks ago, Danny released a new book called Diamond Cut Abs.
In this episode, Ryan interviews Danny about his new book, his training philosophy, and more.
Here's a snippet of what Danny had to say about Diamond Cut Abs:
This is the kind of book I wish was around when I was 18-years-old.
Here's what this episode will cover…
(02:01) How did Danny go from fitness enthusiast to fitness professional?
(03:07) Being 40 doesn't mean you have to stop getting better and stronger.
(10:42) The secret to success is paying attention to the details.
(12:30) How Danny approaches nutrition in his new book.
(13:41) The abs are not just vanity muscles, there is also a functional aspect to them.
Ryan: Hey everybody. Welcome to the show. On this show, I have a very special guest, Danny Kavadlo. Some time to sit down with me. We talked about life. We talked about training. We also talked about his new book.
So without further ado, let's go ahead and get into it and hear what Danny has to say.
[Music]
Ryan: Danny, Danny, what is up man? Thank you so much for being on here. How are you doing?
Danny: I am quite well. It is absolutely a pleasure to be speaking to you. It's a very, very, very, very extraordinarily exciting time. We just dropped a brand new book Diamond-Cut Abs, which unbelievably to me is in its third week at number one on Amazon for ab workout books, which is just completely mind-blowing for me.
We're just spreading the good word, teaching the calisthenics, teaching the training, making people strong out there and fighting the good fight, my man.
Ryan: Love it, man. Love it. I love how like for the interview today, you redid the hair just like you have in the Diamond-Cut Abs book. I love it. Looking good, man. Looking good.
Danny: Thank you …
Ryan: Let's have you tell us a little bit about – I know what you're all about. I've been following you for a while. You and your brother, crazy guys. You tell a little bit about – to our listeners out there what's the deal with Danny Kavadlo. What's going on with Danny?
I know that you're – a little bit of your background, mainly trainer. You got a really great home page by the way. For those of you, we will put the link up there but DannyTheTrainer.com.
Tell us a little bit about you Danny.
Danny: Well, just a little bit about me. I'm 40 years old. I've been practicing calisthenics and strength training since I was a kid. I came into a lot of different modalities of training, but it really wasn't until I became a dad when I was 31 that I became a fitness profession and that's when – although being a fitness enthusiast for so many years, when I became a dad, that's when I said, "You know what? This is something I really want to make my livelihood out of. I really want this to be my main contribution in life."
So that's really what happened with it and then I've been fortunate enough in the last few years to – with my brother Al Kavadlo, just been traveling the world, teaching the progressive calisthenics, working with the body weight training, keeping it basic, keeping it simple, harmonious, honest, strong, true, all that good stuff you could say about body weight.
So I've had a very – I've been very blessed these last couple of years for sure.
Ryan: Well, I got to tell you what. Something that draws me to you, not just the tattoos, but is – you know, you're a family guy. I absolutely love that and the other thing you mentioned too. You're 40 so we're about the same age and I'm not saying like we're old or anything like that. But it's so refreshing to see people like you just kicking ass out there and doing it when you're 40 and still continuing to go.
You look great. You move well. It's really cool, also that you're a dad.
[Music]
Ryan: I think it's great, you and Al traveling the world and teaching so many people about calisthenics. Quickly just a little bit, if you could tell us a little bit about what that entails. So what do you guys – I know through Dragon Door you guys are doing that. But if you could just tell us a little bit about what happens in one of the PCC events.
Danny: I would be happy to. Well just to give you a little background, to give your listeners a little bit of background in case they're not familiar with it, PCC or the Progressive Calisthenics Certification is based on the writings of a guy named Paul "Coach" Wade.
Now Paul Wade wrote a book called Convict Conditioning. It's basically considered by many people to be the body weight bible, the big six. He since wrote Convict Conditioning 2. He wrote a book called C-Mass which my brother and Al are on the cover [0:04:09] [Indiscernible] and he has a much anticipated book coming out called Explosive Calisthenics which is like the third in the Convict Conditioning series and I've seen the manuscript and it's mind-blowingly fantastic.
So the Progressive Calisthenics Certification was put together by Dragon Door with the teachings of Paul Wade. Now Paul Wade, for those of you that don't know him, has chosen a life of anonymity, for whatever his reasons are.
Ryan: Does he exist?
Danny: So that worked out great for Al and for me who get to instruct this certification. Let me just tell you, the manual from Paul Wade, it's over 600 pages. It's by far the most comprehensive and detailed body weight manual I've ever seen in my life. You got the three-day experience of working one-on-one with me and Al and many of the other PCC instructors and team leaders and it's really just – about the instruction, really to me the main amazing thing about it is just the solidarity and the camaraderie and you spent three days with people who were really on the same page in terms of fitness and life, in terms of minimalism and practice.
You just leave with a great life experience. I've had so many people who were at these workshops who were like, "Hey man, I'm the only one in my gym trying to do a muscle-up on the cable crossover machine." Well, they come to this thing and they meet 30 other people that are going through that same thing.
The other cool thing about it is that we have so many different disciplines. We have people with weight training backgrounds, lifting backgrounds, kettlebell backgrounds, callisthenic backgrounds, break dancing backgrounds, gymnastic backgrounds, power lifting backgrounds. So many different backgrounds coming to this thing that are just really passionate about the basic, basic, basic mechanics of movement.
So it's always a mind-blowing experience every time we have one for sure.
Ryan: And it's so cool. I mean you mentioned that this is what brings everyone together. So breaking down barriers and not even just say, "OK, it has got to be this way. It has got to be this way." It's just, "Let's get together and do this," and you guys are fun. I've seen all the pictures. I haven't been to one yet but I'm always checking out the photos. I know you guys have fun.
So one of your – one of the people you work with is Beth. She's just a sweetheart. I love her to death and just the people that you have also helping you out are quality people. I love it, that community aspect of it. It's so wonderful and I think so important, the positive attitude of it that you have.
Danny: Thanks Ryan.
Ryan: So I mean you guys are just so busy. It just cracks me up because it's always like I will talk to Al and I will be like, "Hey, Al. What's going on?" He's like, "Oh man, I wish we could talk, but I'm in Europe," or somewhere like that.
Danny: Yeah.
Ryan: And I just actually missed you guys, right? Because you guys were just in Europe. What was it? You got back when I actually think – when I left. You guys were in – was it Sweden?
Danny: We did two workshops. We did a PCC workshop in Haarlem, Holland at a place called Trainingscentrum Helena which is owned by this dude Martijn Bos. He's like the main Krav Maga guy outside of Israel. He's a trip.
Ryan: Cool.
Danny: And then we met up with a couple of calisthenics [0:07:29] [Indiscernible]. We met up with a couple of people over in Amsterdam and then we headed to Gothenburg, Sweden and we did another PCC event there.
Ryan: That's right. So you're not busy at all, which is what you're saying, which is really cool.
Danny: Oh, yeah, yeah.
Ryan: And the cool thing is though, I mean you do – and I like this in your – in Diamond-Cut Abs and you write a little bit about these too elsewhere. It's that lifestyle. It's taking care of your family. You know, big thing. Your beautiful wife and your son. How old is he right now?
Danny: My son is eight.
Ryan: He's eight. OK, yeah. So it's just so cool because I love it that in your book, you mentioned that too. It's that lifestyle. We're trying to create this lifestyle and instead of making it about, oh, I've – it's all about the workout. No, it's about doing stuff that you want to do in order to take care of your lifestyle. That to me just resonates so well. Of course at GMB, that's what we're about too.
[Music]
Ryan: What is going on as far as you right now? And I don't want to necessarily go into training aspects. But like how do you approach the way that you do things as far as working out? And again not programming or anything like that, but just kind of a broad overview of a way that you think that might help other people with their training.
It's like – to give an example for me, instead of always just thinking about sets and reps, I like to think about what you're doing right now, enjoying what you're doing, figuring out how you can explore with the movement and not just get so focused on the numbers that you lose track of why you're doing something. But that's just the example of me.
Danny: Well, that's a really good starting point right there is just focusing on the moment. We really have a tendency as a culture to be very, very, very goal-oriented and not very process-oriented. I know you're talking to me from Japan and that's a very, very different style of thought where you might tend to be more focused on the process much of the time and that more Eastern style of thought.
But over here, we're just go, go, go. We will do this many reps. We will lose that many pounds. We will have this many calories. We will drop this much weight in this much time. We're Office Weight Loss competitions at the water cooler. We're the Biggest Loser on the television. We're all these things. We're instant gratification.
So I mean I'm definitely with you in terms of just approaching the journey as the destination. Here we are. I'm doing this rep. I'm going to focus on doing the very best rep I can do and that's something I talk about in the book too, just the fundamentals of abdominal strength training. But it's really the fundamentals of strength training in general and it's the fundamentals of life.
Ryan: Yes.
Danny: It's being present in what you're doing. There are so many times in this world that people are doing an activity whether it's their workout or whether it's their job or whether it's a conversation and they're just kind of phoning it in and they're kind of doing a half-assed job.
In reality, I think the secret to success is just paying attention to those details. OK. If I was a personal trainer or a guy working out or a chef or a grocery bagger, I would be paying attention to putting those groceries in the bag in a really efficient and effective way and doing the best I can in that moment.
I think that that comes down to working out. But it comes down to everything, man. I mean we go into these gyms. We did a PCC event just this last weekend in Milwaukee. We did it at a place called Drench Fitness. This was a great gym. Not one place in the gym was there a clock or a monitor or a TV.
It was just bars. There was just space. There were just some boxes and it was just so amazing and it's just – it's messed up in a way that that should be the exception rather than the norm, that you walk into a fitness facility and there are no televisions and no monitors and no screens. But that's the world in which we live. So I think – I'm with you, man. Getting away from the distractions and being present inside every step of the way is definitely where it's at.
Ryan: Yeah, that's just – I mean I – good stuff you just said right there.
[Music]
Ryan: The cool thing too is in Diamond-Cut Abs, in your book too, it's not just about the working out and not just about the life, but also you're talking about nutrition and having people really think about what they're putting in their mouth instead of just saying, "Oh, well, this is a protein powder. So it has got be good for me, right?"
Danny: Here's the thing. With that book, it's like this was just the abs book I always wanted to write. I'm 40 years old like we talked about and there was so much information, over-information, misinformation in the 90s and in the 80s coming up, about have this many calories and this much fats and all this stuff.
It got me in this crazy mode of just over-compartmentalizing everything, thinking about the components rather than the foods itself. It just became about math and science and combination and it wasn't reality. It was only after I was in my 30s when I started reading guys like Mark Sisson, when I started reading guys like Michael Palin. But I was like, "Let me put this stuff away and let me just eat good, clean food." That's when not only did I enjoy every single meal I ever ate more, but I look better with my shirt off too.
So it was like this is the kind of book I wish was around when I was 18 years old because there's just so much and let's face it. This is something I talk about in the book too. I mean abs. To talk about abs in general, it's kind of a vanity muscle. It's something that we look at in the movie posters or Brad Pitt in Fight Club or the MTV videos and that chiseled six-pack and then that's how we came up.
But then there was a backlash after that. That was like that's bullshit. Abs are not functional. I don't care if you have a six-pack. I could still knock you down and that's true half the time too.
But in reality, you do use your abs every time you bend, flex, extend, twist and in reality, that take-your-shirt-off thing is a part of our culture. So how do we talk about abs in a sensible way in terms of getting strong but talk about them in a way of training appropriately and functionally? The other thing about this book and one thing I really wanted to drive home is abs should never replace the full body strength training program.
We need to squat. We need to push. We need to pull. We need to do all of these things. These things are good for our abs too. You know what I mean? You could get carved out of wood doing nothing but squats, push-ups, pulls-ups and maybe some bridge work, some mobility and a couple of other things here and there.
But this is just in addition to that and it's really just food for thought and at the end of the day, anyone out there who says, "Do this exercise or that exercise," or "This is the one way to do it," or "This is the best food for this or that," they're all full of shit because the truth is, everyone needs to experiment.
They need to find what works for themselves and there is no miracle workout. All these movements are the same. I don't care if you're a weight lifter. I don't care if you're a gymnastic. Flexion is flexion. Extension is extension. The body is built the way the body is built.
So no one is ever going to get lean or chiseled or carved in their midsection unless they're super lean and getting super lean like that has nothing to do with your workouts. Sadly, it has to do with not eating so much.
Ryan: And not eating crap, yeah.
Danny: Not eating crap nonstop all day. You can only eat crap sometimes. It's OK.
Ryan: Well, it's that balance. It's that balance and you talk about this too all the time, which is great. That's why I resonate with you so well. It's just like we're saying the same thing and it's like balance. It has got to have that balance whether it be in your workout. It's in your lifestyle. It's in your nutrition. It's in everything.
[Music]
Danny: There's so much dogma. There's so much, "This is right. That is wrong." There is no right and wrong in this thing. I could talk to 10 experts and get 10 different answers on the same question. So it's really about being informed. It's about experimenting and it's really about using common sense over dogma or over compartmentalization. You know what I mean?
Ryan: Yeah. Just – and you brought up something earlier too. There's just so much information out there and also misinformation and it's just you become so overwhelmed and it's just sometimes one of those things where you just got to just say, "Screw it all," and just start and just do something, right? And figure out what works for you.
By the way, I mean I always love you and your brother's books because the photos are amazing.
[Music]
Ryan: I'm very lucky because you sent me an advanced copy, so I got to see it but I totally want a printed version of this, so I could put it on like a coffee table and …
Danny: These books that Al and I do, I've seen comments on the internet about Diamond-Cut and about some of these other books and it's like whoever is responsible for the visual layout and for the photos is a genius. Now Derek Brigham, he's the one who does the graphic layout for it but all those photos are mine and Al's. We photograph them ourselves.
The photos of Diamond-Cut, all the craziest ones, were either photographed by Al or my wife Jen. We're a real do-it-yourself kind of thing. My son took a couple of those photos. Yeah, yeah.
Ryan: That's great to hear. It really is.
Danny: We do it all. We do the art direction. We do the photo editing. We do 90 percent of the photography and then the other people that did the bulk of the photography. My buddy Jordan Perlson, he's a Blue Man. He was the drummer in the Blue Man. He did a bunch of the photos in the book and it's really a DIY kind of thing. We really keep it in the family with that type of thing.
That's why Al's books and my books have a real look to them because chances are if you're seeing Al on the screen, it's me behind the shutter. Chances are you're seeing me [0:17:53] [Indiscernible]. That's the truth.
Ryan: Hey, are you still drumming? That's what I want to know too.
Danny: I mean I play drums. I don't do it as a career anymore but I mean I play in a band with my dad. Me and him and a guitar player. My dad sings and plays guitar and writes the songs and I play a little bit of hand percussion, a little bit of drums and yeah, so we play about once a month in New York and Brooklyn.
Ryan: That's cool, man.
Danny: Yeah.
Ryan: Well hey listen, I really – I hope we get a chance to hook up together sometime in the flesh. I'm sure we will.
Danny: I hope so.
Ryan: But I want to thank you so much for sitting down and talking to us a little bit. Again, DannyTheTrainer.com, we will post the links in here. Diamond-Cut Abs, your new book.
Danny: Buy it. It's a great book.
Ryan: Looking good, looking good. All right, man. Well thank you again and we will get you on the show once more.
Danny: Thanks very much, Ryan. I appreciate it. Thanks, man.
Ryan: All right, brother. You have a good one. Talk to you soon.
[End of transcript]
Be sure to catch the next episode by subscribing to the GMB Show:
The Future is in YOUR Hands!
Left to our own devices, we'd soon be churning out episodes on the sorry state of Mexican cuisine in Osaka. Answer these questions and tell us what you want to hear:
';