You probably have at least one shoulder.
And if you do, there's a really good chance that you've experienced shoulder tightness, aches, and pain. Most people do. And most people also do next to nothing about it.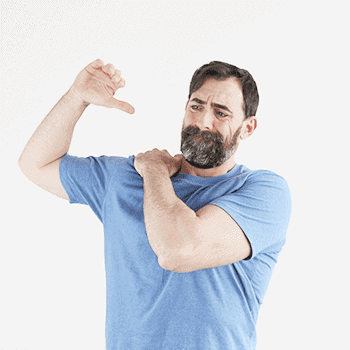 In this episode, Jarlo and Rose go over basic shoulder anatomy and physiology, common issues and injuries, and how to get back to moving and grooving in the best way.
We'll talk both theory and practice on this one so you know what's going on with your shoulders and what to do about it.
Overuse vs. repetitive strain
Common (and uncommon) shoulder issues
The relationship between the neck and shoulder issues (and vice versa)
What's all this clicking and crunching in my shoulder all about?
The "one and only correct way to lift overhead!" Just kidding, it depends.
Vote on show topics, ask questions, and be part of the GMB community.
Some of the resources mentioned:
Transcript of Improving Your Shoulder Mobility for Better Function and Less Pain
Jarlo: Hello everybody. This is Jarlo Ilano, one of the cofounders of GMB Fitness. And with me today is my friend and lead trainer for GMB Rose Calucchia.
Rose: Thank you.
Jarlo: Which is the wrong way to say it. It's the wrong way to say it though.
Rose: It's the right way to say it now.
Jarlo: If we have any Italian listeners, please go to [email protected] and tell Rose she's saying her name wrong. She's saying her last name wrong. So yes, we are iGMB. This is the GMB Fitness podcast. GMB of course stands for Gerunds Metaphors and Bauhaus that's Bauhaus. As in B-A-U-H-A-U-S. So today we're going to talk about shoulders. And this is part of our series our body part podcast series, talking about a little bit about how your body parts work, the different issues you can have with them, various injuries and things like that. Shoulders. So we talked about hips last time and shoulders are very close second to the amount of emails and comments and questions we get. Would you say that Rose?
Rose: Yup, for sure.
Jarlo: Yeah. We'll start a little bit with anatomy, not too much, but the shoulder as opposed to the hip. The shoulder is meant for mobility, right? We are bipedal creatures, meaning we use their feet to move around. And we use our hands or upper extremities to grasp things, to eat with, to implement with tools and all of that. And that requires more mobility. Strength yes, we all also need strength, but the range of motion in the shoulders is huge, right? If you have any kind of stiffness, you pretty much notice it right away.
So in terms of the most common things you're looking at. Well, let's back off a little bit. Again, for mobility versus the hip. Your ball and socket of the shoulder is shallower. It's much shallower and it's seated in a way that it requires more stability from ligaments and muscles. That's why you see a lot of the whole dislocated shoulders thing. And for some people it's chronic. I remember being at a fight. Muay Thai fight one time and one of my fighters was fighting this woman and within a minute the other fighter, this woman, her shoulder dislocated, bam.
When we looked at it, Oh man. And then I helped put it back in, which was [groan]. Anyways, she's had a history of it and she was working on it, being strong, whatever. But some people they just have that propensity. So you have to be very careful. But yeah, there's way more shoulder dislocation happening than hip dislocations. For a hip to dislocate it's a massive amount force. You're looking at car accidents, trauma, falls from high height, that kind of thing.
Shoulders is pretty common. I even had a patient. I remember this guy because there was a funny story. He was playing golf and he was playing golf with a couple of doctors. And you know how you hold a club underneath your arm pit? He slipped and fell. And because the club was under his armpit, it acted like a lever and dislocated the shoulder. I remember that story.
This was this guy, this was a long time ago, maybe even 20 years ago. But anyway, he was with these two doctors and he was yelling, he was in so much pain. He was like, "Put it back in." And the doctors, I remember they're like, "No, we're not touching that. It could be broken. We could make it worse." And he was yelling, "I have two doctors here with me and they couldn't do anything for me." And had to wait. But yeah, that was a good one.
So you have stability problems, right? Because it needs to be mobile. So if you are very flexible or else you go into position where you have to be, is overstretched, then you can have issues like dislocation, also ligament sprains, right? To the ligaments. Yeah, the ligaments are trying to keep it in. That's when you have things like when people say that they have separated shoulder. What the separation is is the AC joint, the acromioclavicular joint. So it's your collarbone to your shoulder blade. So that's that. Those are those ligaments as opposed to the ones in the ball and socket the glenohumeral.
Those strains are sprains. Oh, sorry. Sprains. Yeah. Ligaments are sprains, muscles are strains. Those sprains are of traction injuries. Say you're holding onto something and it pulls you. Say a leash. One of those stupid retractable leashes for dogs. If you have a big dog, man I hope you're not using that. I've seen so much of that, right? Or you're hanging say even if it's like you're on a pull up bar or something or even rings and you lose control and you slip. Traction is a distraction when it pulls your arm out. Those types of things.
So also the cartilage. When you hear of slap tears and all of these things. Those are the capsule itself, right? So every moving joint has a capsule around it, synovial capsule, and there's fluid. And then if there's too much strain on the joint, it can force some of the joint. You can have capsular injuries. So you might see a lot with different athletes, baseball players, football players on trauma and stuff like that. So that's capsular pain. You have that a little bit I think from your training and what are we talking about it a couple months ago. So Rose does a lot of the aerial stuff.
So you're hanging on ropes. Silks, trapezes, that type of thing. And I was like, "Yeah man, you just irritated that." And then of course you have the various muscular injuries, tendonitis, tendinosis and then those are generally over use and repetitive strain types of things. Biceps tendon runs through the shoulder the whole rotator cuff thing, which is series of four muscles. Everyone's like, "Oh, rotator cuff, rotator cuff." Those are a core muscles where yes, they rotate the arm and the shoulder. But really, they are to help keep it stable when you're reaching upwards and moving your arm. And so those are generally smaller muscles that can be overworked or torn as well.
Rose: And can you talk about the relationship between the ball and socket joint of our shoulders to our scapula?
Jarlo: So yeah, that's a good one. So you got bone, socket, glenoid, humoral. Glenoid is the socket and humoral, it's your upper arm. The scapula or shoulder blade is, attaches–this is what we talk about earlier–attaches to your collarbone at the AC joint, the acromioclavicular joint. But aside from that, it's free floating, free moving, right? Or it should be, right? And it should be.
Rose: A lot of us are missing that though.
Jarlo: Right. So this is fairly complicated, but you need the shoulder blade for leverage. Muscular leverage to pull your arms back, to reach up overhead. To have enough force. If you didn't have it to attach to your rhomboids and all of those upper back muscles, you just wouldn't . . .
Rose: Trapezius.
Jarlo: Yeah. Trapezius. You wouldn't have the strength to do a lot of things. Right? And you actually see that in say neurological injuries where, and I'm saying this because I know we want to talk a little bit about winged scapula and all that stuff.
Rose: I just wrote it down. I was like, "Let's not forget to talk about winged scapula."
Jarlo: Right. Again, well what it is is say you have a neurological, a nerve injury, right? To long thoracic nerve and all of these things where you can't use those muscles around the scapula. This is again, really, it's more complicated that, but I'm just, I'm saying. There's nerves there and if you don't have that, then you are very compromised in how strong you can be. It's not you can't do things, but you definitely don't have that power generation that you would. So winged scapula and winged scapula is actually, is another really specific term that maybe some personal trainers and all these things have taken out of context because it. For a true one is that yeah, you have a nerve injury and that's not something that you can exercise out of. Really.
Rose: A majority of people who say they have problems with winged scapula don't have a nerve problem.
Jarlo: No they don't have a nerve problem. They have a strength problem. It's usually a strength problem in rhomboids and a mid and lower trap. Right? Because you can see it and like, "Oh yeah, look at their back." The median part, the inner part of the scapula, the one that's closer your spine is popping out. Well you have winged scapula. No, that's just probably that. And also along with that it is probably some tightness in the pecs lats type of thing. So that's what it is.
If say, a trainer or someone that's not a doctor who didn't do the test. Right? Do the MDs, all that stuff tells you, you have a winged scapula. That's probably what it is. That's probably what it is. Right. So again, you need a mobile shoulder blade for especially for upward, reaching upwards and for generating the force. You need it to throwing, pushing, hanging, all of those types of stuff.
Rose: So how does your thoracic spine. Talk about the relationship between the thoracic spine and your scapula? Because we hear all the time when talking about shoulder health that you have to have a mobile thoracic spine, that you have to get it moving. If your thoracic spine isn't moving, it's going to be hard to get your shoulders moving correctly. So could you talk about that a little bit. Shoulders are so complicated cause it tied into the a bunch of areas.
Jarlo: Well the whole body really. But for sure for this. Okay. So for a little bit of definition we have cervical spine, thoracic spine, lumbar spine. So the cervical spine is your neck. The first seven vertebrae, then below that we have 12 thoracic vertebrae. Right. And then you have the five lumber. So if you're going to put a barbell across your back and this is another story too. It's funny, I have all of these stories. My friend and I'll just, I won't say his name. Back in college,
We lifted weights. That was, he's so strong. But anyway, he would put, and this is wrong and I don't recommend this. He had this bump on his C7 or T1 the vertebrae that you can touch because he put the bar right on it all the time and we're talking like 300, 400 pounds every time. And so he developed not a spur, but yeah, actual bony prominence for that. And I was like, " Dude, that's not good." But anyway, that's where your thoracic line starts right?
Rose: So base of your neck.
Jarlo: Base of your, yeah. So you can usually, if you reach back right now and you feel the most prominent part right below your neck, that's usually C7. The seventh cervical vertebrae. Then below that is thoracic, one or two. And that's where it is. Okay. So it's relationship with the shoulder as you can, you have to get full range of motion at your glenohumeral joint. You need to be upright. You need to be sitting tall. This is a really easy one. We used to show this. Tell this to patients all the time.
Jarlo: So at home right now, you can sit, sit up. Now I want you to slump. Say that your chest go down and your shoulders go forward. You let your back round out. Then now reach up as high as you can. Okay. Reach up as high as you can and you can see it's pretty limited. Now sit up tall as you can. Lift your chest up and then reach up. Immediately you're going to have an improvement at least 15, 20 degrees. So there's that there. And posture is another controversial thing. Posture doesn't matter. Posture, blah, blah, blah. Well, it matters for motion. It matters if for being able to position your body in the right way.
So posture is a thing. It maybe doesn't necessarily is the root cause of pain or whatever, but it does matter in terms of power generation, movement capability and all of that. So just that simple test of whether you're slumped or whether you're sitting up tall showed you the relationship of your spine to the shoulder. Now if you're super tight in your upper thoracic, the first few levels there and most people are because their shoulders are rounded. We sit all day, we round out. Even the things that we like to do, in sports and things are all folded in, right?
We have strong chest. Maybe even our abs are actually strong. Most people say, "Oh my abs aren't . . ." They're there, usually people's abs are pretty strong considering. Then we live in this kind of rounded posture and so our thoracic spine or our upper back, upper and mid back aren't able to extend or bend backwards. Right? And so it can get to the point where it's not even it can expand is that they can't get to that normal part. Now for the thoracic spine, there is a natural curve, what they call kyphosis, where it is naturally forward bent. Right? But for some people that's over that part. Right?
The curves are interesting. They're there for, the theory is when you have this alternating curves, it's better for load bearing and all that stuff. But anyway, it's naturally like that too and then we can make it worse by what we do every day. So when you work on something and I work on someone or recommend for someone and they have shoulder stuff. It's a very good bet to work on their thoracic extension and rotation too.
Rose: Okay. So now that we know how all the parts work together, can you talk a little bit about how people can self assess where they might need some extra range of motion in their shoulders?
Jarlo: Yeah.
Rose: For good shoulder health for doing regular activities.
Jarlo: Right. So this is again, something we've talked about before. When someone comes into you or to me or health care and all that, they usually have a pain issue and a problem that's built up over time. Very rarely is it like, "Oh, I'm just stiff." And the reason is because you just deal with it or you don't really go into those motions. Pain is a good motivator to go in and see somebody. Right? But with that said, what it is, is generally people. You know yourself. Where your limitations are like, "Oh, I can't reach up in that upper cabinet anymore." Right?
I can't reach behind me in the car seat, those types of things. And that's usually what it is. Upward overhead reaching and then reaching behind you. Either reaching behind you and up, which means your chest and your shoulders up here, need to be a flexible or reaching back behind you and up, back behind you and down and up. So say you're trying to put the back here, you're trying to scratch your mid back, that type of thing. So rotations, both internal and external and then reaching up. So I have, I have another story on this.
I had a patient. Again, this was years and years ago, but I remember distinctly. Could barely lift his arm above 90. Straight out, right? I don't even know, maybe without a hundred degrees. I don't even know. It was egregious. It was like, "Wow, what the heck?" And I asked him, "How long has this been bugging you?" He's like, "Probably months." I was like, "Months!" And what it is is, he must have been a computer programmer or something like that, but he didn't really do anything else. He didn't participate in sports and stuff. So he lived only in this small range of motion anyway.
Rose: So he lost it, he lost his range of motion.
Jarlo: Yeah. So he lost it. So he lost that. But even so, he lived in such a small range that when that further decreased, right that's when it bothered him. So it's only to the point where he couldn't even go up. And again, reaching the cabinet kind of thing. And this is interesting too, because now you would think, "Oh, he'll be done here." You have to get him all the way to 180. All the way reaching up all this. You have to, right? No, we didn't get to that. We didn't get to that at all. But we got enough. He said, "Oh yeah, I'm good now." Even though it was maybe 110, 120. So that's something you have to always have in context.
Rose: What you want to do.
Jarlo: What do you want to do or what do you, how you live your life. Now I wouldn't have wanted that. Right? And I'm not going to force this man to attended another two, three months of therapy to get this ideal thing that he wouldn't even need use anyway. Now you could argue he should. I would say that too, but I'm not going to force that on them too. So it's the context of what you need and it's definitely, most of the people listening here, probably everyone isn't just sitting around doing nothing. Right?
That's why you're listening to this. You want to do more, you want to get better. And so those are the things there where you're noticing that you can't hang on the pull up bar rings as easily is you could before or maybe you never could. You can't throw that ball right? Without it bugging you. You can't reach behind you when you're trying to do a… Say we can even say it the locomotion that crab and tabletop. You're having a problem, specific problems with things you want to do. Right? And in general, if you're going to pick two things, it would be reaching overhead and reaching behind you.
Rose: Right. So what are two mobility stretches that people could do that would help out a little bit with those ranges?
Jarlo: Sure. So again, this is hard, right? Because then.
Rose: I'm only giving you two. You can't pick more than two.
Jarlo: We can do two. I would pick the prone bent arm stretch. You know the thing where you're in the doorway and you do the pec stretch, right? We do it different in GMB. We're on the ground, we call it prone. Prone is means you're facing the ground, your arm is bent, your elbows up. We just feel that you can control the stretch better, right? When you're up in the doorway it's good. But you got to pull your shoulders down. You've got to do all these things and it can be a little too much. So that one, cause you got the pecs front of your shoulder very important.
That goes with the overhead and back behind you. And then I would pick upper back work like we were talking about thoracic. So we call it upper thoracic extension where your hands are in front of you, you're kneeling and so you are working on the upper thoracic extension, but it's also chest is also lats. All that stuff. And bicep two actually for both of those. Because that's important. The biceps tendon runs from your arm up into the same attachments as the rotator cuff and under your acromion.
Rose: And both of those stretches are in the GMB shoulder pain article if you want to check it out.
Jarlo: Oh yeah. So yeah, that's another thing too. What we're doing here in this podcast is our audio version, video version of the various concepts we have in our shoulder pain article, shoulder mobility routine. We've got a bunch of stuff. So if you want to see more look in our show notes and also you can just Google GMB and shoulder. We've got all that stuff.
Rose: Yup. Okay. So let's switch gears and talk about functionality with the shoulder a little bit. Being a trainer, I hear from clients, we get some of this in our support questions. People asking about recovering from shoulder injuries and being afraid of overhead movements. That some physical therapists think that most people shouldn't press anything overhead. What are your feelings on that?
Jarlo: Yeah, that's a hard one because it's nuanced. Again, going back to what we led off with. The shoulder for the most part is meant to be mobile, right? Grasping, reaching tool work. So you can say it is relatively abnormal to do heavy overhead pressing. But again, this is all relative, right? Now if you are Olympic weightlifter or strongman or all of these things where that's what you want to do. But there is actually a strong enough for most of us and the strong enough in terms of overhead pressing I think is totally healthy. There's no reason to be afraid of it and there's no reason to avoid it. It's just, it's good. For example, let's say for us, cause we do a lot of inversion stuff.
Rose: I was going to say handstands.
Jarlo: Handstands, right? Strong enough to do a handstand is great. Very healthy. Yeah. Well again, are you overweight, blah blah blah. But come on now. Right?
Rose: So then let's talk about the difference between overhead movements like a handstand or an inverted press versus a pulling movement. And sometimes it's easier to come back from injuries doing, pulling first versus pushing. Can you talk a little bit about the difference between that?
Jarlo: So this goes back to again, a little bit of anatomy with say the capsule, right? And the ligaments and the whole traction thing where, so say for pulling, it's actually not the best thing to start with pull ups or the overhead traction, right? If you have an injury or you're coming back from, because that's actually, there's two things there. You're at your maximum flection. Which you, overhead lifting your arm up is short reflection. Which maybe you have some mobility problems or anyway, then you add weight to it, then you add weight to something that's already stressed.
And so overhead pulling is probably one of the, I wouldn't say I would make it last, but I wouldn't do it first. I would do a horizontal pulling stuff first. You can do inverted rows, right? If we're talking just all body weight things. Where you're on rings or a horizontal bar and you're rowing yourself up to the bar. You can do dumbbells and things that you can see there that you aren't going to be overstretched.
Rose: Right. You're within a safe range of motion.
Jarlo: Right. You're within a safe range of motion that you can control. And that's probably the most important. One of the most important concepts of how do we, say you're injured or how do you get back into things. Well start strengthening and moving in your own safe range of motion, your own personal, don't try to get into the end ranges just yet. Right? So that's why the pushing things is difficult because it doesn't strain you as much–pushing–except that it can irritate those tendons and structures that are generally injured more so by suspending tendon, rotator cuff tendons.
So that's why most rehab professionals. And even good trainers would be like, "Oh, just lay off the pushups, lay off the presses." Is because they can, now you're getting into tissue irritation specifically versus overstretched. The thing that can happen in general when pulling. So see this is pretty complicated.
Rose: Yeah. No, totally.
Jarlo: You can say, "Oh don't pull," I mean, "Don't press, but you can do polls." But, "Oh, don't do pull ups or pull downs." We have to do that. Or you can say, "Oh don't do pulls, but you can do some pressing." It all depends on your particular injury and actually your tissue tolerance. You can have the same kind of injury as someone else, but you can be either further along the path of recovery or not as far. And then that totally determines on what types of things should do.
Rose: But the general feeling is when you do have a shoulder injury, doing nothing isn't going to fix it.
Jarlo: Oh yeah. No. And we talk about this all the time. You have to, yeah, chill out. Especially in the initial stages. But as soon as possible, get moving as much as you can within pain free range of motions. Absolutely. Yeah. Joint nutrition, you have blood circulation, you have all of these things. Study after study, everything we do is, the sooner you can get moving after any kind of injury, even surgery the better.
Rose: Great. And what if people, okay, maybe somebody doesn't have an injury per se, but every time they do an overhead press or an inverted press or they do a shoulder circle. They get clicking, they get popping, they get some, something funky is happening there. It doesn't quite, it's not painful, but it's not quite right.
Jarlo: Right. This is a really common in the shoulder because again, of that increased mobility. And so I'll just say Google, GMB and joint noises. Again, we have this really good article that can explain a lot more than we're just saying right now off the cuff. But in general, if you don't have any pain, it's usually okay. It's usually okay to go and keep moving through the motions and doing the exercises as long as it doesn't increase your pain. Right? Or you can tell. So looking at all the structures in the shoulder that could be causing that and there's just so much. You have capsule, you have tendons, you have nerves.
Well, not as much nerves. It's more elbow stuff. But you could even have cartilage changes, right? You can have tendons that are relatively tight. So they're kind of snapping over. There's all these things. The only, and I've seen changes and really the only way that I could see it changing is if you are changing your muscle flexibility and strength. And also strength is interesting because if it's stronger and also getting bigger, you're changing angles of pull. Say you're getting bigger, you're gaining some muscle and you're changing the angles of pull of the tendons and all that.
So that can change whatever noise or it's hard because you don't want it to go like, "Oh my shoulders out of place." That's not what it is. It's just a thing, right? It's just the way you're built. But if your muscle increases or the strength increases, that can actually change and where that positioning is. Okay. The flexibility too. If it's tighter, there's more tone there. It changes where it pulls. So I've seen changes in clicking and popping and grinding and all that stuff as a person goes through a program of strengthening and improving range of motion, all that stuff.
Rose: So working on it in theory you should see some improvement with the noises if you're getting the right ranges.
Jarlo: Yeah. I've seen it.
Rose: Cool. So we talked about when we talked about hips, we touched on how oftentimes doing mobility work in the hips can help with things like lower back pain. And I find that similarly working on your shoulder health and shoulder range of motion and upper thoracic mobility can help a lot with neck pain. Can you talk a little bit about that?
Jarlo: Yeah, and also vice versa. So let's talk about, well, I'll approach it from that perspective first and then we'll go from the other direction. So for the neck. You have spine, you have spinal nerves going through it. You have all of this incredibly complex, massive neck issues, headaches, shoulder pain, mid back pain, arm pain, all of these things.
Rose: I've have had all of that by the way. All of it. My whole injury life is shoulder, neck.
Jarlo: Right. Massive. And this, because our neck is also supposed to be mobile, right? It's not supposed to bear weight, really. It's not supposed to do a lot of the things. And unfortunately we do these things to it when we're not prepared. You can actually prepare your neck for a lot of things, but if you don't do it correctly you can lead to it. So a lot of the times when you have issues to your shoulders and your hands and your elbows and all that stuff, it's coming from the neck in that respect from top down. You can also have it from outward, inward, like you're describing a little earlier.
It's less common. But one of the things is if you have say a decreased shoulder strength or decreased shoulder mobility, then you're going to be putting more strain on your upper thoracic and on your neck. Right? You can even see that people just start shrugging up and doing all these things here in their neck and shoulder versus keeping it here. And where your shoulders that can move through. And so, yeah essentially when it's going from say the shoulders into the neck. It's generally because you're causing a lot of stress on this. So stress and strain because you're not strong enough through their extremities that you're asking your neck and your upper back to do more than it can or more than it should. Yeah.
Rose: And then you want to talk about the other way, improving the neck can help the shoulders?
Jarlo: So, yeah, with the nerve things and all of that referred pain. So say you have some neck issues where you aren't moving as well. This is another thing to be concerned with saying the whole pinch nerves thing is not correct. If you have a true pinch nerve, then you're not using your arm, you're probably not feeling you need, that's what it is.
Rose: It's bad. It's real bad.
Jarlo: It's bad. Right? But when people say, Oh, pinched nerve and all that it's because they're feeling stuff. It's more likely as just irritation and inflammation around the area.
Rose: Splinting.
Jarlo: Right. And also, yeah, so say you have a muscular tone and splinting spasm trying to protect the neck and then that causes these ancillary problems down into the shoulders and neck.
Rose: We should probably explain what splinting and spasming actually. What that means is when you wake up and you're like, "Oh my gosh, I can't turn my neck." It's like there's pain there. It's limiting my ability to turn my head. It's limiting my range of motion. That's what we're talking about.
Jarlo: Right. And it's basically, it's a protective response. So in general, the body reacts to two issues with swelling, right? Muscular guarding, splinting, spasming cause it doesn't want you to move anything. It basically goes to the worst case scenario. You probably broke something. So don't move it. But unfortunately, if you didn't break something, if you didn't tear anything, those symptoms of protective, the protecting mechanism, it makes symptoms that are worse than what actually happened. So say for example, when you do the thing where you wake up. You said like you wake up and there's a click in your neck. Theoretically it could be that you were sleeping in a weird position, you were all relaxed.
Everything's relaxed, you're sleeping and the joint capsule and the neck and all of that over extended. Overstretched to the point where it was past what the body thinks that is good for you. Again thinks you injured yourself. So you wake up and your muscles are [sound effect]], right. Tightening up cause it doesn't want it to get worse. So that's what it is. Right. So that's why I use, anytime you feel a neck, you know you have neck problems and then you also feel shoulder and stuff. Pain. I always work on the neck first. Maybe I'd do something for the shoulder and I'm like, "You know what, let's just do the neck first." And then great many times that stuff fades away.
Rose: So it's like referred pain from the neck.
Jarlo: Yeah. Again, it's really complicated cause referred pain. Referred pain is a very specific thing too. But yeah, we can say that.
Rose: Okay. So then this leads us into, we get emails quite frequently. People asking about what to do for things like upper cross syndrome and thoracic outlet syndrome?
Jarlo: Good one.
Rose: Can you talk about those for a second?
Jarlo: Yeah, I'm going to repeat myself again. That thoracic outlet syndrome is a very specific diagnosis. You have to have a series of tests that are positive. You have to have the person who's diagnosing you with that has to actually have experience with it and know what it is. For thoracic outlet syndrome. Just in general saying what it is. They're saying that the areas where the nerves pass through and all of that, there's some kind of irritation, right? Whether you can say it's because this, the outlet is smaller, there's inflammation or whatnot. That's what it is. Right?
And then there's specific, treatments and things that you should do for it. Way beyond the scope of this thing. I would say to people are listening. If you are diagnosed with it, to make sure that the person that diagnosed you with it has experience in it and knows what it is. Right? It shouldn't be your personal trainer at the local gym telling you, you have, sorry to all the personal trainers out there, but really if you're a good one, you know you shouldn't be saying that.
Rose: Right, we are not meant to diagnose. And then what about upper cross syndrome?
Jarlo: So upper cross syndrome is interesting as a theory put out by Janda. I think he's Czech. Super good. He had upper cross and lower cross and it basically patterns you saw. So for upper cross he was saying, your pecs are tight and shoulders are tight. Your upper back muscles are weak, right?
Rose: That's 99% of the time.
Jarlo: Right. It's just the pattern that he saw. It's a theory. It's a useful paradigm to do because yeah, it's like you said, you can say that for just about everybody. But I liked it. I mean, I learned it if you can't. There's a lot of people that are like, "Oh, it's useless." I think it is. I think it's good because it tells you certain patterns and there's a lot of Janda and that group, he Prague school, they came up with a lot of great exercises, a lot of good rehab. Love it.
But anyway, yeah, that's basically it. Yeah. The whole thing that we always talk about. Your shoulders rounded forward. Which means that you're overstretched in your small muscles of the backs, rhomboids. They should be stronger. So you fix it by going the opposite way. Right. And that's another kind of debate. So does that mean you strengthen right, those things first or do you try to stretch out first and you do both? Right? Well it depends on the person. It's all context.
Rose: Okay. So one more injury specific injury question that we get a couple of emails about and then we can move on to some how to treat with movement. Frozen shoulder. That's a tricky one.
Jarlo: Oh, it's massive. I mean there's a lots of stuff on it. So the F thing for a frozen shoulder is Fair, Forty and Female, right? So Fair means actually White Caucasian, Forty and above and then female. So that's the demographic that gets it. I think there's even, there's something in straight, in Japanese too where it's. I forget it. We'll have to ask Ryan and Andy, but there's a street Japanese term for it and it translates basically into that. Anyway, that's the primary thing. There's idiopathic. Idiopathic means we don't know what happened. Right?
Rose: It just happens.
Jarlo: It just happens. Then it also could be a consequence of diabetes and trauma. So I've seen, oh that man that had a dislocated shoulder. I told you golf. He had frozen shoulder after that. Not saying that everybody that has dislocated shoulder ends up with it, but he actually had it.
Rose: Yeah. It can happen.
Jarlo: And the specifics for frozen shoulder, again, it's a very specific thing. Isn't just like, "Oh, it's tight." It's you have to lack external rotation as the most primary restriction. Can't turn your arm out.That's it. So if you see someone say, "Oh, frozen shoulder, I can't lift my arm up." But they can do, fully rotate that's not frozen shoulder.
Rose: Oh, good to know. So it has to be external rotation to be a frozen shoulder. No external rotation.
Jarlo: Yeah. As the primary limiter.
Rose: Got it.
Jarlo: So the other thing, the technical term for frozen shoulders is adhesive capsulitis. Meaning your capsule and the thing is, right? You have all this mobility. The capsule has folds, right? So that they unfold and unfurl as you move around. Adhesive capsulitis means that allegedly, right? There are adhesions, where the folds stick together.
Rose: So they just all stuck.
Jarlo: Right.
Rose: So how do you get out of that. How do you thaw that.
Jarlo: Well that's interesting you say thaw because in general it's six months to I think two years it'll go away on its own. That's the natural, to call the natural history of frozen shoulder. One of the treatments is anesthesia and a doctor puts you out and they just rip it and flexion. Rip it, they just yeah.
Rose: No. I can't talk about this. No.
Jarlo: Some people it helps some people it doesn't.
Rose: No.
Jarlo: It's pretty, yeah.
Rose: Awful.
Jarlo: Yeah. It's pretty awful.
Rose: Okay, so if you have Frozen shoulder, sorry. Wait it out. Don't go do that.
Jarlo: Well, that's another thing too. Physical therapy has been proven to be helpful in a lot of cases. It depends on where you are too. Within that history there's actually phases where if you do get therapy. It's like banging your head against the wall. You should wait until you're a certain period. But in general, yeah, having a few months into it. And also too, you could have a diagnosis of frozen shoulder and it not adhesive capsulitis. Meaning you can rotate. And I've had a bunch of that.
And I don't want to say like I heal them, but yeah I ended up working in the labs, chest, all that stuff. And they got better within a few weeks. Then I knew also too, it's probably not frozen shoulder. Because I've had frozen shoulder where it doesn't take two weeks. Way longer than that. So if you've got frozen shoulder. Someone say you have frozen shoulder, you go therapy or massage or whatever and you get better in a few visits. That wasn't frozen shoulder anyway.
Rose: Okay. Good to know. Frozen shoulder is a longterm thing. Okay. So let's talk about shoulder health through movement, through mobility and strengthening. What are your recommendations for people who feel they have limited range of motion, want to improve it. What should they do?
Jarlo: Well, it's easy to say, well you got to stretch and you got to move around. In specific this goes back to getting a certain level of strength, right? And getting this certain level of flexibility that you want and need for the things you want to do. So you can always say, "Oh, you got to lift weights. You got to do all these things." Well, the reason why we the company GMB and also us, just you and me and Ryan, Andy and all the trainers do locomotion work is because we've found how helpful it is. Right?
One of the things is we are not in our normal everyday lives on our hands, right? That's not a really natural thing for most people. So you have right there being on your hands stimulates the shoulder in a lot of good ways that you don't get, right? Then also, depending on the particular locomotion, you either say for the bear, you're in as much good flexion shoulder flexion, you're good thoracic extension.
You're both getting your shoulder in and out of that pack. So you've got scapular motion. Okay. Then you go to the other locomotion where you're going side to side, say like the monkey. Where you're reaching back behind you when you're trying to twist around or you do anything. Yeah. Monkey 180. Are you doing a crab or even before that we have a variation that we call the tabletop, right? Well not tabletop. Sorry. What's the one where you're at?
Rose: 3 point bridge.
Jarlo: 3 point bridge. Sorry, I'm getting all confused. The 3 point bridge, since 2 point bridge is that your hand is behind you and your hips are up and you're facing this sky or the ceiling. So that's shoulder extension. So all of these things are great. They're both working on flexibility and mobility as well as strength and stability at the same time. Now I'm not going to get . . .
Rose: So it's so much better than stretching.
Jarlo: Right. So much better than just stretching. Stretching has its place to help you to prepare to get into those position better. Right? That's what we always say. Stretching is to help you get into the position you want. It's not to decrease injury and all of these things. It can, but its primary purpose is for us is to help you get into different positions. And so no, it's not going to get your shoulders as strong as humanly possible. You're not going to be the strongest weightlifter ever. But you're going to be strong enough.
You're going to be strong enough that you notice it in your everyday life. And actually the things you want to do. Unless the thing you want to do is like Olympic wave day. Again, it's all context specific. So yeah, locomotions and playing with groundwork and all of that is super good for your shoulders.
Rose: Awesome. And you mentioned briefly in there talking about moving those scapular around up and down. Will you talk a little bit more about that shoulder packing idea? We hear it a lot in the training world, especially with hanging exercises or something.
Jarlo: Right and the kettlebell thing right?
Rose: Right. And sometimes even overhead movements. I always have to explain to people why doing handstands, you don't want to shrug your shoulders down. You actually want to elevate your scapula up and shrug up. A lot of people think that's bad. It's putting too much pressure on your cervical spine. Will explain about that for a second?
Jarlo: Okay, so for packing itself, you can see why on the surface of it, it makes sense because like we were saying the shoulder joint is necessarily more shallow than the hip. So wouldn't you want to see that ball and the socket as strong as you can. So yeah, on the surface yeah, it makes sense but also just like we did earlier when we say, "Okay, sit up straight, right? Lift your chest up, open your thoracic spine and you can get more range of motion." The same thing if you're trying to pack or you're squeezing your shoulder blade down and back, right?
And then you lift up overhead, you are necessarily decreasing your mobility at your shoulder there. You are. You just are, you can do it yourself. So sit up tall. Just go ahead and reach up as high as you can, let your shoulders shrug up, do all that and you're going to have way more freedom and motion. Right. But then you pack it in. You can't lift it as much. Now in the context of the kettlebell, especially. It's because that kettlebell is so free moving, right. And it's the one kettlebell.
The packing makes sense there, but it doesn't necessarily make sense for handstands or even barbell pressing. Right? Because barbell is not as, it's not moving, but you got two hands you can actually shrug up and it's useful. Again, look at the sports that do that. Olympic weight lifting there. They're not packing their stuff down.
Rose: What about pulling too? I mean we have pulling prep in our integral strength program and in any of our chin up tutorials as the first step, which is basically elevating the shoulders and pulling down and elevating the shoulders and down.
Jarlo: Well you see that right there. You just said it. It's not a static position. You are moving your shoulder and your shoulder blades through their available range of motion and hopefully a little bit more to gain some margin of error or some leeway there. So it's not either-or here, you should be able to lift up and unpack can. You should be able to pack it down. And so yeah, the pulling prep and doing pull ups, you know this, we don't keep it packed the whole time. And then we have this position where you're just cramped up.
I mean, you at the bottom of the pull up, you hang and you let things stretch within reason, then you start with a pack and then you go all the way up, you go all the way down. So to me it just seems obvious. Yeah, you want to move your joints through the available range of motion. You want to strengthen it that way. So anytime a really static where people say hold a static thing, or even like the bracing and core stuff. You had to be able to move with it. We're not walking around as tight as can be. Right.
Rose: Cool. Well, this has been super awesome. We have a ton of resources on the GMB website for shoulder health. We've got shoulder pain article, we've got shoulder mobility.
Jarlo: Got a lot. Got a lot of stuff.
Rose: And you can also email us.
Jarlo: Right. So this is your intro to it. Definitely check out all those resources or put it in the show notes, but also we hope this in general helped you. If you have any questions, email Rose directly and she'll answer. She'll answer you. But yeah, I was, I like this. And stay tuned for more. We're going to do more of this type of thing. Well, thanks Rose.
Rose: Thank you.
Jarlo: And bye guys. See you later.
Be sure to catch the next episode by subscribing to the GMB Show:
The Future is in YOUR Hands!
Left to our own devices, we'd soon be churning out episodes on the sorry state of Mexican cuisine in Osaka. Answer these questions and tell us what you want to hear:
';