When you practice a particular sport, even recreationally, it can be an all-consuming experience.
If you surf, your dreams at night consist of riding the perfect wave; if you're into skateboarding, you think about all the cool tricks your skateboarding heroes do, and how you can work on getting there yourself someday. I do Muay Thai, and I find myself pivoting through my foot and hip subconsciously while I'm brushing my teeth.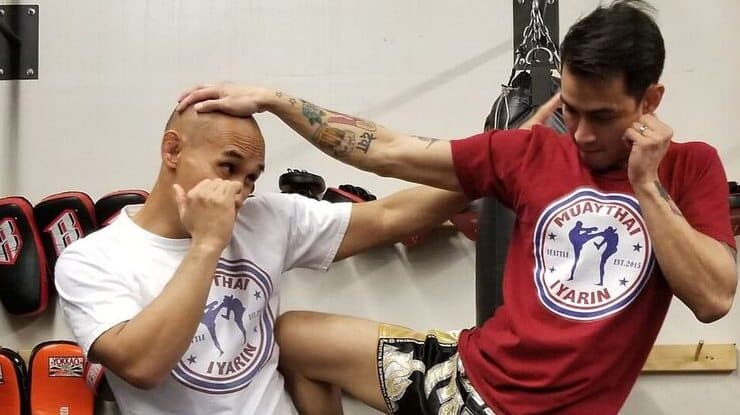 You love what you do, so it takes over every part of your life–and that's great!
But when you're so consumed by your sport, it's easy to get a little carried away in thinking that everything you do needs to be specific to that sport. If limited hip mobility is getting in the way of your climbing progress, you search high and low for a hip mobility routine that's specifically designed for climbers.
And that makes sense on some level. But it's not necessary, and it might be getting in the way of your progress.
You are a Beautiful and Unique Snowflake (but your body's not all that special)
If you go into Starbucks, you'll probably hear at least one person in line with an order so complicated it takes a full five minutes for the cashier to get it right: Half-caf, quintuple venti, vanilla, organic soy latte at 195 degrees, with extra foam.
What ever happened to good ole' coffee?
But I digress.
You're unique because of the specific combinations of innate abilities and characteristics that make you who you are. But when it comes to your training program, the Starbucks phenomenon does not apply.
You may have a specific sport you practice, but the foundational attributes necessary to be successful at that sport are the same across the board.
Developing the Fundamental Attributes You Need for Athletic Development in Your Sport
It doesn't really matter what sport you practice–you're going to need some combination of the same basic attributes no matter what.
Sure, if you're a climber you'll need more pulling strength and if you're a runner, you'll need more endurance. But there are some basic building blocks that are essential for any sport or activity.
And that's especially true for the 99.9% of us who are not professional athletes.
Unless you're getting paid to perform, you're not a pro athlete. That means that, unlike the pros, your focus should be on longevity rather than on immediate results. That's pretty liberating when you think about it because it means that you can train in a way that's good for you in the long run.
A pro golfer needs to perfect a specific angle of motion–over and over and over again.
In contrast, if you enjoy playing golf on the weekends, you'll want your other training to help you improve your golf game, but you also need to make sure your body is being supported as a whole, with longevity in mind.
Training these attributes will give you the foundation you need.
Foundational Strength Training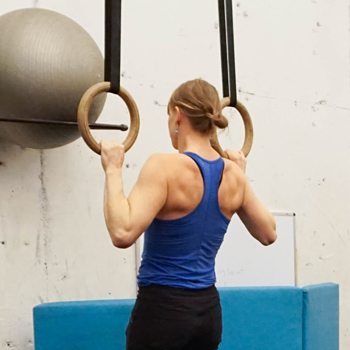 Most people intuitively know how important strength is for their particular activity.
A powerlifter may scoff at a marathon runner and think the runner doesn't need much strength for her sport, but you can't run 26.2 miles, at sub 3 hour pace, without strong legs and a whole lot of strength endurance.
Strength is a necessary part of your performance in whatever your favorite sport may be.
What's distinct, perhaps, is the particular kind of strength you need. But it's guaranteed that building a foundation of strength will help you in your sport.
Flexibility and Range of Motion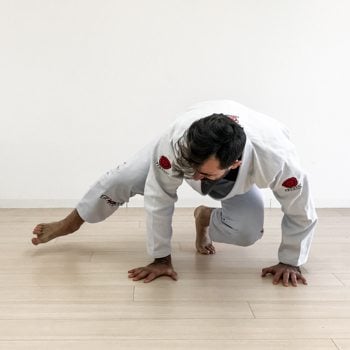 For many sports or activities, flexibility may not be at the forefront of your mind. After all, you don't need to be able to do the splits to do well on a surfboard.
But flexibility isn't about the splits–it's about being able to get into the ranges of motion you need to for whatever activities you do. And having just a bit more range than you need gives you a buffer on the days where you feel a little more stiff. When you think of it that way, it becomes clear that every activity requires some flexibility training.
No matter your sport of choice, you will benefit from improving your ranges of motion so that you have an easier time getting into the positions your sport demands.
Full Body Control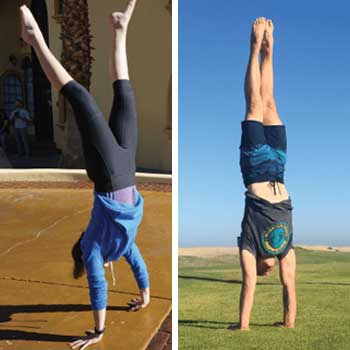 Body control is probably the most neglected attribute, but it's arguably the most important for optimal performance in any sport.
If you don't have good control of your body, how can you make sure you're turning your body in just the right way, or striking the ground with the right amount of force? There are so many little movements that add up to performing the way you want to in your sport, and body control is what helps all those pieces come together.
Body awareness, and the ability to quickly adapt with that awareness, is what makes athletes better in their sport. And also what will make you better at the activities you want to do.
You can be the strongest, most flexible person, but if you can't control those attributes, you won't perform as well as you could, and may even run into more problems and injuries.
What About Our Sport-Specific Training Routines?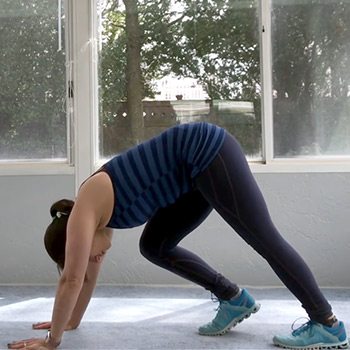 Recently, we put out a series of sport-specific routines:
And a lot of people wrote to us, asking for routines for cross country skiing or boxing or whatever other sport they do.
But, as a general rule, sport-specific routines are unnecessary, and frankly, most people will get a lot more out of a training program that helps them build the generalized attributes of strength, flexibility, and body control.
So why would we put these routines together?
It's simple, really: We designed them, not as prescriptive routines that must be done for those specific sports (or only by those who practice those sports), but as examples of applications of our approach to training.
Each routine includes a combination of exercises that target strength, flexibility, and control. We designed each routine (and all others on our site and in our programs) based on an understanding of proper body mechanics and how everything fits together.
With that understanding (that comes from working with tens of thousands of clients over many years), we can choose exercises that address the most important attributes for any trainee.
For instance, in the Muay Thai routine, the "Lunge with Rotated Torso Stretch" is not an exercise specific to Muay Thai. I'm sure you've seen that exercise before. But we specifically included it in this routine to target flexibility in the hips and torso–addressing the general attribute of flexibility.
What's specific to Muay Thai (and other combat sports) is the press through the hand on the ground to approximate the action at the end of a punch.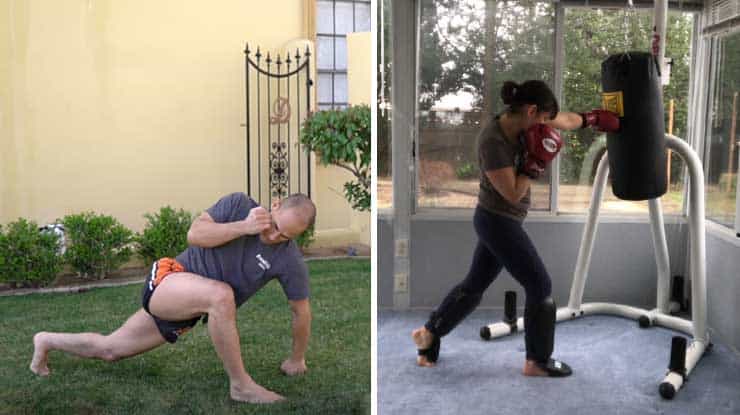 Combined with the other exercises that address strength and control, the result is a routine that provides just a sample of what's possible through working on these key attributes.
In addition, when you are aware of the particular demands of your sport, you can modify and emphasize different aspects of a chosen exercise. This is where working with a knowledgeable coach/trainer helps so much. Their experience and wisdom can save you a lot of trial and error guesswork.
Plugging the Holes for Integrated Athletic Development
For the vast majority of goals, a general program that addresses the most important physical attributes is sufficient for supporting those goals.
But it actually goes beyond that.
If all of your efforts are geared toward a particular activity, you'll invariably be left with certain holes in your athletic development. A well-rounded program will even things out.
Take a climber who supports her training by working on a climbing-specific upper body strength routine. She's going to have some major holes in her lower body strength and mobility. Her coordination and body control are likely going to be weak points, and even her upper body strength may be limited to certain ranges of motion.
She'd do well to supplement her training with a program that addresses all of these areas, and helps fill in the missing parts of her athletic abilities. This will prevent overuse injuries and other issues down the line.
Plus, building a foundation of these key attributes will support any sport or activity. You will never regret helping your body to move better.
And that's why so many of our clients from every sport or activity you could think of have benefited from using our Elements program. It's designed to provide a well-rounded foundation of strength, flexibility, and body control, to support whatever your goals may be.
Build a Foundation to Support Your Sport
No matter what sport you love, Elements will give you the foundation you need to support your goals. It's the foundation for everything.
Got something to say? Join the discussion over on Facebook.