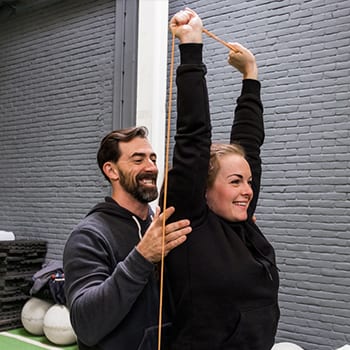 On this episode of the GMB Show, Andy and Ryan are tackling a list of questions submitted by you to the GMB Facebook page.
We always answer every question on the page itself, but some recent questions need a bit more explanation than what we can provide in a comment, so we're going to go through and add a bit more detail.
While we will only be able to answer a handful this time around, we know that more questions will come up. If you have one, feel free to email us or to post it on our Facebook page.
Who knows, maybe we'll answer your burning question in an upcoming episode.
Here are the questions that we answer on this episode:
1:10 – What exactly is Jarlo doing in Flexibility as a Path to Better Movement video?
5:00 – How do we choose the people to interview for the show?
6:25 – Will liquid magnesium damage wood rings? Also, what other things will prevent slipping and sticking?
9:00 – How can someone know when to add time or use a more complex variation of our Elements program?
11:30 – What can someone do who is having trouble with strength or other deficits who is also using the P1 program?
14:10 – How can you find a trainer through the GMB website; also, how can you find a non-GMB trainer who can help you reach your goals?
16:45 – Where can you start if you're a beginner to training?
20:10 – Which type of program would help someone be an awesome runner in an obstacle course?
22:20 – Where would a person who is really out of shape start?
Links and Resources:
Q&A: How to Start From Scratch, Overcoming Strength Deficits, and More
Andy: All right, get your ears on GMB posse. It is the GMB show.
Ryan: Yeah.
Andy: Are you excited about that?
Ryan: Yeah.
Andy: This is Andy and Ryan, and we haven't done this in quite a while, so today we are going to answer some questions that people have sent in. Today, we're specifically … Actually, we're going to just go straight down our Facebook page. We've answered all the questions that people post on there, but a few of them I think could use more discussion, so what we're going to do is we're just going to go straight down the list of questions people have posted on Facebook, answer them here with a little bit more depth, a little bit more detail, and put them into one episode here. Hopefully, if this is something that you guys like, we hope that you will tell us about it. Send us an email, send us a message on Facebook, or whatever, and also send more questions that you would like us to answer in the next Q and A. All right?
Ryan: All right, let's get into it.
Andy: All right, so the first question at the very top of the list here is from Travis and he says, "Hello. What is the program of the floor movement exercise in the video called Flexibility as a Path to Better Movement." If you're listening to this, you've probably seen this video if you've seen our Facebook page. That's the one with Jarlo that we took at a seminar in Salinas, California, a couple of years ago and he's kind of moving around on the floor while talking about a little bit of dynamic flexibility. What program is that Ryan?
Ryan: Yeah, actually it's not any of our programs but a culmination of all of our programs. That's actually one of my favorite videos of Jarlo, and the reason I like it is because that, to me, is sort of a true reflection of physical autonomy in regards to Jarlo. It's a little mix of showing the Flexibility elements. Of course, you have to have the strength component up there, so Integral Strength as well as Vitamin, which is our control. The thing is, we have a lot of different programs, but it's a matter of working towards physical autonomy and taking a little bit of each of those programs and putting them together, because like everything, we're always focused at looking at our strength, flexibility, motor control, and that's a very good example of what is possible. It's not necessarily a flow. I guess you could say it's a free flow, but not in the sense that you would follow along with a particular program in order to get that. That is just an example of Jarlo exploring and just kind of showing his version of how he likes to warm up and actually what is possible through working towards that physical autonomy.
Andy: Yeah, and I just want to emphasize just what you said. That's Jarlo's version. There's nothing that you can practice that, in my opinion, should make you do the things that Jarlo is doing in that. Not that it wouldn't be great, right? But the goal shouldn't be so much to mimic Jarlo's movement but to achieve that degree of freedom and control and strength that you can do those things, or you could do something else that you come up with.
Ryan: Absolutely.
Andy: That's really what we want to teach. It's not so much about that program. What we're showing is that this is something that you could do when you have the strength, when you have the flexibility. Which program is right for you to develop those things? Well, it depends on which one of those aspects you particularly lack. You work on that and then you have the ability to put things together in your own way. That's what that video is about.
Ryan: To go a little bit deeper with that. Of course, you can't just go out and say let's free flow and let's just explore without having a base, without understanding the basics behind things. That's why we have the programs. Elements is a great place to start if you really want to go and explore what is possible in your body on the ground. Look at Elements if you don't have that. There's plenty of videos that we have on YouTube, as well, explaining some of those movements, so be sure to check those out, and focus on you. It's always about you and not mimicking other people, so that just serves-
Andy: Amen.
Ryan: As a base of what is possible. Okay?
Andy: Okay, so scrolling down, next under that we've got some posts by people. A video of a guy who has been following some of our free materials and looking pretty good. Bradbury says, "Just finished my first day of Elements and I can happily say I haven't had that much fun moving in a while."
Ryan: Cool.
Andy: Amen. Then we have Josh Hillis, who was on a previous podcast episode, and then we have Mark Cheng, who was on another one. This isn't an actual question anyone asked, but do you want to really briefly talk about how we choose the people that you interview and that Jarlo interviews?
Ryan: Yeah, so there's a couple ways that we do this. One, actually, are people that we really admire. Also, the people that we feel that would be good for the posse to learn more about. In GMB, yeah, we do GMB, but it's not just us. We want to make sure that everyone out there is learning as much as possible and getting some good information, so that's, for example, why we have my good friend Mike Fitch. We'll have Al Kavadlo on there. We'll have Josh on there. Mark Cheng. All of these people we really respect and admire and believe in what they're doing and want to share that with all of you out there. That is one way that we actually decide on how to get there. This can be kind of tough. It's people that Andy likes, people that I like, Jarlo. People on the GMB staff, they'll suggest, you know, you should check this person out, and if we like them then we'll approach them and ask them to be on the show.
Another way, actually, is recommendations from our friends. For example, Mark Smith. This is an interview that's going to be coming out here pretty soon, and this was actually a recommendation from a friend of ours. Checked him out. I actually didn't know that much about him, but when I went in and looked at what he was doing, I really liked what he's doing. That was the reason that decided to have him on the show. Couple different ways of doing that.
Andy: All right, so scrolling down here, the next question is, "Hey guys, quick question here. I'm still on R1 and finally working on the baby muscle-up, hooray, but my hands are slipping when I'm lowering myself on the rings so I lose the false grip. I'm thinking about buying some liquid magnesium and was wondering if there's a risk of it damaging my wooden rings." The actual response that we wrote on Facebook may not seem extremely helpful, but you should ask the manufacturer. The reason for that is that we don't know who made these rings, and it could be a great company like Rogue or Fringe, in which case using something like that is probably going to be no problem at all, but if you've got some budget wood rings on Amazon, made in China or something, there's no way to know. Maybe, Ryan, could you talk a little bit more about grip, different kinds of rings, anything you use to make that better?
Ryan: Absolutely. Just to refresh for all of you who are kind of new coming into the podcast, my background is in gymnastics. From age about 5 to 18 I was on the gymnastics teams and so mainly working on wooden rings. When we would work with the rings, we would always use grips. Now in gymnastics, if you don't know, these are these pieces of leather that you place on your hand, usually attached by a buckle or Velcro, and you chalk up so you're using chalk in order to hold this. Something that we used to do a lot was actually we'd have a spray bottle of water and we would spray a little bit of water onto our hands as we'd chalk it up, and this would actually help keep the chalk on there. It's kind of like liquid magnesium but it wasn't as abrasive, so that is something that we would use quite a bit.
Now if you're using this with plastic, I do know that, or at least I've seen in the past, and I've used rings in different places that were plastic that had a big build-up of people who were using liquid magnesium. I didn't like it. The reason why? Because of the build-up, when you grab it, if you're not used to it, you tend to rip more often. This basically means you're going to rip a hole in your hand and you're not going to be able to do it. The working on the muscle-up especially is going to cause havoc on your wrists. Maybe instead of liquid magnesium, I don't know what rings you are using, but I would just suggest chalk and then just a little bit of water, like a spray bottle to spray just a little bit, and just check that out and see how that helps. This might be your best bet.
Andy: All right, so the next question, scrolling down here, from Mike, and it's a question about Elements. It says, "A question about Elements. It says do one to five minutes of bear crawl. Should I be doing as many sets with adequate rest to total five minutes or just what I'm capable of doing in one set of movement?" For anyone listening that isn't familiar with Elements, it's our basic program and one of the movements in it is the bear crawl, and a lot of variations of that, but the goal of any particular variation over time is to work up to, over time, of a set of five minutes. Ryan, you want to explain a little more about that, and sort of how you can know when you're ready to add time or when you're ready to make a movement complex, and some of these things?
Ryan: Yeah, this can be a little bit difficult simply because we're not looking at weight. If we have a bar and you're putting weight on the bar, you know the incremental progressions that you can use in order to help you improve, in order to increase your strength for that. Body weight is a little bit different. We like to use time. In the very beginning we suggest, first off, starting with a level progression, preferably the very, very beginning version that we have for you. Focus on the ease and focus on the quality of the movement. What do we mean by this? Ease simply meaning that you're able to perform this movement comfortably without huffing and puffing and the quality of the movement is very high. It doesn't mean that it has to be perfect; it just has to be at a point where it's very comfortable for you. Let's say we start off with doing it maybe just 30 seconds. If you're able to perform 30 seconds comfortably, focusing on the ease and the quality, then you can bump it up.
Something that I like to do and suggest for people is to go ahead and just set the time for one minute, and during that time, take breaks when you need to take breaks, focusing on that ease and that quality, but then over time gradually decrease the number of times that you're taking a break so by the end, once you work up to one minute not taking a break, then you know that you can start to add time to that. Now something else to take into consideration with this is you also have the option of performing a different variation of the movement; however, in the very beginning, I do suggest sticking with the very basic version of the movement, gradually working on increasing the time, and then once you hit the five-minute mark, then starting to work in different variations and progressions, but it all comes back down to the ease and the quality of your movement.
Andy: Okay, so the next one is from Jess, and Jess is frustrated. She says, "I wish the P1 program had auxiliary exercises for specific deficits. In my case, the L-sit. I don't feel like I'm getting any better at it. I'm on phase 3, week 9. It's almost like I need some targeted exercises to build my isometric quad and hip flexor strength at that angle." Hey, that's totally fine. Everyone is going to take things at a different rate and no program can guarantee that you will master any particular movement within any particular time frame. Ryan, should P1 include auxiliary exercises for specific deficits? Should she stop doing the L-sit and begin working on isometric quad and hip flexor strength until she can get strong enough to do it? What do you suggest here?
Ryan: Well, the big answer is no. Jess, listen, I feel your pain. Really. We all come into this different levels, and the thing is, though, just tacking other things on to the skill itself doesn't necessarily mean that it's going to help you out. The important thing here is actually to keep working on it. By stepping away and focusing on some other things, you're actually missing out on the scapular depression when you're performing the L-sit, which is also so very important. By trying to focus on the other side of hip flexors and the strength that you might need there, you're going to be missing out on the L-sit as a whole. Now with that being said, the thing is it's really taking a step back, and this might not be something you want to hear, but taking a step back and working on a lower progression and working to be able to hold that for longer periods of time. Yes, it might take you a little longer than you think, but by doing this you're going to be building the proper quality and diligent strength that you really need to be able to do this. Again, it's not just strength, it's the flexibility and the control that comes with it.
Again, Jess, listen. Just give yourself time to be able to do this. Focus on that L-sit. Focus on making it beautiful at a level that you can do it, and it will happen over time. Stick with it.
Andy: If that means bending your knees so you can hold it longer, or whatever, definitely do it. Do it at the level that's right for you. You can't put a time limit on a lot of these skills.
Ryan: Absolutely. Absolutely.
Andy: Okay, so we're just going to go right into the next question. Anthony is asking, "I live between Bridgeport and Westport, Connecticut, in the US. Is there anyone around that can give me training?"
Ryan: Oh, heck yeah. Tons of people. The best way to look for resources regarding training GMB is our trainer page. If you just go … I think the address is just that, right? It's GMB.io/trainers, I believe.
Andy: Yeah.
Ryan: Yeah, all the trainers that we have are up there. There are some people in the area. Actually, at the time of this recording right now, I'm in Virginia Beach. It's a ways away from where you are, maybe, but the thing is there are trainers in the area. Christopher, one of our trainers located in New Jersey. There's people all over. Might not be as close as you want, but here's another thing, too. Check out the alpha posse, our online community that we have. I'm sure that there's some people in your area, and starting a little group working together is another option.
Andy: Here's another thing, too. As good-looking and as good as our taste in music is, we're not the only people that can help you.
Ryan: Absolutely.
Andy: If it comes down to it and you aren't able to find somebody who is a GMB trainer who can work with you, look into Parkour classes or look to a dance studio that has a fitness component or an adult gymnastics club. The quality of these varies widely, all of them, but it's the same with anything. Look for other options, too. There's people out there that teach just as well as we do.
Ryan: Absolutely. Very good point.
Andy: I don't hesitate to say that at all. There's people out there that teach just as well as we do, and you might find somebody a lot closer. If you do want somebody who's familiar with our programs? Then, yeah, check our trainers page on our web site. We have people that are working toward that certification all the time, so hopefully we'll have people closer to you soon.
All right, so the next one is actually another recommendation from Aiden. He says, "If you have any interest in movement training, you should check out GMB Fitness. The Elements course starts at a very basic but articulate level. Even at my size, I can work on the initial movements with some suggested modifications and I'm excited to get my mat mobility back and to see what it does for my BJJ game." Thank you for that. Actually we do have a lot of people doing BJJ that are using our programs lately. Ryan, actually, the past year, or not even a year yet-
Ryan: It's only been about six months, yeah, so.
Andy: Gotten really serious about BJJ lately, so it's a good fit.
Ryan: Yeah, very good fit.
Andy: Okay, next question below that, from Richard, it says, "Hi guys. I have been watching and doing some of your videos. I think they are great, but with everything from my ankles to my shoulders and everywhere in between needing work, I don't know where to start. LOL. So being a simple man that can follow simple rules and [I am guessing it's] guidelines, I ask you this: Is there a set routine or two that I could follow for say 20 to 30 minutes 3-4 times a week that will cover everything?"
Ryan: Yeah, sure. Well I mean actually, you know, simple question is you could say is we've got Elements. Elements is a great program that'll get you on track, get you going. Focus on your strength, mobility, flexibility, and control. You know, for as much as we would love for you to buy our programs, another option is, too, to check out our YouTube page. There's a lot of things on there. Not necessarily something that you would follow along with, but there are a lot of options for you that will address the issues that you brought up. Just to go back over that again, Elements I think would be the winner in this case, but do also check out the YouTube page because we have tons of fun stuff up there.
Andy: Yeah, and I'll also say everyone has shoulders and ankles and everywhere in between, and everyone needs work on all of them. Well, why don't we just make a damn program that fixes everything, Ryan? Why don't we just wave the magic wand? I'm not making fun of anyone, but that's exactly what it would be. There is no magic wand that can just fix everything for all people. You have to do a little bit of work on figuring out, of your shoulders and ankles, well which of those things you need to focus on most right now. You can do a little bit of both but then you need to look and say which of these exercises is going to make the biggest difference for me. You might look at someone doing an advanced shoulder mobility exercise and think oh this is the thing I should be doing, but if your shoulders are really tight and stiff, it's not. It might be too hard for you, and it might cause you to be injured. One thing I will say is if you have questions about this stuff, you can definitely send us an email.
Ryan: Oh yeah. Absolutely, yeah.
Andy: You know, we'll shoot you straight if we have to send you to someone else, too, or if you find a video with an exercise and you want to ask is this something that is safe for me to try, we'll check it out and let you know. Even if you do buy a program, yes we can take a lot of the work of programming and picking exercises and things out of it for you, but you still have to be active in what you're doing. You can't just put it on a screen and, and one, and two, and three, and just sweat to the oldies and get your dream body or something. You still have to work at it. You still have to think. You still have to try, and to try to progress and get better at things. I'm all for being a simple man and following simple rules, and that's great, but even with a program, you're going to have to put in a little bit of work and attention as you go through it, too. Don't discount that and don't think that it's above your head. It's not above your head to get the best advice and to figure out how to make it work for you. Ever.
Next question from Chris. "Hi, I have a quick question. Which program from GMB would help me be an AWESOME" … It's capitalized … "runner? I'm running the Rugged Maniac again this year in August" … I don't know what that is … "And I want to run the course as well as handle the obstacles." So I guess it's an obstacle race. "I can do the obstacles well enough and I want to beat my son and his friends who are 30 years younger." So it's an obstacle race and this guy, basically, he can do the obstacles well and he wants to know how to be better at running so that he can do it in better time than younger dudes. I'm all for beating younger dudes at their own game.
Ryan: Hell yeah. Well the fastest answer would be to check out our program GMB Running. I'm just kidding. We don't have GMB Running. I think, you know, as far as the running goes, we don't specialize in that sort of thing. I think the best thing that you could do is actually find a coach to help you to improve your running. That's one option, but then also take a look at where in your body you need the most work. For example, let's say that you're pretty good at running but you do find that you have issue with your hip flexors. If that's the case, then maybe check out our videos that we have on stretching and opening up the front line of the body, making sure that your hip flexors are good to go. Hip mobility, things like that. Also addressing the ankles. I don't think it would be necessarily one particular program besides maybe Focused Flexibility, which will allow you to be able to assess your situation and look at really where you need work and then you'll address that and then follow up by applying that through the protocol that we have laid out in focused Flexibility.
Andy: All right, so this will be the last question that we do today, but, again, I want to encourage anyone listening, if you have questions you want us to answer on the show, send them in because we do love answering questions and we love helping people out. This last question, from Samuel, "So where does the out-of-shape beginner with poor hip mobility, flexibility, and range of motion issues start your program?"
Ryan: Hey, Samuel. This actually is a pretty easy answer and it's because we always have everyone start with our program called Elements. Elements is kind of like the place to go. It really actually doesn't matter what level you're at. I mentioned this earlier where we were looking at assessing the situation, we address it, and then we work on applying it. This is our triple-A framework that we have that's looking at our strength, flexibility, and motor control. Elements would be the place to start off. It's a great place because you ease into it. It's not the kind of program where you're going to be doing massive hard-conditioning sort of thing. Again, you assess where you are and then you match that workout depending on your particular level. I really suggest that start off with Elements.
Andy: Yeah, and just to mention, like you said, it's a program that will work no matter what your level. I know some people have a hard time with that. They don't understand how it's possible, so I just want to say it's possible because people at different levels will use it for different things, okay? So somebody who is out of shape and a beginner, they're going to be using it for easing into movement, to learning how to put weight on their hands and condition their wrists, and start moving around, being building that hip mobility, even using props if necessary to begin, being able to extend the range of motion and get into a squat so they can practice moving more, and extend the duration of time they're able to move and build their endurance and stamina. We've even had a female power-lifting champion in the UK who used Elements specifically for her hip mobility and shoulder endurance to be able to get her lifts stronger and faster and deeper, and she had great results with it. We've had people at all levels use this as supplemental training for other sports and activities, too. That is how it can work even if you're very beginner or very advanced. The things that are in this are very fundamental, and that's why it lends itself.
I just felt I needed to address that because this isn't like a hype thing that we're like everyone should do Elements because it's the ultimate solution to everyone's problems. That's not it at all. It's just that the way it's structured, it can either work for someone just starting out or as supplemental training it can be really valuable for people with a lot more experience, too.
Anyway, if you do ever have questions about that, of course, as with anything, send us an email. I think people have been surprised before when they ask us which program they should buy and we tell them to buy something by someone else. Don't think that we're going to try to give you the hard sell if you ask us a question. Ask any questions you like, and if you want us to answer one on the show, definitely let us know and we will put it in the queue to do so.
Thank you for listening.
Ryan: Thank you, everyone.
Be sure to catch the next episode by subscribing to the GMB Show:
The Future is in YOUR Hands!
Left to our own devices, we'd soon be churning out episodes on the sorry state of Mexican cuisine in Osaka. Answer these questions and tell us what you want to hear:
';