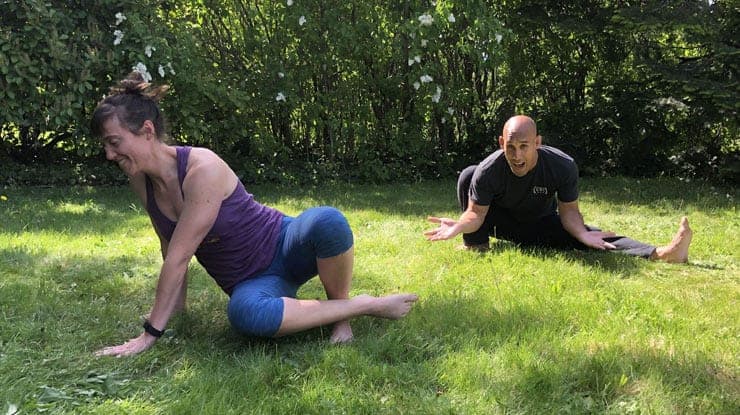 As you know, we're big advocates of getting your play on. So, when someone comes along who's doing it in an unconventional way, then we have to talk about it.
On this episode of the GMB Show Ryan sits down with Mark Smith, the owner and founder of Asylum Fitness, who emphasizes the importance of play as a means of fitness.
At Asylum Fitness, Mark combines the best of traditional calisthenics movements with the unconventional techniques of outdoor play in the lush North Carolina forrest.
Heading out on trail runs, free-jumping rock formations, and even intense games of "toe tag" are just some of what passes for "normal routines" with Mark and his clients.
In this episode Mark opens up about how he found his way out of the rigid mainstream fitness culture and into the freedom of play and self expression and how this approach not only saved his health but created opportunities to help others do the same.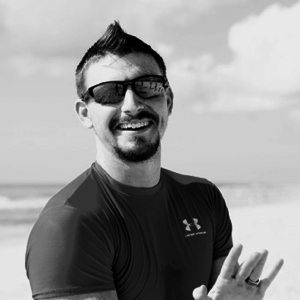 Mark Smith is the owner and founder of Asylum Fitness. He is a Movement and Strength Coach. He believes in reclaiming our birthright as humans to be able to move however and whenever we want or choose to. Coach Mark teaches his students how to move as they did when they were kids, freely and without hesitation or thought.
The goal for students at Asylum Fitness is to live long active and playful lives. Coach Mark also enjoys teaching his students to reconnect with nature through play, as well as reconnecting to other humans through games. Ultimately through his teaching we move better, feel better, become better.
I define fitness as the ability to do. – Mark Smith
Asylum Fitness
Mark on Twitter
Mark on Facebook
What you'll hear:
2:50: Why Mark gave up the "gym rat" life
8:15: How less structure can get you to your goals more quickly
12:55: What being a better person means, and where good communication fits in
16:20: What to notice when playing outside with children
23:30: The games from Mark's classes that get his clients laughing and playing like kids
29:15: Fitness as legacy – how what you do today will impact future generations
Links and Resources:
Mark's recommended book, The Old Man and the Boy
Turning Unconventional Play Into A Lifetime of Fitness
Ryan: Everybody, welcome to this edition of the GMB show. In today's episode I had the privilege of speaking with Mark Smith. Mark is the owner and the founder of Asylum Fitness. His main thing is really getting people back to the outdoors, not just working out, lifting weights, and things like that, but really looking at moving outside and having fun and playing. This play mentality is something I really, really enjoyed talking to him about. We cover a lot of different things in this interview. Something that I was really happy about is that Mark is also an eagle scout. For those of you who don't know, I'm an eagle scout. It was really cool to hear what he had to say about always being prepared. This is really, he likes to say, the ability to do.
 
Whether you just want to be able to move your body better, have better awareness, enjoy life, and be a better person. We also talk about what it means to be a better person, to him, and he shares some insights to how he plays with his kids, discusses things like shoes, about being overly protective, about wrestling, roughhousing. As well we talk about working with adults and how he's trying to get people to go back and use this mentality of being able to play and think like a kid. He talks about a couple of the games that he likes to use for education and how some of his kid's classes he has the kids makes up games. It's pretty interesting.
 
In this interview there's a lot of different stuff that we talk about and I think that really the main thing, the main thing to get out of this interview, is to get outside a bit more and work on preparing our body so that we can enjoy life more and focus on the concept of play. Just kind of stepping away from the desk, step away from your computer, take some time to be outdoors with your family, with your loved ones, and enjoy. Let's go ahead and get into the interview with Mark Smith.
 
Mark, thanks for being on the show today. Let's go ahead and just get right into it, man. I want to hear a little bit about your background. Where you come from? What are you doing? What led you to what you're doing today?
 
Mark: Thanks for having me, Ryan. Thanks for to Awaken Alive dot net for arranging this between us. I've been a big fan for a while.
 
What led me to where I'm at today. I was your typical … I'll give you the abridged version since we're 30 minutes today. Sometimes this story takes 30 minutes but I was your typical gym monkey, your gym rat, in all the time lifting, trying to get swoll, trying to go hard and heavy as much as I could, and I even more or less had grown up in the gym. My parents managed one when I was in high school and one of my first jobs was actually working the front desk and basically anything that was asked of me. Cleaning bathrooms to helping members out to showing people around and selling new memberships and everything in between that. I more or less cut my teeth in the gym atmosphere and my motivation by my early 20s, late college, and going into early adulthood was to be the guy in the gym that went harder, longer than anybody else. It just fed my ego to have workout partners that couldn't keep up and I got to get another guy in here. If I was hanging out there maybe 2 and a half, 3 hours, a productive, hard exertion.
 
At about 23, I was working at Gold's Gym. I had been a manager for a while in sales, personal training, and then I had stepped down to personal training because I knew I wanted to be in personal training and work with the people. I was about 23 and I just remember every day getting out of bed it would take me 30, 40 minutes just to not hurt and it just kept going on and one day I got out of bed and I just said, "This is not right." I started doing a little bit more unconventional functional stuff. A little more body weight stuff at that point. Started making changes early on and I think it was a year later, maybe even a few years later, I was at a seminar and I heard Greg Cook talk about the FMS and mobility and that I think it was like whistles at a carnival going off in my head. It was like, "I need to do something different."
 
That kind of sent me down this rabbit hole. It ultimately led me through a pursuit of better mobility. At the time, listen, 5 years ago I couldn't sit Indian style. I couldn't do a resting human squat. I couldn't touch my toes. My overhead mobility was about between my eyes and my ears if I'm reaching straight overhead. It wasn't … I didn't have 180 degrees overhead. I was just a poor specimen of movement but I was fairly strong. I would argue that I'm stronger now actually. I was very strong back then. I did have that credential. It was more just barbell strength. I can help somebody move but I would hurt afterwards. Now I can help somebody move for 6, 7 hours and it doesn't bother me the next day. I can get back to what I need to be doing.
 
Anyway, I'm down this rabbit hole. I've been down this rabbit hole for the last 4 years or so. Fervently. Just seeking out how to move better. I've sought education from … Like I said, I mentioned Greg Cook. I did some of the move mat stuff with … Not with him but I did it under his umbrella. I went to Ireland two years ago to study with Ido Portal. Also, we had Daniel Spencer of GMB come out two years ago to teach a handstand workshop and that was really fun.
 
Just whatever I can get my hands on right now in the world of movement and try to move better. Then of course I've been able to develop my own approach through that. We'll get to that here in a little bit.
 
Ryan: Yeah, man. You're a busy guy. You contribute a lot. Write a lot of articles. We have a lot of mutual friends. You're a contributor to On It quite a bit which is really cool. Coming back a little bit and looking a little bit deeper into your background. I know you're an eagle scout. I am as well. Being a boy scout and going through the big thing was always be prepared. Kind of go into this and how does this relate to movement and how does this relate to what we're doing? Well, really, it's similar to what I think you were just talking about in that we might think that we're prepared for something but when we actually try and move beyond it we realize maybe we aren't and so you being into your movement practice and moving more towards that, I'm interested to really hear like right now and how you share this with your clients in terms of what they need and how can they be prepared for what they want to do.
 
Looking through your material I notice you do a lot of that. You do a lot of work outside. It's not within a gym. I know you train people inside of a gym but mostly you're looking at a lot of things, taking things outside, looking at being outdoors, looking at moving beyond just simply let's just say conventional type of strength training that you're doing. I'm interested to hear a little bit more about that and how your approach can help people to become better prepared for the things that they really want to do in their life.
 
Mark: Yeah, absolutely. It's funny that we picked this topic. Last, not this past Sunday, but 10 days ago, I was competing at my second Highland Games event. I kind of got the Highlands bug, man. It's a lot of fun. I'm tiny for the sport but it is fun. It was near where I grew up, my hometown, so my scout master, who I'm still very close to, he came out there and we ended up having this conversation about how being prepared is it's not just a scout thing. It is an absolute life philosophy. I think you're spot on.
 
One thing I've realized with fitness … I define fitness as the ability to do. I just leave it at that. The ability to do.
 
Ryan: I like that. Yeah.
 
Mark: Thank you. I think it's a pretty simple definition and it doesn't over-complicate it and it gives you some freedom. The ability to do. It's like I said. Earlier, there was a period where I was strong but to move somebody I was achy for days afterwards. Really, as I've grown and progressed in my own philosophy I have reintegrated this love and passion for outdoors and I try to get that with my students. The importance of being outside. You don't have to be a Bear Grylls or some living off the grid kind of guy but people are just inside way too much these days, Ryan. I think it's a disease that we're not addressing. I really do think it's a sickness and I think it's a condition. Humans need to be outside. I try to stress that in my teaching but also prepare people for that.
 
What do we do outside? What are ways that you can enjoy the great outdoors more? I just wrote an article a few weeks ago for Civil Wolf Nutrition called 5 Ways An Everyday Guy Can Enjoy the Outdoors a Little Bit More. Part of that, or number one, was being physically able. You're much more enjoyable on a hike if you've got a certain level of physical condition. Even something simple like you might be at a company picnic and a pickup game of volleyball might come up. If you're in just a little bit of shape and not your average slob, you can have a good time.
 
The other things is stuff like awareness that there are inherent dangers … Not just outside but really everyday life, and even driving your car you need to pay attention better, but there are things to look out for, your basic hazards. This is poison ivy, guys. I've got poison ivy that grows behind my studio. I point it out to my people. I don't worry about cutting it down. It's just don't get in it. There it is. That's what it looks like. It's easier to teach people than to protect people, I think.
 
When I say … When you come to Asylum Fitness I want you to be a better person. I want you to do better at your job. I want you to be prepared for stuff. I want you to show up on time. I want you to come in with the mindset that you're ready to work. These sort of things. Again, it's a complete mindset for every aspect of life. There's not one part of life where being more prepared than you previously were is a disadvantage.
 
Ryan: Coming back to some of the things that you were just talking about, being physically able. Looking at your background from this gym background and having the attitude, you know, "I've got to push harder. I've got to do more in the gym" and now to me it sounds very similar to what we're trying to do and that's simply to be able to do the other things in our life that we want to do. Being prepared for those other things, I think, this is what drew me to want to talk with you and I just think that … I totally agree. I do totally agree that, people, we need to be outside more.
 
The thing is it's like anything, nowadays we've moved away from being comfortable in the outdoors and we're so far away from it a lot of us don't know what to do once we get outside and so little things that you were just saying. Just awareness. Awareness and the training to simply understand what's going on around us so that we can enjoy and that we can be better.
 
Now this is something too that I would like to ask you here is the topic of being better. In terms of, I'm not talking about just physically abilities or things like that but what is being a better person mean to you?
 
Mark: Well, it's funny. I've got an article coming up and actually it's going to cover this topic. I think one of the biggest things and I don't know if it's a generational thing, if it's a societal thing, but I have found that communication, lately, it's deplorable. Trying to get ahold of people and have a timely response and you've got people that are just like, "I'm bad at texting", "I'm not good at emails". That's crap, man. It really is. Your phone is on you all the time. I know you saw my text and I asked you a direct question. That's a big peeve on because I try to answer everybody back as soon as I can and it irks me when people cannot respond to any form of communication or a phone call. I think that's a really big one. Just that simple courtesy of answering somebody when they ask you a question or answering somebody when they … Even if they just say hey. Talk to people.
 
We don't even talk face to face anymore so now we're not talking even through our electronic devices. People, they cannot communicate anymore. I think if you can work on that you're already at a huge, huge step in the right direction to being a better person.
 
Ryan: I completely agree. I have two kids. You have children, right?
 
Mark: Mm-hmm (affirmative)
 
Ryan: One of those things about being a dad and especially recently my kids they're allowed to be on, not games, but they have an iPad and they get a certain amount of time each day and it's like that's okay but there's a big thing … I do live in Japan and that is making sure that you always greet a person. You always got to greet the person. You always have to look them in the eye when they're talking and say thank you and please and whatnot and unfortunately I find that it doesn't matter where in the world you are nowadays a lot of kids don't know how to communicate. It's sad. It's a good point you bring up.
 
Mark: Adults don't know how to communicate now. I think at one point they did. I think 10 years ago a lot of adults that have trouble with it now could communicate because they had to and now that they don't have to because of technology I think that they opt not to.
 
Eye contact is uncomfortable. For a lot of people. I like and respect that you're doing that with your kids. I'm definitely doing the same thing with mine, although they're 3 and 1. If you can get one to not bite you and one to give you a high five you're doing pretty good.
 
Ryan: Since you're talking about kids let's change the topic slightly and I'm interested to hear how you … I don't want to say exercise. Actually, I don't exercise with my kids. I play. That's all it is. A lot of people will ask me, just recently I was in Hong Kong and people were like, "Wow, must be really cool to have you as a father because you can train your kids." I'm like, "What are you talking about? I have never trained my kids. All we do is play."
 
I'm interested to hear how you go about enjoying your time with the kids, being outdoors with them. What are some things, really, that maybe you need to be more aware of when you're outside with your kids compared to being indoors or whatnot?
 
Mark: If you have really small children, birds are prey. A hawk will scoop a kid up. That is definitely an issue. It actually is a real thing. Luckily my two kids weren't chunks so I didn't have to worry about them. This is actually my favorite question that you sent me in the email before this looking over some questions to think about and some topics was life with kids. Being a dad to me is so important and I'm so blessed with my schedule that I'm pretty much just stay at home dad like 4 or 5 days of the week and then I go to work in the evening and teach some classes. Or I'll go early enough in the morning.
 
I get a lot of time with them. I take them outside as much as possible. We got on a lot of hikes. We've got a couple really nice state parks and some trails nearby. One of the things that I think is very important, one, first, let me just go ahead and say this, Ryan, that if you can keep your kids barefoot as much as possible that's important. Don't put your kids in shoes early on. You will create long-term problems and it's not worth fighting in the end. I've got people with so many foot problems that come and see me. The number one rule when you get to my studio is your shoes have got to come off. I don't want to deal with these issues in an adult if we can address it as a kid. I'll say that and then I'll move on.
 
One of the things that I see too much and I certainly don't want to step on anyone's toes as a parent because everybody parents differently but if I can get somebody to scratch their head a little bit and maybe think, "Hey, that's not a bad idea" then I think I'm doing well. We try to safeguard our kids too much in the outdoors. They're going to fall down, they're going to trip, they're going to get scraped, they're going to poke themselves with sticks, they're going to step on stuff. We got pine cones everywhere in Wilmington, North Carolina. Everywhere. I cut my foot on a pine cone like once a day. Once in a while my kid will just clip one and it will cut his foot pretty good. Guess what? He learns to avoid the pine cones. That's a simple example.
 
When I go on hikes my kid can be 200 yards behind me and he'll just sit down on a trail and I'll just stop where I'm at. I won't go back and get him. I won't necessarily call him towards me. Unless I've got to be getting back to work or something like that. I let him do what he's going to do. I don't even know what he's going to do. A lot of times he just sits down and plays in the sand or he'll start doing some sticks or something. The other one is usually on my back. I just let him be. I think that that is the hardest thing for a parent to do in the outside is to just let them be. Let them touch stuff. Let them see stuff. Let them experience stuff. Let them taste stuff and let them experience the natural world through their eyes. The second we try to interfere it's no longer through their eyes. They're seeing stuff and experiencing stuff on an entirely different level than we are and we can't comprehend what they're experiencing.
 
Another thing is really educating. Point out this animal and that plant and people should know the natural world. I got picked on in high school, they called me Nature Boy because we could go outside with a class and I could tell you every leaf, every bug that crawled by, any small mammal. It was kind of funny. I earned it. I spent a lot of time outside as a kid and I earned it.
 
Another thing and you touched on it already but it's play. I don't work my kids out. I'm never going to work my kids out. When they're a high school athlete I might give them a program if they're involved in a sport that needs a program, just so to correct somebody or redirect them on Facebook that I have some rings in my studio and my son was hanging on them and swinging. I filmed it and posted it and the person goes, "Oh, look at Ronan working out." I said, "He's not working out. He's just doing it because it's there. He doesn't think of it as working out or exercising." He just does it because it's there. He thinks like, "Oh, look, I can hang on this and swing." Same with the stall bars. When he climbs up the stall bars and hangs from the top. He just does it because it's there.
 
Let them play. Let them have freedom to do it. Let them wrestle. I've got my two boys they wrestle all the time. Let them do that. That's important. Huge part of learning in most species is roughhousing and we try to just absolutely squelch it as parents.
 
Ryan: Yeah, I'm in complete agreement with you on everything you were saying. With the shoes with the kids, especially with me being over here in Japan nobody wears shoes once you're inside and whatnot. My kids are always got their shoes off outside too.
 
The point you brought up about being overly protective. I see this so much and it doesn't matter where you are. Go to a playground and the parents saying, "Oh, no, no, no, don't do that. You're going to hurt yourself." Well, probably not. Even if they do they learn. When I was growing up the Big Wheels. You remember Big Wheels?
 
Mark: I used to ride mine down the steep driveway and shoot through about a four foot opening in a brick wall that jumped a brick patio and then landed in the backyard. It terrified my mom to death. It was like Evel Knievel type stuff. I don't even know how I made that gap but it just fit the handles. Just. Like an inch on either side. I would hit that thing full speed from the top of the driveway.
 
Ryan: That was fun, though. That's how we used to play, right? I remember climbing trees and jumping out of trees and doing stuff. Let kids play. That's the big thing too when you bring up the roughhousing and the wrestling and I do Brazilian jiu jitsu and my son …
 
Mark: Congratulations on your blue belt, by the way.
 
Ryan: Yeah, thank you very much, man.
 
Mark: I got mine in like 2007. Something like that, maybe.
 
Ryan: Cool. All right. It's like my son jumps in on the class and we don't do…we just play. That's all it is. Just, I'd like to see more people doing that and it's so great to hear you telling us and explaining how you do with that.
 
Let's move now into the adults. How do you work with adults? It's obviously very different than kids but if you could give us a rundown of maybe … I don't want to say a typical class because I have a feeling that your classes aren't very typical. What can we expect if we go and want to train with you?
 
Mark: My goal, okay, when somebody comes to me my goal is to get them back to a physical capacity and a playful mentality like they had when they were a child. Actually, I'm going to go backwards. I want them to then work like they are a kid. That's a little bit easier said than done. It actually makes it kind of tough, but, Ryan, once you embrace the weird, once you get past yourself and know it's okay to be silly as an adult we start to have a lot of fun. We start to play a lot of games and people start to learn a lot that they don't even know they're learning because they're just playing and all of a sudden something is in a game setting and, "Wow, look at all the skills I just acquired."
 
Here's a great example. We played this game … I played this last week I think. Last Tuesday night in one of my classes and it was foot tag. In this class I have a population that ranges from 30 adult male to 61 adult male and I've got everything in there from sometimes tricky spine to a very tricky just getting back it, very tricky, lumbar spine. It's calling out of about a year off to mend it and it was some degenerative disc type things going on there. This is the spectrum we've got right. We start playing this foot tag game. The object is just to touch the person in front of you's foot. We're playing this outside in the grass. I'm just observing. All of a sudden I see people diving, doing barrel roles, I see people lunging forward, I see people crawling forward and backwards.
 
When I stop them they're all huffing and puffing, breathing real hard, and I said, "I bet you guys cannot begin to identify how many different movements you just did but if I had asked you, if I had said, 'Hey, do a roll' there would have been hesitation." It would have been in the front of their brain, "What are the steps to doing a roll? How do I break it down? How do I do the safe thing?" But when it was in a game then it became slightly competitive they were just doing it because it was a natural way to get out of the way or it was a natural way to advance forward. Crawling backwards and forwards was the way to evade and invade.
 
Using games to get people to play, kids play games all the time. I teach a kid's class on Mondays at my kid's preschool. It's got three and four year olds in it. There's 9 kids in the class. The class is basically structured like this: each kid takes a turn telling me a game they want to play. They make up this game, the rules are ridiculous, and all I do is sometimes give a little bit of organization to smooth out the rules to make there an actual objective. They are actually creating the class. I want to be able to get adults to be able to have that creative capacity. That's the hardest part is to get adults to then be creative. When I have an adult client coming in saying, "Mark, I was hiking in the woods the other day. Saw this tree and just started climbing it and thought of you." I was like, "My job here is done." Not really done but we've reached a new level when you started playing.
 
When I see somebody and they're like, "I was in the parking lot and I just started jumping from parking spot to parking spot" and I'm like, "You're starting to play just because it's there." To me, that's the achievement of my student and me as a coach is when it just starts to happen and they start to do it more and more. Some never will do it. Some will never get out of their comfort zone enough to do it and I have to understand that and we might structure their stuff a little more conventionally like, "Hey, here's some sets and reps and here's a little starter kit." Most of them will at least with the time with me embrace and enjoy the play and understand it's totally different. I had a lady start with me on Monday and she's like … I said, "Is this like what you expected?" She said, "Well, I didn't come here with any expectations." That's a great answer. That's what I needed. You're way ahead of the game.
 
Ryan: Listening to what you're saying and the first thing that pops into my head is that … Well, not the first thing but one thing that popped in is that the benefits that you're after here aren't the six pack. You're not going for the six pack. You're not looking for this thing. It's looking at being able to use your body more efficiently, of course that's what you're after, but mainly what I'm hearing right here is mainly about exploration in order to learn more about your body so that you can have more fun with it. Am I right in saying that?
 
Mark: I think that's one of the more poignant summations of what I do that's been said.
 
Ryan: Cool, man. It's so refreshing to hear that too. I know you know a lot about what we're doing at GMB and stuff and that physical autonomy and listening to what you're doing and the way that you do things it's very refreshing to hear.
 
Going a little bit deeper and with you, where are you going? Big question. Big question. What do you want to share? What are you after?
 
Mark: That's a great question. I think in terms of … I think ultimately is every … Well, anybody with ambition they want to leave a legacy. I would argue if you didn't want to leave a legacy then what are you doing here? You've got to have a purpose. Your purpose should be to not impact the next generation but the generation to follow. If I can, in some way, Ryan, just … I've always had this playful spirit and this joy about me. If I can just make that contagious and get these other people to just … They don't have to buy into it. I'm not wanting people to buy into it. I just want people to know that it's okay to play. When my kids are on the playground I am the only adult barefoot on the playground, on the slides with them, climbing up the slide, walking across, doing the monkey bars. The whole time. I'm out there with them. I'm chasing them around this playground stuff. Swinging through it. Moving and all this stuff.
 
It's okay to do that. I don't know why you stop playing. Was it George Bernard Shaw that says, "We don't stop playing because we grow old. We grow old because we stop playing." It's just a great quote. Some of the coolest old grandmas I know it's because they still dance or they still throw a softball with their kids. They just never left the playground and it's always there. There's so much mentally, mentally, Ryan, that would benefit from this. Especially with the way our society is set up. No one wants to sit at a desk all day. It's going to kill you. Get outside and just go play and for the sake of playing.
 
If I can get people to stop thinking that they have to exercise, that they have to do this … I still have people that have been with me for a while that still say, "Hey, I need to do my cardio and I need to do my weights" and I'm like, "No, just do something with your body. Run around and play tag." Play tag as an adult. Most adults can't make it 5 minutes because they get tired. Kids can do it for an hour. Easy. Easy. It doesn't have anything to do with youth. It has to do with practice. It's because they're not doing it. That's what it has to do with.
 
That would be a thing. If I can get there to be a movement that just is like I want to play and I want to be outside and I don't need a big gym, I don't need weights … I still lift weights. Don't get me wrong. I definitely still at least do my dead lifts and the occasional foot squat but … I like being strong. It helps my Highland Games stuff. That's for sure. If I can just get people to move past this mentality that we've had since about 1957 and get back into that childlike state I think the world will be a better place if everybody played more too.
 
Ryan: I agree.
 
Mark: Everybody would be happier.
 
Ryan: So much good stuff that we talked about today. Leave me with something here. There's a couple things I want to ask you. Two things. First off, what is a great book that you would recommend to the GMB listeners?
 
Mark: I've got a book. I'm not reading right now but I'll tell you my favorite book. My favorite book is a book called The Old Man and the Boy. It's got nothing to do with fitness. Everything to do with life. It was written by, believe it or not, a local author. He was located about 40 minutes south of here. Which is funny because I read this book as a child and it resonated with me so much. The old man is this kid's grandpa. He's the one taking him hunting and fishing. It takes place in the early 1900s in eastern North Carolina. A lot of same haunts I grew up hunting and fishing and going outside.
 
The Old Man and the Boy it's a relationship that you don't see today anymore where an older person is taking a youngster outdoors and giving them a passion and an appreciation that will last a lifetime for the outdoors and a love for that. Robert Ruark, the author, R-U-A-R-K, Ruark, is just a master wordsmith and he puts you right there. If anybody has ever been hunting or fishing, your dad has ever taken you fishing, you're going to love it. Even not, you just need to read it because nobody is passing on that passion anymore to the next generation to love the outdoors and grow up taking care of the outdoors. We're just developing right and left but at the end of the day somebody has got to take care of this world. It's going to be the people that care about being outside that take care of the world.
 
Ryan: Cool, man. That sounds really good. I'm going to check that book out. Yeah. Last question for you. Last question is, what do you want to do right now? What is the one thing that really just drives you? What is the thing that keeps you going?
 
Mark: Right this second it would be going to bed. Actually, man, I've really got this Highland Game bug. I do. I do. I tried it a couple weeks ago, I guess, and like I said I am so small and undersized … I did find out there's a lightweight division under 200 pounds. I'm about 180, 185. I think with some practice I can actually be competitive there. It's just something about … It's because the weights are so heavy that I'm throwing it's going to rely on perfect technique in order to make it … In order to be competitive.
 
Chasing this technique and getting these spins down and figuring out how to do the ones I'm not good at right now is … I think about it when I'm going to bed every night. I think about it when I'm driving. Listen, having this flu bug for the last week since last Wednesday has been driving me nuts because I haven't trained or practiced at all. I just want to throw a chunk of metal into the ground now. I do. I want to get better at it. I think I want to give this a shot. Try real hard this next year and really see if I can develop this as a sport. I haven't competed in anything since I was mid-20s. I think the last thing I did competitive. I did do one Spartan race competitively and I did very well but I think I did jiu jistiu when I was 23. It was like the last thing I did competitive. After high school sports I was like, ah, I did intramurals and it was like whatever.
 
Ryan: That's cool, man. I wish the best of luck to you for that. We covered a lot of stuff today and I just want to say thanks so much. One of the big things, always be prepared, always great to talk to a fellow eagle scout and thanks for sharing your knowledge. Looking forward to talking to you again. Thanks again, man.
 
Mark: Thanks for having me on the show. It was an honor. Like I said, I've been a big fan for a while. When I knew we was going to talk I got super excited.
 
Ryan: Good deal, man. That's great. Listen everybody. We're going to have links where you can check out more about Mark and so. Until then, get outside and play. Thanks again, Mark.
 
Mark: Thanks for having me. Bye.
Be sure to catch the next episode by subscribing to the GMB Show:
The Future is in YOUR Hands!
Left to our own devices, we'd soon be churning out episodes on the sorry state of Mexican cuisine in Osaka. Answer these questions and tell us what you want to hear:
';