It's hard not to get caught up in the end goal with your training (or any other pursuit). We often think seeing the "light at the end of the tunnel" will spur us on and help us get closer to our goals.
But really, when it comes to getting stronger, the key to making continual progress is to slow down and enjoy the process.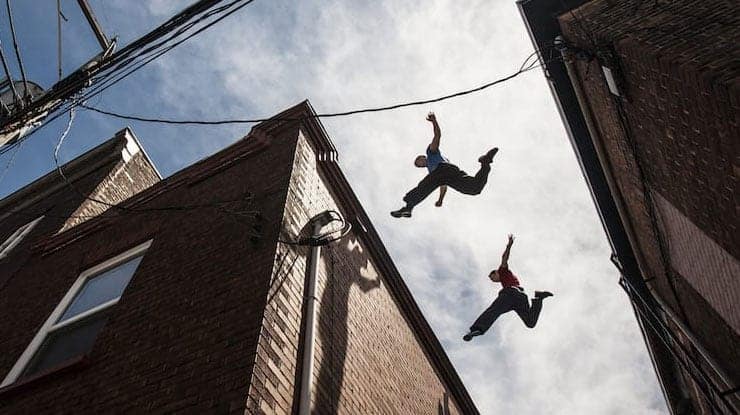 In this episode, Ryan interviews Vincent Thibault, author of Parkour & Art du déplacement: Lessons in practical wisdom (Ryan also wrote the foreword for the book!). They talk about how looking at the big picture and being fully present with the journey, rather than getting hung up on the finish line, has helped both of them in their training.
Here's a little snippet of their discussion:
"I think the most important thing is to actually be able to enjoy the path, and sometimes even more than the destination itself, because… we never really get there."
(00:44) Who is Vincent Thibault?
(05:00) There is more than just technique and physicality in training. There are multiple layers of thought, creativity, and spontaneity.
(08:20) It all comes back to listening to your own body and following autoregulation. In Vincent's words "Don't Jump."
(18:50) Each person is going to have their own steps they take toward a goal. No one is going to travel the same route as another person.
(22:00) Sometimes you have to test yourself. It is the only way we can know if we are ready to move on or if our practice is actually working!
(31:25) Meaning and Motion and how it helps define the bond between movement and mindfulness.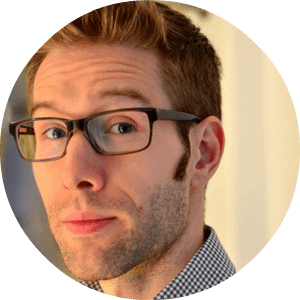 Vincent Thibault is a prolific author (with ten books written in French, two available in English, and many more books on the way) and parkour instructor. He is the director of the Art du Deplacement (ADD) Academy in Quebec, and is a respected teacher of parkour and movement.
Recently, Vincent founded Meaning in Motion, a platform to promote the relationships between athletics and ethics, between strength and mindfulness, between movement and spirituality. Deeply influenced by the rich philosophy of parkour/art du déplacement, this method appeals to runners, climbers, dancers, martial artists, yoga adepts and all movement enthusiasts alike.
You can find out more about Vincent on his website, Facebook, or YouTube channel.
Ryan: Hello, hello. Welcome to another episode of the GMB Show. Now, before we begin, I actually want to thank all of my listeners out there. We received some really great feedback and some comments about the wonderful guest that we've had on the show, and we couldn't do this without great people coming on the show and today we have another wonderful person that's joining with us today. Today we have Vincent. Vincent Thibault here with us. How you doing, man?
Vincent:  Very good, thanks.
Ryan: Great. I'm wonderful today. I wanted just a brief introduction about Vincent. Vincent actually, it's interesting, he and I … I don't know how far back we've communicated. This is actually the first time we've talked in this format before, but way back when your first book, I remember reading your first book, and then I had the privilege of course and the pleasure to writing the foreword to your new book that we'll be talking a little bit about today.  Could you tell us just a little bit about yourself, a little bit of background. Then we can get into the meat of the topic for today.
Vincent: Yes, absolutely. First of all, I'm super-happy, super-excited, to be here. Thank you so much for the opportunity.
Ryan: Thank you. Thank you.
Vincent:  I've always been a big fan actually of GMB, so it's an honor. A bit about myself. Basically I do two things in life, one of which is having a weird pronunciation with English sometimes.
Ryan: I think it's wonderful. No problem at all.
Vincent: Maybe you guys will have Ryan translating it for you at some point or close captioning.
Ryan: There you go.
Vincent: Yeah. Basically I do two things. I'm a writer. I've been publishing about a dozen books, but most of them I published in French. These include actually both fiction and nonfiction, so I do write novels. I'm actually working on screen plays right now. I've been writing books for about ten years I'd say. I'm also what we call ADD in French, art du déplacement or parkour instructor. I co-founded the ADD Academy of Québec or the parkour academy set in Québec City in Canada. But I travel in a bunch of different countries and coach a bit. I actually wrote two books on the subject. This is what we are going to be talking about.
Ryan: Great intro. Just simply the fact that you are writing and a damn good writer. I haven't read any of your books in French obviously. I don't speak French at all. That's why I was so nervous about pronouncing your last name. But the books that you have written a lot of people might hear that you've written a book about parkour and think it's specifically focused on the actual application, the drills, the movements and things, when actually it's not. It's the philosophy, really, of parkour. And that is what really drew me in. Not just to your first book but also when I was reading the draft of your second one, as I mentioned, when I wrote to you about this, I said it felt like Miyamoto Musashi's The Book of Five Rings. And it wasn't just, "Okay, this is how you do it, and here are the steps to something", but little snapshots in time of philosophies, which you could pull out and use depending on where you are in your particular parkour practice, which I think is wonderful. Which leads me to asking this question of what was really the inspiration for writing this book in the way that you did it?
Vincent: As a matter of fact, you are entirely right about the fact that none of these books are about the techniques proper. They're not about say… I think you've probably seen another book recently about Strength Parkour Training or something like that.
Ryan: Yeah, Ryan Ford, Yes.
Vincent: Yeah  right.
Ryan: Yes, yes. Ryan is actually a good friend of mine, as well. Yeah, very good book and so different than yours, which I think is refreshing. Sorry, to go back to your book, the philosophy. Yeah.
Vincent: I was just giving the guys a shot. I didn't read the book tough, but…
Ryan: Really good guys, really neat guys.
Vincent: I think basically there are lots of books. Well, more and more books on either conditioning or how to make actual vaults or movements or techniques, but this is very … This is one layer, which is obviously very important. The technical and physical aspects of our disciplines. I said that plural, disciplines. It could be martial arts or something else. But the physical and technical aspects is one layer. Super-important, obviously, but there's actually deeper richness. Is that a word?
Ryan: Yes.
Vincent: And often people they do see parkour… We live in a YouTube era, or a YouTube culture, right? So people they just see the movies and stuff and they see the rooftops from the rooftops jumps and crazy stuff and some of them is very visual and very entertaining. I agree with that. It is very nice to look at, but most people don't see that it's actually just as rich as martial arts, for instance. And in martial arts…  Everybody knows that martial arts are like centuries old or they've been around for thousands of years in some cases. And everybody knows that the martial arts master is actually an icon of wisdom and love and compassion and patience and all those things, right? We know that. It's a big cliché, but we've seen that. But parkour is relatively recent in the history of movement.
People have been moving around forever, but I mean parkour proper, and I often use the French run for several reasons which we can talk about later if you want, but often I use the term art du déplacement or ADD, which is an acronym. Which so does not refer to the attention deficit disorder. But this is relatively recent, right? And people, they've only been in touch with it in most cases with movies and stuff like that and they are yet to see that. So I think it's really important. Both for the laymen, the non-practitioners alike and for the practitioners also to develop a deeper understanding of their art and not only that. I also wanted a book…
You've been giving examples of martial arts classics, for instance. And for me, I – just like you probably – come from a martial arts background. And I've always found some comfort in these books. It helped me build a healthier general outlook on life, not just in my martial arts training. I've actually realized that many people who were not into martial arts at all, businessmen are businesswomen are getting inspired from the Book of Five Rings or whatever martial arts classics. And I sort of wanted, in a very humble way of course, but I wanted to try to give people ideas for the general life. Not just training.
Ryan: And you have. That's really why looking at the book, and not just this recent book, but the book before laid the groundwork for you to be able to follow up with the current book but… Just like what you said and with your background in the martial art and especially me over here in Japan it's not just the physical aspect of it, because everything that we do, the mental part of it plays such a huge role in it.
Little things like for example in your book one of the sections that you have there is called "Don't jump". For those of you who haven't written any it's looking at there's a day where you're standing on the ledge and you're looking at jumping and all your friends around you're like, "Oh, you can do it, blah, blah, blah", but maybe that's not the day for you to jump so you back off and instead you decide no, today I'm not going to jump.  And it takes a lot of not physicality, but that mental clarity for you to understand whether or not you're ready for that particular jump at that day, during that time of the day and whatnot. And like you were saying before, being able to read and go deeper and look at some of not just the philosophy, but why we do the things that we do not just in parkour, but how it can relate to everything in life, and to help us bring in more that clarity. I think you nailed it in your book here.
When I was reading this and even though I do enjoy doing parkour, I can see this is a book that anyone could enjoy. And again, whether it be for business or whatnot, like said with the Book of Five Rings, I could see this also relating to things like that as well.
Vincent: Thank you very much, I appreciate. I do thanks.
Ryan: So look at that, just a couple things within there the they kind of draw in. Something that really jumped out with me is the fact that a lot of people… And you mention this think of parkour is just something where you jump from building to building and you do these cool tricks and then you post a video to Facebook or YouTube…
Vincent: It's all about videos, right?
Ryan: Man, you gotta get that shot… I was actually just joking about that yesterday with a few people. "Yeah, you just got to make sure it looks good on Facebook." People are so result-driven in our society now. And they're constantly looking at a particular trick or something that they want to achieve. But really, it's all about the profits, right? It's something that you do in one of your not even chapters, but one of your sections of your book was focusing on the process, and making sure that working with that is your main priority. In terms of what you're doing, in terms of your writings… This is actually something that interest me is that when you set out to write a book of course you want to write the entire book but you've got to focus on the process of setting things up. I'd like to hear a little bit more about that in regards to maybe your writing and as well as your parkour and teaching and your lifestyle and that.
Vincent: Just to give you a bit of context for the guys out there and the listeners who may be out and see the first book. It was a bit shorter. Actually I might have a copy year. Just to let them know what we're talking about. This is the – I don't know if you guys can see it – the cover of the English translation of the first book. I actually wrote that one in French. Parkour and art du déplacemant, strength, dignity, community. And then I wrote the one which you were talking about right now, with the subheading called Lessons and Practical Wisdom. This consists of about 90 short chapters.
These are just like a bunch of different ideas, and some of them you can apply to use your daily life and maybe you can just pick any one you want at any time. And you can carry to book your training session in your backpack with a couple of pages are just minutes of reading – you can find a bit of inspiration for the day. Maybe some of the ideas we're going to explore today, maybe they won't appeal to you that much today, or maybe some will appeal to you. It doesn't mean that it won't apply at some point at your training. I think one of the most… I think you've nailed it by talking about this very chapter – I think it's Chapter 8 or something.
Ryan: Chapter 8 yeah.
Vincent: Focus in the process. I think you've nailed it by approaching our discussion while talking about this very subject, because we're so obsessed with the tangible, the quantitative. We're always aiming for numbers and somehow we've been raised like that, many of us. Socially, this is an obsession and some it has been polluting movement training and sports. I'm trying to be very careful here not to be bad mouthing. I'm just going to give one example. I know many guys incrusted… They know how to work properly, they're very you're awesome guys, but some of them, they're just obsessed by numbers and have nothing to do with quality of motion or quality of movement. Actually they're scratching their backs and stuff like that. So once again just to be clear I'm not saying this is all across that people misbehaving or something. This is just something we see often.
I think the most important thing is to actually be able to enjoy the path, and sometimes even more than the destination itself, because the destination is never… We never really get there. Somehow we can always improve and even at some point, some of the listeners may be in their 20s, some in their 30s, 40s maybe older and stuff. At some point you get to a certain age. What does it mean to be strong, right? Are you going to do straight muscle-ups 5-10 in a row at 75? I don't think so.
Ryan: Maybe yeah, but.
Vincent: Your goals are going to change, your bodies are going to change. You might as well enjoy the process. It's funny that you evoked my writing, because obviously when I sit and I am writing I have and idea of the goal. I know it's going to be a novel or a book of about 90 or 100 lessons, whatever on a given subject. I know where I'm going. I'm not saying you should not have a direction, this is something completely different. Direction is very important. A sense of direction is very important, obviously. But once you know where you're going, then just enjoy the path. And this is very important and when I'm writing. Oh sorry…
Ryan: No, please continue, please continue. Yes.
Vincent: Oh I was just answering. When I'm writing, I'm actually enjoying just sitting there at… I was going to say the typing machine, was the old word. Yeah, it's a computer. I'm sitting at a computer, working on a keyboard, and I'm actually enjoying this, I'm just imagining and thinking I'm with somebody else or with one of my students. And this makes up for a very personal kind of writing sometimes. It's like if you're sitting right there. And I'm actually sharing stuff, this is a  approach, but I think this is of foremost importance being present in the moment.
Ryan: Such a good… This is exactly what I love talking about, is that awareness and presence and being in the moment. As I get older, I know that there are particular goals that I have, but like you said, it's being there and being present and appreciating the now, the main thing being enjoyment. When I was younger, of course, or particular things, I want to get this or I want to be able to do a particular skill or whatnot and I think that if I were able to go back when I was a little bit younger, and say, "Hey, listen man you can enjoy what you're doing. And it actually will help you to get to your goal in a better way then…" It would have been nice to have me there tap myself on the shoulder telling me that.
But it's interesting for me to hear about your writing, as well, because when we talk about presence and movement and what we're doing in our practice, a lot of people think that it's only about that movement practice. But this applies to everything we do in life. Whether it be me talking with you right now. Not thinking about what I have going on the rest of the day, me being involved and making sure that I listen to my daughter and what she's saying and enjoy that moment. Focus on the process. That's what I really like about this particular chapter of your book and how you reference it.
Something else that you mention is as we get older, whether it be your 30s, 40s, 50s, 60s all the way to the 70s, we all have a different route that we're going. In your book in another chapter actually it's – looking at my notes here – chapter 32, you talk about the most efficient route and I really like this, because what might be efficient for me, might not be efficient for you, looking at what is really good for each person. Could you expand a bit upon that concept?
Vincent: Actually this is something that comes out of the time in parkour discussions. Every time we talk about this, what is it people don't know what really it is and we're trying to make these elaborate definitions. Often we hear that parkour or art du déplacement is all about moving from point A to point B in the most efficient manner. This is a phrase we hear very often.
Ryan: All the time yeah.
Vincent: First of all, we might see shades of meanings or subtle differences between parkour and free running and art du déplacemant and all these things. But either way, it's really interesting to think about what does it mean to move efficiently. And when we ask that question, speed is often the first criteria that comes to mind. Roughly, if you've got an obstacle instead of skirting around it or you just vault overhead and that's fair enough, right. The speed is part of the answer. We say that economy often comes next. Instead of burning your energy and doing a shit technique or not knowing how to get there, you're struggling, you've got proper technique, and then you've got a body conditioning or you could have strength and mobility and so forth to do things properly with economy. But to me, that is not enough. To me, speed and efficiency are not enough for a movement or anything to be efficient. And the example that I often give, if it were efficient, if speed and economy was enough, then just think for example of this huge jump that would be super fast, super quick and that would be some of you happen to have the leg power to do it, without being exhausted if you do land it properly… But it would be so far that it would have 50% chances of not working and you breaking your leg or something. It is just a stupid example, it is very a trivial but then that will not be efficient at all.
That leads us to a third element, which would be safety or consistency or predictability or reliability, I like that. To me a good or efficient vault or movement or technique whatever could be done many times in a row with consistent results.  We see kids sometimes they're doing cool flashy moves that seem to rely in a large part on chance and that is not what I call a technique. I mean, they have to explore and it's fine… But it's very different. That's three elements. But to me it's not even enough, because at the end we don't really care how long it's going to take you to make a vault and stuff like that sometimes you have to test yourself.
You could do a little competition with your friends or with yourself, that's fine. You have to test your skills and your movements all the time. It's important. We do it all the time.  A jump on a rail is either land it or not. You can't do it halfway or something. So you have to test yourself. But somehow it will… Moving from point A to point B in the fastest way possible will rarely be an issue. And we're having fun with with this, because sometimes somehow we're always hearing this like, "But what if there was a zombie invasion or something." Yes, what if? Maybe then athletes and parkour people would have a better chance of survival. I don't know, possibly. But frankly, this won't really be an issue. And that is why this is so important to actually enjoy the process, because that's what we do. We actually train where training is repeating mostly and it all comes down to what is the most efficient way because, if people see us training in art du déplacement, you're going to go like, "Guys this is so not efficient, you're like walking backwards on all fours on a stairway or a staircase. This is not efficient. You better climb it regularly or take the elevator or something."
The most efficient way is the most efficient way for you. What I mean by there is the most efficient way is whichever one  here and now at your point of life at your point in  your training for that day. Whichever way will make you grow the most. You and your training partners, because it's not just about you. It's whatever way will bring you joys and challenges and rewards. That's what we should think of when we think of the most efficient way. If it's not bringing any challenges, if it's not bringing any rewards and joys, then it's not efficient training, anyway.
Ryan: I love it. I absolutely, I completely agree, and you bring up a very good point of community. This is also something of course that you have now… I'm going to bring this up right now as you have your new pages that you've created called Meaning in Motion and the big thing about this is the community. In your book you discuss it a lot. It's similar to martial art in the sense that when you do parkour, when you move, you are the one who has to do it, but it's not just about you. It's about the people around you and giving back, and being a better version of yourself for someone. Talk a little bit about about Meaning in Motion and let us know what's going on with that.
Vincent: The community aspect, first of all,  is so important to what we do in art du déplacement. And maybe, and I am trying to be very careful here, because so many people in English speaking countries for one thing, but many people around the globe will use parkour, because that's the word they heard and that's probably easier to pronounce or translate for people or to use, probably easier then art du déplacemant or something. In some cases parkour is being moved, worked into a sport. I'm trying to be very careful there, because I know countless awesome people who are really into community, and they have this incredible heart packed with love and helping each other all the time, and they've got the right spirit. So don't get me wrong, please.  But some places I travel sometimes, and what I see is all about the ego, and that's so different. That's so different from what we actually do in art du déplacemant in Quebec and in a bunch of places in France and all around the world to an actual community that understood what it was about.
It's not just a sport. Sport is fine, it's good, but it's very different. It's a discipline that is richer than just a sport. Sometimes I go to a given city and people there are going to say, "Hey, we're like 50 guys. We're meeting every week or something. This is a huge community and we're really proud using that word community. But once you get there, what you see is actually one super athlete doing these massive speeds and crazy big ass jumps, and he's very good, and the other 49 kids are just clapping, being shy, because they don't know what to do, nobody's there to help them. This is not a community – this is an illusion of a community. And furthermore, we have to understand where it comes from.
Art du déplacemant – or ADD, as we often call it – it comes back to the Yamakasi founders. You're in Japan right now, I can tell. People often just assume it comes from Japanese, because it  sounds like you and yama means mountain. At first I thought it had something to do with the climbing and stuff years ago. It actually comes from Congo. It's a language called Lingala and it means strong body, strong spirit, strong human being. And their definition of strength – because many of the Yamakasi founders actually became good friends – their definition of strength is so inspiring.
I remember once I was with  one of the Yamakasi founders. We were in Pris at that time, and we were  in a cafe and somehow this  moment got stuck  in me. It was really inspiring. He just told me, he looked at me and he was like, "The day you're into a car accident and you can't walk and your doctor tells you, listen, you're just not going to walk ever again and that's it. From now on this is your life. What is strength, really? You're not going to be able to do these crazy. But you can be super-strong anyway right?  This might sound like a trivial example, but I think this is really important to understand the meaning of strength. Because if you understand the meaning of strength properly, then the meaning of community will become very clear. Strength in the definition of the Yamakasi founders was, "I'm not becoming stronger for myself. I'm becoming stronger to all of my friends becoming stronger, and to uplift them and uplift the community." It was really a thing about family back in the times. One of the guys, Jan he comes from some islands. It was a family thing. You actually had to climb trees to get coconuts and stuff like that and carry the younger kids on your back and things like that. You had to be strong in order to help your brothers and sisters and it was tied with the notion of community.  Strength was always tied with the notion of community  until recently when some people made a more competitive approach or something like that which can be healthy in some regards, but somehow for many people it's all about the ego and I don't care if you can jump one foot further away from me. It's not going to happen too often. happen, because you travel, you meet people they're stronger, stronger people the time while, I was just kidding.
Stronger people are everywhere. So I don't care  what you can do, how you behave. It doesn't matter if you can lift something crazy and can't help a friend when he's in need, or even help a stranger if he needs something. Community is super important.  In that regard, Meaning in Motion – what is that?  I have lunched it as a platform – I don't know if that's an accurate term but anyway – I have lunched this platform called Meaning in Motion in order to promote the relationships between athletics and ethics. For me this is the perfect rhyme ever, athletics and ethics or the relationships between strength and mindfulness – between movement and spirituality. I'm being careful obviously here, spirituality  doesn't have to be religious. I come from Tibetan Buddhist background. I've been sitting with Tibetan teachers and it really influenced my outlook and philosophy in parkour and everything. But it doesn't have to be religious, obviously. And I want to promote all these relationships between movement and mindfulness and so forth, and to do so there's a website which is meaning-in-motion.com. There is a Facebook page Facebook.com/meaninginmotion. There is a newsletter, and  it's entirely free obviously, we just share a bunch of advice and inspiration of the day and things like that.
Ryan: It's a good one, I like it.
Vincent: Thanks. I am encouraging people to sign up, because you get this free journal The Mindful Movers journal. It's going to be upgraded every once in a while – it's just a tool, you don't have to use it, but there's a bunch of ideas in there. There's also a free short e-book actually called Meaning in Motion which you can find on iTunes and Barnes & Noble and Indigo and all those places. It's free, it's super short, but it can give you ideas as to how to practice mindfulness exercises and combine it with your art, whatever your art is – it could be kettlebell or yoga or running – but I'm sure you're going to find at least a couple of ideas in there that can be helpful.
Ryan: It's wonderful. I'm  so happy that I can be a part of this as well. I was very surprised when you asked me to be a part of your book, because I am not some well-known guy in  the ADD community or anything, but I do enjoy moving a little bit. Is there any advice that you would give? We're going to wrap it up a little bit. But is there any advice that you would give to our listeners out there who want to gain more awareness in whatever they're doing? What is the one thing that they could start doing today that would help them? Big question.
Vincent: There is one thing often enough – slowing down. This is precisely what we need. It's one of the most simple, and yet maybe the most useful advice – slowing down. And that applies to many things in life, when you're in a rush, and when you're so busy, this is often – strangely enough – the time you need to relax the most. And the time you need to slow down in order to see things with more clarity and so forth. But this is very true when it comes to movement training, because I see people all the time either teenagers or younger people, it doesn't matter, or even in their 20s or 30s, it doesn't matter – very powerful people. Naturally they've got powerful legs or they've got a lot of energy and stuff and they want to go doing a massive job. It's fine, I mean if you have lots of energy,  you have to move, it's fine, it's actually a very healthy thing to do, wanting to move.  But learning to slow down will also help you to develop a better technique.  The landing often is neglected. All the phases of an actual vault or of an actual technique are often neglected. Just think about the actual few seconds we are in midair, and this feels so nice and then we get excited and then we have a shit landing. Learning to slow down might help these guys. But it might also help some people we see in classes. They're not necessarily into sports or training. Some of them might have a bit of weight that they would like to lose or they're a bit shy or they're not super at ease with their body. And you know what, guys? It's entirely fine, too. You're going to find your own rhythm and you can actually enjoy whatever progress you're making. Once again, like we said, it's not about the destination. It's about the process.  So even these guys can slow down. Slowing down is not laziness. It's very different. I just want to point out that it's not laziness, it's about mindfulness. One of the best cue that I can give to the people when it comes to slowing down is using the sense of touch, as stupid as it may sound. I just want you to remember that the human body or the human being finds different sorts of food. We say food, but obviously we think of actual food, like fruits. We actually feed on relationships. It might sound a bit esoteric, but what I'm saying is that in order to be healthy and happy we have different types of foods. And textures, whatever you can actually feel with your sense of touch is a form that's important. It gives you a lot of information about the world around you.  We're always talking about the visual, nowadays, and there's a lot of noise. Somehow we seem to forget how important textures are. That's why at some point we see treehuggers and we do gardening at some point in our life like, "I want to garden. I didn't know I had a passion for gardening". It is just because something's missing and you need to touch that. In art du déplacement, but almost any kind of training this is of foremost importance and we often skip that. In art du déplacement often we start with what we call QMs or quadruple movements, when you're on  all fours or all three, and just feeling how the ground feels, a bit of concrete, the wood and stuff is super important. Feeling how your weight shifts and even when you do a regular step vault or a monkey vault or whatever on a bar, feeling, getting the feeling is of foremost importance. Slow down, get the feeling.
Ryan: Very good stuff. You know what? We're going to have to end it here, but I really want to get you on the show again. Next time we can go into some more topics in depth. With that in mind for those of you listening, please send some questions. If you've got some questions that you would love to ask until next time, please in those and also comments. We'd love to get comments from all of you. Let us know what you think about this, as well. Keep listening, keep feeling, slow things down, and enjoy the process. Thank you so much for being here with us.
Vincent: Cheers, thank you.
Ryan: Cheers, until next time.
Vincent: Have fun, cheers. Bye.
Be sure to catch the next episode by subscribing to the GMB Show:
The Future is in YOUR Hands!
Left to our own devices, we'd soon be churning out episodes on the sorry state of Mexican cuisine in Osaka. Answer these questions and tell us what you want to hear:
';