When you're looking to begin a movement program, it's not enough to "just move."
Unless you've already got a background in dance, martial arts, or gymnastics, you need a structured practice that builds your skills and capabilities up from the basics. Whether you're new to exercise or are already quite strong, flowing, acrobatic moves require special preparation and instruction to learn safely and efficiently.
If you are just getting started with your training, we recommend starting with Elements.
If you've got an athletic background, done a couple years of fitness training, or looking to take the next step after Elements, you'll be wanting to decide between our two movement programs:
Vitamin and Mobius
Both of these movement programs are designed to help you move better and include a lot of ground movements, but that's about where the similarities end.
Mobius is a progressive program that helps you develop specific skills in often neglected directions and ranges. You start with basic movements and increase complexity and difficulty to improve your agility and skill with dynamic transitions.
Vitamin differs in that it's not progressive; it's cumulative. In other words, you don't build your skills by repeating them again and again, but you accumulate challenges that stimulate the central nervous system and increase motor control and efficiency over time.
So which movement program do you go with?
That's up to you, but this article will help you make a right decision for your needs and training experience.
Mobius: Movement for Athletic Transitions
Whenever you watch an athlete dash quickly from side to side, or balance easily on uneven surfaces, it's as if they possess some magical ability.
But it's far from actual magic. It's just that they've practiced the right movements and drills long enough to develop this freaky level of ability.

But you probably don't have the 4-5 hours per day to work on these drills and make them second nature…
So we put together a handful of fundamental movements you can do regularly to build more agility and enhance your primary form of training.
Mobius is for you if you relate to any of the following:
You're a dancer, martial artist, gymnast, or other "mover" looking to improve your agility in your chosen sport/hobby/activity.
You've gone through Elements and you're looking to go deeper with dynamic transitions.
You are looking for a guided approach where you can see your progress with specific skills over the course of the program.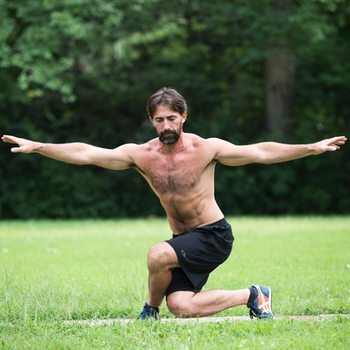 Mobius teaches you move better outside the typical, straight-line exercises in most fitness programs. We've got level changes, rotational moves, and lateral balancing to round out your movement palette.
If you've ever wondered about the difference between fitness and athletic training, this is a big part of it.
Here's a sample of what the sessions look like:
Mobius
Sample Schedule
Session 1:
- Specific Warm-Up
- 15 Minutes (Learn the Low Hip Swipe and 3-Point Bridge)
- Practice and Explore 3-Point Bridge
Session 5:
- Specific Warm-Up
- Forward Shoulder Roll A-Frame
- Underswitch Leg Extension
- Split Lunge Figure Four
Session 8:
- Specific Warm-Up
- Colt
- Single Leg Swipe
- Figure Four to Low Squat
Most Frequently Asked Questions about GMB Mobius
What equipment is required for Mobius?
No equipment needed—just a little bit of floor space. And you'll probably want to start out on a softer surface like a carpet or a mat.
What's the difference between this and Elements or Vitamin?
Mobius is a structured program for building transitional skill. It's designed as a next step after Elements for people who want more agility.
Vitamin is an exploration of various movement types for developing general motor control and building practice habits.
They have completely different exercise selections and practice styles to carry out their purposes.
Is there an app for this program?
It's built from the ground up to work great on your phone. You can even add a button to your home screen for easy access. You just use it through your browser instead of downloading it through an app store.
Is Mobius okay for women?
Absolutely. The movements you learn in Mobius will help anyone move with more agility and confidence.
Am I too old or fat or (fill in the blank) to do this program?
It all depends on your current capability level. Mobius isn't a beginner program. If you're just starting out or coming back to training after a good while away, we'd recommend starting with our Elements program. It'll help you build the foundation you need to do things like Mobius with confidence.
But if you've been training consistently and have a solid foundation, Mobius will help you take your agility to the next level.
How long do the workouts take?
Mobius sessions are adjustable depending on how much time you have that day. So if you have 15–45 minutes two or three times a week, that's enough to get good results.
What kind of results can I expect?
Mobius will help you build agility, coordination, and responsiveness for all your activities. What that feels like is being able to move with more confidence and grace, especially in dynamic environments like sports fields, martial arts mats, or games of tag at your kid's birthday party.
Will I lose fat or gain muscle by going through this program?
Mobius is designed to help you build athletic agility, not change your body composition. So while you'll probably build some strength and muscle, don't expect big changes in the mirror just from doing this program.
Build Dynamic Athletic Transitions
Mobius develops your ability to shift and change direction. You'll develop the kind of dynamic agility that leads to confident grace in virtually any athletic environment.
Vitamin: Agility and Flow Development
With Vitamin, it's all about building more control over how you move and doing it skillfully.
After you've build a solid base of balance and coordination, Vitamin takes it a step further. It's more exploratory, so instead of aiming to perfect each movement, the goal is simply to experience and notice how each one feels as you try them.

Vitamin is not a workout. It's best used alongside another training program. This way, you can hone your spatial awareness while exploring new movement skills.
And it's really simple. You just have to:
Watch the day's tutorial.
Explore the movement and have fun with it.
Reflect on what went well, and enjoy your new levels of body control.
Vitamin is for you if you relate to any of the following:
You want to improve your overall motor control.
You're craving more movement variety.
You want to challenge yourself to make movement more of a daily habit.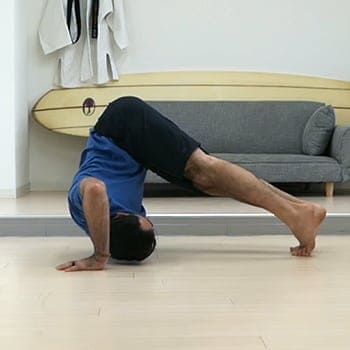 With Vitamin, you'll be guided through dozens of targeted movements plus several combinations. You will surely know some of them, and others will be new.
To keep you from skipping ahead, we will not tell you what's coming next, because we want you following the sequence as we've laid it out for you. It's worked well for our 20,355 Vitamin clients, so trust the process. 😁
Here's what a few sessions look like:
Vitamin
Sample Schedule
Session 1:
- Specific Warm-Up
- Exploration of the following movements:
— Twisting Bear
— Twisting Bear Hip To Ground Push-up
— Basic Spiderman
Session 2:
- Specific Warm-Up
- Exploration of the following movements:
— Forward Shoulder Roll Set-Up
— Forward Shoulder Roll Foot Walk
— Forward Shoulder Roll to Sitting.
Session 3:
- Specific Warm-Up
- Exploration of the following movements:
— Plow Basic Set-Up
— Plow Lower Knees Toward Ears
— Full Plow
Most Asked Questions About Vitamin
How will this impact my other training?
We designed this course to fit in with whatever program you happen to be following. You can add it to your warm-up, or just practice as a separate "skill" session. It's completely flexible.

What skills will I learn?
Vitamin covers a huge variety from hand balancing to locomotion to tumbling. But the goal isn't to master any particular skill, so we like to keep each day a surprise so you can stay curious and enjoy each day.

How long does this take?
You'll get the most out of this course if you can spend at least 30 minutes on your daily practice. But we know you're busy, and some days that might be tough. Whatever time you have available is fine. Just 10 minutes is better than nothing.

What if I can't do some of the movements?
We fully expect that. Some of them are hard. And some will be easy. Everyone has different strengths and weaknesses, so we've got variations to make any movement easier or more difficult, depending on your needs.

Is that really enough time?
You only have the amount of time you have. Obviously, your results are going to reflect the effort and attention (and yes, time) you can devote to playing with each movement. If you have 45 minutes, that's great. But if all you have is 10, it's certainly better than zero, isn't it?

Do I need any equipment?
You won't need any exercise equipment at all. You will need an internet connection and a device that can display video. And if you're training on a hard surface you might want a mat for some movements. Besides that, just some comfortable clothes and a smile will do.

How is this different from Elements?
Elements is our introductory program that focuses on deeply exploring 3 core locomotor patterns. Vitamin specifically works on motor control by giving you a wider variety of movements without the pressure to try and master each one.

What happens after I finish the program?
We'll hold hands and sing Kumbaya. Just kidding. Since you get lifetime access, many people opt to repeat it again immediately. You'll know what's right for you when the time comes.

Can't I just learn this from YouTube?
YouTube is great for finding skill tutorials, but it's terrible for focus. This practice is built on the idea that instead of searching through the entire internet, you simply show up and do the one thing we've prepared for you.

Playful Exploration for Agility and Control
With Vitamin, you'll build flow and creativity in your movement by practicing fun skills every day, so you can enjoy real freedom of movement.
Choose the Right Movement Program for You
At this point, you're probably eyeing one program over the other.
If you have the requisite experience – either having built a foundation with Elements or prior athletic experience – you cannot go wrong with either one. We suggest deciding based on how much you want to feel like your progressing on specific skills vs experiencing a wider variety of movement tasks.
To see our full movement curriculum, here's our complete list of available programs.