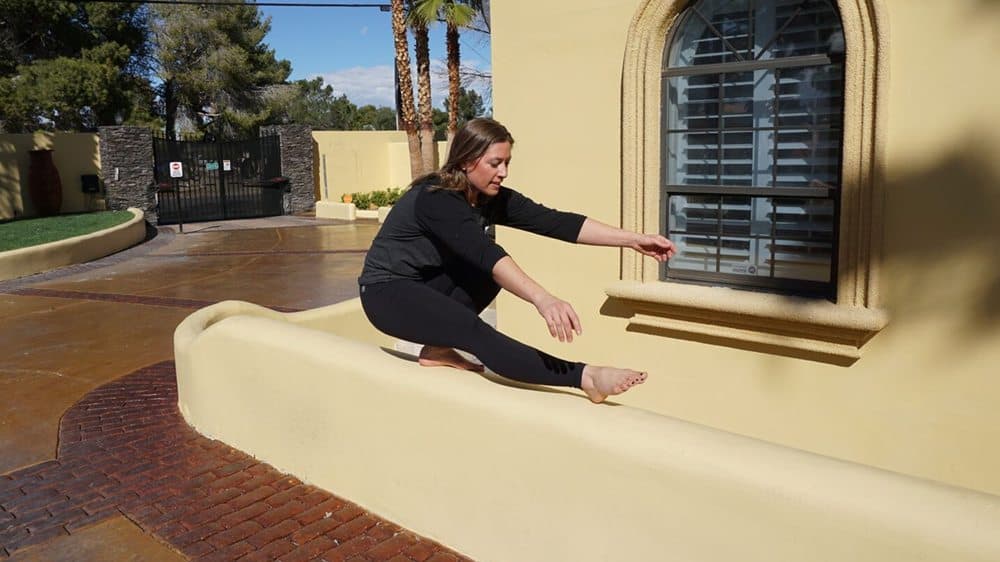 Pistol squats are one of our favorite exercises around here. (Click here for our full pistol squat tutorial).
We've gotten a lot of detailed questions about the pistol, and how to perform the single leg squat with proper form. There's some controversy about a few of these questions, so we wanted to address them head on.
Andy and Ryan had lots to say about the questions we've received. Here's a snippet of what Andy had to say on the "right" way to do the pistols:
You're not gonna die. Just practice doing the best version of [the pistol squat] that you can.
In this episode, Andy and Ryan cover some of the common questions we get on the pistol squat. Plus, they talk a lot about weight vests – when to use them, when NOT to use them, and what to look for in a quality vest.
Here's what we'll cover:
(02:14) What should people do if they can do many more pistol squats on one leg than on the other?
(04:33) People get really pissed when Ryan says not to put the knee in front of the foot in the squat. Here's what's really going on.
(05:43) In the beginning, focus on keeping your body back so that you can work on your balance.
(10:39) Most people are not gonna be starting out with their leg fully extended and lifted high.
(17:55) There are many ways to make an exercise harder or easier, including speeding it up and slowing it down, but with good form.
(18:54) Even if you don't have a weighted vest, all is not lost.
Andy: Breaker, breaker, one-niner, get your ears on for the GMB Fitness Skills Show. Over the next 20 minutes or so, we are going to be talking about how to get strong, how to get agile, and just how to get better at using your body for the things you enjoy without having to do too much stuff that sucks.
My name is Andy. This is Ryan, our head coach and all around badass, and let's get this show on the road.
Ryan: Welcome back to Japan man.
Andy: Yeah. Japan is excellent. You can see my wonderful décor here, glistening in fluorescence.
Ryan: And have a jacket on to boot.
Andy: I have a jacket on because it's summer in Japan and that's just how we roll.
Ryan: That's right, that's right.
Andy: All right. So today we're going to be talking about – we get a lot of questions oddly about weight vests.
Ryan: Yeah.
Andy: Yeah. So we're going to be talking about weight vests a little bit and how to – other ways to make certain exercises a little more difficult maybe. I've never actually used a weight vest but you and Jarlo do sometimes. The vest that actually fits me is – I've tried one on but like you move around. It's like shaking up and down and stuff.
You know, screw this. So anyway, I'm not a big weight vest guy. So I will shut up for most of that. You're welcome. But before that, let's ask some questions here that people have been asking us and let me see here.
We've posted videos and stuff before about pistol squats and very recently one of our videos was – actually it was on the home page of Yahoo Sports for about a day and a half. So that was pretty cool.
So a lot more people saw it which means a lot more people ask questions. So let's ask some questions about pistols and single leg squats and see if we can get all that cleared up for people. Cool?
[Music]
Andy: First question about pistols is definitely the most common one that people ask all the time. Actually it comes from people who can already do them. But what actually happens is they find that they can do more on one leg than the other. We get all these comments on the YouTube videos and everything that say, "Oh, I can do like 48 pistols on my right leg but only two on my left. Like am I going to die?"
Well the good news is you're not going to die. The bad news is your left leg is weak. But how do people catch that up?
Ryan: Well, of course a lot of people say you should just do more on your left leg to shore that up. I think that it's like anything. It's a process and it's going to take time and it's not something that's just going to happen overnight.
We all have a deficiency. Basically one side is going to be stronger than the other. It's not going to be absolutely perfect. You're not going to have that symmetry. You're not going to be Frank Zane. I'm just kidding but …
Andy: Unless you are Frank Zane.
Ryan: Unless you are Frank Zane.
Andy: In which case, hi Frank. Thank you for watching.
Ryan: Thank you for listening man. Yeah, I think you really need to focus on figuring out why you're weak. It sounds kind of silly but maybe there's something going on, flexibility-wise.
In my case, my ankle, my pistol squats are better in my left leg simply because my ankle flexibility in my right side is not very good because of judo, because I had such bad ankle sprains and just the mobility just isn't there anymore.
So rather than the strength issue, it's more of a flexibility issue. So that could be another reason. So take a look at really what's happening and sometimes it might just be a matter of fixing that flexibility instead of just the strength and you might be able to even things out or at least get them close.
Andy: Yeah, definitely. Cool. That's actually a really good thing to think about. I mean flexibility, mobility and the ankles and the hips are a really big part of pistols anyway, and most of us have more asymmetry in our mobility than our strength actually. So it's definitely something to check out.
[Music]
Andy: OK. Another thing is when you teach pistols, you always try to teach people to sit back with the butt over the heel and in order to do that, you don't want to push your knee forward. But every time you say anything about putting the knee forward, you get all these smart guys that think they are myth busters saying, "You shouldn't say not to put the knee forward. That's misinformation and you're ignorant." Well, it's not the reason we do it.
So what's the real story on the knee going in front of the foot when you squat down? Is that OK? Are you going to die? Is it a myth?
Ryan: It's actually fine. The thing – and one of the reasons that we're doing it is we're looking at balance, actual real balance. So by loading the back and making sure that you can get your heel on the ground, that you're sitting back and your knee isn't going forward, it's simply just going to help you find that balance for the pistol and going lower into it. So your knee is not going to explode if your knee goes past your toes or anything like that.
I do a version of the pistol where I actually don't let my heel go to the ground. So my heel is up and I'm squatting down and yeah, my knee is going to go past my toes. Obviously it has to if you're going to do that.
But in the beginning, especially working with people new to the pistol, my advice is to focus on that. Just set yourself up so that you're going to be able to do it in a way that's going to benefit you as fast as possible and that's what we're after. By loading the back, by keeping your heel down on the ground, try not to let your heel go forward. It's going to help you to get strong and then also improve your flexibility so that you can have more mobility, so that you can actually start doing some other fun stuff.
Andy: That's good. So you mentioned a couple of times loading the back. What do you mean by that?
Ryan: Loading the back, basically just sitting back, and so you're putting the weight to the back rather than the front. So by putting the weight on the back, you're going to feel it a lot more and it's also going to help you keep your knee from going over your toes so that your knee doesn't explode.
Andy: OK, good, because we don't want exploding knees.
Ryan: We don't want exploding knees.
Andy: That will fuck up your pants.
Ryan: That's right, that's right. Yeah.
[Music]
Andy: So speaking of back, another thing people say and this comes from squatting in general but people will also get comments like, "Oh man, your back is so rounded," or "Are you going to die?" Like everyone thinks you're going to die if you do an exercise.
Ryan: If you wear flip flops, you're going to die. Different topic. You're going to be fine if you round your back. This is a natural curvature as you go into that.
Andy: The back is made to bend.
Ryan: It's made to bend that way. It's amazing how that works. Yeah. I mean if you can keep your chest up and your back flat, that's pretty cool. But again it comes down to in the beginning making sure that you're able to load the back, be able to sit back.
By rounding your back, it's going to help counterbalance. Of course you can keep your chest up and your back and try to make it flat but you're going to find that your mobility is going to be actually a little bit better if you round your back.
You're going to be perfectly fine. Gradually you can work on bringing your chest up and sitting up straight when you go down into your pistol as you get better with it. But you're going to be just fine with a round back.
Andy: Yeah, the thing with keeping a neutral back when you squat down comes specifically from barbell squats. If you're loading and carrying weight up here, you don't want to be bending your back because that does put a shearing force on the spine.
Ryan: Right.
Andy: But that's not what we're talking about here. Your spine is perfectly capable of handling the weight of your head and shoulders when it bends. So in a pistol don't worry about it.
The problem is if you are too worried about keeping the back straight, one of the things that happens is people don't have the mobility to try to do a pistol with the back straight and end up twisting a lot.
Ryan: Or falling down.
Andy: Or just falling down, right. So falling back or they end up with this weird twisted pistol and that's kind of weird. So go on and let your back bend in the beginning.
[Music]
Andy: All right. Last question about the pistol that this one actually we get pretty commonly and it seems like it's a flexibility question, but it might not always be a flexibility question. People are asking about the front leg in the pistol, right? Because there are a lot of ways you do one-legged squats. At least like five or six like standard big variations on single leg squats. But in the pistol, we stretch out the front leg. Is it necessary to lock out the knee? Are there benefits to that?
What if I can't stretch out my leg all the way? What do I do? Am I going to die?
Ryan: I love it. Everything is if I'm going to die. No, you're perfectly fine. Yeah, flexibility but not necessarily flexibility in the back of the leg like a lot of people think. It's more in the hip flexors and so bending the leg in the front is OK. In the beginning to be honest, keeping your leg out in front is going to help with balance if you can keep it out there. A lot of people find that when they draw the leg in, the leg that's not doing the pistoling – that's a new word, right? The leg that's not lowering down.
Andy: The non-pistoling leg.
Ryan: The non-pistoling leg – I forgot what I was going to say. Oh, the front leg. Basically when people bend the leg, you find that the balance is tough. Just like you mentioned, people will tend to twist. Having the leg out in front will help with balance. If you can't keep it straight, that's perfectly fine. You're going to be just fine, just fine.
Andy: Yeah, the reason to stretch it out is really just to put as much weight forward as possible.
Ryan: Counterbalance, right.
Andy: Yeah. So yeah, I mean it does look prettier if you can lock out the knee and lift it high. That's great! If you can eventually get it where you can lift it really high with the hip flexor strength, I mean that would be amazing. But most people are not going to be starting out like that, so don't worry. All right? Cool.
All right. So if you have any other questions about pistols, let us know and we will try to answer them and …
Ryan: And figure out if you're going to die or not. Yeah.
Andy: Mostly you're just not going to die. Just practice doing the best version of it you can.
Ryan: Exactly.
Andy: If you have something that you watch a tutorial and you're like, "Oh that sounds great, but I can't do that," well, it might take some practice. It might take some mobility work but just keep working at it, because if you could do it instantly, I mean there would be no reason for like any of the things we do.
Ryan: That's right. That goes for anything.
Andy: So thank you for not being able to do it because that's our job. All right?
[Music]
Andy: So moving on, let's talk about weight vests because we've had a bunch of people ask us, "What do you think about weight vests for pull-ups or push-ups or pistols?" A lot of different things people ask us about weight vests and so let it rip.
Ryan: All right. I love them. I use them quite a bit really.
Andy: Yeah.
Ryan: I guess I just don't talk too much about them. Jarlo of course uses them every once in a while. When he was training for a climb where he was going up a building for – it was a …
Andy: For a charity, it's called Big Climb. They do it every year in Seattle.
Ryan: He actually used a weight vest. He was walking and doing things like that. It all comes down though to having the proper form first without loading. So it's loaded and unloaded. So, loaded will be where you put weight on top whether there would be a barbell, if you're holding on to something or a weight vest. That would be loaded.
Unloaded, of course it's just your body weight. So first make sure that you're able to perform the movement unloaded very, very, very well. So you don't want to load anything with improper form.
So why should you use a weight vest? Well, a lot of times, if we are looking at movements, let's say the pull-up, even the dip, a weight vest is I think actually safer than using a dumbbell just held between your feet.
Andy: Yeah.
Ryan: A lot of times when people will take a dumbbell and place it between their knees, you have to pull your knees up and what that's actually doing is placing more of a load on your hip flexors and also your back.
Yeah, it's going to help because you're heavy and it's going to force you to get better at your pull-ups. But again we want to focus on form.
Andy: You're also pulling your body out of alignment by having to grip a dumbbell with your feet somehow.
Ryan: Yeah.
Andy: Yeah.
Ryan: So a weight vest will actually allow you to focus on that form and that's why I use it. If I'm working on basically just wanting to get stronger, to be able to do other tricks and skills, then that's where I will use my weight vest.
Another example is walking lunges. Walking lunges and doing them very low and using a weight vest to help load me actually helps for my other movements because my legs are stronger then and by moving my body when I'm walking, while having this weight vest on, when I take them off, I feel lighter and I'm going to move better.
Andy: Cool.
[Music]
Andy: Now let me kind of ask you real quick there because walking lunges traditionally are loaded by holding two heavy dumbbells right? So is there an advantage to the weight vest over the dumbbells?
Ryan: Well again it's a matter of being able to focus on your form. It's not that you can't do that when you're holding on to dumbbells, but you don't have to think about holding on to the dumbbells.
Andy: Got you.
Ryan: So a lot of times, if you're holding the dumbbells, it will bring you forward when you're in the lunge whereas I like to try and keep my chest up so that I can move this way better when I'm doing the lunges, because my lunges are not always just going forward. Going to the side, I might do like a leg turning back and spin or something like that and I'm doing these slowly, not going very fast when I have the weight vest on because I'm really focusing on as deep as I can go in order to also focus on that loaded mobility.
So, again when I take that off, it feels so much lighter. My movement is actually better because I feel what it's like to be heavy and then when I take it off, it allows me to feel light. So I get that in-between movement where I know where I need to be and I can actually go deeper into whatever I want to do.
So that's what I like to look at the weight – they're not just for strength but also to help teach you about that over-compensation and then maybe under-compensation. The compensation in this way I'm not talking about doing something that's bad. But making it quite difficult so that when you go back to a movement that's easier, in this case unloaded, it's better. That's – I do that a lot with the kid here too sometimes. I don't have him hold on to anything but I have …
Andy: Just put a 40-pound weight vest on.
Ryan: Yeah, basically. Yeah. Here kid! So yeah, also having your daughter on your back doing pull-ups is awesome. There's another weight vest for you. I'm kind of going off topic there but a weight vest can be very good for those kinds of things. I don't like – I wouldn't run or jump rope with a weight vest on.
Andy: You're just adding stress on your joints.
Ryan: That's exactly right. That's a different thing altogether. So me, I would only use it for things like I mentioned, the walking lunges, maybe pull-ups, the dips. Rope climbs, I don't do a whole lot of that weighted because what I'm trying to do is focus on a harder progression rather than do an easy progression weighted for the rope.
Andy: And with rope, I mean you will almost never get to a point where there's no harder way to do it.
Ryan: Exactly.
Andy: You're not going to get to the point where the only way I can make rope climbs harder is by adding weight. That's probably – no one is going to get there.
Ryan: Yeah, and me, especially me because I'm not at that level where I'm doing these amazingly difficult things on rope.
Andy: Right.
Ryan: But something that I thought was very interesting, if you are going to use a weight vest, and you want to do them for pull-ups, there's no reason to use an assistance band. I saw that video the other day. I couldn't believe it. They got a band and they were standing on top of the band with the weighted vest doing pull-ups.
So going back to the very beginning, though, if you are going to use a weighted vest, first make sure that you're able to perform the basic movement unloaded and do it very well and very comfortably. Then gradually load up the vest to be able to do it.
Andy: Don't go straight up to 40 pounds or whatever.
Ryan: Hell, no. Hell, no. Very, very small increments of weight.
[Music]
Andy: Cool. I do want to say also this doesn't mean that everyone needs to go out and buy a weight vest either. There are other ways to make exercises easier or more difficult. Obviously there's a lot of variations that are harder or easier, but two of my favorite ways that are very similar to like a weight vest – if you find something that you've got excellent form and it's starting to get to the point where it's not challenging to you, two of my favorite ways to make it a little more challenging without changing the exercise are to either speed it up or slow it down. By speeding up, I don't mean like trying to pump it out. I mean making it explosive, right? But still with good form.
Ryan: Yes.
Andy: That's the thing when people try to make exercises explosive. Their form tends to go to crap. But if you can speed it up and make it explosive with good form, that's one way that you can increase the load without changing exercise much.
Another one is slowing it way down and I know you love doing this with squats all the time and make it very slow. If you can do that with excellent form, you're also increasing the time under tension considerably and you will get a lot more out of the exercises that way.
So even if you don't have a weighted vest, all is not lost. You can still do very basic exercises and try speeding them up or slowing them down as an alternative to looking to a harder progression if you don't feel that you're ready for that yet.
Ryan: And a good example for that would be if you're doing a walking lunge. As you walk forward, jump up into the air, switch your feet and then catch deeply in that lunge.
Andy: Yeah.
Ryan: OK. That would be one for speeding it up and then going slow obviously. Just go deeper, hold it, keep your chest up and you could even bring your hands up into the air to make it harder as you go slow with that, so just two examples for the lunge that you could try out, so that's good. I like it man. That's really good.
All right. So we covered a lot. We covered the pistols, talked a lot about everything you could ever imagine about the pistols and by the way we have plenty of pistol tutorials on the YouTube. If you want to check that out, GMB Posse and well, weight vests, yeah.
By the way, if you do buy a weight vest, make sure that you find one that fits you and one that is not loose, loosey-goosey and be safe with it. Make sure that you buy one that is reputable. I actually purchased one from overseas, China, and it wasn't very good and it ripped. I couldn't believe it. So if you do buy something, make sure it's quality stuff.
Andy: So that's sometimes really important. I mean with some kinds of equipment, you can get the cheap version off Amazon and it's fine. With a weight vest though, it's just something that from what I've seen, the quality is actually worth paying for.
Ryan: Yeah, it has got to be durable. It has got to be that way. Also if you can, buy a weight vest that has small increments rather than big jumps from weight to another. All right.
Andy: Cool.
Ryan: All right. I think we [0:20:43] [Indiscernible] nailed it today. Anything else?
Andy: No, that will do it. Thanks for watching and listening and – yeah.
Ryan: See you next time.
[End of transcript]
Be sure to catch the next episode by subscribing to the GMB Show:
The Future is in YOUR Hands!
Left to our own devices, we'd soon be churning out episodes on the sorry state of Mexican cuisine in Osaka. Answer these questions and tell us what you want to hear:
';