GMB Mobility ($35 x 3 Payments)$35
Greater Range, Easier Movement
GMB Mobility combines stretching and movement in a simplified cycle to build controllable range of motion for your whole body in the most important movement patterns.
Your card will be charged three payments of $35; one now, one in 30 days, and one in 60 days.
You're joining 11,765 clients using GMB Mobility!
---
---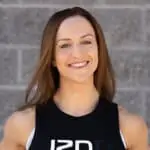 Jenn Lymburner
GMB Trainer in Toronto, Canada
Creating and exploring flows adds new challenge for both body and mind - not to mention it's a lot of fun!