⚙️ How do the programs work?
The point of doing a structured program is to take all the guesswork out of getting the results you want.
So our programs show you exactly what to do each day to make continuous progress without stalling. You just log on to our website, follow the training videos and instructions for that day, then pat yourself on the back and get on with the rest of your life. Here's exactly what it looks like:
🆎 What's the difference between Mobility and Elements?
Mobility is like an add-on to any program. It'll help you get more flexible and improve your performance. Elements is its own program to make you stronger over 8 weeks. Read our guide on how they differ.
📈 Will I really get results?
Yes. If you put in the work, you will get results (or so 100,000+ clients tell us). It feels cheesy to say it but we literally guarantee it.
🤷‍♀️ Are these programs good for women?
Yep! Thousands of women have used our programs to get stronger, more flexible, and help their bodies move better with fewer aches and pains. We also have very experienced female coaches on our support team who can help you out anytime.
👴 Am I too old? Too fat? Too busted?
Probably not. It's true that a lot of very strong, skilled people use our programs. But so do plenty of new moms, cancer survivors, retirees, and people getting back at it after all sorts of injuries, surgeries, life events, etc. Every exercise is broken down and clearly explained for different skill levels. Take a look at our Elements intro program and let us know if you have any questions. (And feel free to send it to your doctor or physical therapist to see what they think.)
🔍 How do I access my program?
Once you've signed up for a program, just click here and login with the password you chose when you signed up. You'll see all your GMB programs right there on your member dashboard.
🔌 Can I plug this into my CrossFit/BJJ/running/etc?
Yeah, we have a lot of clients that use Elements or Mobius as a warm-up up or mobility supplement for things like CrossFit and BJJ. And Mobility is designed to be used alongside just about anything. The key is to know what your top priority is. That way if the combination of things starts to be too much you know what to scale back on.
I'm AMAZED at how much my active mobility has improved in just 3 weeks of Elements. I no longer have chronic tension in my neck, my shoulders move better-than-ever, and getting into deep squats feel effortless now. I feel so much more in control of my body, and feel like my body has a lot more options for moving around now. It's incredibly fun to "explore" those movement options and just play!
🙋‍♀️ What if I'm really weak/stiff/uncoordinated?
That's okay, we all start somewhere. Our programs have helped a lot of people build up the capabilities and confidence to take on tougher challenges. Take a look at our Elements intro program and let us know if you have any questions.
⏲️ How long do programs take?
Each program is a little different depending on its goals. But in general 15–45 minutes a few times a week is enough to make good progress. Programs run four to eight weeks, depending on which one you do. But if you need to take it a little slower, that's fine. Just stay consistent and you'll get results.
🧰 Do I need special equipment?
Nope. Most programs don't require any equipment at all, though you might want a mat if you're training on a hard surface. For Integral Strength you just need a jump rope, something to practice pull-ups on, and a chair or bench.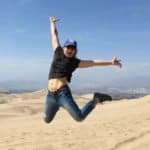 Natasha Grout
United Kingdom
Elements will always hold a special place in my heart, as it was the beginning of a new way of looking at movement and exercise, and branching away from the gym mentality. Elements allowed me to move anywhere and brought movement play into my life. It was a revelation, it felt so liberating and free.
🛍️ What do I get when I buy a program?
Besides ninja-like stealth and international street cred? You get lifetime access to all your GMB programs, which includes free ongoing updates as we make our stuff better. Most clients revisit their programs again and again because they're designed to help you keep making progress as your skills improve. Plus the expert coaches on our Support Team always have your back if you get stuck or need help with a specific exercise.
🚧 What if I can't do the stuff in the videos?
That's totally fine. Almost nobody can move the way Ryan does (he's been doing this for decades). The point of the videos is just to give you an idea of what it looks like to have freedom and autonomy in your body. The programs will meet you where you're at and help you get stronger and move better in the ways that matter to you.
⛑️ What if I have a question or need some help?
Glad you asked. Our world-class Support Team includes trained coaches who can help you with pretty much anything you need. So no more forums full of snarky noobs. Just send us an email and we'll help you get it sorted pronto.
🐵 What's the difference between this and Animal Flow/Gymnastic Bodies/Capoeira/Dance Dance Revolution?
Often someone will see a move in one of our videos and comment, "That's just capoeira," or something like that. But the truth is that movements aren't very useful on their own. It's only when they're structured together to achieve a certain goal that they really help you make progress. And that's the difference between our stuff and anyone else's: the goal. We can't speak for everyone else but all our stuff is structured around one goal—to help you build your physical autonomy.
🏁 Where do I start?
It depends what you need. If this kind of training is new to you or it's been awhile since you exercised consistently, check out Elements first. Otherwise it helps to ask yourself this question: What's holding me back most in my body? Is it strength? Our your flexibility? (Hint, the links take you to the program you should consider 😉)