Integral Strength - Fully Equipped$125
Modern Twist on Classic Calisthenics
Intelligent Exercise Progression
Includes Bodyweight & Equipment Options
You're getting lifetime access to Integral Strength - Fully Equipped. No future payments required.
68,033 You're joining over 105,159 clients using GMB programs to get stronger and more agile than ever.
---
---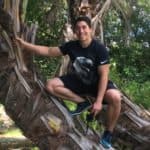 Christian Ampania
Sacramento, CA, United States
I'm AMAZED at how much my active mobility has improved in just 3 weeks of Elements.