Attributes Bundle$220
$249 - Get the Resilience Program for Free
This bundle includes THREE programs - Mobility, Integral Strength: Fully Equipped, and Resilience - to create a strong, limber, and injury-resistant body that's ready for anything.
Enjoy lifetime access to these programs and helpful support from our team when you need it.
69,605 You're joining over 109,969 clients using GMB programs to get stronger and more agile than ever.
---
---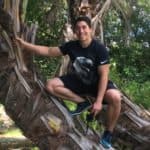 Christian Ampania
Sacramento, CA, United States
I'm AMAZED at how much my active mobility has improved in just 3 weeks of Elements.