Respiration$39
Develop greater lung capacity, stronger breathing muscles, and more efficient use of your breath both during exercise and for recovery. Short, guided breath work practice you can do anytime.
No sneaky recurring payments or shenanigans. Just effective training for greater awareness and control of one of your most important biological functions.
70,403 You're joining over 109,969 clients using GMB programs to get stronger and more agile than ever.
---
---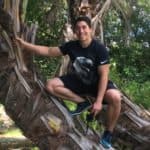 Christian Ampania
Sacramento, CA, United States
I'm AMAZED at how much my active mobility has improved in just 3 weeks of Elements.