Move Strong Bundle (3 monthly payments)$85
Get our 3 core programs for building athletic strength and effortless movement. You're getting lifetime access to Elements, Mobility, and Integral Strength FE.
You'll be billed $85 immediately, with two additional payments at 30-day intervals. After that, no future payments required.
66,037 You're joining 94,374 clients using GMB programs to get stronger and more agile than ever.
---
---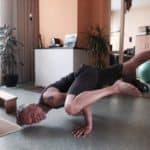 Wim Dictus
Musician
I feel Integral Strength can help me to achieve MY BIG DREAM: do a free handstand starting from the ground.