Eating Skills - Monthly$95
Build the skills and habits you need to take control of your eating for health and fitness.
Eating Skills includes videos lessons and exercises as well as weekly live coaching and an active community where you'll get support from coaches and participants.
Your membership dues will be billed on this date each month.
64,295 You're joining 94,374 clients using GMB programs to get stronger and more agile than ever.
---
---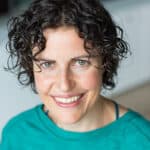 Linda Winkel
GMB Trainer in Amersfoort, Netherlands
You will notice an increase in your strength, flexibility and motor control without even realizing it.