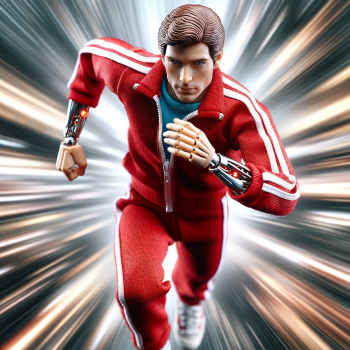 A strong indestructible core would be easy if we could just replace our stomach and spine with steel and cables like Steve Austin in "The Six Million Dollar Man".
But we've got to work with our flesh and bone.
Fortunately, we can rebuild your torso. We have the technology. To make you better, stronger, faster.
It's a concept called compression strength and it's about creating superior stability and support for everything you need to do.
Anatomy of Stability: How Compression Strength Can Help You
Compression strength is about creating a stable yet adaptable foundation, that can flex and move without losing its integrity. But it's not like you should be tense and tight all the time! Instead, it's the capability to activate your core's power on demand.
Your Real Core: Lats Plus Abdominals Equals Stability
Specifically, it's the coordinated action of several muscle groups working in concert. The lats (latissimus dorsi), obliques, and abdominals each play a distinct role in maintaining the integrity of your body's core and are not isolated parts.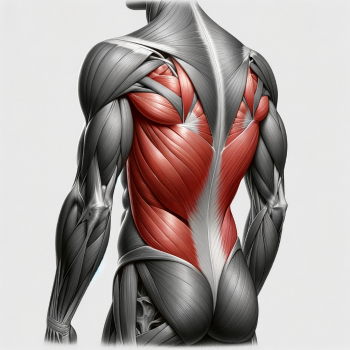 The lats are like suspension cables, spanning the back and sides of the torso. When engaged in compression exercises, they stabilize your upper body and hoist your lower body upward, much like cables support and pull up the weight of a bridge deck.
The obliques are the diagonal cables or struts, providing lateral stability and preventing torsional forces from twisting the structure. They ensure that the core's "bridge" doesn't sway dangerously from side to side, maintaining a stable and centered alignment.
As you engage in dynamic movements, the obliques keep the core steady, as do the rectus abdominis and transverse abdominis. They aren't just for sitting up, they also compress and stabilize our torso.
All of this coordinated tension is crucial for maintaining posture and positioning and providing a stable platform from which the limbs can operate. This dynamic stability is essential for both static postures and dynamic movements. Whether you're lifting groceries, playing a sport, or even just sitting at your desk, having compression strength means that your core is ready to support you, responding to the demands of the task at hand.
Core Construction: Building A Foundation
It's definitely easier to see and feel this concept in action with more "traditional" gymnastic style exercises. You've likely seen a few and may have wondered what use they have aside from just showing off!
The L-Sit: Big Daddy of Compression Strength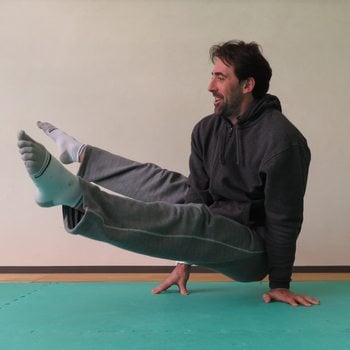 A staple in gymnastics and calisthenics training, The L-Sit is a great demonstration of core strength for sure and practicing it gives you so much more than hundreds of sit-ups and crunches. And it's great example of how we incorporate teaching this important principle throughout our training programs.
This classic exercise teaches core compression right at the start, because as soon as you try it you have to press hard through your hands, or you'll have no chance at getting it.
Whether you can lift yourself up at your first attempt or not, your lats are working hard to make it happen. And that connection from your hands to your back, along with the coordinated action of your abdominals and obliques is exactly what compression strength is all about!
Here's the exhaustively detailed tutorial: How To L-Sit
And this video shares exactly how we teach the compression strength concept using the L-Sit.
The Hip Lift: Core Strength That Takes You Higher
Want to know one of the secrets to pressing up into the handstand? Being strong as hell!
But along with that, you need to know how to develop and apply the right kind of strength. We teach the Hip Lift so that can happen and it's been incredibly effective for all of our clients.
View this post on Instagram
Much like the L-Sit, the position automatically gears you up for developing your compression strength. Being folded over with your hands on the ground "pre-sets" your lats, abdominals, and hip flexors in the correct position to work on the proper technique.
When you first start it may seem like you're expending a lot of effort for barely an inch of movement! But that's a feature, not a bug. Patience wins here, and we've had many clients tell us that when they begin to understand what's happening, it's like a switch flipped from off to on.
Here's the best free Press To Handstand tutorial in the world for more details on how to do the Hip Lift: Press to handstand article.
But now, let's step out of the gymnast's arena. If gymnastic style exercises were the only way to develop compression strength then it probably wouldn't suit most of us. Luckily, it isn't built exclusively with specialized exercises.
Locomotion: Core Compression On The Move
Take the Bear crawl. When you fold your leg into your torso and when your hands pull you forward, you're not just moving your arms and legs; you're building compression strength. And now it's in motion.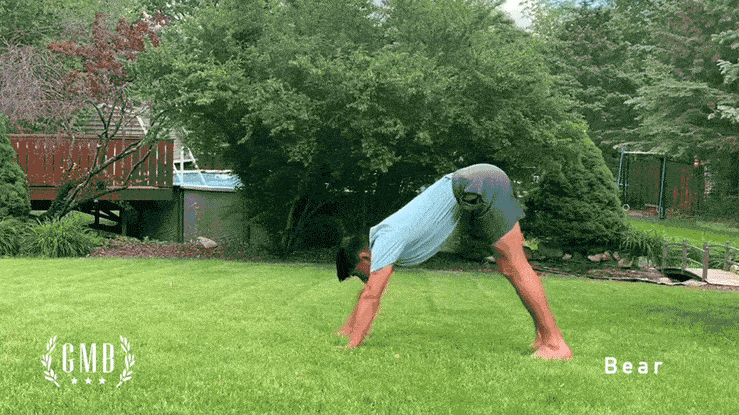 By now you're noticing a theme here, the Bear crawl positioning and performance sets you up from the get-go to work on your cross body connection right away. To move forward you are pulling your hands and legs toward your center without even thinking about it.
As you get the patterning and coordination down, you can start to develop dynamic compression strength here by concentrating on pulling your arms and legs throughout the entire range of motion
Here are more details and other variations of this great movement: Bear Walks For Full Body Strength And Mobility.
This is true dynamic stability. The ability to be solid and strong, but also in a way that you can still move freely in all directions.
It's one of the many reasons we teach and work with locomotion movements as a primary way to get people moving and feeling better. Through detailed instruction and a variety of movement patterns, these exercises help you establish a deeper whole body connected strength.
Move Past Isolation For Balanced Physical Capability
There's really no true practical strength in isolation; you need to learn the synergy between strength and mobility, then you can shore up weaknesses and loosen up tight areas, leading to a more balanced and capable physical capacity. Learning how to have great stability, yet be fluid and free to move in any direction.
Get Your Hands On The Ground
Ground based full body movement is an opportunity to build the connected practical strength that serves you well. Getting stronger in the controlled environment of a gym doesn't mean that much if you can't translate those skills into the choreography of daily life.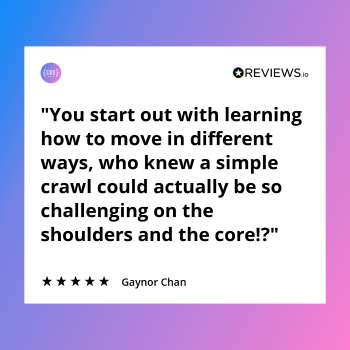 It's a strength that's not readily visible like bulging biceps or a six-pack, but you can feel what's been built in the ease of your movements and the confidence in your physical capabilities.
Learning compression strength through this lens goes beyond the limited scope of traditional core exercises like sit-ups and crunches. These conventional moves focus on strength with flexing the spine.  That's not necessarily a bad thing in and of itself, but you should recognize and plan for being strong in a multitude of upright and dynamic postures. Not only just when you are hunched over and braced.
Adaptability In Action
You know this instinctively when you watch basically any sport with unpredictable challenges. The players have to be both strong and agile to deal with anything that's coming at them.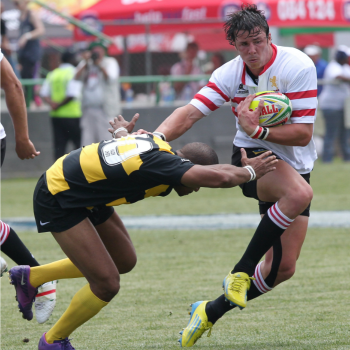 But even if your daily routine doesn't involve evading tackles, the agility and stability required for such maneuvers translate into everyday scenarios.
Those moments that happen all the time; when you're navigating a crowded sidewalk, balancing groceries in your arms while sidestepping a puddle, or swiftly adjusting your path to avoid a child darting across your way.
In these instances, the ability to quickly and effectively maneuver your body, maintaining balance and control while carrying items or reacting to sudden shifts, is paramount.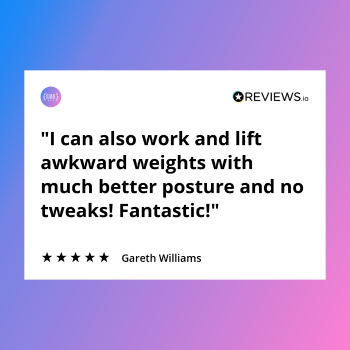 This is where the benefits of compression strength come into play. Having the core stability to manage unexpected movements and the overall body coordination to handle random urban obstacles with grace and efficiency.
You need the kind of training that builds your core to be a dynamic powerhouse, ready to respond and adapt to various physical demands.
A more holistic approach that prepares you for the unpredictable nature of daily activities and sports, providing you with a foundation of strength that's applicable and practical, no matter the scenario.
Practical and Unique Training For Your Core
Our Elements program trains your core and your whole body in a new and practical way, providing you with the tools to improve your physical capabilities and resilience for every aspect of your life.