Integral Strength - Bodyweight ($35 x 3 Payments)$35
Modern Twist on Classic Calisthenics
Intelligent Exercise Progression
Zero Equipment
You're getting lifetime access to Integral Strength - Bodyweight. Your card will be charged three payments of $35; once now and again in 30 and 60 days. After that, no future payments required.
68,031 You're joining over 105,159 clients using GMB programs to get stronger and more agile than ever.
---
---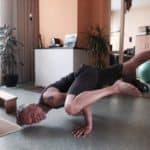 Wim Dictus
Musician
I feel Integral Strength can help me to achieve MY BIG DREAM: do a free handstand starting from the ground.