Michelle Took 7 Years Off of Training
Even a couple months without training can leave you feeling winded and stiff when you come back. Imagine taking seven years. Michelle Ho pushed pause on her intensive capoeira practice after giving birth to her first child. When she finally decided to come back she had four kids, a new small business, and a lot of ground to make up.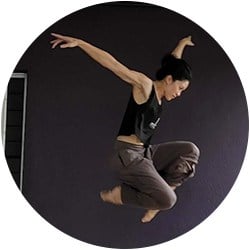 How She Rebuilt Her Body's Capabilities
With our
Vitamin
and
Integral Strength
programs, Michelle learned to work at her own level instead of getting hurt pushing past her limits. She followed the step-by-step progressions to rebuild and even expand her body's capabilities. And she learned a new approach to training that actually fit her life and helped her achieve impressive new skills.
"I'm 39 already," Michelle Ho said on a recent video call from her home in Malaysia. "I can't believe it!"
You probably won't believe it either when you see her practicing her latest passion of pole dancing. She's strong, controlled, graceful.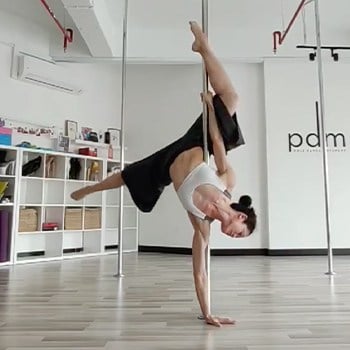 So much so that people sometimes send her messages out of the blue. "They tell me, 'You're so lucky that you've got that kind of body or that kind of fitness level,'" she said.
But what they don't see is how not long ago Michelle had to rebuild her fitness virtually from scratch.
As the mother of four young kids she'd put her physical training on hold for seven years. Then when she was finally able to start again, her life looked completely different than before.
Now she had a family and had started her own small business manufacturing soaps and cosmetics. "So time management, and making training sessions really count, are crucial," she said.
To help rebuild her capabilities in a way that fit her life Michelle used two GMB Programs: Vitamin and Integral Strength.
Now she's pulling off moves she never imagined doing. "In fact," she said, "I feel that now, as I'm approaching 40, I'm the most robust physically that I've ever been."
See Michelle's story in the video below.
From 3-Hour Sessions to "Pretty Much Nothing"
Michelle grew up in an athletic family. She and her brother were both competitive youth swimmers, and Michelle practiced ballet, too. Then in high school and college she dove into team sports like basketball and netball, and even took up fencing.
"Ever since I was 6 years old, I was used to training sessions that would take up 2-3 hours of my day, 3-5 days a week," she said.
"I didn't know then, but those communities shaped how I viewed what "normal" life is like. Where movement (and the occasional injury) is an everyday occurrence."
So after university when she discovered an intensive capoeira practice, she was hooked.
"Training for me was easily three hours," she said. "There was no concept at the time or I wasn't familiar with the concept of training on my own at home."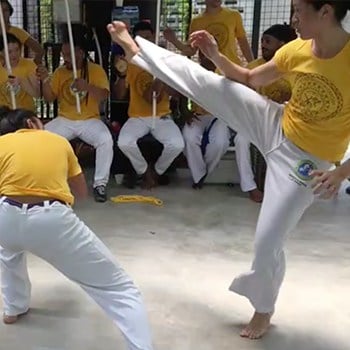 But as one of the older capoeira students in this particular group she was finding herself getting hurt a lot. "And on top of that I had years of injuries from the past," she said, "from ankles and knees and shoulder joints being thrown out."
That's how she first discovered GMB.
A friend sent her one of our articles "because I was going through one of the very, very frequent instances of where I would get injured," she said.
"It was emphasizing just being aware of what our bodies are going through," said Michelle. "It was so refreshing at the time to actually come across a voice that said, 'You know what? Life happens and your training shouldn't take over your life.'"
It was only after giving birth to her first child that she pushed pause capoeira. Little did she know it would be seven years before she'd start getting back to the level of training she was used to.
"In between I tried yoga, and even attempted pole dancing for a few months before finding out I was pregnant with our third child," she said. "That put all my physical activities on hold again. Yeah, so seven years of doing pretty much nothing.
"To go from that kind of lifestyle, to zero physical training when I was a mom, was quite a drastic and emotionally damaging change. And by the end of it, I'd had enough. As in I had to try to go back to train again."
Rebuilding Confidence One Progression at a Time
When her youngest was almost two she decided she was ready to get back at it. But now her life had a lot more time constraints.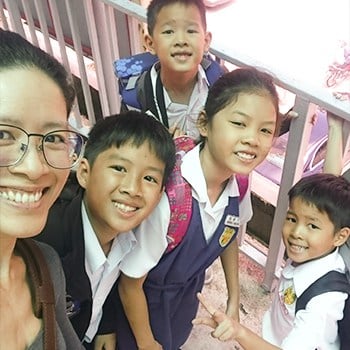 She had four kids. And to help one with them with skin issues she'd started her own soap company. So she couldn't fit 3-hour sessions in as easily as she used to.
She needed training that fit her new life and wouldn't leave her beat up all the time. But she also wanted something that would help her rebuild the confidence and body control that made capoeira so much fun.
So she decided to give our Vitamin program a try.
What struck her first was how each move was broken down into progressions for different skills levels.
"The idea of progressions was helpful because it gave the confidence that if you're not at a skill level that you can do this movement, you can dial it down a notch by doing this," she said.
"It's just so refreshing. It's so kind."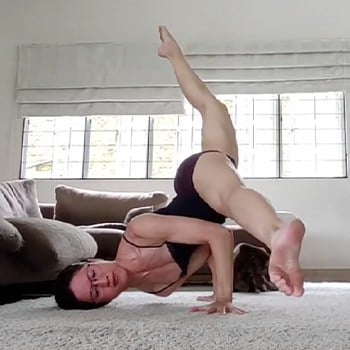 By encouraging her to work at her own level, Vitamin not only helped Michelle ease back into the movement patterns she'd been missing, it "had me pulling off moves I never imagined doing!" she said. And all without pushing into injury like she had in the past.
"Just knowing that the body can learn new things and to try out new things—being daring—to me that is essential and it's so important," she said.
A Lockdown Breakthrough
Fast forward to early 2020.
Michelle was back to training at a high level, focused mostly on pole dancing. But she didn't feel confident with some of the new moves she was working on.
Because of her long, lean physique she tends to spin really fast on the pole. And when she tried doing that upside down it felt dangerous.
"Previously I would be too scared to spin fast on the pole while being inverted," she said, "because I didn't have the confidence in my body to be strong enough to withstand the centrifugal force generated from changing shapes."Then COVID-19 hit and Michelle and her family were
stuck at home
most of the time, so she dove into our Integral Strength program.
Every day she'd go out to her patio and work through the progressions in the program, along with some other conditioning work. By working consistently at her own level she felt her strength improving, especially in her legs.
But it wasn't until she got back on the pole that she realized what a difference it had made.
"And I was so surprised that when I inverted and I was spinning around the pole, I actually pulled off a move where just a few months prior, the first thing that will come to mind is that okay, you've got to slow down," she said.
"When I came down after that, I was just so happy because I was not feeling fear. But the end result was that I had done something that I was not able to do before. And I loved it."
Moments like that are exactly what Michelle trains for.
"It makes me feel almost superhuman to be able to do these things at my age," she said, "and not say that the best years are behind me."
View this post on Instagram
But Michelle says that her biggest takeaway from GMB is something more subtle, but more impactful.
"The thing that really resonated with me and I think will continue to do so, is just the philosophy of training as a part of life," she said. "It shouldn't be all consuming. The training that we do is really meant to help us be better people in whatever capacity that we're serving our community."
How to Get Your Own Training Back on Track
Unless you're also trying to get back into capoeira and pole dancing, you probably don't need the exact same training that Michelle used.
But the principles that helped her get results—choosing training that fits your circumstances, mindfully working at your own level, and following structured progressions—will help anyone jumpstart their training again.
Which is why those principles underlie every program we make.
We get a lot of questions from people about how they can restart their training. Some are coming back from injuries or other setbacks. Some have just been busy for the last few months or years.
But for probably 90% of those people our answer is Elements.
Elements helps you build your strength, flexibility, and movement skill all at the same time. So by the end of the program you've rebuilt an athletic foundation that helps you move better with less stiffness and pain in everything you do.
Check it out if you're ready to rebuild your strength and confidence.
Rebuild Your Athletic Foundation
With Elements you'll start at your own level and systematically build your strength, flexibility, and motor control so you can get back the confidence to move the way you want.