What does it mean to have "open" hips?
It seems like everyone who starts working on their physical fitness finds themselves thinking "wow my hips are tight!" when they try the various movements and exercises in a gym class or following a program.
So you google hip openers, or hip mobility, or hip stretches, and find everything from yoga postures to medieval stretching devices.
Having Tight Hips Makes Everything Harder
Fundamentally, we want to work on and keep our hip mobility so that we can move freely in all the activities we need and want to do.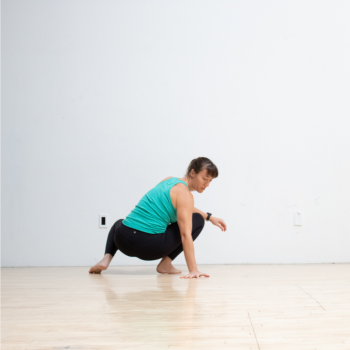 Getting down and up off of the floor is a basic thing that we don't miss until it's gone.
And it can feel incredibly limiting. We have so many clients that came to us horrified that they realize they couldn't get down or pick themselves up off the ground without a ridiculous amount of effort or even pain. Let alone play with their kids.
Not only that but it's also one of the basic abilities needed to take care of yourself. The old commercial of the elderly woman yelling "I've fallen and I can't get up" can seem a bit funny until you realize it's happened to you…
How to Open Your Hips
There are lots of ways to go about opening your hips, and we've shown so many of them ourselves: isolated basic stretches, unique movements, and lots of other tricks.
It's best though to get yourself actually moving right away.
Here, Ryan shows how this works in action with a few exercises from our Elements program:
View this post on Instagram
In the video, you see that these movements work on moving and stretching the hips in a variety of angles and actions. The same as if you did a dozen different static hip stretches. Yet with these dynamic exercises you'll also work your hip ranges of motion with active engagement of not just the hip muscles but also in concert with your whole body.
This is incredibly important for how we truly need our hips to work in everyday life. We aren't just moving our hips in one direction at a time.
We may not realize it at the time, but our hips move in so many ways with each bend and twist and squat we do just putting our groceries away.
Which Hip Opening Exercises To Do and How to Know If They Are Helping
So how do you know what exercises are going to be the best for you?  Well frankly, they should make sense to you just by looking at them.
There are many stretches that come from the world of physical therapy and personal training. They target a tight muscle, you do it and you feel it.
And that's great!
But how do you decide when you don't need it anymore, or if there's something better for you to do?
If it's a part of your rehabilitation plan, that's a relatively easy thing. Ask your healthcare provider.
If you are doing it on your own it's a more difficult decision. You need to know why you are doing it.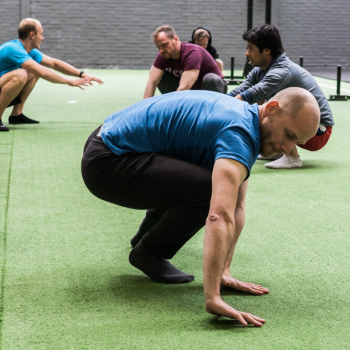 "Benchmark" activities can help you a lot here. And they are simply what we do everyday anyway. Can you kneel, squat, stoop down enough to get down and up off the floor without feeling like your joints are frozen solid?
Can you maneuver yourself around that tight fit to clean behind the toilet, or in the back of the closet to get the Christmas tree lights?
This inherently makes sense, while it may not mean that much to be shown that your hip external rotation improved 15 degrees in a particular position.
But when you notice you just dropped down easily to reach under the couch for a pen you dropped, you know something good happened from all your exercise practice.
Beginner Hip Openers You Can Do Right Away
You don't need to start like you're already in Cirque de Soleil but you can start moving on day one.
Like these clients show in this video, we can use more specific exercises, but they aren't done alone and we always include dynamic mobility work in our programs.
View this post on Instagram
The first exercise, the traveling butterfly, takes the stretch a lot of us learned in junior high school PE, and adds on the motion of moving from straight to bent knees and back again. You can see that this is like going from standing to squatting down. It also can clue us in to the angles where we are tighter, and is another data point to let us know if our exercises are helping.
We incorporate preparation exercises like these with the full body locomotion exercises that are foundational to our method.
Hip opening then happens in the context of whole body purposeful movement instead of thinking about what specific muscle is being stretched out on a treatment table.
For Faster Progress, Stretch and Strengthen At The Same Time
This killer movement called the Sumo Frogger is a great example of what many of our clients say they dread but gives them noticeable benefits in a remarkably short period of time.
View this post on Instagram
In the Sumo Frogger, you are definitely stretching out the inside of your thighs, but also in a way that strengthens your hips at the same time.
We don't just need looser hips, we need strong hips to move around easier as well. Particularly in lifting our legs up and to the side, looking at the Sumo Frogger you see that you're getting all of that at once.
It's an exercise that's not a staple in most gyms, but it should be!
As soon as you try it out, you'll understand why it's so helpful and great for your hips.
Having Open Hips Makes Life A Bit Easier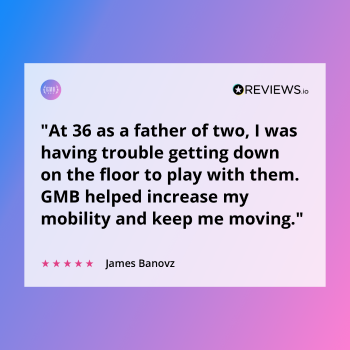 It's not just about touching your toes or performing yoga poses that seem like they're straight out of a contortionist's handbook. It's about establishing the comfort and natural fluidity of movement in your daily routines. While it's a fallacy to think you just "need to move like children do", watching how kids move highlights the natural potential for bending and twisting in various ways. You don't have the loose joints and ligaments of a child any more, but you can absolutely still improve your mobility in your body now.
When your hips are feeling good, you're not just getting better at doing exercises. You've developed the freedom to twist, turn, and pivot without thinking about it. You should be able to spring out of bed each morning without any stiffness or morning groans – that shouldn't be reserved exclusively for kids!
You're saying goodbye to those moments when you struggled to get off the floor or feeling like your body is conspiring against you. With open hips, you're ready to tackle anything – from lifting up your kids to joining in spontaneous wrestling around.
You don't need overly complex routines, instead, focus on incorporating efficient movements that yield remarkable results.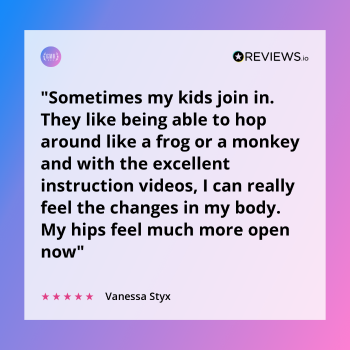 Imagine being able to effortlessly reach down and tie your shoelaces without the usual strain. Picture having the freedom to comfortably squat and pick up objects from the ground, without any resistance from your body. Envision easily maneuvering around tight spaces to rearrange furniture or retrieve items from the back of your pantry.
All of these seemingly ordinary activities become not only manageable but enjoyable when your hips are mobile and strong. And the same at work, whether you're bending to lift files, stooping to grab supplies, or navigating a busy office environment, having supple hips can make these tasks smoother and more comfortable.
Think about the joy of being able to engage in activities without hesitation. Not hesitating to join a dance class, go for a hike with friends, or even play with your pets in the park. The sense of freedom to do these things without the fear of discomfort or limited movement is the true benefit of hip opening exercises.
Hip opening exercises go beyond the gym or exercise mat – they can transform the way you experience life's everyday moments. It's about making these moments easier, more enjoyable, and ultimately, empowering you to feel more independent and free.
Open Your Hips While Building Strength in Essential Movement Patterns
Our Elements program is a total body program that not only opens your hips, it helps you regain your whole body mobility and freedom.