She Wanted More Upper Body Strength and Healthier Joints
There's no such thing as "complete" training. Something is always getting left out or overworked. For Vaidė it was lack of upper body strength and pains in her shoulders, wrists, and ankles.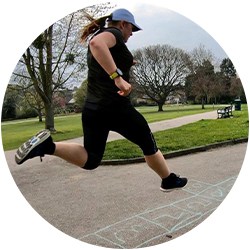 From Sore, Shaky Wrists and Shoulders to Hand Balancing
Vaidė used our
Elements
program along with physical therapy to resolve the pains in her joints. And she built enough upper-body strength and stability to hold her very first crow pose!
If you've ever focused your training on one specific sport or activity you know the delicate balance you have to strike. All that training makes you stronger and more capable but it also wears on your body in specific, repetitive ways.
Shoulders get tight. Knees wear out. Some sports even have conditions named after them like "tennis elbow."
For our client Vaidė (pronounced VIE-duh) it was triathlon. She fell in love with it by accident after forcing herself to start exercising in her thirties. "I always struggled with weight and I realized I want to be healthy, I want to be there for my children," she said.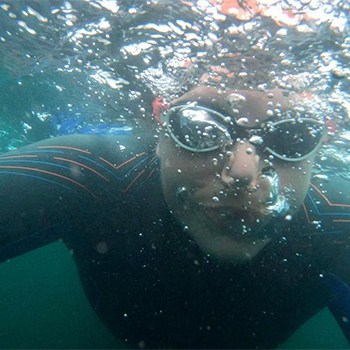 So she started running.
Her first run was torture. But something clicked on the second one and nine weeks later she finished her first 5k. Fast forward to today and she's completed a full marathon and added swimming and cycling to the mix.
But all that training highlighted her body's weak spots, too.
"My wrists were weak. My shoulders were hurting from swimming. I had fractured an ankle, so that had problems," she said. "And I knew my upper body was quite weak."
After her marathon last year she said to herself, "I need something to actually fix these little things."
That search led her to our Elements program.
Using Elements on her active recovery days helped Vaidė reduce the tightness and pain in her joints. It helped her build enough upper body strength to balance her whole body on her hands for the first time ever. And it gave her confidence that she can work up to even tougher skills like pull-ups and beyond.
Here's how she describes it:
The way Vaidė used Elements to supplement her triathlon training was really smart because Elements is designed with people like her in mind. Not just triathletes, but anyone who cares about helping their body move better in sports, the outdoors, and daily life.
Especially if you're trying to balance your training with work, errands to run, kids to pick up, etc.
Let's take a look at how she got such great results.
Hurt Less and Perform Better
Elements guides you through our proven process for finding and fixing your weak links so you can move and feel your best. Check it out ⤵️

Filling the Gaps in Your Athletic Development
There's a story about the math professors at a major university being polled on where they thought milk came from. Most of them said it was manufactured like Coke, instead of from cows.
That's a pretty extreme example of an important principle: The more you specialize in one thing, the more gaps you'll have everywhere else.
Same goes for your body.
The more you focus on BJJ or surfing or triathlon—putting your body through the same motions with the same loads over and over again—the deeper the gaps it leaves in your athletic development. Which often start showing up as aches, tightness, and injuries.
"Elements just supplements all those little things that it's so easy to neglect when you do repetitive sports, day in and day out."
At some point you have to address these gaps and weak spots if you want to keep making progress without getting stuck or hurt.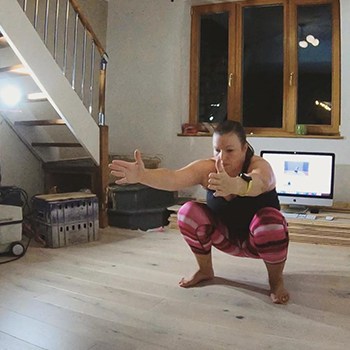 That's what Vaidė did.
"Reading the Elements description where it says wrists, shoulders, lower back, hips, knees, and ankles I thought, 'I need everything,'" she said. So she started using Elements on her active recovery days to address those needs.
Elements starts off with basic movements to assess your body's strengths and weaknesses. Then it guides you through building the 3 fundamental attributes of athletic ability:
Strength
Flexibility
Motor Control
Elements systematically develops these attributes in the areas most people have trouble—shoulders, hips, back, wrists, ankles—helping fill the holes in your body's foundation. Which lets you pursue your sport without holding back.
For Vaidė it was three areas in particular: her shoulders, ankles, and wrists.
"It just supplements all those little things that it's so easy to neglect when you do repetitive sports, day in and day out," she said. She used Elements in conjunction with physical therapy to get the results she wanted.
"I know my wrists are stronger. I know some pains are gone. They don't hurt that much now when I work on the computer with a mouse, for example. When it comes to running, it's the ankle flexibility that I need to work on because of my fracture and over-pronation problem. So I know it helps me with all the deep squats and bear walks."
For her shoulders, her physical therapist told her that the pain she felt was due to a strength imbalance. Some muscles in her shoulders were strong, some were weak. "And it's interesting that without really noticing, I think what Elements is doing is actually strengthening all the little muscles there," she said.
And as you'll see in the next section, the improvement in her wrist and shoulder health helped her achieve a significant goal: her first hand balance.
Structured Strength Development, Starting Right Where You're At
Upper body strength was one of the big things Vaidė wanted from her training. "My upper body was quite weak," she said. "I knew it was weaker than my legs."
She wanted to get stronger for swimming. And to feel more confident and capable in everything else she was doing.
One of the most common strength training mistakes is doing too much, too fast. You start a new program that goes straight into max-intensity workouts. Or you join a gym where the only thing that matters is hitting new PRs.
You get stronger at first, but you're too stiff and sore to do anything fun. And pretty soon you burn out or get hurt.
"It's not always like you're trying to do the perfect, the unachievable. You actually see we are all in this together. All people of different shapes, of different flexibility, with different pains, they can do this."
Elements takes a different approach.
It starts you at a level your body can handle, then progresses in a structured way so you get continuous results that build on themselves over time.
"This is what I like about Elements as well," said Vaidė, "that you have a plan to follow: week one, week two, week three, session after session. It builds you up."
For example, one of the core movement patterns in Elements is called the Bear. It helps you build strength and stability in your shoulders, arms, and wrists. But just doing more and more Bear would only get you so far.
So as you progress through the program you're introduced to more challenging variations like the Bent-Arm Bear and the Spiderman. These help you keep progressing your strength instead of getting stuck on a plateau.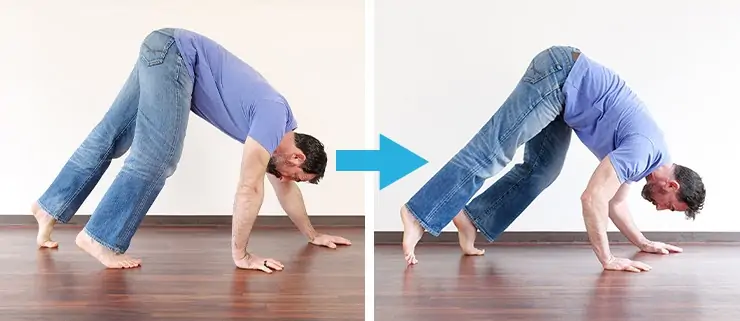 By the end of the program you're doing things you weren't strong enough to do at the beginning.
And instead of pushing you to always work at an unsustainable intensity, Elements helps you adjust your level to match what your body is capable of.
"That constant encouragement that it's okay not to be able to do it to that level of what's on the screen is really encouraging," she said. "It's not always like you're trying to do the perfect, unachievable. You actually see we are all in this together. All people of different shapes, of different flexibility, with different pains, they can do this."
For Vaidė that led to noticeably stronger shoulders and wrists.
Her first time through Elements, even basic variations of moves like Bear and Frogger were very challenging. "One of my notes for example, was 'I can barely lift my legs off when I do the Frogger,'" she said. "And doing it the second time around I noticed that, actually, it doesn't feel that hard anymore."
Now she's challenged by more advanced movements like the Spiderman. "So it's really nice to feel that progress," she said. "And I know probably doing the third or fourth time, it's going to even be easier on the things that I struggle with now."
One way she tracked her strength progress was by practicing the crow pose alongside her Elements training. Here's how she describes it:
"I thought, 'I want to do the crow pose.' And the very first time I couldn't even lift my feet off the floor, even though my head's on the pillow, because my shoulders were so shaky and my wrists were so unstable," she said.
"Fast forward a couple of months and I actually was able to hold that for about 10 seconds. Looking back into that video I see my shoulders are not that shaky, my wrists are more stable. So that stability, that strength, that's the biggest thing for me. Especially for my upper body, which was totally weak before."
Vaidė didn't have to think about which exercises and how many reps she should do to keep getting stronger. She just showed up session after session and the program showed her exactly what to do.
Get Better Results from Training You Actually Like
Exercise is often treated like a chore. It's something you do because you know you're supposed to if you want to stay healthy. Like brushing your teeth and packing healthy lunches.
Which is exactly why there's so much boring, repetitive exercise out there. If people want a chore, there are plenty of companies that are more than happy to sell them one.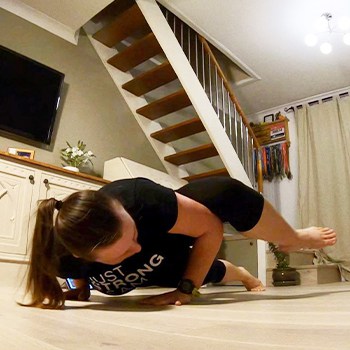 We think your training should be enjoyable. That's why Elements progresses through lots of different movements, variations, and combinations. Because we know that if your training is fun and interesting you bring more energy and curiosity to it, which makes you much more likely to stick with it.
And the more you stick with it the better results you'll get.
"My rest days used to be boring," Vaidė said. "It was the same pilates exercise that I found on a YouTube video. Now I've got something and I know every session is different and it builds me up to something. I'm actually enjoying it."
Vaidė's consistency with Elements helped her get all the results you've already seen. When I asked her what was most important about all those results, this is what she said:
"The confidence that I can actually do things and even I can set little goals or bigger goals. Like I'd love to do a pull-up one day. A couple of years ago I couldn't even hang on the bar. My wrists were that weak. I can hang on the bar now. And obviously the pull-up is far on the horizon, but I know it is possible. So the confidence that it gives me, I think that's important. And yeah, when it comes to my kids, they see all this and I know that inspires them too."
Give Your Body the Confidence It's Been Missing
It's unavoidable to have gaps in your athletic foundation. Yours might be from focusing intensely on a specific discipline. Or from going years without exercising much.
Either way, if they're getting in your way it's time to do something about it.
Elements will walk you through a fun, structured process to address your weak spots and build strength and confidence where you lack it.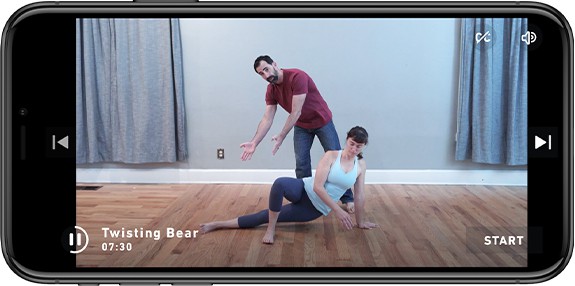 You'll develop flexibility for pain-free movement in your shoulders, hips, back, ankles, and wrists. You'll get stronger through fundamental ranges in your upper and lower body. And you'll build coordination and control so you can move more skillfully in your sports and daily life.
And like Vaidė you'll come out with more confidence that your body can handle all the challenges you want to throw at it.
So if you want to know what it feels like to train, compete, and play with nothing holding you back, click below to get all the Elements details and get started today.
Fill the Gaps in Your Body's Foundation
Elements will help resolve your areas of tightness and pain, while developing your strength and movement skill for training, competing, and daily life.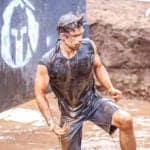 Will Schatz
Owner, Iris Union Digital Marketing
From Skeptical to "Huge Benefits"
The funny thing about it is that you guys bill it as an introductory program, but I think almost anyone could benefit. I've been working out fairly regularly for years and am in pretty good shape by most people's standards but am getting huge benefits from Elements. I can basically hang out in a deep squat now, forward folds are easy, I can now briefly hold an unsupported handstand solely due to the high frogger and monkey.
I saw some comments on a Reddit thread at one point about it being too basic, but after having gone through it myself I'd bet money that those people saying it was too basic would have changed their tune if they'd stuck with it for the first couple of weeks.