Training with gymnastic rings is one of our favorite ways of building strength and body control, while using a really fun and challenging tool.
As with any exercise tool or modality, there are growing pains that come along with getting comfortable using the rings. We've put together some resources here that will help you work through those initial challenges and get the most out of this versatile tool.
How and Where to Hang Your Rings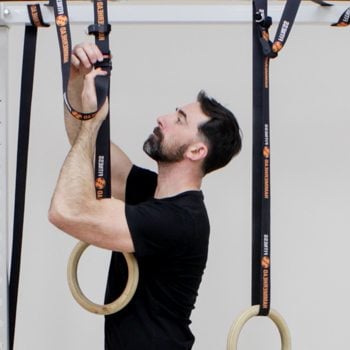 So you bought a pair of rings, and you're all ready to start training with them, but you're not sure where or how to hang them for your training needs.
This is the most common issue we hear from clients looking to get started with ring training.
We put together this detailed article covering everything from location recommendations, to space requirements, to different rings options if you haven't bought a pair yet, and lots more.
If you haven't started training with the rings yet, we recommend reading this article first to make sure you've got everything you need to set yourself up for success.
The Three Most Important Ways to Grip the Rings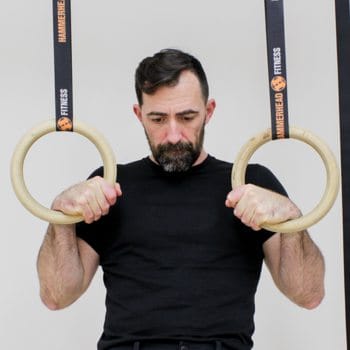 As you'll learn the more you work with the rings, the way you grip the rings makes a huge difference in your performance. Plus, if you grip them with improper form, you risk injuring your wrist or hand.
There are three main grips used on the rings, depending on the specific movement you're performing and the goal of the exercise.
This article addresses these three grips, including the most difficult of all – the False Grip.
You'll learn more about which grips are used for which types of exercises as you go through a rings training program, but it's a good idea to familiarize yourself with these grips before getting too deep into your training. Practice them, get comfortable with them, and you'll make your rings training journey that much better.
Risks and Benefits on Training With Rings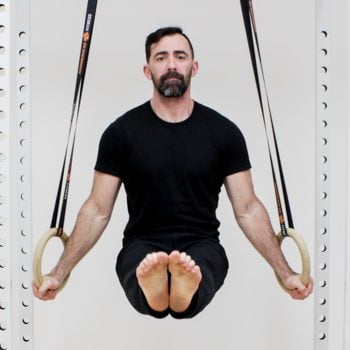 There are a lot of misconceptions about ring training – that the risk of injury is high, that training with them causes elbow tendonitis and shoulder tears.
It doesn't make a lot of sense to call a particular training tool "bad" just because it carries certain risks, if trained improperly.
This article gives an overview of potential risks with the rings, but also gives you the tools to assess your readiness to train with them. It also helps you understand that there's more than one way to train with rings. It's not all about iron crosses.
You'll also see that the ideas about thinking critically and evaluating your own risks applies to everything.
Get Your First (or Tenth) Pull-Up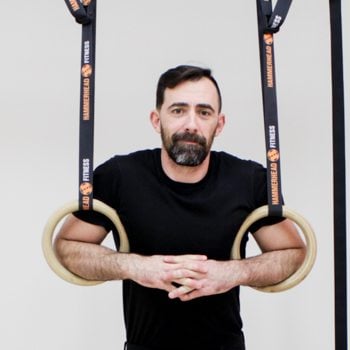 Getting a smooth pull-up on the rings is no easy feat, even if you're able to bang out a few pull-ups on a static bar.
Everything is more challenging when done on an unstable surface.
This article isn't just for doing pull-ups on the rings, but it will help you strengthen your pull-ups no matter where you're doing them. Whether you're working on getting your first pull-up, or you want to be able to do more reps cleanly, this tutorial will help you out.
And we can pretty much guarantee if you strengthen your pull-ups on the rings, you'll do even better on a bar.
If you plan to start a rings training program, it can be helpful to spend a little time working on your pull-ups before doing so, or concurrently, as pulling will play such a huge role in your rings training practice.
Control Your Body with the L-Sit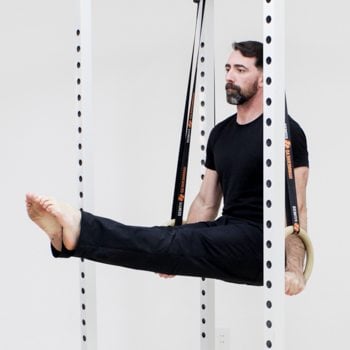 The L-Sit is a fantastic exercise for gaining complete control over your body.
It engages the core, the shoulder and forearms, the legs – everything, really. And when you perform this exercise on the rings, it's that much more effective at engaging these muscles.
Our full tutorial on the L-Sit covers proper positioning, supplemental exercises to improve your performance, and progressions to help you work up to the full L-Sit.
Though the tutorial covers the L-Sit in relation to the parallettes and floor as well, the same principles apply to the rings.
Master the Strict Rings Muscle-Up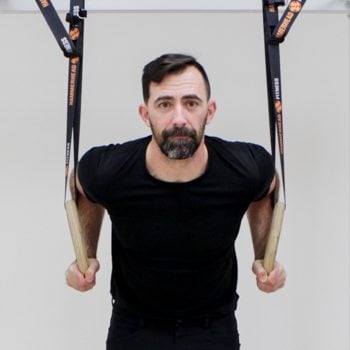 Muscle-ups have gained a lot of popularity over the past few years in the fitness world, but unfortunately, most of the videos you see on the Internet are of people doing muscle-ups with terrible form.
There's a misconception that, in order to get a muscle-up, particularly on the rings, you have to muscle through, using momentum to propel you from the pulling motion to the pressing motion.
In fact, if you work through the components that make up the muscle-up, and really strengthen those, you don't need momentum at all.
Our full Muscle-up tutorial covers the four basic components that make up this somewhat advanced rings skill. Even if you're still working on the basics with the rings, this tutorial will help you strengthen those components so you can eventually work up to more advanced skills like the muscle-up.
Learn Front and Back Levers for Full Body Strength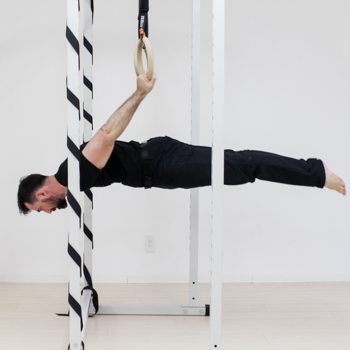 The front lever and back lever on the rings are no joke.
These advanced skills must, of course, be built on a foundation of basic rings work, but once you have that base, the levers are a worthwhile pursuit.
The time and dedication needed to learn these skills will help you gain full control over your body.
And like any advanced skill, taking that time will help you build a level of "mental toughness" that will spur you on for any skills you want to get down the line.
Our full tutorial on the front lever and back lever covers proper positioning and detailed progressions to achieve these skills.
Hand Care Tips for Working with the Rings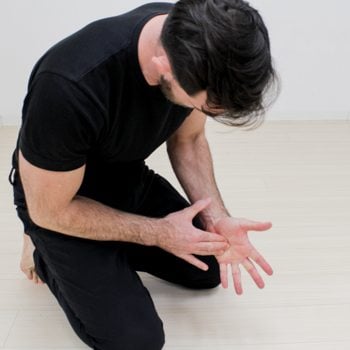 When you start working with the rings, one of the biggest things you'll likely notice is the toll it takes on your hands. Even if you have a nice set of wooden rings, the pressure on the hands over time can cause blisters and torn skin that can really hinder your progress.
Taking care of your hands may not be the first thing that comes to mind when you're excited about starting work with a new training tool, but it's important.
In this article, we go into some of the common issues people run into with ring training, and how to prevent those. We also give you some tips for dealing with those issues if they do come up.
Again, even if you haven't experienced these issues yet, it's a good idea to familiarize yourself with the potential challenges you might face when you do start working with the rings.