Motherhood Left Amanda Sore and Weak
Amanda Chung Fat is a 36-year-old chemist turned stay-at-home mom who lives in Paris with her husband and two kids. She was feeling tired, stiff, and sore when she had kids, and she couldn't find time to train. Her kids never got to see her working out because she'd just squeeze in a quick workout while they were in school. Now, movement is a natural part of her family's life.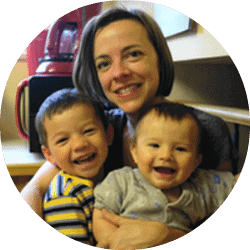 How She Reclaimed Her Body
Elements
helped Amanda discover how movement could make her body stronger and more resilient. The back pain she'd developed with pregnancy went away with Elements. Her flexibility and strength improved. Later on, she achieved a 20-second handstand, learned to do several pull-ups, and her body is more resilient now. She says "GMB made me a better mama!"
Everyone said having a baby would change everything. No more luxurious alone time to train, and might as well embrace the "mom bod" off the bat. Amanda was no stranger to working hard though, and she hoped she could prove everyone wrong.
Well, those challenges she'd scoffed at ended up being real. She felt them taking hold immediately after her first son was born.
Luckily they didn't keep her down for good. She just needed to change her approach.
You see, Amanda had been active for most of her life (she was on the rowing team in college and competed in triathlons), but inevitably, things did change when she had kids. She never really stopped training altogether, but she could no longer keep up with the activities she loved.
And her body was hurting and feeling a lot stiffer than it used to. She'd lost a lot of her upper body strength, and her training life and her "real" life were becoming more and more separated.
In her search for reclaiming her athletic body, Amanda found our Elements program, and everything changed.
The biggest thing that changed for Amanda was her mindset about movement. She found that training can be about a lot more than just "push yourself until you're sweating and dying" and, instead, can be a way to explore and see how you're feeling and moving each day.
It's helped her to be the kind of role model she wants to be for her kids and gave her "a whole different mentality with training."
Let's take a look at how she got there…
Get Strong and Reduce Your Aches and Pains
Elements guides you through our proven process for building strength and agility at home with zero equipment. Check it out ⤵️

"I didn't have time to train anymore"
Like most active people with kids, when Amanda had her first baby at age 30, "all that running and triathlons and stuff just went out the window. I didn't have time to train anymore."
And it was a real struggle for Amanda to find a way to work that back into her life.
She tried at-home programs but was never able to complete a single one. Eventually, she found CrossFit, but said, "I had to make time to go. It took up all of my free time, and I wasn't getting any stronger."
Plus, in all this time, her kids never saw her training at all. Her training was kept completely separate from the rest of her life, as she only did it when they were at school.
When she found Elements, she realized it didn't have to be that way anymore. She recalls, "it was so much more approachable just in terms of being able to do it with my family around because the kids were into it. I didn't have to carve out extra time, I just did it whenever I could."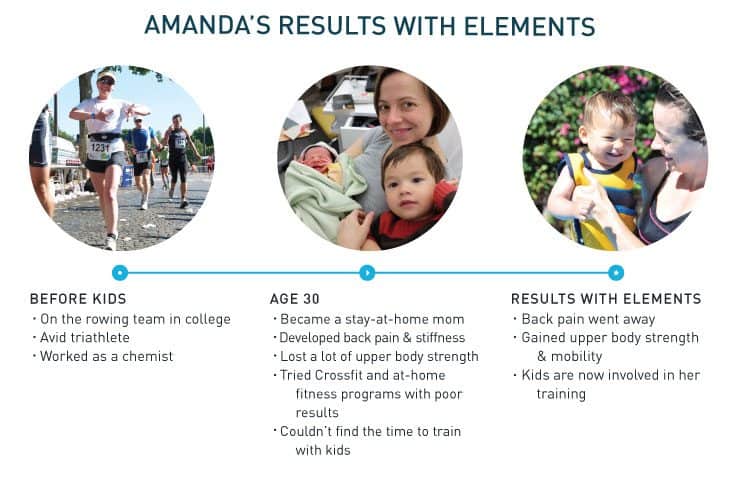 Since being active has always been important to Amanda, it was a big deal for her to be able to show her kids "a lifestyle that's sustainable, where movement is important."
And Elements made it a lot easier for her to do that.
Why Elements was "Magic" for Amanda
Elements is our introductory program, which uses locomotive exercises to assess your abilities and address your weaknesses. Amanda knew that hard work is the key when she found GMB though, so how was Elements so "magical" for her? How did it help her achieve goals she was unable to with other programs she'd tried?
Besides being able to complete the program, which is valuable in and of itself, Amanda also used Elements to move past physical restrictions that were keeping her stuck. She said, "I felt myself getting stronger. My back pain started to go away, my squat got better, the flexibility was coming, without me really having to work on it directly, per se."
The movements in Elements are specifically chosen to address the most common restrictions while building strength, flexibility, and motor control.
Amanda built her foundation with Elements, and continues to use what she learned every day.
"One time just recently, I was struggling so much with my handstand that I just decided to do high frogger [a movement from Elements] for like six weeks. I'm like, okay, I'm just going to do a totally different thing because I was on a total plateau. And of course, I came back after the six weeks of just doing the Elements movement, and I felt stronger and I felt more coordinated, and things started to click a little bit, even a little bit more. It's magic."
"I'm daring to dream big now"
After going through Elements (and later going through our Integral Strength program), "all the doors are open now" for Amanda.
She used to feel intimidated by gymnastic movements and by rings, but now she says, "I would like to do tumbling skills, and I would like to do pressed handstands and handstand push-ups, eventually." She even bought a pair of rings and plans to start working with those soon.
Just this year, Amanda started taking an adult gymnastics class–something most people would never dream of trying without some sort of gymnastics background.
But Amanda says, "now that I've practiced quite a long time with mindfulness and really being gentle and taking the time to go through the motions and really focus on the basics, I am trying to ramp things up."
And the most important thing is that Amanda can do these things with her kids and that it's made her more present for them.
"Now that it's been a couple of years," Amanda says, "I am just really surprised at the things I can do and the amount of stamina I have in the morning when I wake up with the kids. I don't get exhausted by the end of the day."
And she says it all started with Elements.
"Elements is a great program to start with because it is really kid friendly, time friendly, location friendly, whatever, age friendly. It has really no barriers in terms of if you don't move well already, you can't get into squat, no problem. There really are no prerequisites for doing the Elements program. You can do it no matter who you are, where you are, what your situation is. And if you believe that it will get better, and if you do a little bit every day, it will get better. And it does, magically."
Build the Foundation You Need
Amanda used Elements to build strength, mobility, and control through mindful movement. It will help you build the foundation you need for whatever physical goals you have.