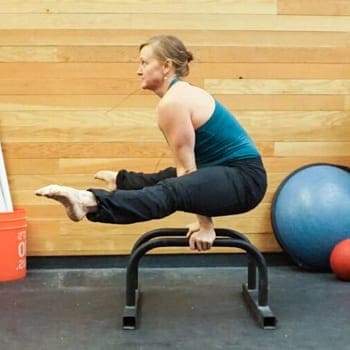 If you want to quickly improve your strength and coordination, almost nothing beats parallettes training. But not many people have a set of p-bars hanging around. In fact most people have never heard of them.
But if you've read through the previous chapters in this guide (click here to go back to chapter one and get caught up), you know just how valuable and versatile this training tool can be, and you're probably ready to try them out–if you can find a pair, that is.
In this article we'll show you three great options for parallettes: two inexpensive ways to build your own p-bars, and our favorite parallettes on the market. Because in the end, the best parallettes are the ones you'll use.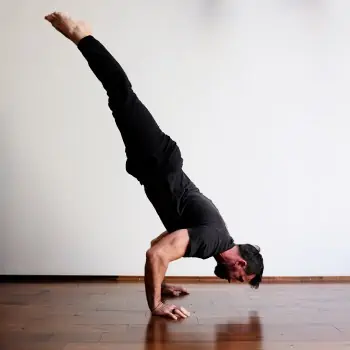 Get 16 Proven Strength Tutorials
We'll send you our best methods and progressions for building practical strength, yours free.
The Best Homemade Parallettes Options
There are many choices for p-bars on the market (a quick search on Amazon will turn up tons of options), but we've found what we describe below to provide the best combination of comfort, affordability, and security out of all the available varieties. We've found that these work best for our clients, but you may find something that fits what you want better than what we describe below. 
In this video, you can see a quick preview of how each of these types of parallettes is assembled, then scroll down for a more complete description of materials needed, along with assembly instructions.
Now let's take a look at what you'll need to do to get the parallettes you want.
1. DIY PVC Parallettes (The Hyundai Option)
Jarlo put this pair together a couple of years ago when he was looking for something sturdy but relatively easy and cheap to assemble.
The Materials You'll Need for One Pair of Homemade PVC Parallettes:
About 12 feet of PVC pipe (Jarlo used 1.25″ diameter piping)
4 T-joints
4 Elbow Joints
8 Caps
PVC glue/cement (optional)
Assembling Your PVC Parallettes:
Measure out 6-8 inches of PVC pipe, then measure out a second handle so that the handles are the same length.
Next, measure out 4-6 inches of pipe, and repeat until you have 4 supports of the same length.
Now, measure out 5 to 8 inches of pipe for the bracing portions. You'll need 8 of these.
If you are using glue, prep the pieces a couple at time before you piece them together.
Attach the elbow joints to the end of your handles, and then the support portions to the other end of the elbow joint.
The T-joint goes on the other side of the support portion, and then you'll attach the bracing pipes and finally,
the end caps.
You can use a mallet/hammer to pound these in well, or just bang them on the ground a bit until they feel secure.
In the video, you'll see Jarlo's using a reciprocating saw to cut the PVC. You could easily use a handsaw as well, but if you've got power tools, that'll work even better. Whatever you do, just don't do anything dangerous and lose a finger, please.
And voila! You now have a shiny new, solid, and quite cheap pair of PVC parallettes.
You'll notice we gave a range of measurements to choose from in the instructions. This is because you can use varying heights for the support portions to create different parallettes sizes. The lower the parallettes, the more difficult the exercises will be as you'll notice immediately in the effort of your arms and core.
Size your parallettes according to your current abilities.
Total cost: Around $20-30.
2. DIY Wooden Parallettes (The "Cadillac" Option)
While Jarlo's PVC parallettes get the job done, and for a great price at that, they're certainly not the most aesthetically pleasing option.
That's why Andy designed this pair of durable wooden parallettes.
The Materials You'll Need for One Pair of Homemade Wooden Parallettes:
4 feet of 1.5″ wooden dowel. Make sure you measure this because hardware stores aren't always precise.
4 feet of 2×6 wooden plank
4 feet of 1 5/8″ copper pipe. This is enough for several height adjustments.
1 5/8″ copper T-joints
1 5/8″ copper couplings
4 brass screws
Epoxy
Drill press with 1 5/8″ forester bit (optional)
Pipe cutter (optional)
Assembling Your Wooden Parallettes:
Cut the dowel and sand around the ends.
Measure and drill guide holes centered about 3 inches from the end of the bases. With the drill press and forstner bit, open these holes up 1-inch deep.
Cut four pieces of pipe 3″ long. Insert into the holes you just drilled into the bases and secure with epoxy.
Cut eight 1-inch pieces of pipe and secure them into the ends of the T-joints with epoxy.
Drill and countersink holes through the tops of the T-joints. You'll screw into these to secure the dowels.
Place the T-joints on the pipe epoxied into the bases. Run the dowel through the T-joints and screw into place.
This will put your base about 5-6 inches off the ground. Figure out the starting height you'd like to use and then subtract 5″. Cut four pieces of pipe to that length for your adjustment poles.
Raise your p-bars by inserting the poles and couplings between the bases and bars.
This version is obviously more involved than the PVC design, but the extra work and cost will yield a really nice looking set of parallettes that are strong enough to handle just about anything you throw at them.
Total cost: Around $80-100.
3. Beautiful Pre-Made Custom Parallettes (The "Rolls Royce" Option)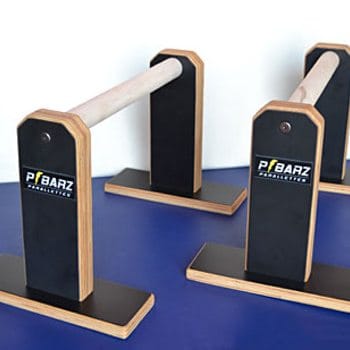 If the thought of building your own set of parallettes is the last thing you want to do with a free Sunday, there's a really good option on the market that doesn't require any tools or time–Custom P-Barz from Core Strength Company.
These parallettes may be on the pricier side, but for the level of quality and service, the price is absolutely fair.
Dusty, the owner of Core Strength Company, designed these parallettes to our specifications, and we've tested out every variation he sells, so we know these parallettes are of the highest quality.
The P-Barz do require some assembly, but they can be put together in just a couple of minutes with the included allen key.
Total cost: Around $150 plus shipping.
Why People Love Their Parallettes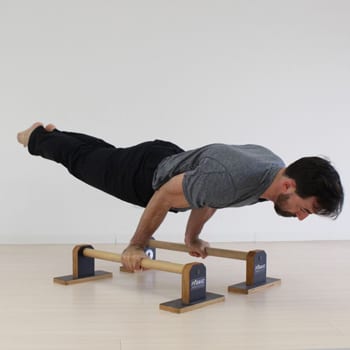 Most people think they need hundreds of pounds of plates and bars and other weights to build serious pressing strength.
But a pair of parallettes lets you build that same sort of strength–plus balance and control that translates to any activity–with a couple of bars you can easily toss in the closet when you're not using them.
A set of p-bars paired with a good training program is one of the most cost- and time-efficient ways to build serious strength and body control.
If you're new to parallettes training (or getting back into it), our Parallettes One program will not only teach you the fundamental parallettes skills, but it will also walk you through all the progressions you need to build the confidence, control, and flow that show real physical mastery.