It's natural to focus on workouts that get our heart racing and muscles pumping. However, there's an essential aspect of training that can greatly enhance your fitness and well-being: movement skill training.
Incorporating movement skill training into your exercise routine not only improves your physical performance but also challenges your mind and boosts your cognitive abilities. In this article, we'll go over why it's important and how to effectively integrate movement skill training into your routine to unlock your full potential.
Skill Training: The Unexplored Dimension of Physical Fitness
Traditional exercise routines have primarily been centered around cardiovascular workouts and strength training. While these are essential components of an effective fitness regimen, they often overlook an area that can greatly complement your physical development: skill training.
Unlike its conventional counterparts, skill training is not fixated on repetitive sets of bench presses or monotonous runs on the treadmill. Instead, it is a more nuanced approach that aims to equip you with the ability to perform a variety of complex, specific physical tasks.
Think of a gymnast gracefully executing a series of flips, or a climber mastering the coordination and balance required to move from one crag to another. These skills don't just happen; they are the result of targeted training that helps you go from zero to mastery.
In perhaps more familiar settings, consider the skill required to excel in sports like basketball or tennis. The way you dribble the ball down the court or serve an ace involves more than just raw muscle power or cardiovascular stamina; it involves a precise set of movement patterns that are honed through practice. This specificity is the hallmark of skill training.
So, why does this matter? In traditional strength training or cardio workouts, the focus is generally on improving specific attributes, like muscle mass or aerobic capacity. But the body is not a collection of isolated parts. It's a coordinated system that thrives on functional movement. Skill training brings this concept into sharp focus by teaching your muscles to work together in a more coordinated way to accomplish a specific task or set of tasks. It prepares you not just for the gym, but for the complexities and unpredictabilities of real life.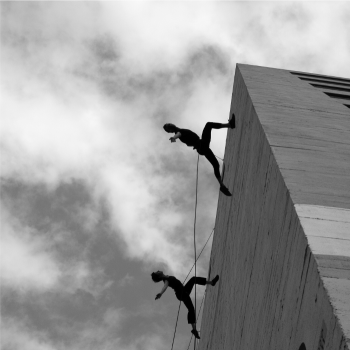 Also, skill training often requires a higher level of cognitive engagement compared to traditional workouts, integrating both mind and body in the exercise. This mental involvement makes each workout not just a physical task but a holistic experience that develops your motor skills, concentration, and even memory.
Skill training fills a critical gap that is often missing in conventional exercise plans. By integrating it into your routine, you bring variety, functionality, and a fresh set of challenges to your workout, taking your physical and mental capabilities to new heights.
Why Skill Training is Indispensable in Your Exercise Routine
Why should we think that learning different ways to move our bodies stops when we "grow up"?
View this post on Instagram
Incorporating skill training into your workout regimen offers more than just improvements in your isolated physical attributes. When you include skill-based tasks, you're tapping into functional, full-body mobility that transcends pumping your your biceps and shoulders.
This enhanced mobility is not just an abstract benefit—it has practical implications for your daily life. For instance, skill training prepares you for dynamic, real-world activities, such as hiking on uneven terrain or carrying cumbersome objects. These are not just exercises in a controlled environment but are skills that improve your overall quality of life.
It also gives you a personal context to your workout routine. By setting specific skill goals—be it mastering a yoga posture or a martial arts technique—you generate a form of intrinsic motivation that is often lacking in traditional workouts. Each exercise becomes not just a rote movement but a crucial step towards a goal that holds personal significance to you.
This goal-oriented approach helps in a greater adherence to consistent training, because it actually means something to you! The integration of skill training into your exercise routine is not merely an option—it is, in fact, indispensable for a comprehensive, effective, and rewarding fitness experience.
The Blueprint for Skill Training Success: A Tactical Guide to Achieving Mastery
Assess Yourself: A Realistic Mirror for Your Aspirations
Before you dive headlong into skill training, you need to take a moment for self-assessment. This is not just about gazing into the mirror; it's about honestly thinking about what's meaningful for you and also the realistic constraints on your time and energy. Start by listing down things you're genuinely passionate about. Maybe you're enamored by the fluid grace of contemporary dance or wish to master the challenging asanas in yoga. Perhaps you're intrigued by the explosive power displayed in parkour or want to be adept at Brazilian Jiu-Jitsu.
After you've listed your passions, the next step is to get real. How much time can you genuinely commit to this? Time management is a pivotal factor in your skill training journey, especially if you're juggling other life responsibilities like work or school. Also, consider your energy levels throughout the day and week. Can you realistically dedicate prime energy hours to your skill training, or will you have to compromise? The key here is to balance your passion with being real.
What you work on, and really every exercise program you do, should not only ignite your spirit but also fit within the practical boundaries of your everyday life.
View this post on Instagram
Don't Turn This Into Another Contest: The Zen of Meaningful Progress
Now, let's talk about your mindset. If you're venturing into skill training with a competitive spirit that's great! But let's pause for a second and not fall into the same trap as exercising for a "beach body". Skill training shouldn't lead you to relentless comparisons to everyone else's Instagram posts. It's your personal journey toward mastery, a pilgrimage to your best self.
While it's natural to look at someone executing a perfect handstand or flawlessly playing a musical instrument and feel a tinge of envy or ambition, remember that skill training is most effective when it's meaningful to you as an individual. You are not in a race. Each person's progress will look different, not just in terms of the skill achieved but also in the intangible qualities developed along the way, such as  resilience and self-awareness.
Instead of getting caught up in the whirlwind of comparison and competition, focus on your own milestones. Perhaps your first achievement is not feeling anxiety when you turn a cartwheel or finally getting the hang of a tricky guitar chord. Celebrate those moments. Use them as stepping stones toward your next challenge, and let them inspire you to keep pushing your boundaries.
Your growth in skill training should be a tapestry of meaningful efforts woven together to create a fuller, richer you.
View it as an opportunity to enhance your coordination, balance, and overall body awareness. By adopting this mindset, you'll be better prepared to focus on the intricacies of movement and fully engage in the learning process.
Practical Implementation: A Three Step Approach to Movement Mastery
Now I hope you are intrigued by the idea of skill training and wondering how to incorporate it into your existing routine, be it CrossFit, weight lifting, or your daily jog. The first decision to make is whether to add skill training to your current workouts or to conduct them in separate sessions. Each approach has its merits.
Opting for dedicated sessions for skill training can be easier to manage but may demand additional time and energy from your day. The upside is that such focused sessions can accelerate your skill acquisition, providing an environment for uninterrupted, concentrated practice. If you opt for this route, it would be beneficial to schedule these sessions earlier in the day, prior to your main workouts. This ensures you're at your freshest—both mentally and physically—and therefore more likely to make meaningful progress.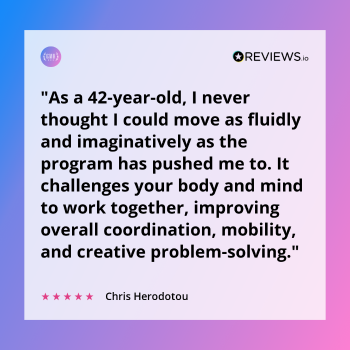 Lots of people find it more convenient to append skill training to your primary workout sessions, the strategies outlined below will guide you through the most effective ways to do so.
Read on to discover key methods for successfully integrating skill training into your exercise regimen.
1. Strategic Timing: First Things First
Integrating skill training effectively into your regimen requires strategic timing. Opt for either dedicated skill training sessions or insert skill-focused segments at the beginning of your regular workouts. Initiating your practice while mentally and physically fresh aids in consolidating the nuances of the skill. As you gain proficiency, you can challenge yourself by practicing in states of fatigue, adding an additional layer of complexity. This should, however, be a secondary focus and is recommended primarily for those in the advanced stages of skill acquisition.
For example, in your strength training session, after your usual warm-up you start with about 10 minutes of your skills practice before you head into picking heavy things up and down. I'd choose movements that are right at edge of being too hard for you. Your energy is highest here and you can devote that vigor to learning and improving.
2. Strategic Combination: Energy And Attributes
It's unfortunate how isolating bodyparts seeped into the fitness world. It makes sense for bodybuilders and initial rehab, but it's not the best for actually learning how to move our bodies.
So as far as how to add skill work into your exercise routine, it's not so much that you would add handstands to your upper body workouts, or a jumping acrobatic skill to your leg days. Instead think about what the nature of the stimulus is on those days. What's your energy going toward?
If you're training for a 5K and have a couple of intense interval sessions in your week, I wouldn't necessarily do jumping work prior to those runs. It might be counterintuitive but here hand balancing and upper body rotation drills would be a nice counterbalance to the hard tempo intervals.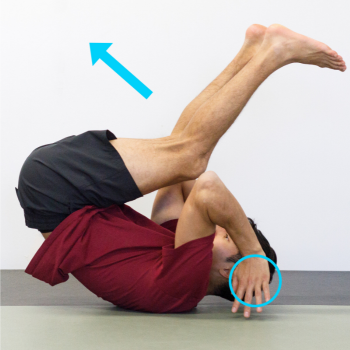 Or maybe you're on the rower that day and getting your 10,000 meters in. Here, working on a skill like the Floor Kip where you are combining some explosiveness and coordination before plopping yourself on the rower seat for an hour is a nice way to even things out.
Think of adding skill work in this way, of expanding the breadth of your physical training rather just adding one more thing to your schedule.
3. Strategic Substitution: Swapping In Sessions
This is a bit of the opposite of the second step. And it applies to when you just aren't feeling it for your primary workout. Maybe you're feeling beat up or just unmotivated for your gym session. Sometimes that's a sign to grab a smoothie but it also could mean that you'd be better off switching up your emphasis for the day.
That's another aspect of skill development training, it's not that it's always easier or less intensive but the emphases in you're spending that energy can make it a great "backup" plan for when you can't psych yourself up for your scheduled session.
Skill training offers the flexibility to adjust your workout according to your daily performance and overall well-being. This adaptability is crucial for preventing burnout and sustaining long-term commitment.
Three Key Concepts To Accelerate Your Skill Development
Here's some "hacks" that you can include in your practice that will both keep things interesting but also nudge you forward in your learning.
1. Finding the Right Pace: Changing Speeds
Skill training involves a delicate balance between slow and fast practice sessions. While slow speeds offer the benefit of meticulous skill refinement, fast speeds are necessary for real-world application and performance. Aim to identify a 'goldilocks zone' where your form has an acceptable quality even at elevated speeds, ensuring that you are not sacrificing technique for speed. As you improve your speed will naturally increase, don't force it!
2. "Sandwich In" Skill Training for Optimal Learning
To maintain momentum and circumvent too much frustration, employ a "sandwich in" approach. If you're having difficulty with a particular skill, practice it between two skills you are more comfortable with. This technique is not only psychologically helpful, it tends to increase the total amount of time you practice the harder skill. More repetitions and less frustration is a good combination!
3. Consistency over Quantity: The Art of Doing Less More Often
Adapt principles like James Clear's "2-minute rule" into your practice. This approach involves intentionally restricting your practice time for complex skills, relieving you from the pressure of perfectionism while encouraging consistency. As you become more confident and competent, you'll naturally extend this to longer sessions. This organic approach might seem stilted and take a longer time, but it's the progressive habit building that's at the heart of this strategy, and it works!
By adding skill training into your workouts and employing these strategies— speed modulation, the "sandwich in" technique, and quality-focused training—you pave the way for a multi-dimensional approach to fitness.
This isn't just exercise; it's a journey towards mastering movement skills that enrich both your physical and mental capabilities.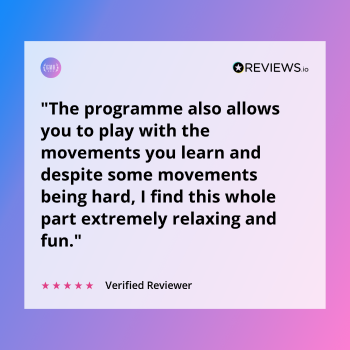 Whether you are an aspiring athlete or simply committed to your personal well-being, integrating movement skill training into your fitness routine offers an invaluable opportunity for growth and mastery.
Skill Training Over a Lifetime
Our Elements program incorporates locomotion skill training along with the breadth of total body strength and mobility that will prepare you to excel at all the rest of the physical skills you want to attain.