Everyone wants to be healthy and strong, but if you ask ten people what that means, you can expect to get ten different answers.
Part of the way humans are wired is that we're more motivated by loss avoidance than we are by potential gain. The easiest way for us to define something broad like "health" is via negativa: as the absence of pain or injury.
So we know what we don't want, but we have trouble defining what we'd want from strong, health shoulders until we see an example:
In that video, you can see Ryan easily supporting his weight with his arms and shoulders at all kinds of different angles, and you might think…
"Wow, I couldn't do this in a million years."
Some people feel too stiff, others feel too old, and some just don't think it's possible. But it's doable for sure. If you need a reminder, you can check out all of our case studies.
Anyhow, while walking around on your hands might not be something you want to actually do, having the shoulder strength and stability to support your body in those positions is worth pursuing because of all the residual benefits.
Think about it. Your shoulders and upper back are so important for everyday things. Picking up your kids, playing sports with your friends, or lugging around some dirt for that garden you've started. So making them strong, and pain-free are no-brainers.
In our programs Elements and Integral Strength, we take you through a series of movements that build on each other, allowing you to progress steadily throughout the course of the workouts.
For anyone who wants to build strong shoulders using nothing but your bodyweight, the following progression is most natural when considering the level of strength and mobility you'll need to develop.

As you advance, you'll see that each movement gradually builds on each other and requires a bit more shoulder strength and mobility.
Practical Application (what does any of this matter?)
You may never be advanced enough (or care to be) for handstand push-ups, but training these movements takes you a long way in developing healthy, stable, and robust shoulders. Many of us are sitting at our desks hunched over way too much during the day. And over time, it can make for stiff, tight, and sometimes painful shoulders.
By training these movements, you can:
So, how do you get started? We make it easy.
The following movements only require a small area to work from. All you need is the space of a yoga mat to begin. You can also do these outside in the grass or on your patio.
Before you get started, you might want to go through our shoulder warm-up.
We recommend you start with the A-Frame since it's the easiest movement to begin with. If that's too easy, you can move down the line to the next movement.
Here are the 6 movements we're covering:
The A-Frame helps you develop foundational shoulder stability.
The A-Frame is where we recommend everyone start, as it helps you get comfortable supporting your bodyweight with your arms and shoulders. If this position is easily accessible for you, move onto the Bear:
Walk like a Bear to challenge your balance and stability.
The Bear takes the A-Frame from a static position to one moving through space (also known as locomotion). This way, you're constantly shifting your weight from shoulder to shoulder, side to side, which requires a little balance, strength and body control.
Once you're good at this one, you can move onto the Bent Arm A-Frame.
The Bent Arm A-Frame further challenges your arms and shoulders.
This position requires some more strength because now you have more tension through the shoulders and arms, which sets you up for more challenging movements where you have to support even more of your weight with your upper body.
These movements are all part of our Elements program. 👇
Build Stronger Shoulders From The Ground Up
Elements gives you a foundation of strength and flexibility, by learning to support your weight with your hands, preparing you for even harder bodyweight skills.
Christian's shoulders move better than ever—no more clicking and popping. Plus, no more chronic tension in his neck. 👇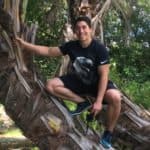 Christian Ampania
Sacramento, CA, United States
My body has more options now
I'm AMAZED at how much my active mobility has improved in just 3 weeks of Elements.
After years of training like a powerlifter, I developed neck and shoulder pain. My hips, hamstrings, and calves have felt tight for as long as I can remember, and I had terrible mobility through my shoulders and upper back as well. I wanted to improve my overall mobility and body control and build the foundation for more complex skills down the road. Essentially, I wanted to become the master of my body.
Since starting Elements I no longer have chronic tension in my neck; my shoulders move better-than-ever (no more popping or clicking when I do shoulder circles); and getting into deep squats feel effortless now (even without a long warm-up or spending hours per week "foam rolling"). I feel so much more in control of my body, and feel like my body has a lot more options for moving around now. It's incredibly fun to "explore" those movement options and just play!
What Comes Next? Adding to Your Strong Foundation
If all of those movements were easy for you, you're probably ready for something more challenging. Give the following movements a try.
The Front Loaded Bent Arm A-Frame makes you even stronger.
This movement builds on the Bent Arm A-Frame when you increase the resistance by leaning forward on your hands to balance on your tippy-toes. As you might imagine, the more you lean forward, the more your weight shifts and is supported by your arms and shoulders.
Bent Arm Bear improves your balance and control.
This is the next practical progression from the Front Loaded Bent Arm A-Frame because instead of balancing in one spot, you're now moving backward and forward, forcing you to balance a good portion of your weight with your hands, shoulders and arms.
Inverted Presses prep you for the most challenging upper body movements.
Finally, once you've mastered the previous movement, you'll want to practice pressing your bodyweight up and down, similar to as you would with a proper push-up.
This is also a natural progression toward being able to do a handstand, and eventually handstand push-ups.
These movements are all part of our Integral Strength program. 👇
Bodyweight Training for Strong Shoulders
Integral Strength is a skill-based program that gives you strong, healthy shoulders so you can move how you want, whenever you want.
If you're skeptical of how much stronger your shoulders could be, we understand. Instead of just trying out random workouts on YouTube or piecing one together from various websites, you can follow our exact
programs
, no matter your starting point.
Laura's shoulders have gotten MUCH stronger. 👇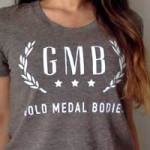 Laura Fancy
Australia
My Shoulders Have Gotten MUCH Stronger
Because of my prior experience with bodyweight training (doing Reddit routines and weightlifting), I thought the beginning of IS was a little slow. I will admit that now that I'm at the end of the program, I totally understand the method to your madness and I'm glad it was designed that way. I have been SO focused on reps and sets and whatnot, without giving much consideration to how I felt performing exercises. I was mindful of form, but form does suffer in order to crank out x number of reps. It was a bit of a wake-up call.
I can honestly say I have made quite a few gains with this program. Firstly, my pull-ups have improved. I have stalled on pull-up progress for quite some time. The amount of work I am able to do now is slightly better, but the quality and ease of the exercise has improved dramatically. My shoulders have gotten MUCH stronger.
Same with core strength. I dabble in yoga and was able to do some challenging arm balancing poses with ease, when previously I was unable to get anywhere close. Also, my handstand has improved! I haven't been practicing since I started IS, but attempted one the other day. I was much more stable, confident, and had way more control than ever before. Hip strength and stability is better. This has been a limiting factor in my barbell squats and I have neglected to really put time and effort into fixing this. I'm excited to see the carryover in a couple of weeks!
The instructional videos were very well done. Was detailed, yet succinct and the demos were easy to follow. In summary, this is a great program. As I've said, I have experience in working out and found a lot of value in doing IS.
How Do Your Shoulders Stack Up?
If you want healthy, flexible, and strong shoulders, you'll have to actively work on them. But it's not just about mindlessly doing workouts and hoping for the best.
To make progress, it requires a focused approach. Our programs are designed with your individual starting point in mind.
No matter where you begin, we'll help you gradually build up intensity and hone your technique over time. And by the time you're finished with the program, you'll look back with new abilities to do even more with your body.
Be sure to check out our programs and see which one is best for you.