School PE classes have a bad reputation.
Most of us grew up in an era where "Physical Education" was really just a hodgepodge of random sports with no instruction, and it probably conjures up images of dodgeballs being thrown at your head while your classmates and biggest crush stood by; or of running laps while your gym teacher tried to "motivate" you by shouting insults.
The result? More and more adults avoid physical activity and movement at all cost, including the cost of their health.
Unlike others who may be perfectly content with maintaining a sedentary existence, you want to overcome those negative associations and take control of your health. If that weren't true, you wouldn't be on our site.
So, with that in mind, let's start by transforming "physical education" into "movement re-education," a process by which you can reprogram your mind and body to embrace movement rather than avoid it. We'll look at what's likely missing from your movement education, and how to fill in those gaps.
What's the Missing Link in Your Practice?
Tell me if this sounds familiar…
You see somebody doing something really cool and decide you'll learn it too.
You fire up YouTube and search for a tutorial or join a forum and ask advice.
Then, armed with the correct methods and information, you leap head-first into your training, ready to fly!
And then you run into your old friend, Reality.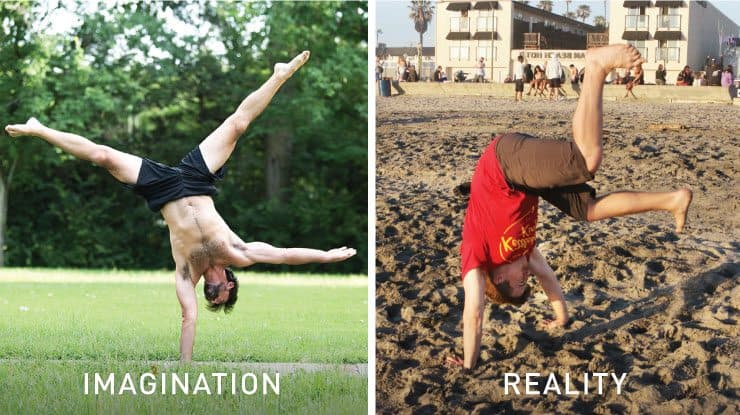 We've all been there, so ask yourself:
What's stopping you from consistent progress in your athletic development?
What's really hindering your development from the things that you can do right now to what you what you want to be able to do?
What's the missing link in your practice?
It's the fundamental movement patterns that are often neglected and are key to continued progress in your athletic abilities.
And we're about to show you how to build them up.
When We Stop Learning, Our Movement and Development Suffer
When was the last time you thought about how to jump?
Probably not since you were a kid – that is, unless you've been involved in basketball, martial arts, dance, or some other discipline that requires you to jump with control.
Unfortunately, if you ask most adults to spontaneously jump, it's a pretty sorry sight.
Most can only get a few inches off the ground, and they don't know what to do with their arms, have no control over their legs while airborne, and land with a clumsy thud.
How is Somebody Who Can't Jump Going to Learn to Do a Back Flip?
Sure, maybe back flips aren't a necessary movement skill for the average person, but you know what? They're crazy good fun! And they're exactly the kind of skill people constantly ask us to teach them…
But without a solid basic jump, they are impossible.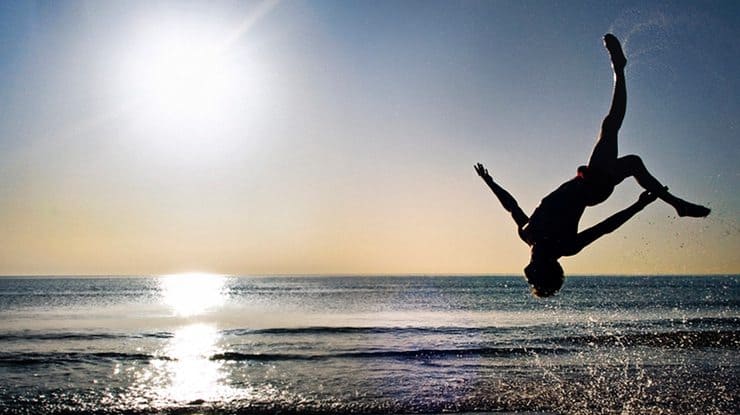 We need to find a link between the things you can already do and the things you would like to do. And one of the ways we do that is by revisiting movements you take for granted but never practice.
(By the way, here's how to jump the right way…)
You Can't Just "Skip Over" the Middle
Basically, it turns out that almost everyone has missed out on "intermediate" physical skills practice. After mastering standing and walking, most of us just never really bothered to work very hard at more advanced types of movement.
The exception, of course, is those who were involved in sports or dance and had to learn these skills. But even then, the curricula are usually specific to the particular activity.
What's missing for most people is a comprehensive and generalized form of "adult physical education" that fills gaps and covers bases for a wide variety of applications and goals.
Why It's So Difficult to Learn Skills as an Adult
Back in the old days (circa ten years or so ago), we didn't know what we were missing. Our perceptions of "strength" and physical prowess were shaped almost entirely by bodybuilding and professional sports.
Sure, every four years, the Olympics would roll around, but it was too easy to dismiss the skills on display as irrelevant and freakish.
After all, how often do most people throw a javelin in this day and age?
So we were left with only a couple of metrics for fitness:
How much can you lift?
How fast can you run?
Which is a pretty limiting way to look at life.
But now, we live in an age of wonder. Information is plentiful – information not only about what's possible, but about how others have achieved it.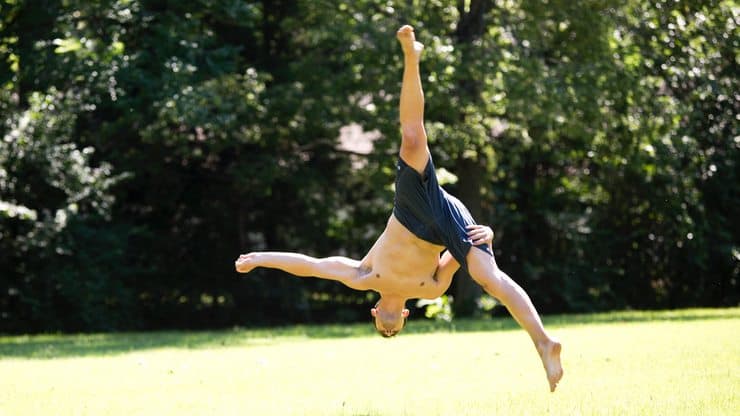 The Interwebz have made it possible to discover just what's possible with the body (without waiting around for the Olympics). And with that information much more readily available, the number of people putting it to use is greater than ever before.
Now that people have heard of handstand push-ups, one-arm chin-ups, single-leg squats, planches, and any number of other skills, they are trying them out – with varying degrees of success.
What exactly is preventing you from getting those skills?
Well, the obvious answer is that you haven't trained for it.
You don't have the strength. You haven't practiced. You need more flexibility. You're lacking any number of specific physical attributes you might need to develop.
But let's look at this a little closer.
The real reason you can't do what you'd like to do is that you don't have control over your body.
Developing Body Control: How People Build Physical Skills
Body control is our code word for all the things you might need, to do what you'd like with your body. It's not just the attributes (strength, flexibility, etc.) but it also entails applying them skillfully.
Learning to Crawl
The learning of body awareness, coordination, and agility should start when we are young.
Children naturally play with their body movements from the day they were born. This is how we learn about the world and our place in it. The sensory information you receive as a child is incredible, everything is new!
Look at children learning to sit up, crawl, walk and run.
Once a certain level of body control is attained, they quickly push boundaries to see what's possible. They can do this, in part, because they haven't yet developed the fear of injury, but also because the size of their bodies limits the amount of force they can produce.
As a kid, the biggest reason for not being able to do a physical task is always simple – you're too little. But as we grow up and mature physically, we stop exploring and refining skills.
Since we're too little to jump as far as we'd like, we often turn to less physical activities while our bodies catch up.
But let's not get ahead of ourselves…
Playing with Yourself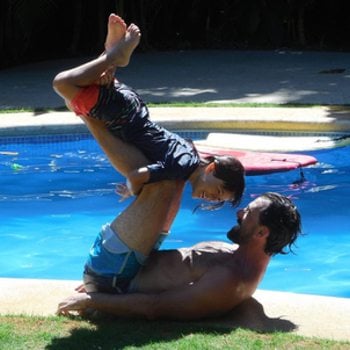 Though we initially learn them without much instruction, proper running, jumping, rolling are not genetically ingrained behaviors.
Many romanticize children's physical development by saying "we just need to get out of their way and let them express their natural abilities." That's like saying we don't need to teach children the alphabet because they will "naturally" divine what the symbols mean.
In other words, it's BS.
Yes, children will explore and play with their movements, and with their seemingly infinite amount of energy they'll discover ways to do certain skills. But not necessarily in the most efficient – or safest! – way.
Children have a lot to learn and master. They have pressures and time constraints on achieving certain developmental stages and milestones in step with what society deems "normal" and important. There's nothing wrong with that, but it means that:
Once a child learns to run reasonably well, there's not much incentive to really work on running better.
Once you can hop over a stone or jump a rope, there's little practical reason to spend the time developing the proper mechanics of a truly effective jump.
Those things are only practiced if they are rewarded. Rewards can be joining a Little League team and winning trophies or simply not being picked last for dodgeball. But make no mistake: when the rewards cease to be enticing, you quit playing.
The Skill of Control
There are fundamental principles of good movement in every skill.
Now we don't mean that there are so-called "universal" ideas that are applicable to every movement. Rather, each skill has essential qualities that need to be there for consistent efficient performance.
As a child, you simply don't care about this, which is why you probably never developed the movement quality that, looking back, you kind of wish you had.
Body control is a learned skill.
What do we mean by that?
It means that aside from the occasional athletic genius child who seems to pick up any skill without difficulty, people have to learn how to move their bodies.
Usually, it's a matter of trial and error over years of repetition and failure.
It's developed the same way you develop skill in writing the alphabet, tying your shoes, playing guitar, shuffling a deck of cards, shaving, cooking the perfect hamburger, etc. All those "life skills" that are important at various stages of our social development are built on repetition and practice.
There's also a way to cut down this time and learn how to control and master your body.
You'll need to know the fundamentals of body control, and how exactly to learn them. These fundamentals lay the proper foundation for advanced skills. Without them the road will be long and full of obstacles.
Master them and you'll be on the short path to your goals.
The Problem with Traditional Practice: Why it Only Works for Natural Athletes
Here's how most people try to learn physical skills:
Do something a whole bunch until you can do step 2.
Do the next thing a whole bunch until you can do step 3.
Do the skill.
One of the "hot" skills that people often ask us about is the planche – a gymnastic skill that looks as if you're supporting your body in a push-up position without your feet touching the ground.
It's extremely difficult and takes years to develop fully.
The Planche in 3 'Easy' Steps
Of course, "the steps" to doing a planche are well known thanks to YouTube. In fact, there are over two hundred videos that claim to tell you exactly how to do it.
Apparently, it's as easy as 1, 2, 3…
Hold tuck planches as long as you can. When you get up to 30 seconds,
Hold a tuck planche with a flatter back as long as you can. When you get up to 30 seconds,
Do the full planche.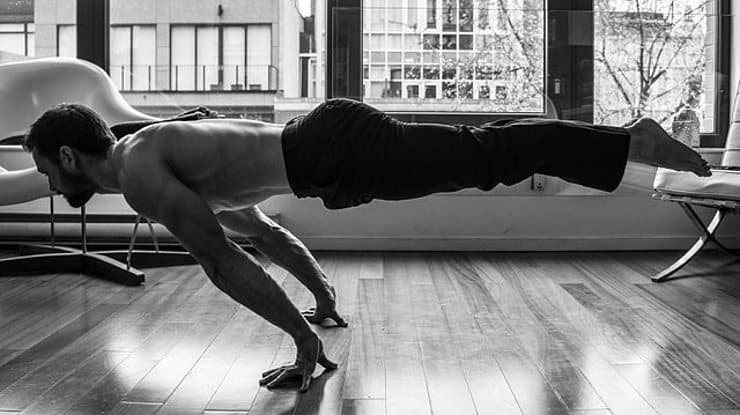 Easy, right?
Umm….
Easy as "1, 2, FAIL"
Unfortunately, it simply doesn't work for everyone. It does work for some, but some people simply can't do a tuck planche at first. Maybe they have weak wrists, or stiff shoulders, or a muscle imbalance, or they need core work, or they should lose weight…
But "the steps" don't take any of that into account. If you follow the wisdom of the "YouTube Gurus," the answer is to just keep trying until you can.
Now take a second to let the inanity of that sink in:
If you can't do it, just do it more, until you can do it, then you'll be doing it.
Riiiiight…
Ideally, the progressions build naturally into the next step, and the jump from step to step is reasonable.
But often it's not as simple as working on a step for a while until you can move on to the next one. And when that happens, the step-by-step mentality can lead to plateaus and frustration.
It may be that certain deficiencies in technique and strength are preventing improvements in a particular progression, and simply repeating the exercise over and over again will get you nowhere. And unfortunately, those missing steps are rarely sexy.
More often, they involve shoring up strength in neglected muscles or working on mobility.
Going back to fundamental skills can often tease out the deficiencies that are not as obvious, and get you moving past the plateau.
Why Everyone Hates P.E.
Depending on where you grew up (and when), Physical Education can conjure up not-so-pleasant memories of gym teachers forcing kids to run and jump and stretch, and sorting kids into categories based on how they look and performed on standardized tests.
And by the second week of class, pretty much everyone was sorted out according to their "natural" athletic ability, with no real hope of improving.
Weaklings are forever relegated to play positions that require the least of them, and it's the "athletes" that get to play the fun positions and enjoy the games.
What Happens Without Real Teaching
Unfortunately, there was no actual teaching in P.E.
"Just go do this" is not teaching. So the default groups in P.E. class were those lucky kids that just "got it," and the rest that didn't.
That's no way to do things!
It's certainly not "education" if nobody is learning anything. No matter how loudly your "coach" would yell at you to "watch the ball!" or "jump higher!" those aren't useful instructions if you don't know how to act on them.
When the advice isn't actionable, you have to back it up. Sometimes all the way to scratch.
Return to the fundamentals and practice the steps that got glossed over or neglected. Only by practicing those, can you really move forward.
Mindfulness, and How it Can Transform Your Physical Abilities
Ideally, that practice is "mindful" – meaning that we engage with it fully and give attention and positive expectation to each performance. A lot of recent research shows that mindful practice produces much better results than simply repeating a task you don't care about.
Which is another reason treadmills suck.
But it's also our best argument for the importance of play and exploration in training. If it's fun, you're going to come back to it and work at it, regardless of how much time or effort it takes.
It's probably pretty clear by now that we're going to suggest you work on building fundamental movement skills and practicing them in a playful manner.
What remains is identifying which skills to work on, and choosing a practice method.
Essential Skills for the Everyday Athlete
As adults, most of us have forgotten how to move and build skills – and I'm not talking even talking about ninja-level skills. I'm talking about basic skills that represent the most important fundamentals for the "everyday athlete."
The basic skills involved in this categorization are:
Single-Leg Balance
Somersaults
Jumps and Leaps
Basic Hand Balancing
These four primary skills are necessary for body control, agility, coordination, and general athleticism. They don't cover every possibility, but they're a great general framework.
Why You Need These
Balancing on one leg is a skill that integrates strength, body awareness, and proper alignment. It's also been shown that the act of balancing requires a lot of neurological resources, which improves mind-muscle connectivity.
Somersaults involve moving your body through space safely and with control. This builds spatial awareness and positional sense in addition to improved reckoning of distances. They also look cool.
Jumps and leaps are basic parts of nearly all physical activities. And, as we noted earlier, most adults have truly pathetic jumping skills without training, so we felt this was important to include.
Balancing on your hands is a skill that is likely the most foreign to your normal daily activity. This is what makes it so valuable to learn and develop. And once again, it looks cool, which makes it a worthy goal in itself.
These skills build your strength, flexibility, and all the other physical attributes we discussed earlier, but – being skills – they also build… wait for it… skill! Skill in applying those attributes to a desired movement goal.
Are you seeing how this all fits together now?
Find and Strengthen Your Missing Links – the Fun and Easy Way
Depending on where you're at in your movement journey, it may sound downright impossible to start moving like a kid again. But, it's amazing what just a little bit of movement exploration can do for your mind and body.
You simply can't keep banging your head against the wall doing the same things you've always done if you aren't getting where you want to go with them.
Find a way to assess what you are lacking and work on those weaknesses to build them up.
Explore a Wide Range of Movement Options
Daily, mindful practice of varied movement patterns is one of the best ways to continually discover and improve the weak links in your skillset.