What does it mean to be "in shape"?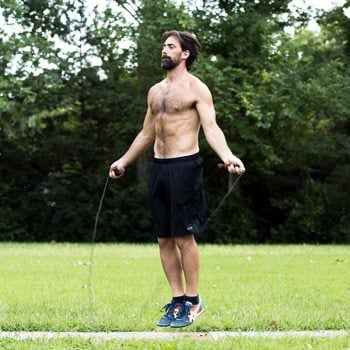 According to mainstream fitness media, it means some combination of being able to do a gazillion burpees, crawl through the mud, and get just the right amount of glisten on your bare muscles while staring off into the distance.
And if you ask most people, they'll probably say that "cardio" and/or "conditioning" are the most important things to do to "get in shape" (and they might add that they usually neglect doing anything of the sort because they hate it so much).
But do you need to run on the treadmill for hours or train like a Navy SEAL to be in good physical condition?
For most of us, the answer is no.
Why So Many Fitness Programs Emphasize Conditioning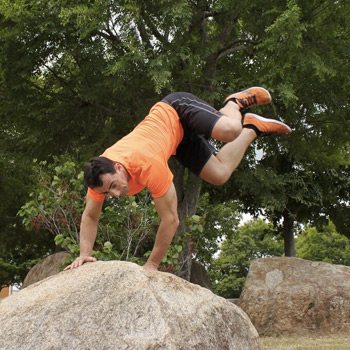 First, to remove any strawmen from the field, if you plan to compete in an endurance event of some sort, such as a local marathon, Tough Mudder, Big Climb, or other endurance competition, of course you should train for it and focus on your conditioning for that event.
But if you're like most of the people we work with, your actual conditioning needs are a lot less than you probably think–and that should definitely impact what kind of training you do.
There's nothing wrong with conditioning. It's useful. But you shouldn't build your entire routine around it by focusing on work capacity exclusively. That's because, if you're only focused on doing more reps in less time, your development in other areas–strength, skill, flexibility–would be neglected.
You may end up with fantastic endurance, but not much else.
So why do so many fitness programs prioritize conditioning over all other attributes? Two main reasons:
1. Endurance is extraordinary
Ironically, we tend to emphasize endurance as a measure of being in shape because it's outside the scope of our typical daily existence.
Not many people run 26.2 miles or bike 112 miles on the regular.
In a world where many people walk only as far as the distance from their front doors to their cars, it seems amazing to think of going that kind of distance. So it makes sense to ascribe great levels of health and fitness to people such as triathletes.
But endurance, past a particular extent, isn't the only marker of your personal health, it's only one part of a whole.
2. Working out until exhaustion is easy
The common denominator between a novice exerciser and a seasoned athlete is that both will experience fatigue and exhaustion at a certain point. And perhaps even within the same timeframe when working at their respective full capacities.
Anyone can work themselves into the ground with some effort and a repetitive task.
This points especially to the less experienced personal trainer who feels a job well done is when his clients are collapsed in a sweaty heap. It takes little to no technical coaching to make someone tired.
Yes, you've just been "worked out," but what did it really do for you?
If your only goal in training is to sweat a lot and feel tired, then this is a great way to judge the efficacy of your training. But if your goal is improvement, then being tired at the end of a session tells you nothing.
It's how your performance changes over time that matters.
A Better Way to Do Conditioning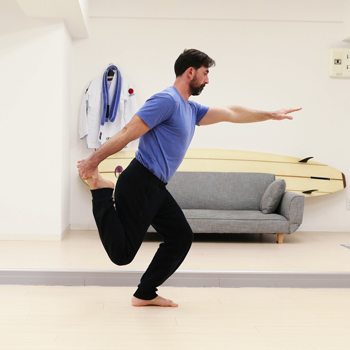 The benefits of regular aerobic activity are indisputable. From markers of cardiovascular health to mental state, it's patently obvious that raising your heart rate to higher levels for a period of time is incredibly beneficial.
What can be argued is how exactly you should increase your heart rate. If you are actively expending a good amount of energy to pick your heart rate up and maintaining that for a certain amount of time, and do this consistently, you'll reap the benefits of regular conditioning exercise.
You don't need to do this on a treadmill, and you don't need to just tack some "cardio" at the end of your workouts.
A better general plan prioritizes the skills and movements you're focusing on mastering, and uses conditioning to improve your endurance in those movements. It's not a random jog on the treadmill at the end of your workout, but rather, it specifically supports your goals.
Take This Approach for a Spin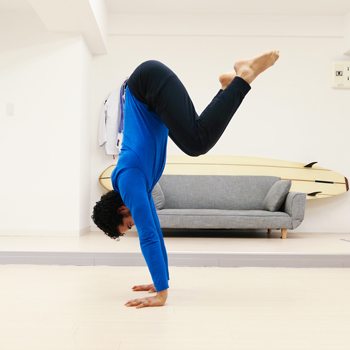 So what does this look like in real life? It will obviously look different depending on what goals you are working toward, but here's how we do it in our Elements program.
We start with exercises to prepare the body for the movements we'll be focusing on for the day.
Then, we spend some time practicing and learning the movements for the session.
After the practice session, we move on to what we call the "Push" session. This is our approach to conditioning, and it's based around the same movements you are already familiar with, but now you will push those movements a bit further. We always follow the Push session with some targeted stretches.
Finally, we finish up by taking some time to ponder and reflect on the session.
Here's an example of a Push session from Elements Week 2 Day 1:
Do This
Movement/Exercise
3 x 1 minute
1 minute rest between rounds

Bear
Hold for 60 sec. each
• A-Frame
• Cobra
• L-Arm Stretch
• Lounge Chair
You'll work on practicing the Bear for one minute straight, then take one minute in between rounds. Repeat 3 times. If you feel that it's too easy, vary your speed. Go faster or slow down to change the intensity for your needs. Afterwards you'll work on the focused stretches associated with the Bear.
The important thing to understand is that for this session, the Bear is the primary movement we are working on mastering. So, for our conditioning, we're still focused on improving the Bear.
What Do You Really Need from Your Body?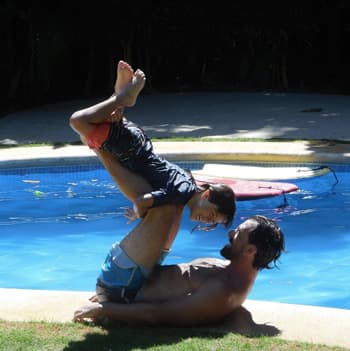 You may be a firefighter that has to lug around 70 pounds of gear, or a bicycle messenger that puts in 50 odd miles a day going back and forth throughout their city route, in which case you'll have to be able to do much more.
Or maybe, it's enough to be able to sprint to keep your kid's ball from rolling down the driveway into traffic.
As we've discussed before, by examining your personal motivations and true reasons for training, you'll be in a much better place to determine the distinct level of conditioning and "in shape-ness" that you require.
Are you going to be climbing a mountain next year? Or just headed to Space Mountain with the kids? Are you gearing up for the NYC Marathon, or just running to catch the bus?
The answers to those questions are what should guide you to your own personal definition of being well-conditioned.
Being realistic about where you need to be physically makes it possible to tailor your approach to conditioning to match your needs and goals, rather than doing something arbitrary out of a sense of "obligation."
Our Elements course will help you build a strong foundation, while focusing on attributes such as conditioning in a specific context. That way, you're not wasting efforts, but putting all your efforts toward improving the most foundational physical attributes and movements.
Build a Consistent Training Habit With a Foundation in the Basics
With Elements, you'll build a foundation of strength, flexibility, and control over 8 weeks, setting yourself up for a successful lifetime of staying fit and active.