Steve Busted His Shoulder… Bad
He fully dislocated his shoulder, which would usually mean either surgery or a lengthy rehab.
This put his career as a fitness trainer at risk, and put a major monkey wrench in his training goals.
Steve needed to get his shoulder back to 100% AND avoid future injuries.
How He Got Back to 100%
Steve discovered our Elements program and got cleared by his doctor to use it for recovery.
Even though his could only complete about 30% of the sessions, he was still amazed by the results.
By the end of the program he hit his own benchmark for full shoulder recovery… and got back to work!
Excruciating pain.
That's what Steve Rosen remembers feeling when he completely dislocated his shoulder while trying to do archer push-ups in September 2017.
He was rushed to the hospital. But while they were popping his shoulder back into place and immobilizing it, all he could think about was the fitness bootcamp he'd been building and running for the last 4 years.
"Who's going to run my camp while I recover from surgery?" he wondered.
But instead of surgery or a lengthy rehab process, Steve got cleared by his doctor to use our Elements program to rebuild strength and mobility in his shoulder. We'll let him tell you about the results:
"I came to GMB with a 19 days post shoulder dislocation, hoping by the end of it that I could lift my arm without it hurting… And I can do a full bridge now, no pain. I can do everything I could do before the injury."
Let's see how he did it.
Hurt Less and Perform Better
Elements guides you through our proven process for finding and fixing your weak links so you can move and feel your best. Check it out ⤵️

"I got into ego mode"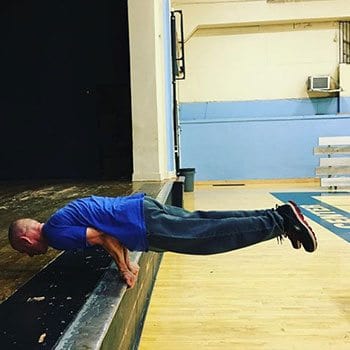 Steve hadn't always been into training. In fact, his time in the Army left him dreading exercise of any kind, so he avoided it for a long time.
"And next thing you know," Steve recalled, "I was overweight. My blood pressure was high. My mood was terrible. I was facing depression. If the Army at that time would have actually came and checked on me because I was at a remote recruiting station, I would've been out of regulation and could've lost my job. That's how significantly overweight I became."
So that was his motivation for getting started.
Almost overnight, he went from dreading exercise to becoming a personal trainer. Since retiring from the U.S. Army in 2013, he's been running a boot camp for women every morning–he's led over 2000 classes at this point!
But when he got started with his own training, he was drawn over and over again to the "cool" tricks. He worked on them, even when he wasn't quite ready for them, simply because they looked cool. Like in January 2016, when–on a whim–he decided to try a back handspring on a trampoline.
He wasn't ready for a skill like that, and he wound up fracturing his T1 vertebrae, and he only narrowly escaped a far more severe injury.
"It was a big wake up call that I was doing stuff that I shouldn't be doing," Steve said. Unfortunately, even big wake up calls can take a while to translate into action. Less than two years after fracturing his spine:
"I handed one of my bootcampers my cell phone because I got into ego mode. It's time to show off. I want to do some archer push-ups. I haven't done them in two years. I figured I could do them. You don't lose it if you don't use it, right? So I'm doing my archer push-ups and poof, left shoulder three inches totally out of the socket. Excruciating pain. Never felt anything like it. I was terrified."
It was time for a serious change. And that's where Elements came in.
"At first, there was a lot of pain"
Steve was told he'd likely have to have surgery on his shoulder. But when he went to his doctor 19 days after his injury and told her about Elements, she was so impressed by the approach of the program that she told him to go through Elements, cancel his consultation with the surgeon, and come back in 6 months.
So that's what he did.
It was a tough road, though. With his shoulder in excruciating pain, he knew going in that he'd have to modify things.
"I took it very slowly and made sure that I was probably overly cautious in my approach," Steve said. "If anything hurt, I just stopped doing it. So there were some days I spent three minutes doing Elements and it started hurting and I said, 'That's it.'"
Steve listened to his body and didn't force himself to follow the program to the tee.
"With Elements," Steve said, "I felt free and I felt like I don't have to do it exactly the way it is. And I have never had a coach through video like Ryan make me feel so okay with taking a day off if I needed to."
"Suddenly, I was intrinsically motivated by exercise"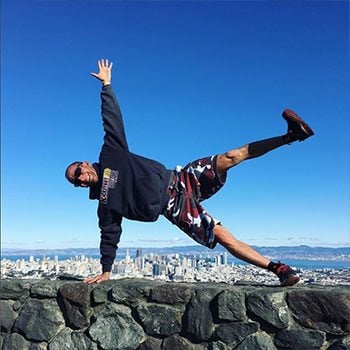 Before going through Elements, Steve was always externally motivated by exercise. If a move would look cool on Facebook, you could bet Steve was going to go after that.
Obviously, that external motivation got him into quite a bit of trouble.
With Elements, though, "for the first time in my life, I was intrinsically motivated by exercise. There was no carrot. There was no, I'm doing this to look cool. There was no external motivation that I can show this off on a video later."
Because Steve was forced to listen to his body and take it easy, he had the chance to really feel and enjoy the movements. "It just feels freaking awesome to get on the floor and play," Steve said.
In the end, he says he did about 30% of the program, but his results are pretty amazing. He told us that his "golden standard of healing was to be able to complete a stand to bridge. So about four days ago, I did a full stand, went into full back bridge, landed, caught myself, and steadied the bridge. That was my 'I am fully healed' moment."
How Did Elements Help Steve's Shoulder Heal?
Elements is an online program that builds progressive strength, flexibility, and motor control throughout the program. It's based around locomotive movements, specifically chosen to build the attributes needed for physical autonomy.
For Steve, the movements themselves were helpful in strengthening his shoulders and the surrounding areas, with gentle movements, rather than the "hardcore" training he'd done in the past.
And the mindset of the program encouraged Steve to take things slow and to pay close attention to how his body felt in each and every session. This meant that he never pushed himself past the point of pain, and he always made sure to respect what his shoulder needed.
That mindful approach, coupled with the specific movements, helped Steve build the foundation he needed. And now? There's a whole new world open to him.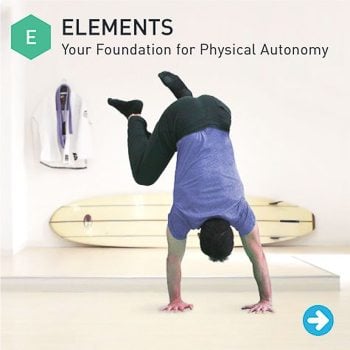 "[Elements] is my foundation. I'm building my house now, but that concrete foundation, if you want your house, your body, built on something solid, build it on Elements. That's what I would say, because if you try to build it on something tough, you're building it on sand. And if you build it on sand, you're going to be like me and you're going to blow your darn shoulder out. You're only as strong as that one place that's waiting to go. Elements will teach you where that place is and it'll fix it. It fixed it for me."
For Steve, his livelihood depends on building that foundation to avoid future injuries. It's not just inconvenient!
And the most valuable thing he gained from Elements was a love of movement, and learning to respect what his body needs. It's a lesson he'll carry with him for life.
Keep Your Body Moving Well
Elements helped Steve heal his shoulder through gentle movement that could be modified to his own level. No matter where you're starting from, or what limitations you have, Elements will help you keep your body moving the way you want it to.
Find out more about Steve on his website.