David Wanted More Out of His Training
His intense powerlifting routine wasn't getting him where he wanted to go.
For David, it was all about training as intensely as possible and working up a sweat, and when he looked around him, he saw that was a recipe for injury.
He looked at people older than him and found that what he really wanted was to be able to move and feel better when he got older. His training routine didn't match his longterm goals.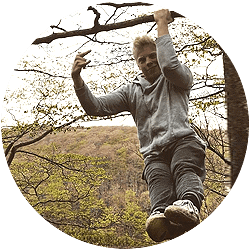 How David Built a "Bulletproof" Mindset
With Elements
, David learned how to slow down and focus on his longterm training goals.
He improved his ease of movement and body control, which carried over into the more advanced skills he wanted to train later on.
David's mindset shifted from always pushing himself as intensely as possible, to slowing down and focusing on form and mindful movements.
He made gains in his flexibility, which outstripped months of dedicated stretching.
Training intensely can be a rewarding endeavor–every time you workout, you feel like you're really accomplishing something with all that sweating and grunting!
But there's a reason you don't see a lot of avid fitness enthusiasts keeping up highly intense training routines into their 40s, 50s, and 60s. It's just not a sustainable, longterm option for most people. So people tend to take a more balanced approach to training as they get older.
At the tender age of 20, David Eriksson looked around at his fellow powerlifting buddies and saw injury after injury. He also noticed that none of the people at his gym were over 35.
And that just didn't sit right with David.
He knew he wanted to train and be active for a lifetime, and he started thinking of the longterm picture. His "longterm goal was to be able to 'free my body' and to 'be able to show strength, flexibility, and body control in everything I do.'"
So that's where Elements and his quest for mindful movement and sustainable training began:
David says he "didn't have a sudden wake up or realization from Elements. It was a journey over 8 weeks, and it slowly changed my mindset and attitude towards training, without me consciously thinking about it. More impressive than the gains I made in flexibility and movement quality, is my approach in training and how it changed over 8 weeks."
Build Performance That Will Last
Elements guides you through our proven process for building a strong, resilient body for all your activities. Check it out ⤵️

"I developed a bulletproof mindset"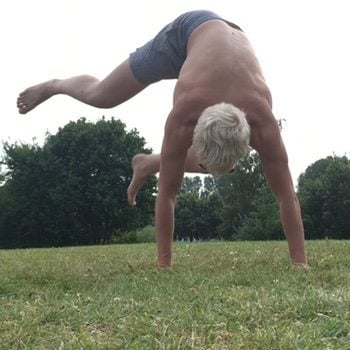 David has actually gone through Elements twice, and each time was a completely different experience for him.
His first time through, he was still, first and foremost, a weightlifter, "looking to put more kilos on my lifts." He admits he wasn't very focused the first time around, especially towards the beginning of the program.
He was just going through the motions because the very idea of mindful practice was so foreign to him. It wasn't until he had nearly completed the program that it finally clicked for him.
"The more knowledge I gain about physical autonomy, the more I recognize the brilliance of bear, monkey, and frogger. It's not just hopping forward or to the side in monkey or frogger. It's about self-knowledge, getting to feel how it is being in control of your body, and controlling it mindfully. That realization changes you and develops a bulletproof mindset."
With that shift in mindset, he decided to go through Elements again, but with a much more conscious and present approach.
He told us his second round through Elements was "very different because I had a completely different mindset going in to it. The second round has been much more mindful and focused, and I approached it as just as important as my ring training and floor training."
If you think mindful training means longer training sessions, that's simply not true. David said, "I never went over the [recommended] 3-5 minutes because that allows you to be more focused. It really works."
For David, everything changed after that point. He started to really understand what it means to be in control of your body, and he realized that, with a physical movement practice, "You get what you put in. If you put in mindful practice, you'll get so much more out of it."
That was a big shift for someone who had previously pushed himself as hard as possible with every workout!
David's Big 3 Benefits: Improved Flexibility, Better Ease of Movement, and a Bulletproof Mindset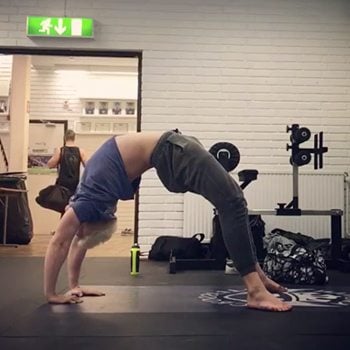 David got tremendous benefit from going through Elements, and he's gone on to accomplish quite a lot because of what he gained by going back to the basics first.
Here are the biggest benefits David got from this experience.
Increased Flexibility
"I think I gained more flexibility from Elements and the locomotive exercises than from stretching," David reflected, with some surprise even now. The surprising part about this benefit is that, "You don't think about increasing flexibility when doing these moves. You just do the moves, focusing on them, and bam–increased flexibility."
Better Ease of Movement
"The ease of movement and motor control translates into absolutely everything. That's how it's marketed and I was skeptical–I didn't think it would apply to absolutely everything. But it does."
He told us one story about when he was going through Rings One, after his first round of Elements.
"I remember the first week I was doing Rings One and I posted on the Alpha Posse forums asking how to get my heels closer to my butt in the tuck shoulder stand, and Chris answered 'bear walks.' Even though I had gone through Elements once at that point, I was like, 'come on, Chris… It's not the cure for cancer…' But you know what? It helped. Of course it did."
Bulletproof Mindset
"I think the most valuable thing was not physical at all, but mental," David said. "It really made me realize my weaknesses and opened my eyes to really see what's important and what I need to focus on. It pointed me in the right direction."
He says it helped him "continue to research and learn and be curious," which was a huge part of helping him make the progress he has.
Why Elements Was Just What David Needed
As a relatively advanced trainee, David was skeptical that the basic locomotive exercises we teach in Elements would be able to help him achieve his big training goals.
What he found was that the emphasis on moving slowly and mindfully helped him find his weak links and address them in a way he hadn't been able to before. And by learning to move mindfully, he was able to conquer some impressive longterm goals.
In addition to improving his overall mobility and body control, David got a strict rings muscle-up, a full drop to backbend, and a whole lot more (check out what he's up to on his Instagram page!).
Elements works really well even for people who've been training for a while, as it helps you go back and fill in the gaps in your training foundation–and mindful movement is a huge part of that.
"I would recommend Elements to absolutely every single person alive. People move like crap. We know that. Everyone needs this very basic approach and mindful approach to movement. It's absolutely awesome to just move. If someone, regardless of age, asked me where to begin, I would point them to Elements. This is where it begins."
Build Your Foundation for Physical Mastery
David used Elements to strengthen his weak links so that he could ensure a lifetime of training the way he wanted to. With Elements, you'll learn to move mindfully so you can conquer whatever training goals you have.