Ego was Getting in Fi's Way
Fi was one of the first women getting involved in the calisthenics scene in the UK, and she was kicking ass.
But her sights were set on bigger goals, and continuing to go for the "ego boosters" was getting in the way of her progress.
She realized it was time to get her ego in check and focus on her weaknesses.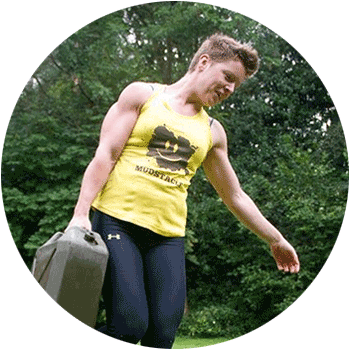 How She Fixed Her Missing Links
Fi started working on Parallettes One, alongside our movement and flexibility courses.
She was shocked to find weaknesses she didn't even know she had!
By setting her ego aside, she was able to take her skills to the next level, and even made it on to the first season of Ninja Warrior UK!
When you get really good at something, it's natural to want to stick with that thing and make it even better.
But if you neglect other fundamental parts of training, your physical abilities can become one-dimensional and hold you back.
For Fiona Silk, whom we know and love as "Fi," strength was her forte, and she was able to achieve some incredible feats as a result. However, the other two basic elements of training–mobility and control–were neglected and underdeveloped before she found GMB.
Once she changed her approach to training, Fi was able to improve certain areas she hadn't been able to before, and get better results with her sport of obstacle course racing.
By using our Parallettes One (P1) course (along with our flexibility and movement courses), Fi was able to improve her calisthenics skills so much that she got on to the first season of Ninja Warrior UK!
"I thought when I started P1 that my pushing strength was pretty decent, but oh how wrong I was! Seriously, I noticed my straight and bent arm strength go through the roof."
Let's see how she did it.
We have retired Parallettes One, but you can still learn a lot from Fi's story! And if you want to build the kind of strength and control she learned with P1, check out our Integral Strength program.
"One of the first girls doing calisthenics in the UK"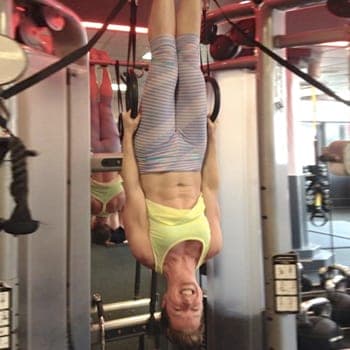 Fi had plenty to be proud of, long before she found GMB. There's a pretty active calisthenics scene in the UK (and around the world), and she was one of the first women to get involved with that scene in the UK.
She was doing skills and tricks most people can only dream of!
But, she says, "my little ego ran off with itself for a while–all the likes and shares and comments and oh my head is swelling!" She got a little carried away with chasing cool tricks off of YouTube videos, and at a certain point, she realized there were holes in her training.
"My training wasn't really solid–I'd identify things I wanted to do, work towards them and nail them, but there was no bigger plan and there were also a lot of holes caused by avoiding things I didn't like doing (and by not doing things I didn't know I should be doing)."
She discovered GMB by sheer accident, after winning Parallettes One in a Facebook contest, and the new training method spurred Fi's desire to take ego out of her training. She then grew to love this approach and it helped her move past her previous limitations.
"It was rewarding to feel like I'd made progress"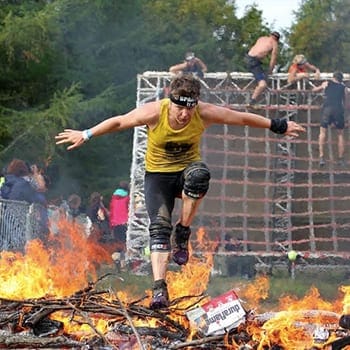 Fi had big goals with her training. She was doing really well with small-scale calisthenics competitions, as well as local obstacle course races, but when she heard Ninja Warrior was launching a UK version, she wanted all in. So, she knew she'd have to step things up.
She was seeing a lot of progress with her upper body strength through working on P1, but she started working on Focused Flexibility and Vitamin to improve her mobility and control as well.
The movement (especially the coordination!) side of things is not easy for me—I'm inflexible, immobile, and massively uncoordinated, which makes following things on video hard, and also finding the motivation to practice them hard! It was rewarding to feel like I'd made progress, however small, and it also gave me some fun things to add to warm-ups and just play around with when I felt like it.
After working on her mobility and strength, along with her coordination, for a while, she did a Spartan Race–a difficult 18-kilometer race—and she came in 8th place!
Running had never been her strong suit before, but she credits her emphasis on mobility and agility with her success. As she says, "with running, you need to move efficiently and not waste your energy being like a bull, but rather being more nimble." It's pretty cool to see the fruits of your labor pay off like that!
And she succeeded in making it on to the first season of Ninja Warrior UK! Though she did not win, her performance was incredible, and her agility and grip strength showed.
How Did GMB Help Fi Shore Up Her Weaknesses?
Parallettes One isn't just a strength program. It does help build impressive pressing strength, but it also helps with building gymnastic skills and overall body control. And through those skills, P1 uncovers weaknesses and fills in those missing links.
By working on P1 alongside Focused Flexibility and Vitamin, Fi created a well-rounded foundation for herself.
She took the strengths she already had and made them even stronger, while vastly improving her weaker areas. Her straight arm and bent arm strength went through the roof, and her mobility and coordination improved dramatically.
I spoke with Fi some months after she'd gone through P1, and she said:
"It's been eight months since I did any serious p-bar work, but after chatting to Rachel the other day I thought I would get them out again… Going back to the basic P1 exercises after looking back through the material and I'm already starting to appreciate what a solid and well put-together course it is. And of course, it's still kicking my arse."
For Fi, P1 was just the start of a new way of approaching her training. And the sky is the limit for her.
Use Skill-Based Training to Build Practical Strength
Integral Strength is a skill-based strength program that helps you build practical skills and strength that carry over into your beloved daily activities.